Are you tired of your go-to chicken recipe? Does your family say "chicken again?" whenever it pops up on your menu? Shake things up with this delicious spicy pineapple chicken recipe. It's the perfect blend of sweet and spicy without packing too much spice for the kids. Eat up!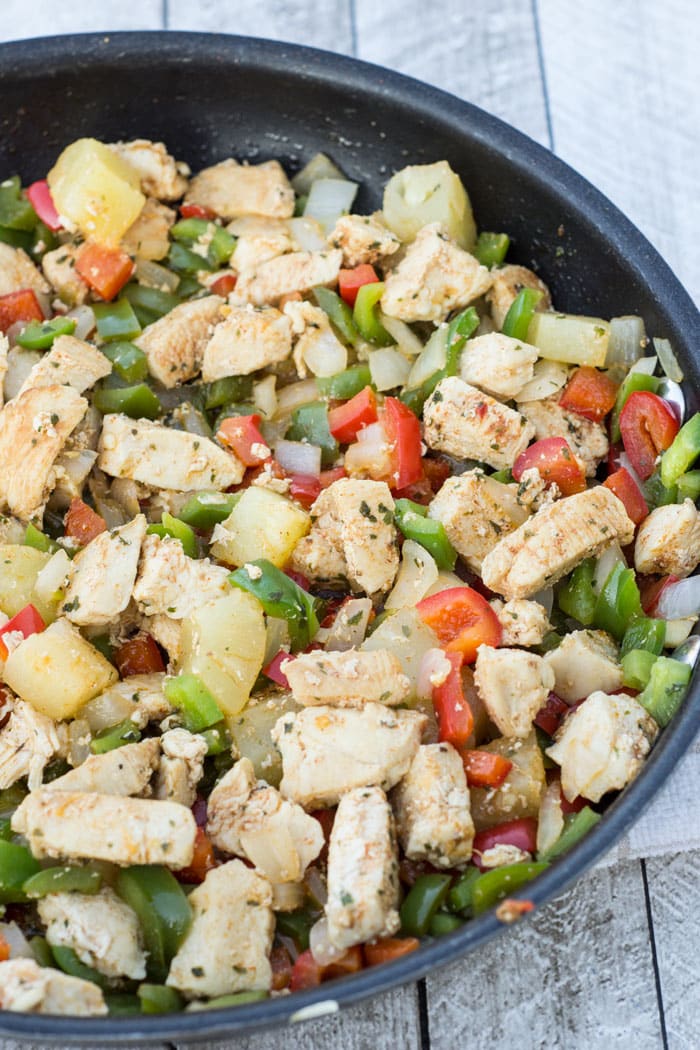 I love chicken. Love it and could eat it every single day. But even I get tired of making the same go-to chicken dishes that I know by heart. That's what prompted me to make this sweet and spicy pineapple chicken recipe.
It's a modified version of Spicy Chicken Saute with Vegetables and Papaya that I found in an old church cookbook. Don't you just love church cookbooks? Anyway, since I knew my hubby and kiddo wouldn't touch papaya, I opted for pineapple instead, and it was delicious. Like, lick the plate good.
I served this over my savory seasoned rice, but instant rice will do just fine, too.
Sweet and Spicy Pineapple Chicken Recipe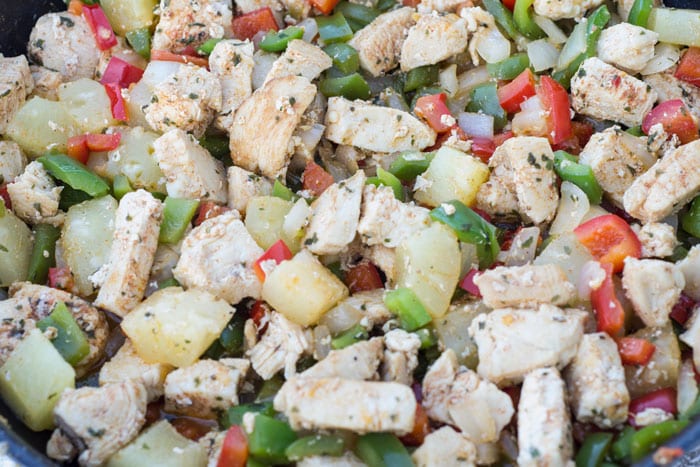 Spicy Pineapple Chicken Recipe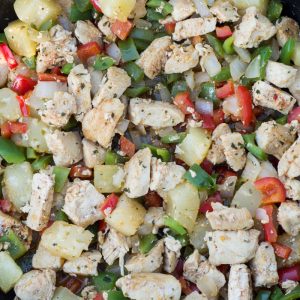 Print
Spicy Pineapple Chicken Saute
Yield 4 -6 servings
Tired of the same old chicken recipe? This sweet and spicy pineapple chicken recipe will shake things up at the dinner table.
Ingredients
2 lbs boneless, skinless chicken breast, cubed
1 (20 oz) can pineapple chunks, drained
1 green bell pepper, seeded and chopped
1 red bell pepper, seeded and chopped
1 clove garlic, chopped
1 large onion, chopped
2 Tbsp olive oil, divided
1 tsp salt
1 tsp paprika
1/4 tsp cayenne pepper
1/4 tsp black pepper
1 Tbsp dried parsley flakes
1/4 tsp ground cumin
1/4 tsp ground ginger
Instructions
In a large saute pan, heat 1 tablespoon of olive oil over medium heat. Add onions, bell peppers and garlic. Cook until tender and lightly brown, about 4-5 minutes. Remove peppers and onions from pan and set aside. Add remaining olive oil, chicken and spices to the pan. Saute the chicken until it's lightly browned. Add the vegetables and pineapple chunks, and saute for 3 minutes or until heated through. Serve immediately over rice.
Courses Main Course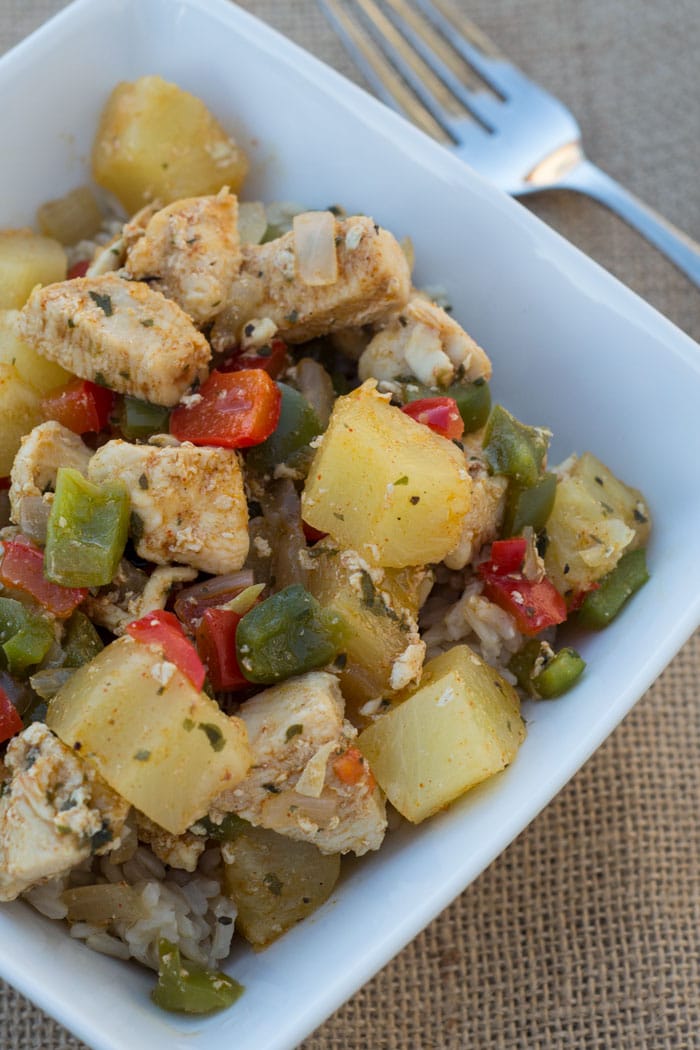 If you liked this spicy pineapple chicken recipe, you'll also enjoy:
Hi! I'm Donella. Welcome to Glue Sticks and Gumdrops, where I blog about crafts for kids, kid-friendly recipes, and meals for families with a bit of parenting and party ideas sprinkled in. I am a mom to one amazing (and active) little boy, and I'm married to a deputy. As you can imagine, our lives are hectic, but sitting down to a family meal or making a craft together is our way of connecting with each other.
Latest posts by Donella Crigger (see all)