It's time to hop into spring with these delicious and easy Easter treats and snacks for kids. From colorful popcorn to sweet little bunny cupcakes, you're sure to find something to brighten up Easter for your kiddos here.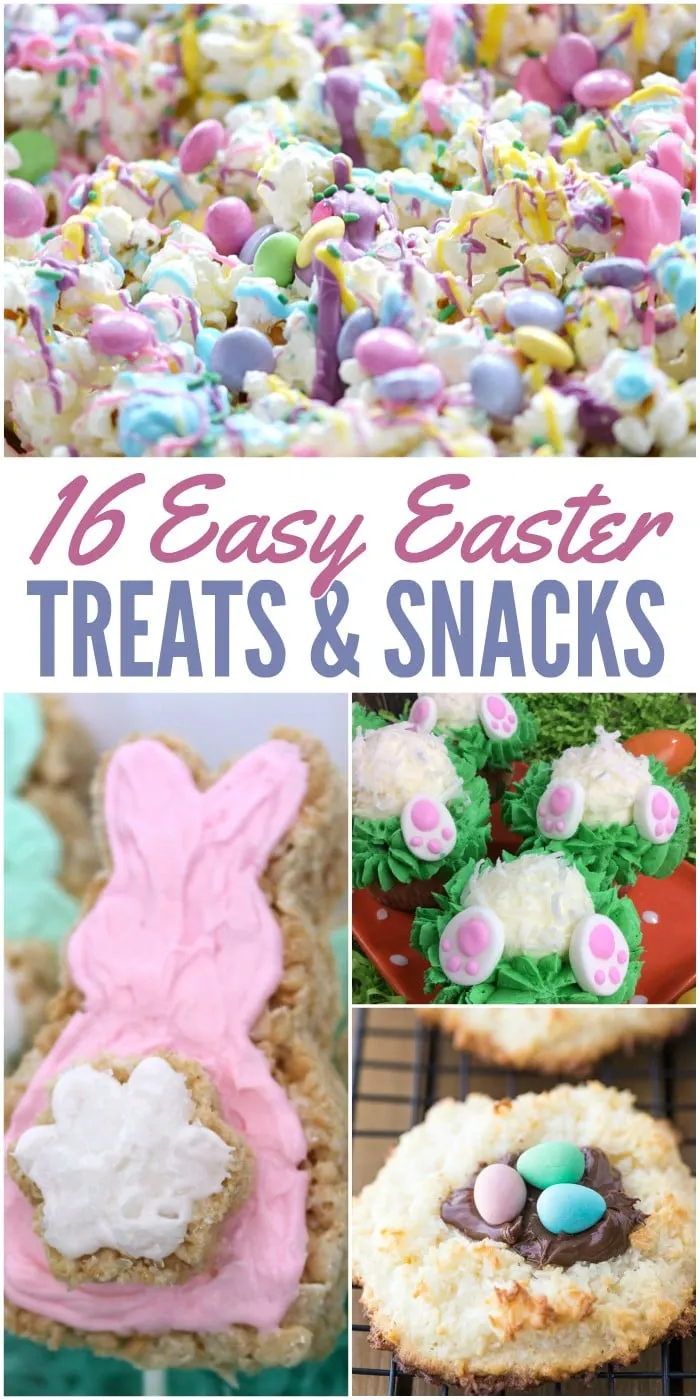 Easy Easter Treats and Snacks
Try making Easter Peeps macaroons for an easy show-stopper for your dessert table. So good!
Aren't these lamb cinnamon rolls adorable? And they're actually really easy to make, so for someone with no dessert decorating skills like me, that's a huge plus!
Easter cookie bars are easy to make for a crowd. They'll go over well at your Sunday service!
My son loves surprise eggs, so I can't wait to make these fun chocolate confetti Easter eggs for him this year.
Bunny tail munch is a fun snack that combines crunchy cereal with candies, melted chocolate and sugar (muddy buddies). Everyone loves it!
Bunny butt cupcakes are super cute. All you can see is the bunny's feet and tail as he jumps into the rabbit hole!
Macadamia nut Easter bars are a little sweet, a little salty, and a lot of fun to make!
Do your kids love white powdered donuts as much as my son does? (Okay, I admit that I do, too!) If so, these Easter bunny mini donuts are a fun idea for breakfast or dessert.
How darling are these Easter chick Oreo pops? They'll make perfect treats for the classroom if your child's school allows homemade goodies.
Embrace your inner Golden Girl with some delicious mini Easter cheesecakes.
Springtime popcorn is the perfect combination of salty and sweet, and you can enjoy it all during spring – not just Easter!
If you're not an expert cake decorator (I know I'm hopeless at it), try your hand at these sweet little marshmallow bunny cupcakes. So easy!
As a Nutella fanatic, these no-baked Nutella bird nest cookies are at the top of my treat list for Easter.
Or try some macaroon bird nests with Nutella. Also amazing.
You can't get much easier than chocolate covered peeps. I don't know why I never thought to do this!
This Easter truffle bark has a thick layer of milk chocolate between the two candy melt layers. Yummo.
Don't you love these crispy bunny treats? Use a cookie cutter to cut out bunny shapes and tails, and cover them with a pretty pink (or yellow, blue or mint) icing.