Want a sweet Easter treat that'll make a big splash at brunch or the family egg hunt? These Peeps Coconut Macaroons are just the ticket! Take your basic macaroon recipe, shape them into nests, add chick Peeps, and you're all set with a stunning sweet snack for the kids.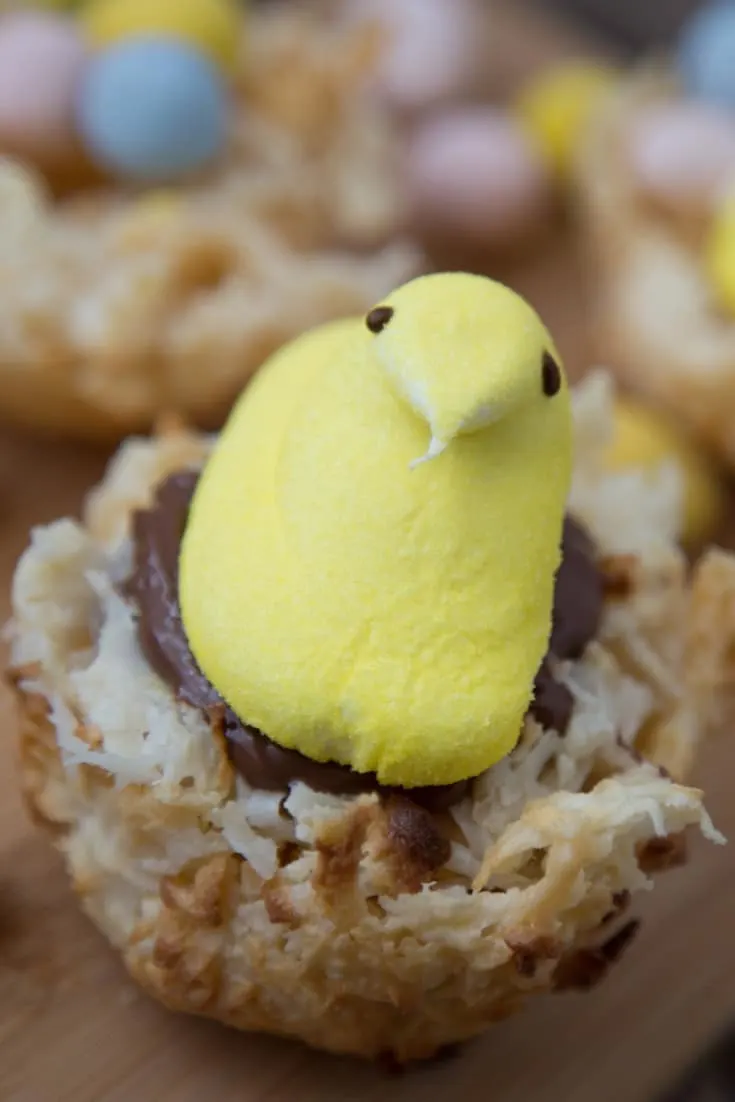 With Easter coming up fast, I decided to make a cute snack for the kids based off of my favorite dessert: Besitos de Coco (Coconut Macaroons). This festive spin on a classic includes Nutella (who doesn't love that stuff?) and everyone's favorite marshmallows: Peeps.
Okay, so I don't really care for Peeps, but the kids enjoy them, and they're actually not too bad when they're slathered with Nutella on the bottoms. You could, of course, place mini chocolate eggs in the macaroon nests instead of a Peep, and it would be just as tasty.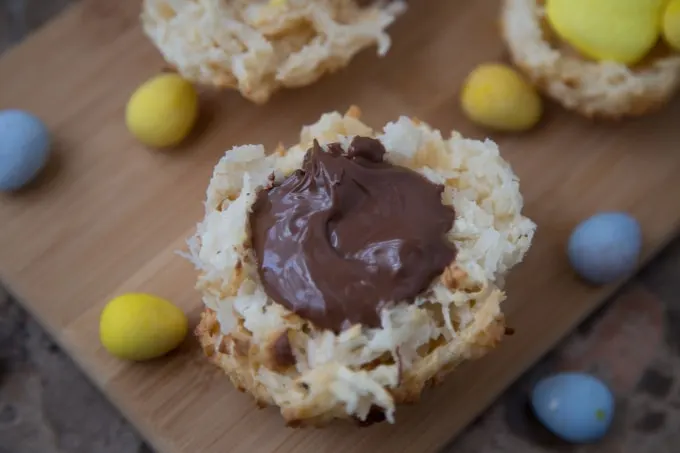 They're so easy to put together. You can use the macaroon recipe we've included below or your own favorite version. My nests didn't come out perfectly; I had to shape them by hand a little before and after baking, but I think people will get the gist of the idea when they see chocolate eggs or Peeps in the nests.
Let's get to what you'll need for the recipe, shall we?
Ingredients
This is just an overview of what you'll need. For specific ingredient measurements and instructions, please refer to the recipe card at the bottom of the post.
Sweetened Condensed Milk — Using sweetened condensed milk allows you to skip the eggs. It helps hold the shredded coconut together and makes the mixture sweet.
Sweetened Shredded Coconut — This is what gives the macaroon its nest-like appearance. Sweet, flaky coconut is so delicious!
Vanilla Extract — For depth of flavor. Use pure vanilla extract for best results, but you can use imitation vanilla if you prefer.
Almond Extract — Optional, but it adds extra flavor and makes them taste a little more like bakery macaroons.
Nutella — Optional, but it helps the Marshmallow Peeps stick to their coconut nests. Plus, Nutella is one of the most delicious foods on the planet.
How to Make 3-Ingredient Coconut Macaroons
For more complete instructions, refer to the recipe card below. This is just an overview so you can get everything ready.
Step 1: Preheat your oven to 325°F and prep your baking sheet with parchment paper.
Step 2: In a large mixing bowl, add all the ingredients and stir to combine. Mix well.
Step 3: Use a large cookie scoop or small ice cream scoop to portion out the coconut mixture, and shape the nests on the bottom of a greased muffin tin. Once you've formed the nest to the muffin tin, remove it and place it on the baking sheet.
Step 4: Bake the macaroons for 10 to 12 minutes or until they're light brown around the edges.
Step 5: Move the macaroons to a wire rack to cool. You may need to adjust the shape of the nests while they're still warm.
Step 6: Once the coconut macaroons are completely cooled, add a thin layer of Nutella (optional) and place the Marshmallow Peep Chicks on top. Enjoy!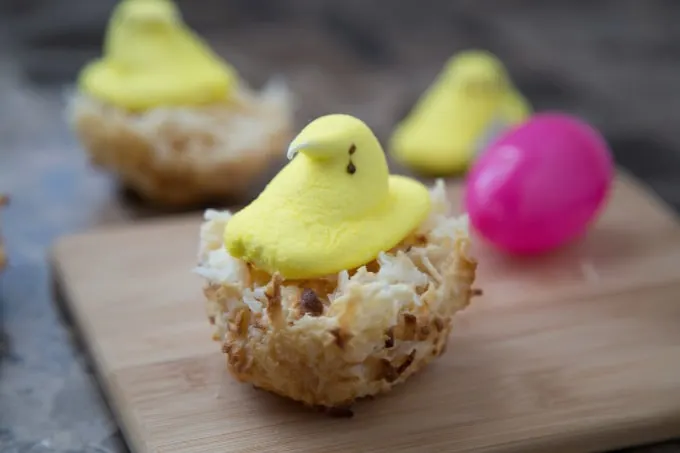 This is a fun treat that the kids can help with — they make lovely food gifts for the neighbors! I've seen candy grass in the Easter aisles that would look great on them, too. Or you can pipe green frosting underneath to look like grass. There are so many different versions you can make with the basic macaroon recipe and some Easter candies.
And yes, I realize that the chick above looks like it's crying. It was difficult to find one with two eyes. Some had three, some had one. So a crying little Peep it is. 🙂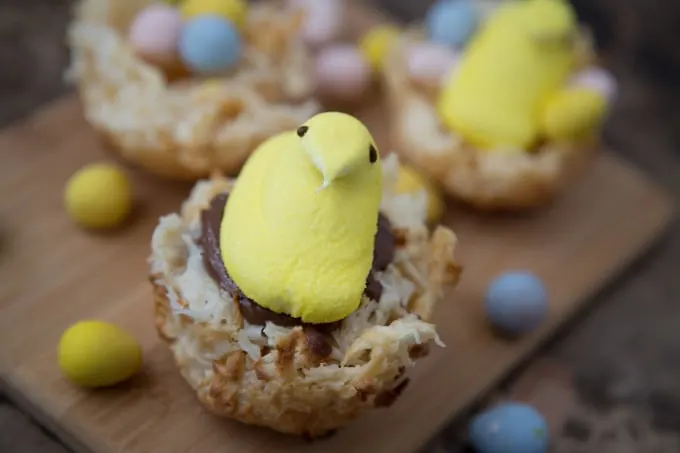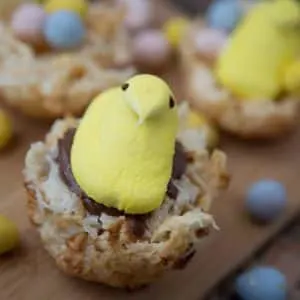 Easter Macaroons With Marshmallow Peeps
These sweet Easter macaroons look like nests for your Marshmallow Peeps chicks to sit in. They're sweet, fun to eat, and fun to make. Kids love them!
Ingredients
14

oz

sweetened condensed milk

14

oz

sweetened shredded coconut

2

tsp

vanilla extract

1

dash

almond extract

12

tsp

Nutella

12

Marshmallow Peeps Chicks
Instructions
Preheat oven to 325°F. Line baking sheet with parchment paper and set aside. Grease the bottom of a muffin tin as well, and set it aside.

In a large mixing bowl, combine all the ingredients, mixing well.

Use a large cookie scoop to portion the coconut mixture. Using the bottom of a greased muffin tin, shape the coconut mixture around the cups to create a "nest." Place the coconut nests on the baking sheet.

Bake for 10-12 minutes or until the edges are lightly browned.

Move the coconut macaroons to a wire cooling rack, and let them cool completely. If some of the nests are misshapen, use your hands to reshape them while they're still a little warm.

Once the macaroons are completely cooled, add about a teaspoon of Nutella and place your chick Peeps on top. Enjoy!
Nutrition
Calories:
329
kcal
Carbohydrates:
44
g
Protein:
4
g
Fat:
16
g
Saturated Fat:
14
g
Polyunsaturated Fat:
0.2
g
Monounsaturated Fat:
1
g
Cholesterol:
11
mg
Sodium:
134
mg
Potassium:
256
mg
Fiber:
2
g
Sugar:
42
g
Vitamin A:
88
IU
Vitamin C:
1
mg
Calcium:
104
mg
Iron:
1
mg
If you enjoyed these Peeps coconut macaroons for Easter, you'll also like: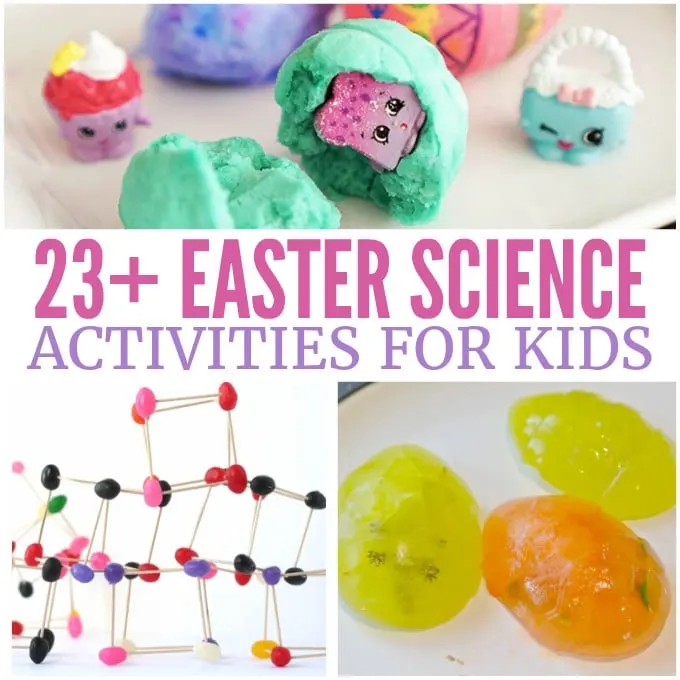 23 Fun Easter Science Activities for Kids