Craving something gooey and cheesy but worried about carbs? No need to compromise with our Keto Cheese Bread. Bite into a slice of crispy, golden bread loaded with the perfect blend of mozzarella and Parmesan cheese, a hint of garlic, and a sprinkle of Italian seasoning. Yum!
Have you ever found yourself craving your favorite appetizers, only to be reminded of the carb overload that often comes along with them? If you're anything like me, you've definitely had those moments. Picture it: you're sitting at your favorite Italian restaurant, and the waiter brings out a warm, gooey, mouthwatering plate of cheesy bread. It's oh-so-tempting, but you're trying to stick to a low-carb diet. What to do?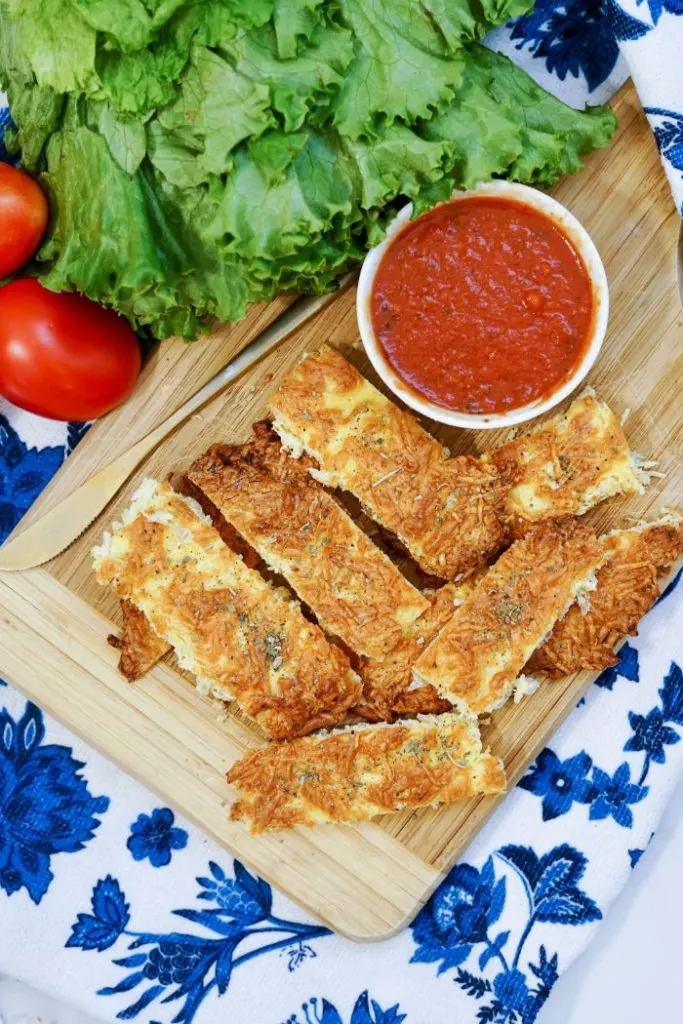 Well, guess what? You don't have to miss out on your favorite appetizers anymore! I've got a recipe that's going to change your world — Keto Cheese Bread. This recipe is the perfect way to satisfy those cheesy bread cravings without sabotaging your diet. It's all the cheesy, garlicky goodness you love, but it's totally keto-friendly. Yes, you read that right! Now you can indulge in your favorite appetizer without any of the guilt. I can't wait for you to give it a try!
You'll also love our recipe for Keto Nachos for game night or any time you want a tasty app without all the heavy carbs.
Now, let's get to these easy, cheesy bread sticks!
Ingredients for Low Carb Cheesy Breadsticks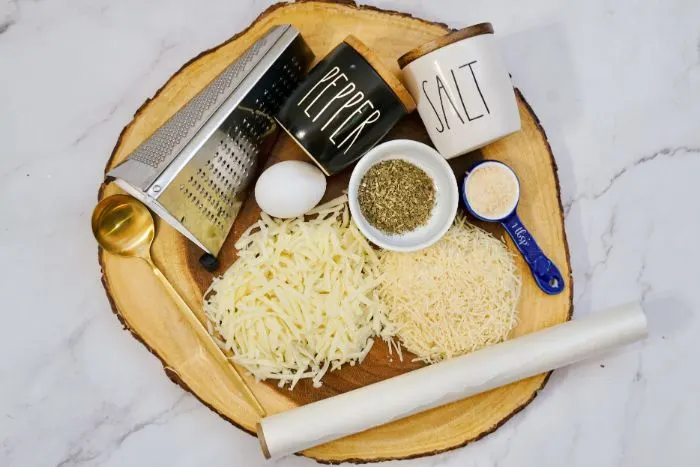 This section is meant to provide an overview of the ingredients required for the recipe. For specific amounts and instructions, please refer to the recipe card at the bottom of the post.
Mozzarella Cheese — You can't have cheesy bread without gooey, stretchy mozzarella cheese!
Parmesan Cheese — Parmesan is a hard, aged cheese with a strong, slightly nutty flavor. It intensifies the cheese flavor in the breadsticks and, like mozzarella, is also high in fat and low in carbs.
Egg — The egg acts as a binder, helping to hold the cheese and seasonings together and maintain the breadstick shape during baking.
Garlic Powder — This adds a depth of flavor to the breadsticks. Garlic pairs well with cheese and enhances the overall taste of the breadsticks. Feel free to use fresh minced garlic, if you prefer.
Salt and Pepper — Basic flavor enhancers.
Italian Seasoning — This blend of herbs (usually oregano, rosemary, thyme, and basil) gives the breadsticks that classic Italian flavor.
Marinara Sauce (optional) — It adds a tangy contrast to the rich, cheesy breadsticks. Since it contains some carbs, it's considered optional for those strictly monitoring their carb intake. However, you can find low-sugar and low-carb marinara sauce in many grocery stores now. Hooray! Rao's is my favorite, but Yo Mama's is popular, too, and comes in around 3 carbs per serving.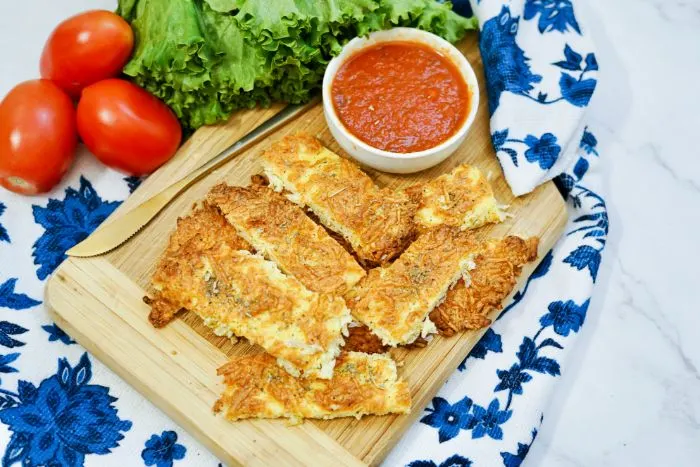 Equipment You'll Need to Make Keto Cheesy Breadsticks
baking sheet
parchment paper
How to Make Keto Cheese Bread
This section provides a brief overview of the instructions but the steps are not detailed. For exact step-by-step instructions, refer to the recipe card below.
Alright, let's get started on these yummy Low Carb Cheesy Breadsticks!
Prep: First things first — get that oven warmed up to 350°F. While it's heating, grab a baking sheet and line it with some parchment paper. This will save you a cleanup nightmare later — trust me!
Make your "dough": Next, it's time to bring the main ingredients together. In a bowl, toss in your mozzarella cheese, Parmesan cheese, a bit of garlic powder, some salt and pepper, and an egg. Mix it all up until it becomes one big, cheesy pile of deliciousness.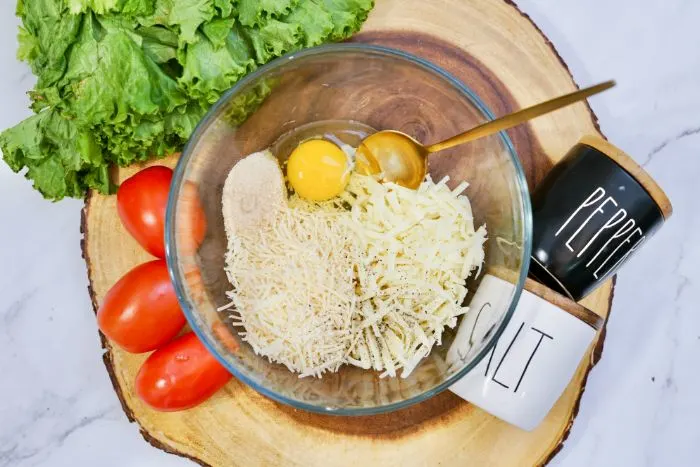 Flatten it out: Now, here comes the fun part. Take that cheesy blend and dump it onto your prepared baking sheet. Flatten it out just like you would if you were making a pizza crust.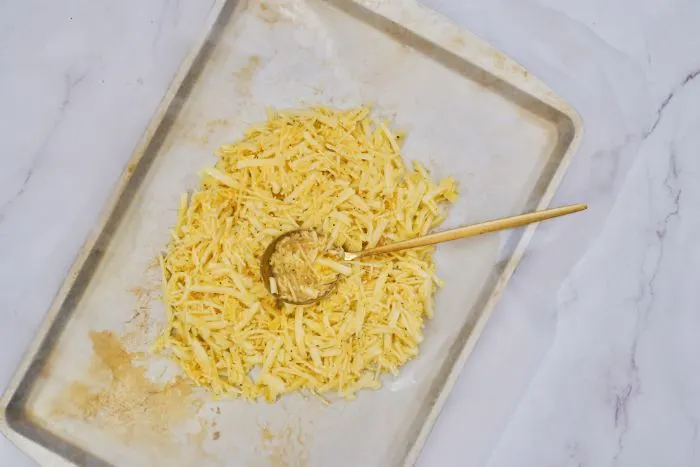 Bake the breadsticks: Once you've got your cheese mixture all set, it's time to let the oven work its magic. Pop that baking sheet into your preheated oven and let it bake for about 15 minutes.
Add seasoning: Once the cheesy breadsticks are done, remove from the oven and sprinkle some Italian seasoning on top. It's like a little taste of your favorite Italian restaurant in your kitchen (but without all the carbs)!
Slice into breadsticks: Now, slice that baby up into strips, and voila! You've got yourself some scrumptious keto bread sticks. Don't forget to serve them with some marinara sauce or your favorite sauce on the side.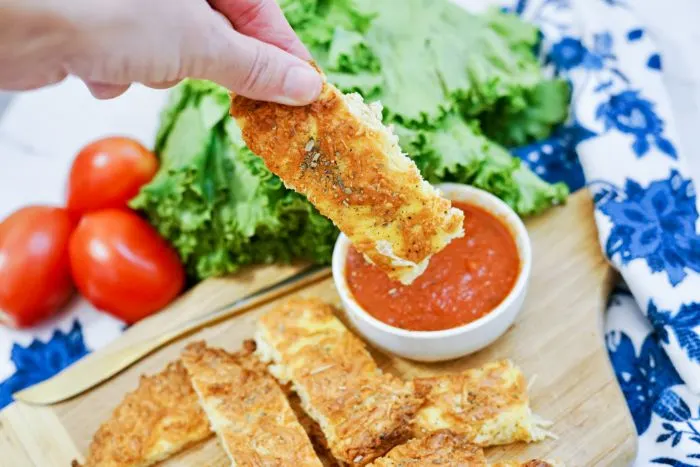 Serving Suggestions

These Keto Cheesy Breadsticks are incredibly versatile and can be served in a variety of ways. They make for a perfect appetizer or side dish to low carb Italian main courses like Keto Carbonara.
Arrange them on a platter with a selection of dips, such as marinara sauce, alfredo sauce, or garlic butter for a tasty starter at your next dinner party.
They're also a great companion to a fresh, crisp salad for a light lunch. For game night, try these breadsticks paired with a selection of Italian cold cuts and olives to make a delicious, easy-to-eat finger food platter.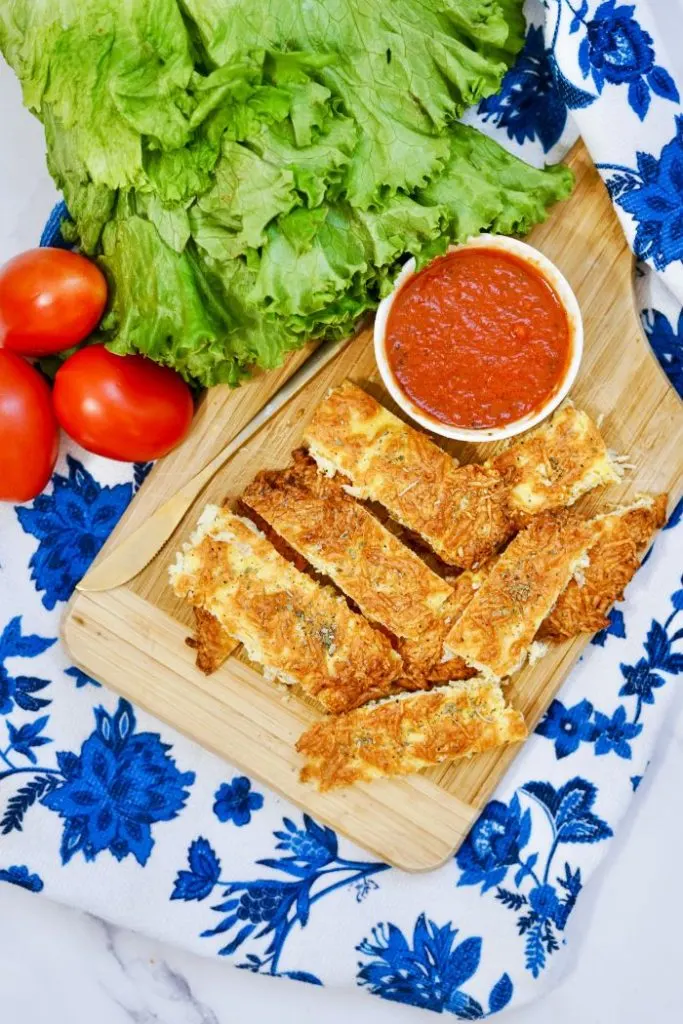 Storage and Freezing
If you have any leftover breadsticks, store them in an airtight container in the refrigerator for up to 3 days. Reheat them in the oven, microwave, or air fryer before serving.
Keto Breadsticks Tips and Tricks
Use pre-shredded cheese: Save time by using pre-shredded mozzarella and Parmesan cheeses. This will make the recipe even quicker and easier to prepare.
Customize the seasoning: Feel free to experiment with different herbs and spices to suit your taste. Try adding a pinch of red pepper flakes for a spicy kick.
Shred your own cheese: I know, I know. I said that using pre-packaged cheese saves time. It does! But freshly shredded or grated cheeses taste better and help you avoid fillers and preservatives.
Ensure even thickness: When spreading the cheese mixture on the parchment paper, make sure it's evenly distributed. This will ensure uniform cooking and prevent the edges from burning.
Use a pizza cutter: To make slicing the breadsticks easier and more precise, use a pizza cutter instead of a knife.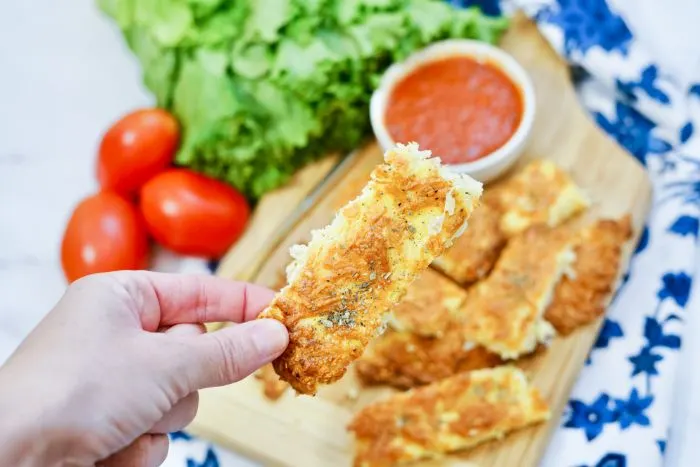 Additions and Variations
Serve with a variety of dips. While marinara sauce is a classic choice, you can also serve these breadsticks with different dips, such as garlic butter, ranch dressing, or a keto-friendly alfredo sauce for added variety.
Try different cheeses: While this recipe uses mozzarella and Parmesan, feel free to experiment with other types of cheese. For instance, you could substitute half of the mozzarella with sharp cheddar or Monterey Jack for a different flavor profile.
Spice it up. For a little kick, add a pinch of red pepper flakes or a dash or two of cayenne pepper to the cheese mixture before baking.
Add in veggies: If you're looking to increase your veggie intake, you could add finely chopped vegetables like bell peppers, onions, or spinach to the cheese mixture before baking. This would not only add nutritional value but also give your breadsticks a pop of color and added flavor.
Recipe FAQ
Can I eat cheese on keto?
Yes, you can eat cheese on a keto diet. In fact, cheese is an excellent choice for the ketogenic diet due to its high-fat, low-carb content. It also provides a good source of protein and calcium.
What kinds of cheeses are best for keto?
When choosing cheese for a keto diet, consider the carb content as some cheeses have a higher carb content than others. The best options are typically hard, aged cheeses and high-fat, soft cheeses. Cheddar, Gouda, goat cheese and blue cheese are great choices, according to Healthline. Parmesan and mozzarella are favorites, too.
Can I freeze Keto Cheese Bread?
Yes, you can freeze it. After baking, let the breadsticks cool completely. Then, place them in a single layer on a baking sheet and freeze until solid. Once frozen, you can transfer them to a freezer bag for longer storage.
What can I serve with Keto Cheesy Breadsticks?
These breadsticks can be served as a side dish with a variety of meals, such as salads, soups, or low-carb pasta dishes made with zoodles or spaghetti squash. They also make a great appetizer when served with low carb marinara sauce or any other dip of your choice.
More Easy Keto Recipes
Easy Keto Cheese Bread
This guilt-free snack is perfect for satisfying your cravings while staying on track with your low-carb lifestyle. Packed with gooey mozzarella and Parmesan cheeses, seasoned to perfection, and served with a side of marinara sauce, these keto cheesy breadsticks are sure to become a favorite in your kitchen.
Ingredients
1

Cup

Mozzarella Cheese

1

Cup

Parmesan Cheese

1

Egg

large

1

Tablespoon

Garlic Powder

1

Teaspoon

Salt

1

Teaspoon

Pepper

1

Teaspoon

Italian Seasoning
Instructions
Pre-heat oven to 350 degrees.

Line a baking sheet with parchment paper.

In a bowl, combine the mozzarella cheese, Parmesan cheese, garlic, salt, pepper, and egg.

Place the mixture onto the prepared baking sheet, and flatten it out like you would a pizza crust.

Bake for 15 minutes.

Sprinkle with Italian seasoning.

Slice and serve with marinara sauce.
Notes
Save a few carbs by shredding the cheese yourself rather than using pre-packaged shredded cheese. Some packaged cheese contain fillers and extra carbs.
Add a pinch of red pepper flakes for a spicy kick.
Spread the cheese in an even layer for uniform cooking and to prevent the edges from burning due to being too thin.
Store leftovers in an airtight container for up to 3 days. Warm in the microwave or air fryer to reheat.
These keto cheesy breadsticks are great with low carb marinara sauce or ranch.
Nutrition
Calories:
207
kcal
Carbohydrates:
4
g
Protein:
17
g
Fat:
13
g
Saturated Fat:
8
g
Polyunsaturated Fat:
1
g
Monounsaturated Fat:
4
g
Trans Fat:
0.01
g
Cholesterol:
76
mg
Sodium:
1196
mg
Potassium:
108
mg
Fiber:
1
g
Sugar:
1
g
Vitamin A:
437
IU
Vitamin C:
0.04
mg
Calcium:
510
mg
Iron:
1
mg