Can you believe February is here already? It seems like we were just making our January bucket list. This year is rolling on fast, but it's important that we as parents slow down when we can to do some fun things with our kids. If you need inspiration, here are more than 15 fun things to do. Download our printable February Bucket List for Kids, and plan out your activities for the month. There are so many creative ideas here… Groundhog Day crafts, easy Valentine's Day crafts, President's Day activities and more.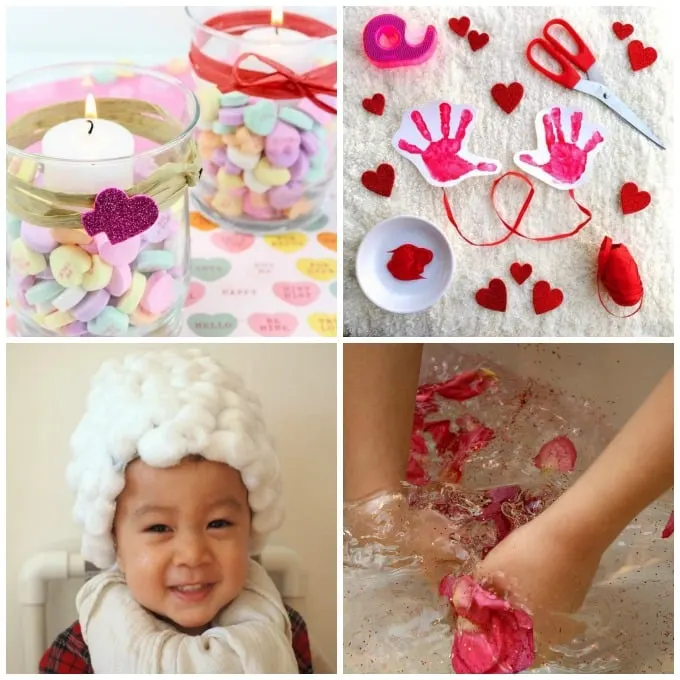 Printable February Bucket List for Kids
Don't forget to download the printable February bucket list for kids to keep it handy. Your kids will have so much fun selecting which activities they want to try. You can find more detailed information about what's on the list below.
Click HERE or on the picture below to download.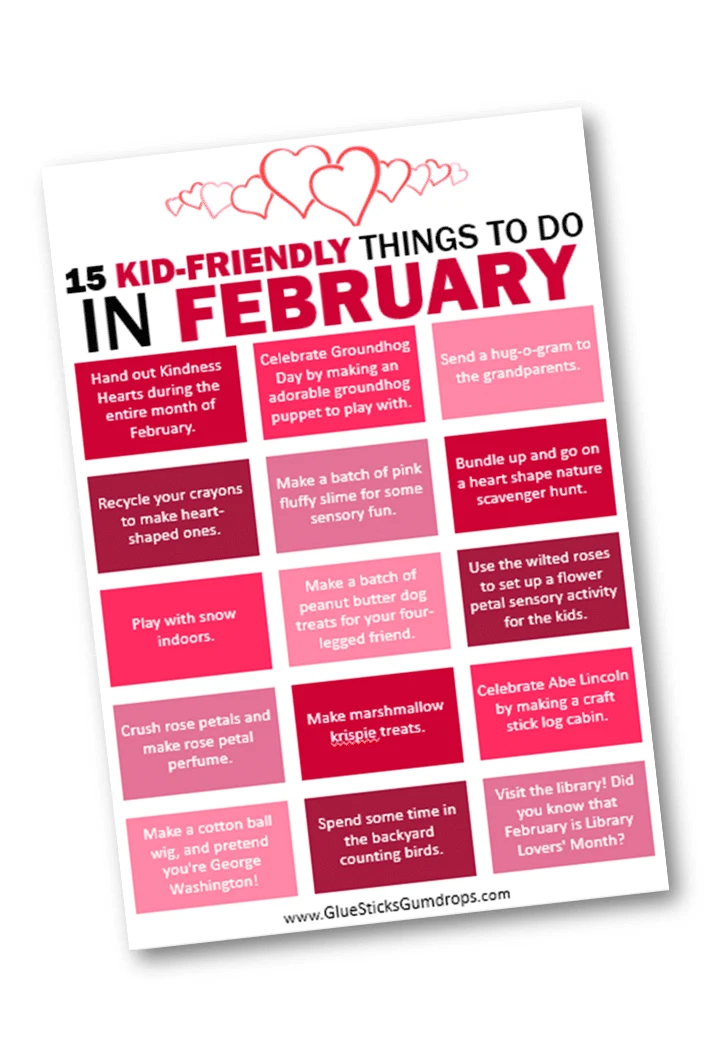 15+ Fun Things to Do in February
Send a hug-o-gram to the grandparents. It will make their day!
Recycle your crayons to make heart shaped ones. They make great Valentines.
Hand out Kindness Hearts during the entire month of February. Hand them out at school, at the grocery store… anywhere!
Make a batch of pink fluffy slime for some sensory fun. Printable Valentine cards are included in the post if you want to hand them out to friends.
Celebrate Groundhog Day by making an adorable groundhog puppet to play with.
Bundle up and go on a heart shape nature scavenger hunt to see how many things you can spot that are heart-shaped.
Make heart necklaces to sport on Valentine's Day. Give them out to your friends!
Play with snow indoors. Seriously! It allows the kiddos to play with the white, fluffy snow when the wind chills are just too severe to go outside and brave the elements.
Our Valentine sensory bin is another fun sensory activity to keep little hands busy.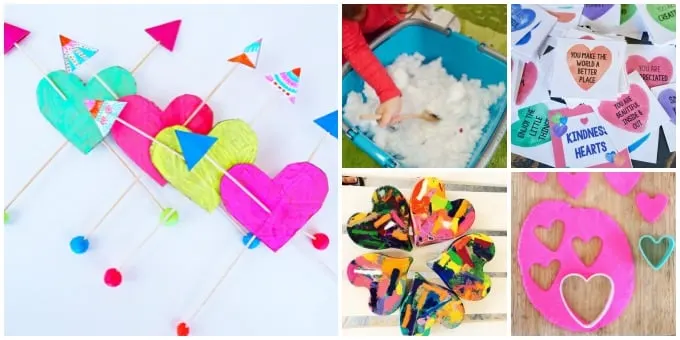 Make a cotton ball wig, and pretend you're George Washington, first President of the United States!
Set the dinner table with these lovely conversation heart votives for Valentine's Day.
Animals need love too. Make a batch of peanut butter dog treats for your four-legged friend.
Use the wilted roses you have on hand after Valentine's Day to set up a flower petal sensory activity for the kids.
Crush rose petals and make rose petal perfume.
Make marshmallow krispie treats and top them with marshmallow hearts.
Celebrate Abe Lincoln by making a craft stick log cabin, or use Lincoln logs if you have them!
This STEAM activity for balancing hearts looks like lots of fun for little builders.
Spend some time in the backyard counting birds to see how many of each species you can spot.
Whip up a batch of glow in the dark play dough; it is perfect for making glowing hearts.
Create a 3-D model of a rose to study its parts. When you're done, give it to someone as a gift!
Visit the library! Did you know that February is Library Lovers' Month?
And if you're tired of the usual February holidays, here are 25 holidays to celebrate in February that have nothing to do with love!