This Valentine's Day, show some love with this totally adorable love birds cupcake liner craft! Using cupcake liners is a quick, easy way to make all sorts of fun shapes and animals. This Valentine's Day craft is perfect for preschoolers and older kids alike.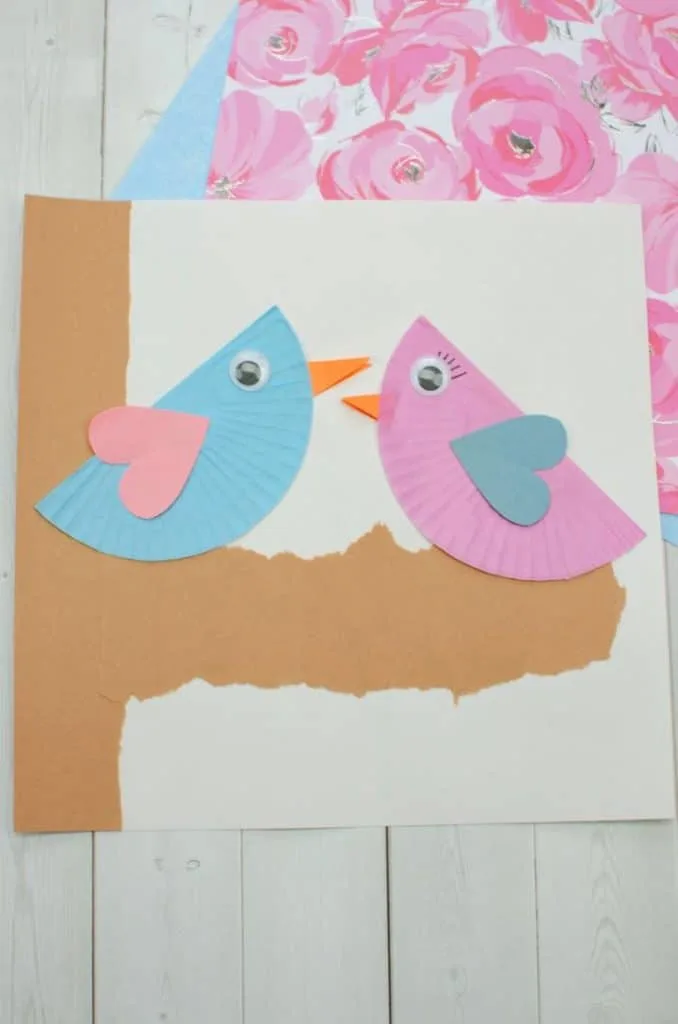 Cute Cupcake Liner Love Birds
Your kids are going to absolutely love this sweet little love birds craft. First, you'll make a torn-paper tree for the birds to sit in. Tearing and gluing the paper is excellent fine motor practice for little hands. You could give them even more by tearing the brown paper into very small pieces and assembling your tree with those.
Then, the birds are as simple as folding the cupcake liners in half and adding eyes, wings, and a beak. This craft couldn't be simpler!
Ready to get started? Here's what you'll need.
Note: you can make your love birds any color you like. Here, you'll see some red and blue birds as well as some pink and light blue birds. Yellow, purple, etc. would be just as lovely! You could even use patterned cupcake liners for some really fancy birds!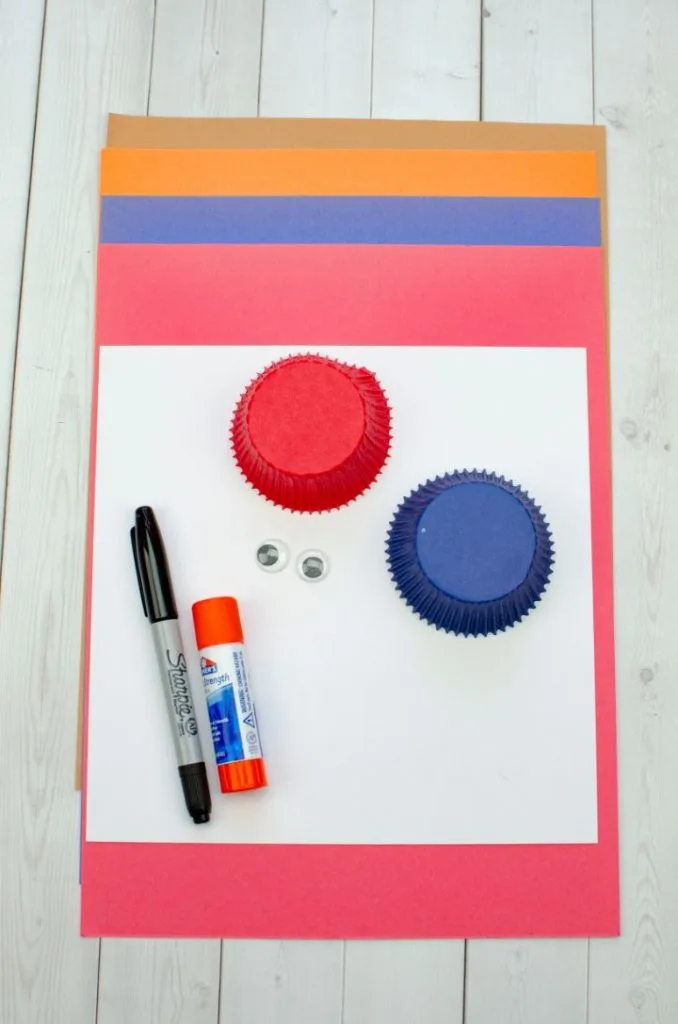 Supplies for the Love Birds Craft
White paper for the background
Brown paper for the tree
Orange paper for the beaks
Paper in the colors matching your cupcake liners
Cupcake liners in your choice of colors
Two googly eyes
Black marker
Glue stick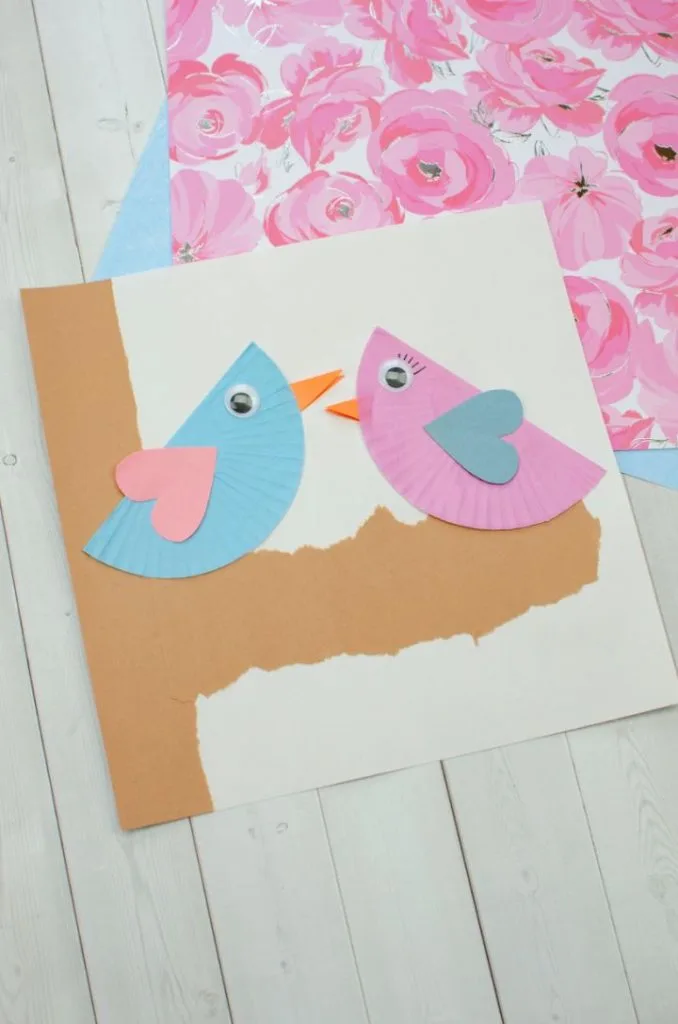 Related: Love Birds Valentine's Day Coloring Sheet
How to Make Cupcake Liner Birds
First, take the brown paper and tear a wide strip from one of the ends so one side is torn, and the other side is straight.
Glue this piece to the edge of the white paper to make the trunk of the tree.
Tear another wide strip for the branch and glue it horizontally from the tree trunk.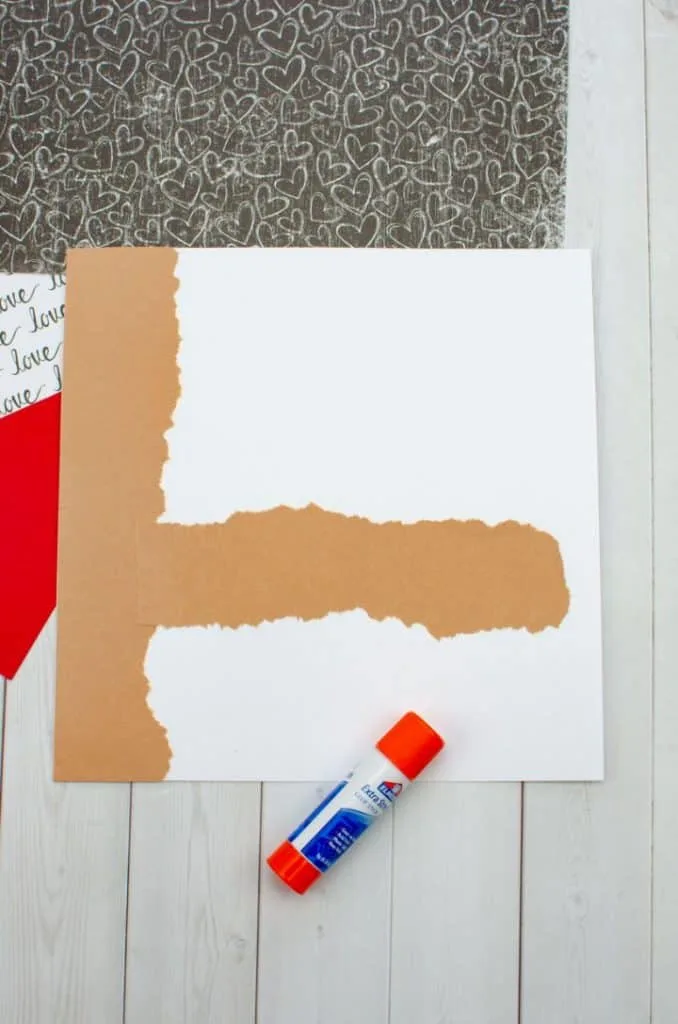 Now, grab the cupcake liners. Fold them in half and glue the two halves together.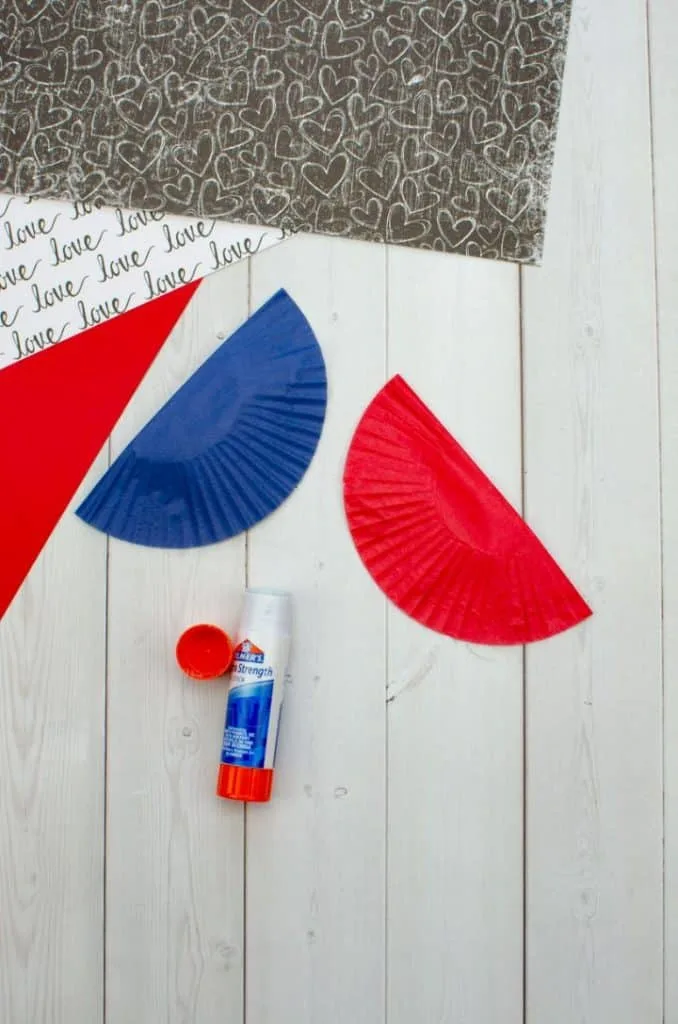 Take the orange paper and cut two triangles for the beaks. Glue them to the back of the cupcake liner towards the top.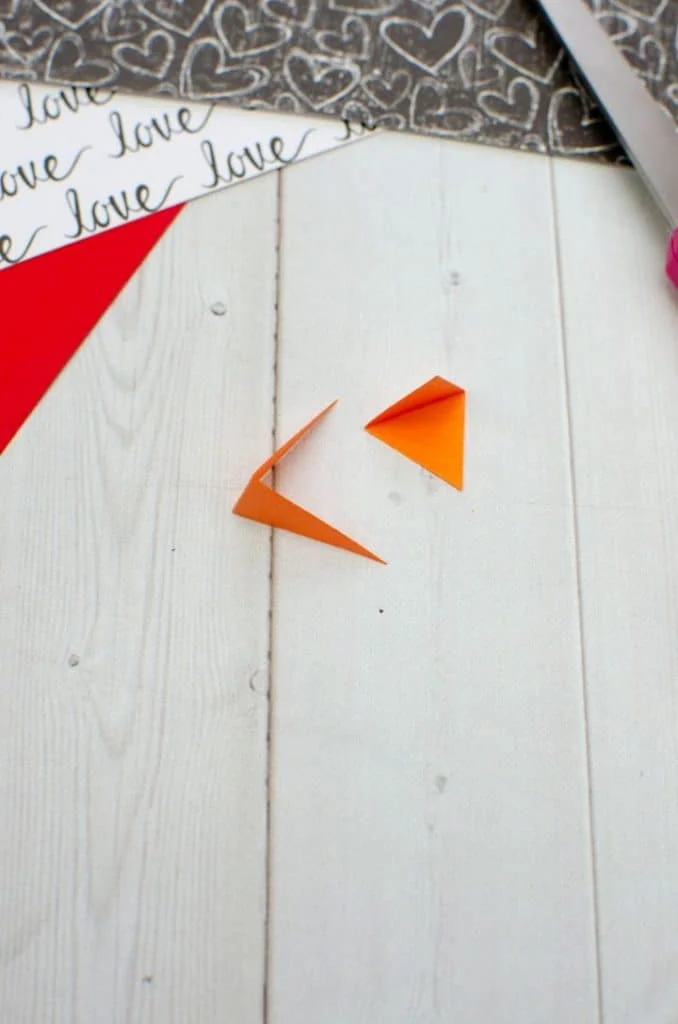 Next, glue the cupcake liners to the paper so they are resting on the branch.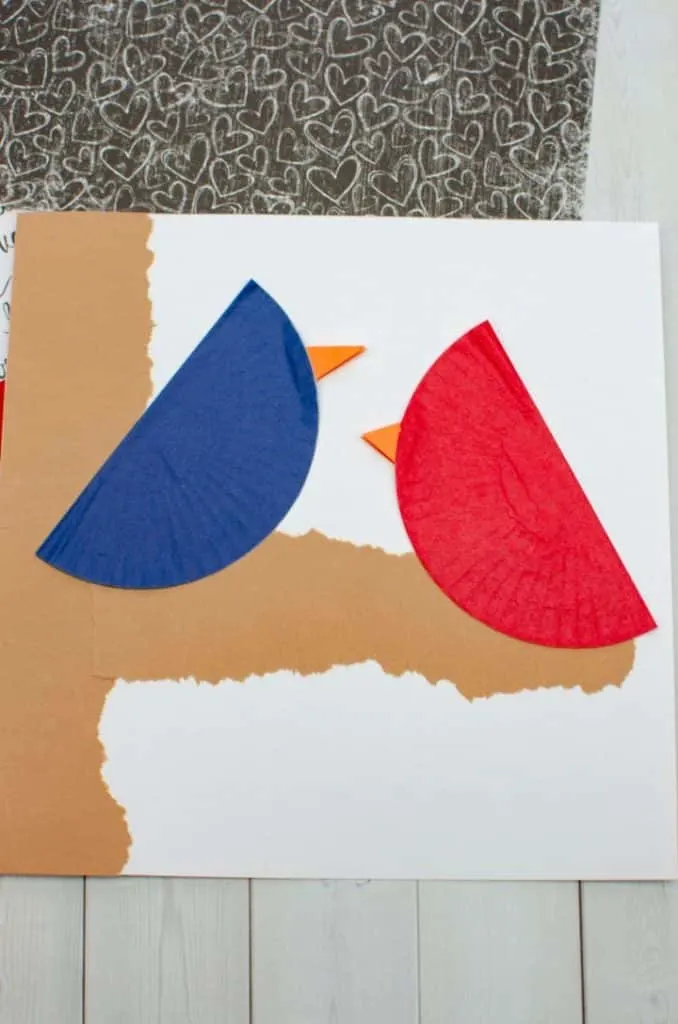 Grab the colored paper that matches the cupcake liner colors and cut two small hearts. These will be the bird's wings, glue them to the bird's body.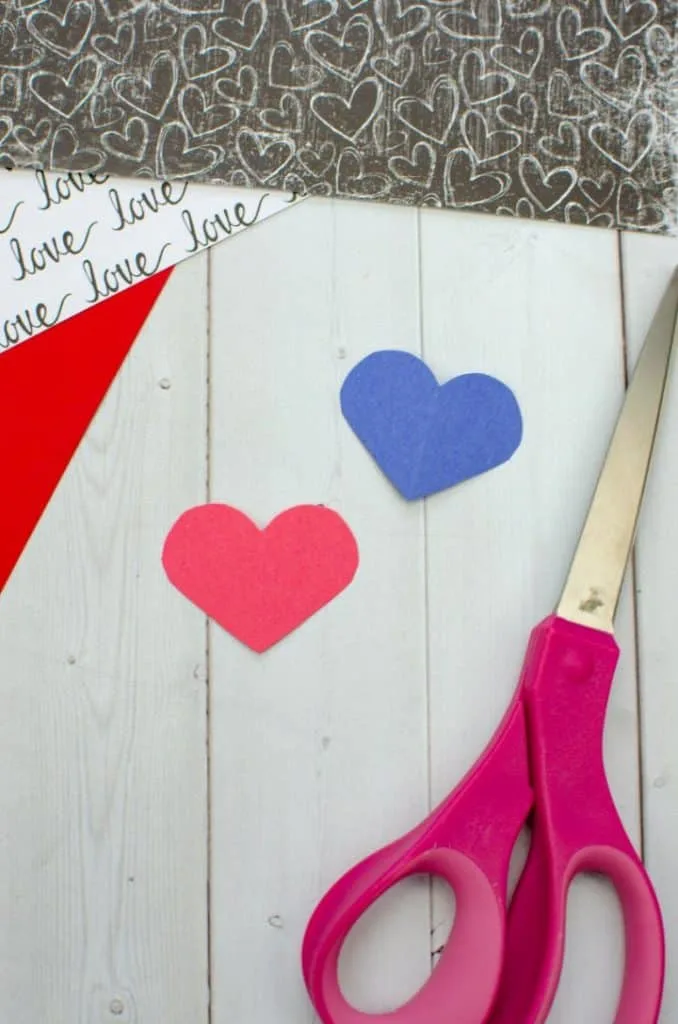 Finish off the craft by popping on the googly eyes. You can make one bird look like a girl by adding some lashes.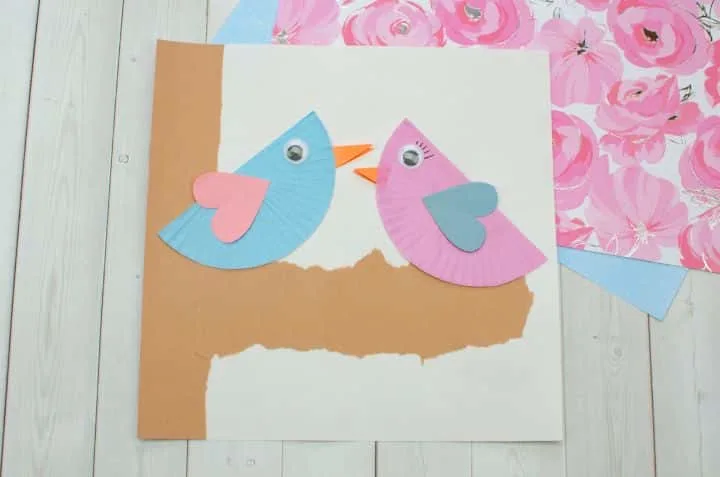 The cupcake liner love bird craft is complete.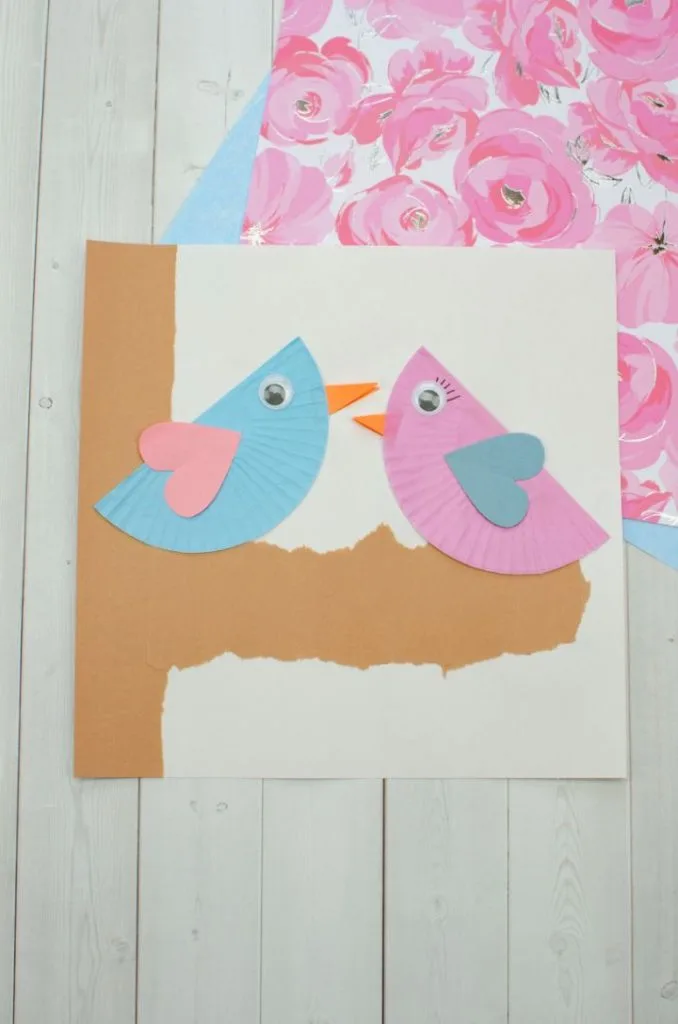 For more easy Valentine's Day crafts, check out the posts below!