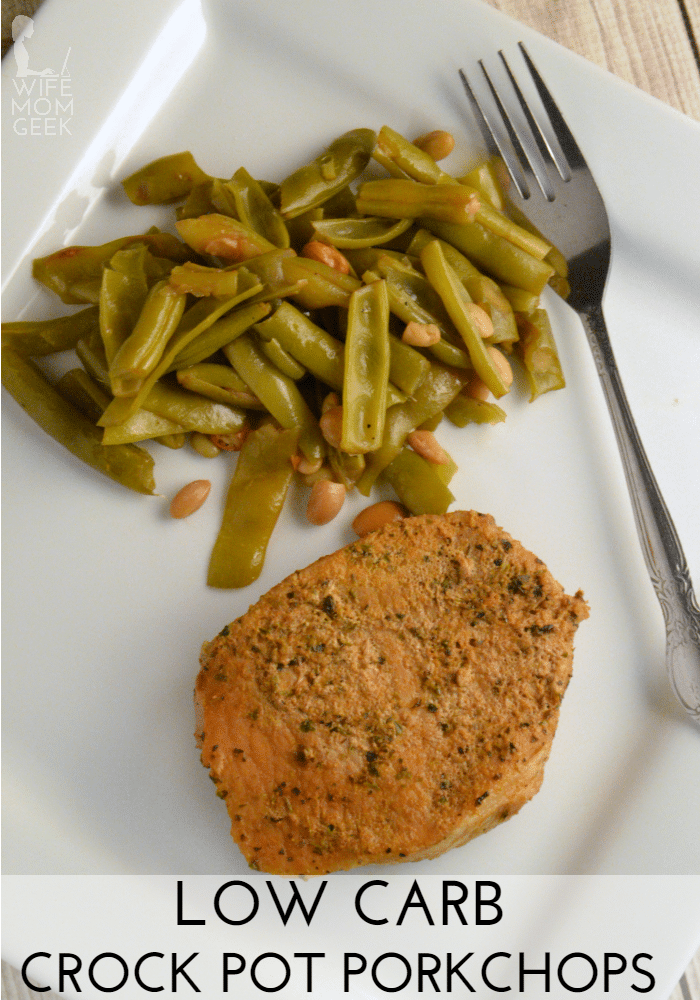 I love porkchops in the crock pot. They get so tender that they fall apart, and letting them simmer for hours injects a lot of flavor into the meat. Unfortunately, lots of crock pot recipes use cans of soup–cream of something or other– and those are not carb-friendly. These low carb crock pot pork chops don't need any soup. They're full of flavor, tender and moist, and one of our go-to simple low carb meals. Give them a try!
And yes, those green beans were delicious. My dad canned them from his garden, and we're down to just a few jars now. Sigh. I'll definitely have to get more this year; maybe I'll grow some of my own.
Here's what you need to make the porkchops. Keep in mind that you can do this in half the time, but the meat dries out a little when you cook it on high. I really recommend taking the slow route for 7-8 hours. Check out our list of 15 Low Carb Pork Recipes while you wait to plan your next meal!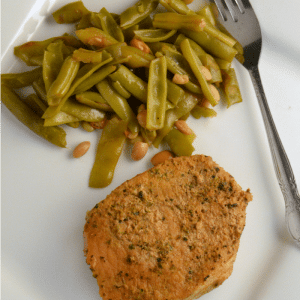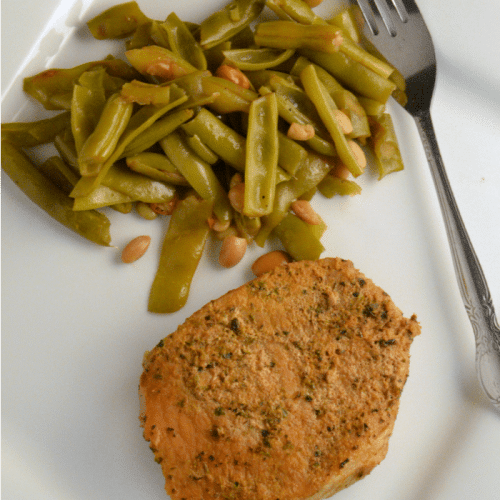 Low Carb Crock Pot Porkchops
These crock pot porkchops are full of flavor and low on carbs.
Ingredients
4

boneless

thick-cut porkchops

1/8

c.

olive oil

1

c.

beef broth

2

cloves

garlic

minced

1

Tbsp.

paprika

1

Tbsp.

onion powder

1

Tbsp.

steak seasoning

1

tsp.

dried oregano

1

tsp.

dried basil

1

tsp.

dried parsley
Instructions
Mix everything but the porkchops in a medium bowl.

Pour half the liquid into the crock pot.

Place the porkchops in, and dump the remaining liquid over the chops.

Cook on low for 7-8 hours or high for 4 hours.

Turn the meat every two hours or so (every hour if cooking on high).

Serve and enjoy!
The liquid from the pork chops is delicious over rice or potatoes if you're not watching your carbs. You could also rice some cauliflower to go with them for another low-carb side dish. But the green beans were divine. And so were the chops.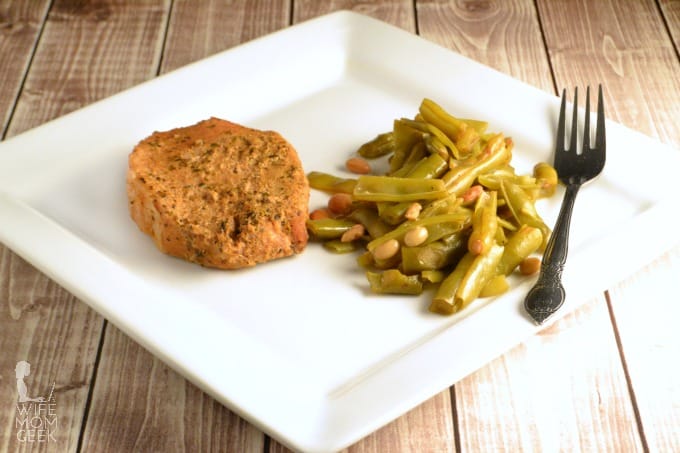 If you enjoyed these crock pot porkchops and are looking for more low carb recipes, take a look at the posts below!