With Christmas just around the corner, these nativity crafts will help you and your family focus on the real reason for the season: the birth of Jesus Christ. We've found easy nativity scene crafts for toddlers and preschoolers as well as nativity art ideas that older kids can enjoy.
While it's easy to get caught up in the fun of Santa and the Elf on the Shelf during this time of year, it's helpful to refocus on the birth of Jesus and the real story of Christmas. Crafting is a wonderful way to bring the nativity to life for children and spark interesting conversations with them about this historic event.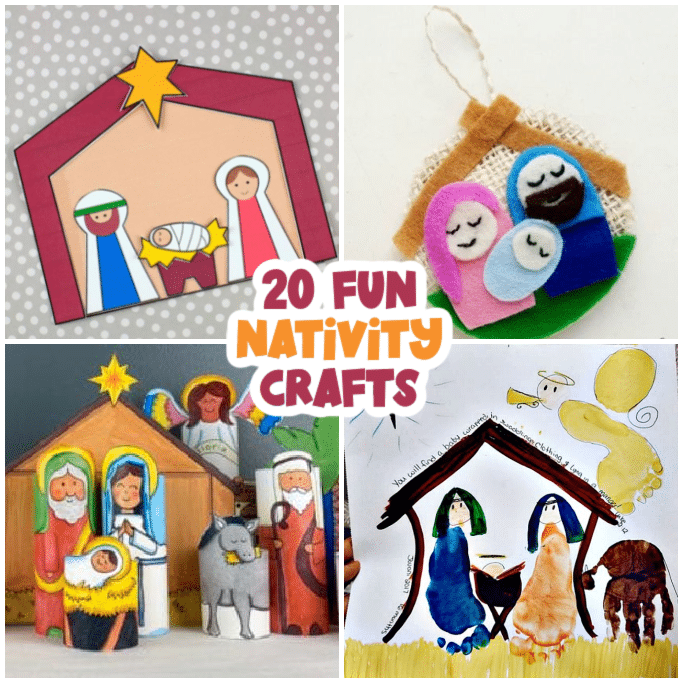 Read about the birth of Jesus in the Bible and spend some time together making one of these nativities. They're perfect for making at home or in a Sunday School class. You may also want to take a peek at our list of Christmas books about angels to ring in the season.
Without further ado, here are 20+ beautiful nativity craft ideas for kids of all ages.
Nativity Crafts for Preschoolers
Here are some of the simplest nativity crafts we've found. They're simple enough for toddlers and preschoolers, but that doesn't mean that your older kids won't love them just as much. Sometimes an easy craft is just what you need for some family time together.
Crumpled Paper Nativity
Work on fine motor skills with this adorable crumpled paper nativity scene from Mommy Made That. Crumpling up the papers and gluing them to the paper helps kids practice skills like grasping and squeezing, thus improving dexterity. Joseph, Mary, and Baby Jesus are on a cute crumpled paper star. Little ones may need help drawing the faces, but otherwise, they'll have a blast with this project.
Cut and Glue Nativity Scene
It doesn't get much easier than this cut and glue nativity from Non-Toy gifts. Let the kids practice their scissor skills cutting out the characters, manger, stable, and other parts of the nativity scene. Then, just glue them together. Easy peasy!
Heart Nativity Craft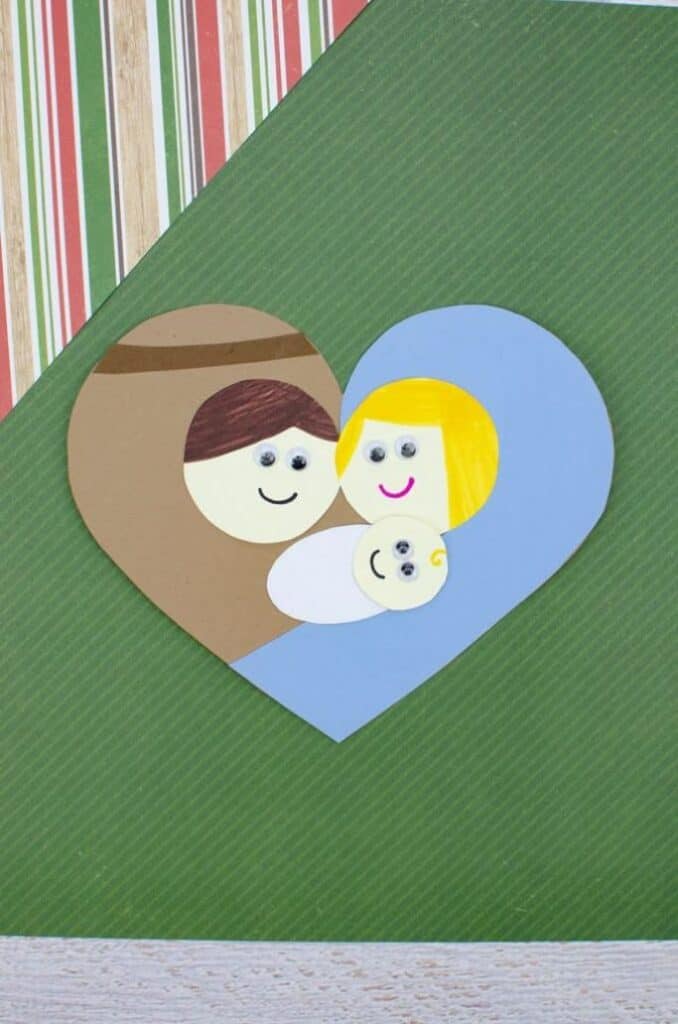 This adorable and easy heart-shaped nativity scene from Big Family Blessings is perfect for little hands to make. Cut out simple shapes like a heart, circles, and an oval to place Mary, Joseph, and Jesus on a cute heart.
Nativity Handprint and Footprint Craft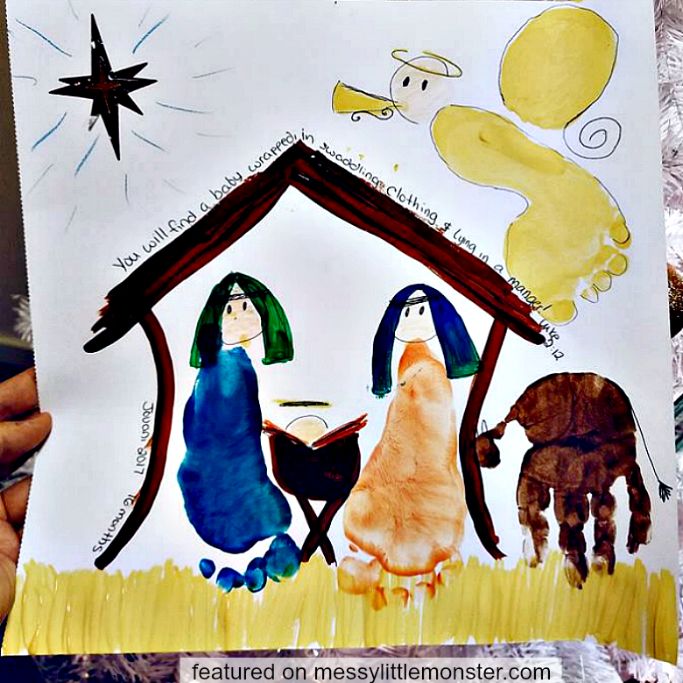 Create a keepsake that you'll treasure for years to come. This handprint and footprint nativity from Messy Little Monster will be a sweet reminder of how small your toddler or preschooler was during this holiday season.
Printable Nativity Scene Christmas Crafts
If you're looking for a quick and easy project, printable crafts are where it's at. These nativity printables can be printed, colored, and assembled quickly, so they're perfect for shorter attention spans, Sunday School crafts, or just when you're short on time.
Colorful Printable Nativity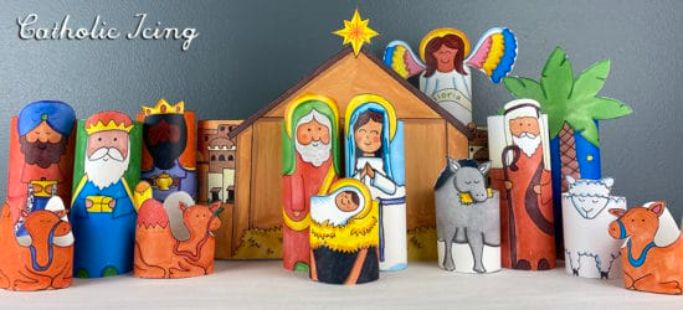 This colorful printable nativity from Catholic Icing is one of our absolute favorite nativity crafts. The full color version is beautiful and vibrant, but there's a black and white colorable version for kids who'd like to color their own nativity pieces.
Printable Nativity Baubles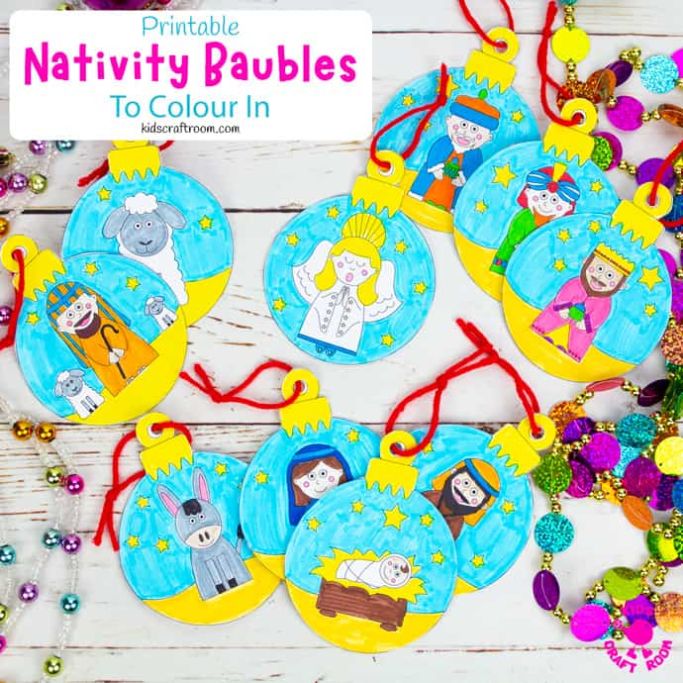 Decorate your tree with fun printable nativity baubles from Kids' Craft Room featuring all your favorite figures from the nativity scene, including Mary, Joseph, Baby Jesus, a shepherd, wise men, an angel, and a donkey. This craft is perfect if your kids have their own tree. Handmade ornaments are so much fun!
Printable Nativity Scene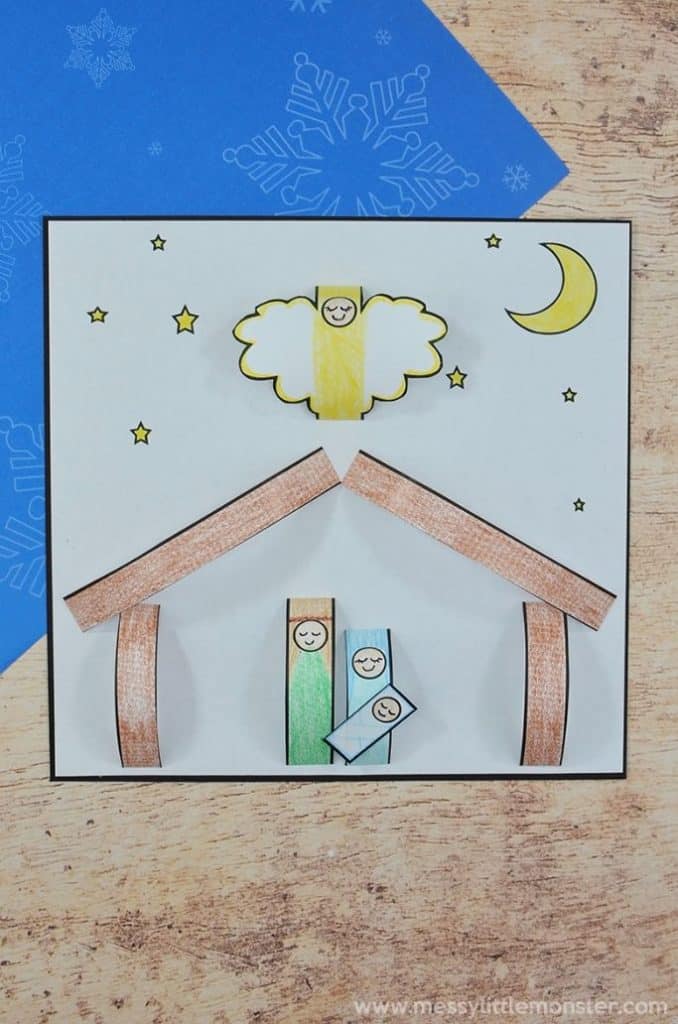 I love how simple this printable nativity scene is from Messy Little Monster. It's made mostly of paper strip pieces and figures which are super easy for kids to cut out with their scissors. Only the angel is embellished because, of course, an angel needs beautiful wings! There are also guides on the paper to show kids exactly where to glue each end of the paper strips to get that pop-off-the-page look.
Toilet Roll Nativity Craft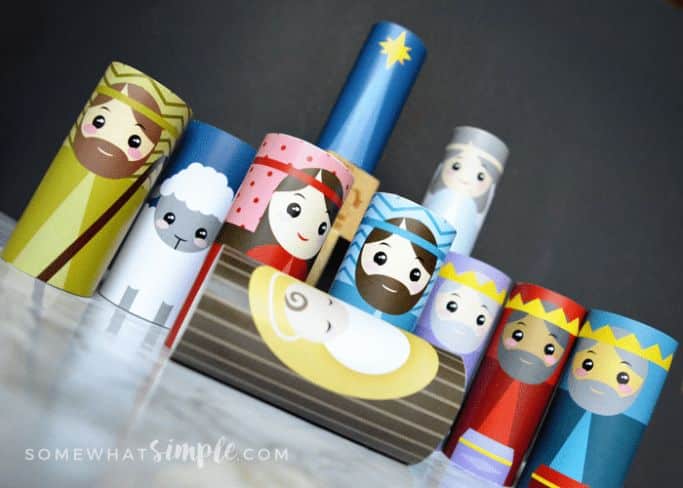 If you save empty toilet paper tubes (and you should!), here's a gorgeous toilet roll nativity set from Somewhat Simple that'll be a cute addition to your decor for the holidays. Just print out the templates for the printable nativity set, cut them, glue them to the toilet paper rolls, and you're done!
Nativity Craft Ideas That Are a Little More Involved
These nativity craft projects are a little more involved, but not complicated. They may involve more pieces to cut out and glue together or just require more help from adults.
Paper Plate Nativity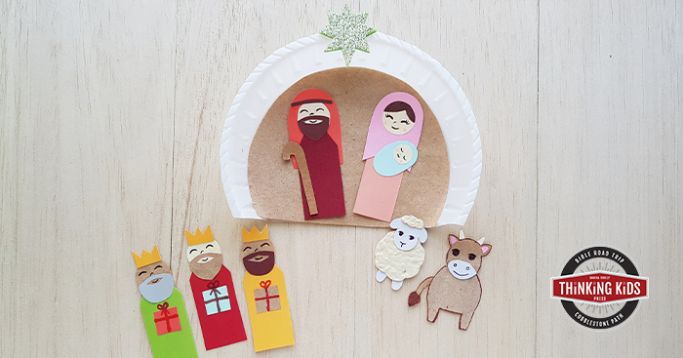 Make a paper plate nativity to display on the wall, table, or mantle this holiday season. The printable template from Thinking Kids makes this craft easy enough for most ages even though there are a lot of pieces to assemble.
Popsicle Stick Nativity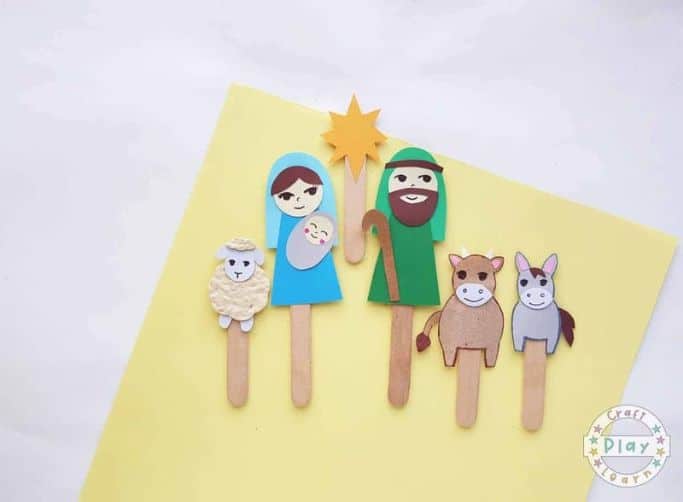 This popsicle stick nativity from Craft Play Learn is perfect for kids of all ages to play with. Make these figures—Mary, Joseph, Jesus, a sheep, a cow, and a donkey—then add them to craft sticks and let the kids put on a little puppet show retelling the Christmas Bible story.
Nativity Scene Craft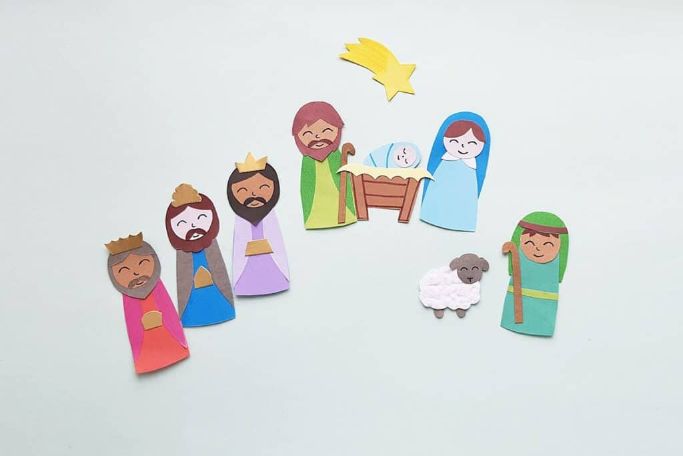 This paper nativity scene from Big Family Blessings is cute and easy to put together using the printable templates and would be perfect for a lesson on Christ's birth. It would look lovely added to a nice canvas to hang on the wall or could be turned into greeting cards by placing some of the pieces on cardstock.
Nativity Ornaments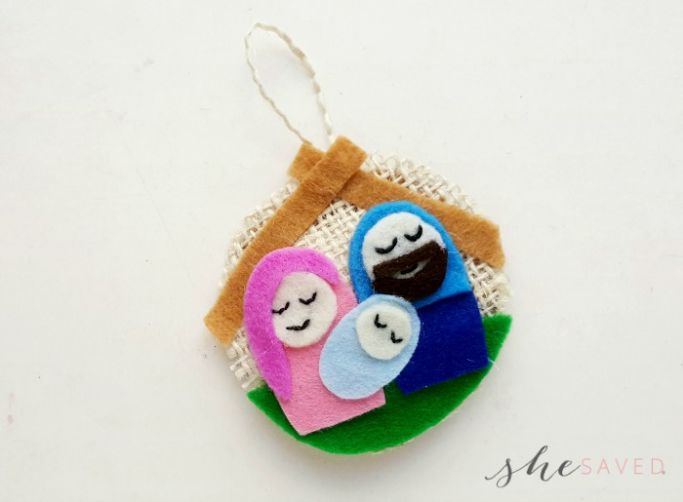 Make DIY nativity ornaments for the tree using burlap and felt. An adult or older sibling will need to help little ones by doing the glue gun parts and perhaps drawing the faces on the figures. – via She Saved
Nativity Art Ideas
Feeling artsy? These nativity art projects involve some fun techniques like making suncatchers, quilling, working with clay, and drawing. They're perfect for your artsy kids.
Stained Glass Nativity Craft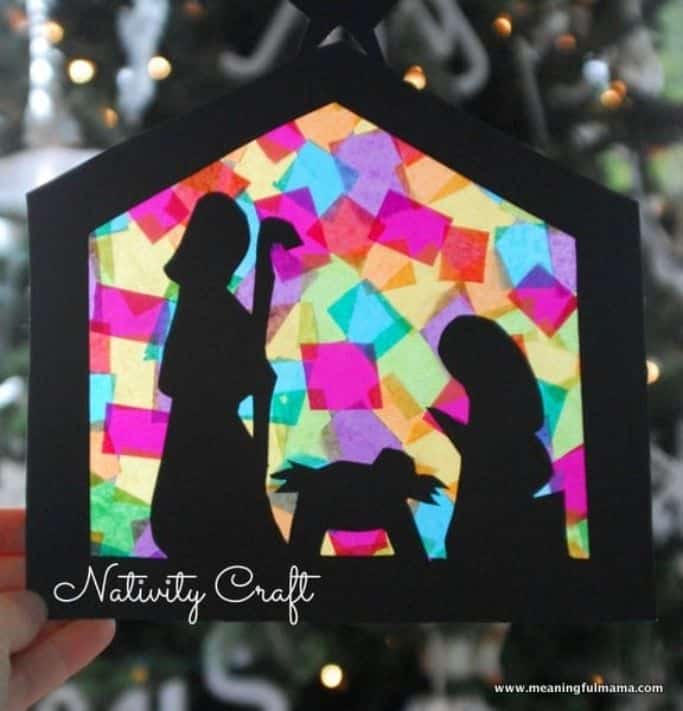 How beautiful is this stained glass nativity idea from Meaningful Mama? It looks like something you'd see in a church and will look gorgeous hanging in a window with the light shining through the colorful paper.
Paper Quilled Nativity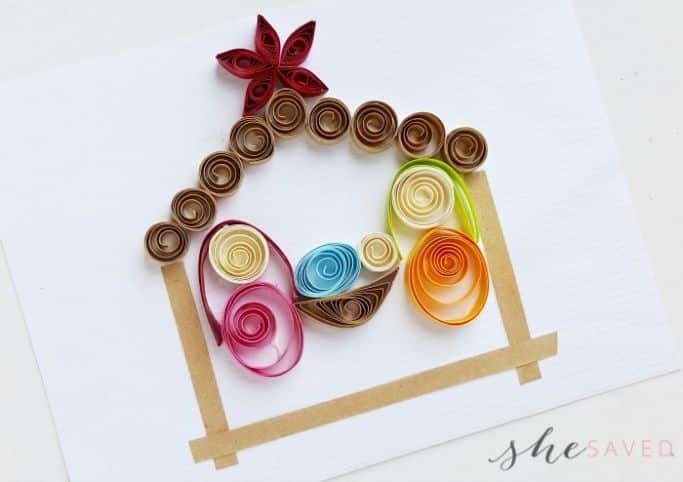 Paper quilling is such a lovely and visually interesting art form. This paper quilled nativity from She Saved is perfect for the Christmas season and is a nice project for older children. They'll learn to make loose coils, half moons, and lens shapes with the quilling paper.
Clay Nativity Craft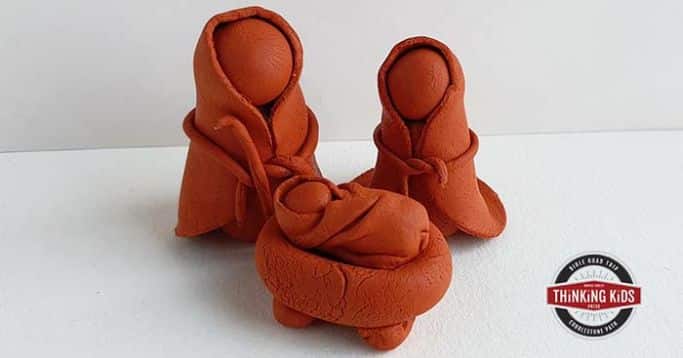 Use air-dry clay to make a simple clay nativity featuring Mary, Joseph, and Baby Jesus. Place the nativity somewhere amongst your decor where you can see it and reflect on it often through the Christmas season.
How to Draw a Nativity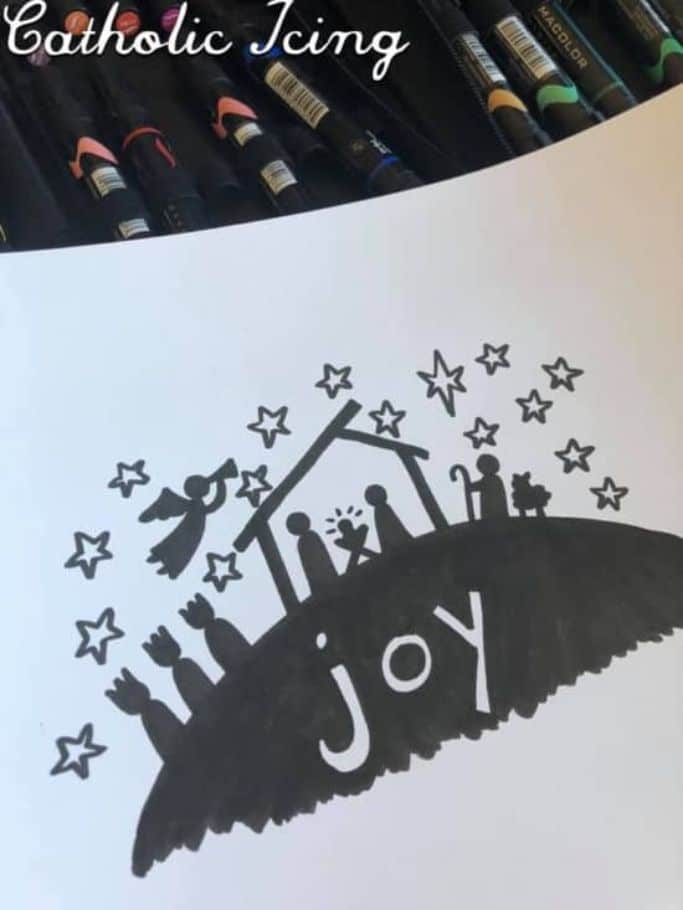 Learn how to draw a silhouette nativity with these simple instructions from Catholic Icing. There's also a video to follow along with step-by-step. I think I'll try this one myself!
More Fun Nativity Crafts
Here are a few more simple projects for the kids to make. They'll love playing with the stick puppets and peg dolls, making cards for the family, or making a wall hanging for their rooms.
Nativity Wall Hanging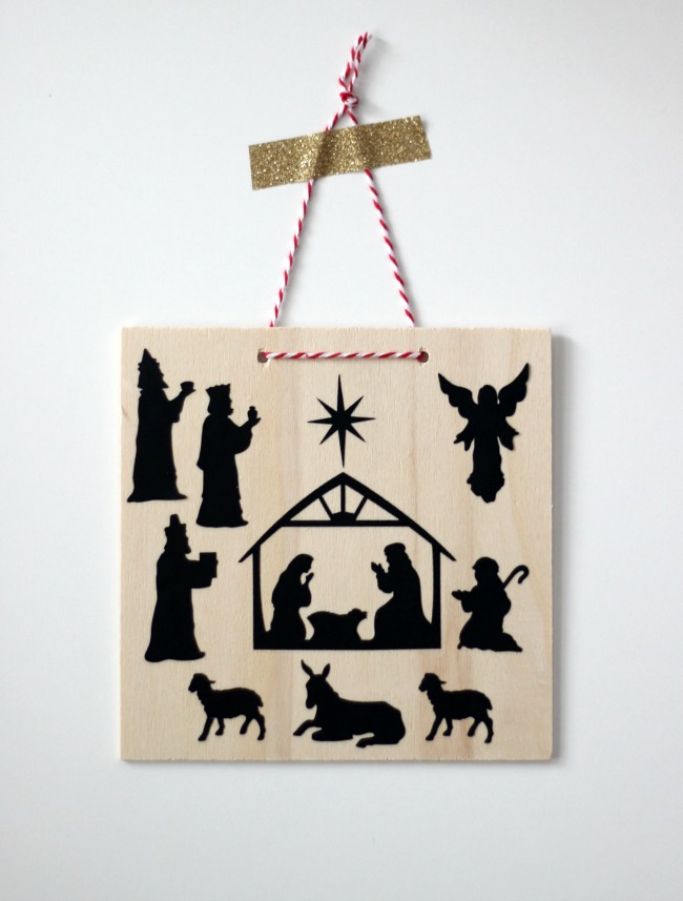 Grab some nativity vinyl stickers and a wooden plaque to make this super simple nativity wall hanging from Gluesticks. Older kids will enjoy the silhouette version, while you may be able to find some more child-like nativity stickers (affiliate) and a small canvas for the younger children to use.
Nativity Card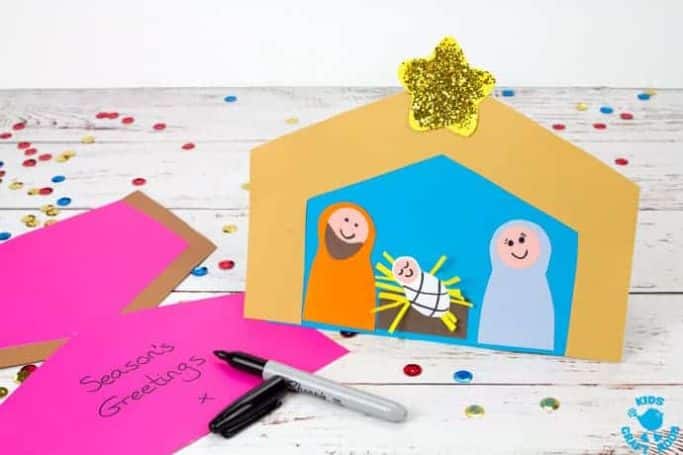 Send season's greetings to friends and family with an adorable kid-made nativity card. This template from Kids' Craft Room is free and will help kids make the cutest handmade card.
Nativity Peg Dolls
Make nativity wooden peg dolls to play with or add to your decor. This tutorial from The Crafting Chicks is a great project for older children, especially those with younger siblings, as then the younger ones can play with them. Even adults will love this craft since they're simple, beautiful, and will go with just about any decor theme.
Nativity Stick Puppets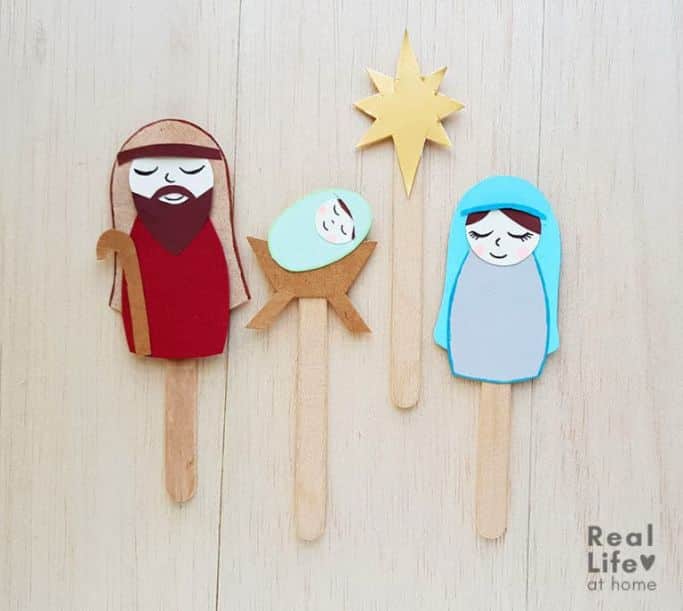 Here's another version of the nativity puppets with Mary, Joseph, Jesus, and the Star of Bethlehem. They're a little simpler than the version listed earlier, and are a little easier for preschoolers and kindergarteners to make. Grab the template from Real Life at Home to make your own stick puppets!
We hope you've enjoyed this list of nativity crafts. Which one will you make first?
More Christmas Crafts for Kids