Add some festive flair to your Christmas tree this year with these gorgeous DIY stained glass ornaments. This is a fun project for kids and adults alike, and they look truly beautiful on the tree when they are lit from behind.
Hang them on the tree, give them as gifts to extended family and friends, or attach them as gift wrapping accessory to give your gifts that extra special touch this holiday season.
They'd also make lovely suncatchers if you want to hang them in the window for everyone to see.
Let's get started!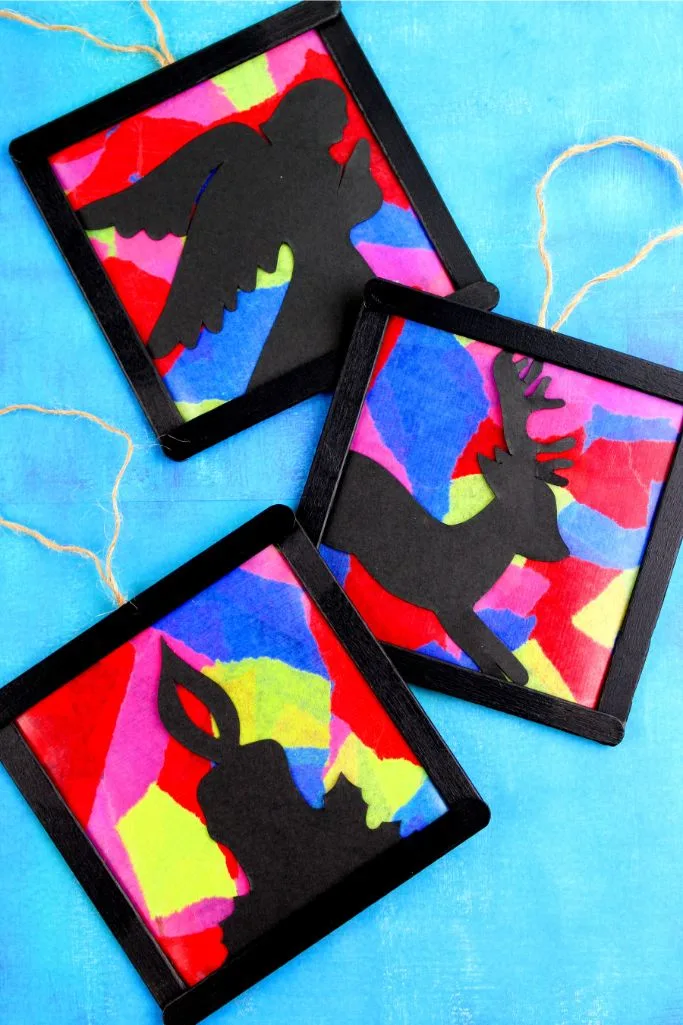 How to Make Stained Glass Christmas Ornaments with Tissue Paper
Before you begin, make sure you download the PDF of the silhouettes. You'll need these for step 2!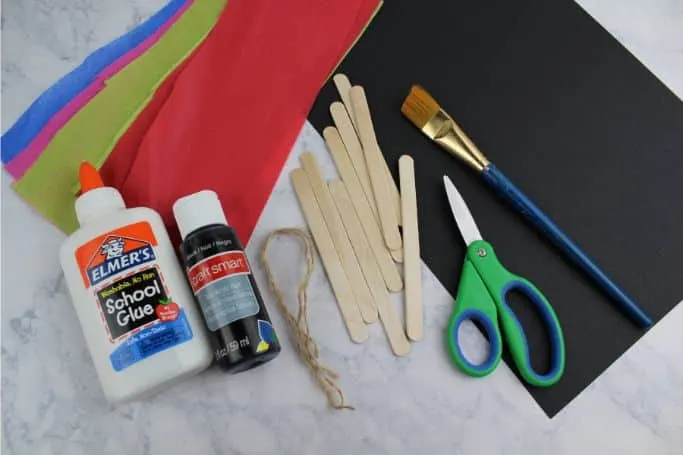 Supplies for the Stained Glass Ornaments:
Tissue Paper
Scissors
Glue
Paintbrush
Black Paint
Popsicle Sticks – 4 per ornament
Twine
Instructions for the Stained Glass Christmas Ornaments:
1. Lay out some paper to cover your work surface. Paint 4 popsicle sticks black. You will need four popsicle sticks per ornament. Allow them to dry completely. You could also use colored craft sticks here or just leave them their natural color if you prefer.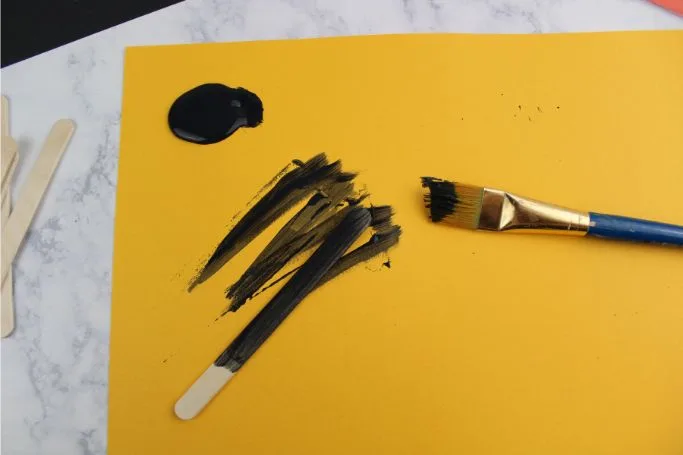 2. While your wait for the popsicle sticks to dry, download the silhouette template and print it out. Trace the silhouettes onto black cardstock and cut them out with scissors. Small children may need help with this step, as some of the cuts are more intricate. Set the silhouettes aside.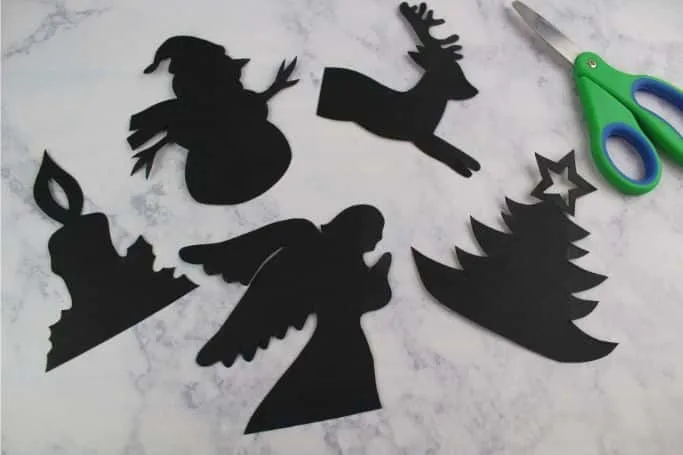 3. Glue the popsicle sticks into a square once you've made sure they're completely dry.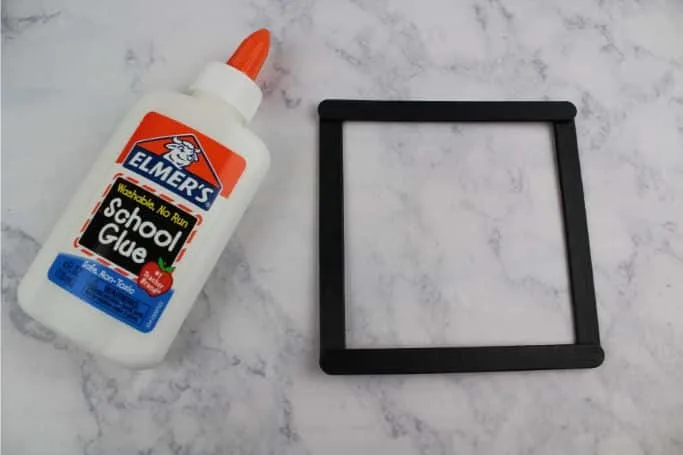 4. Rip tissue paper into small pieces. You'll want to use at least 3-4 different colors to get a good stained glass effect for your ornament.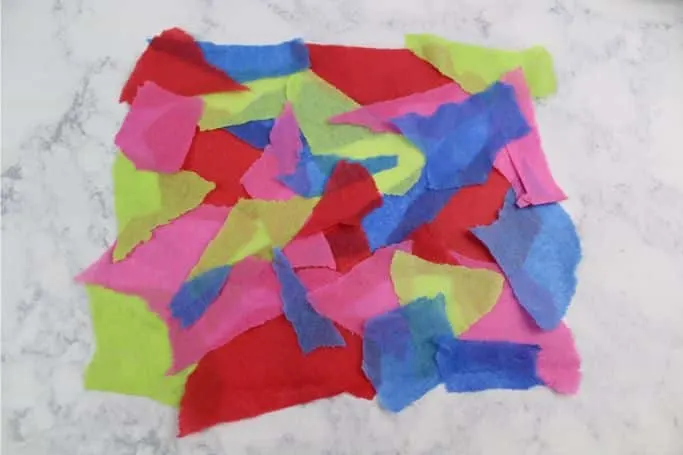 5. Cut a piece of contact paper a little larger than the size of the popsicle stick square. Cover the sticky part of the contact paper with the torn tissue paper pieces.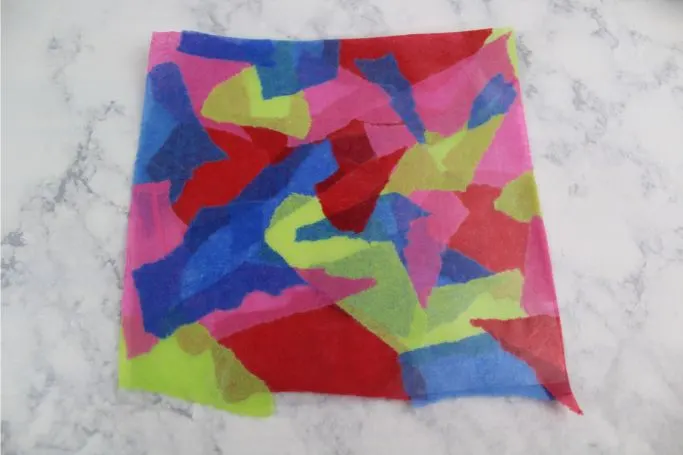 6. Cut a second piece of contact paper a little larger than the size of the popsicle stick square and cover the tissue paper. Press out any bubbles. Cut the contact paper the size of the popsicle stick square. Glue the silhouette onto the contact paper.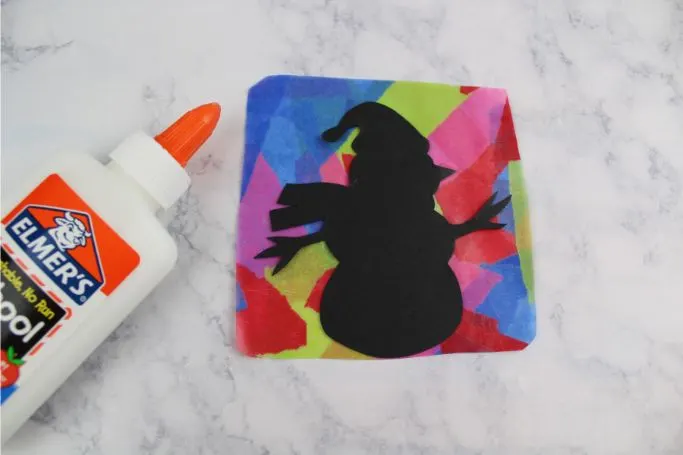 7. Glue the contact paper onto the back of the popsicle stick square.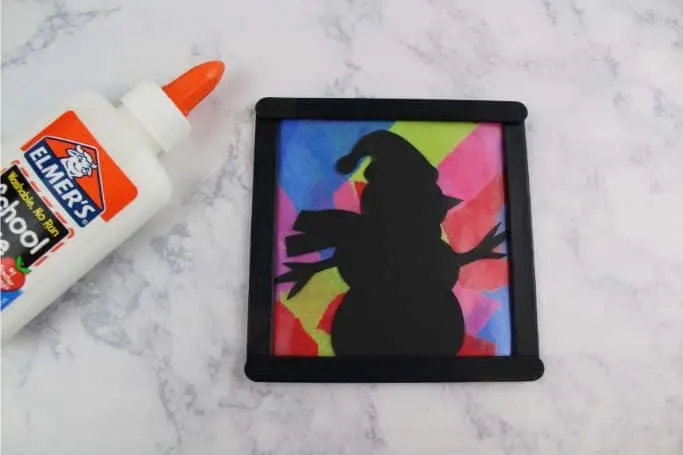 8. Glue a small piece of twine to the top of the ornament for hanging on a Christmas tree. You can also use ribbon to hang the ornament. That would be really pretty!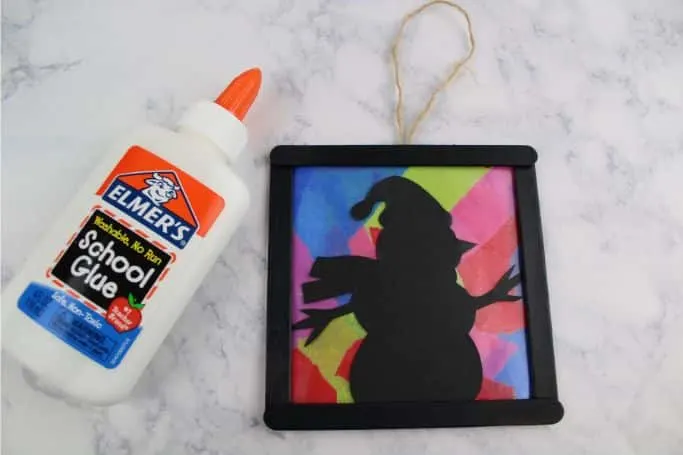 Your ornament is finished. These would make wonderful family keepsake gifts! You can attach them to gifts at your holiday parties, too.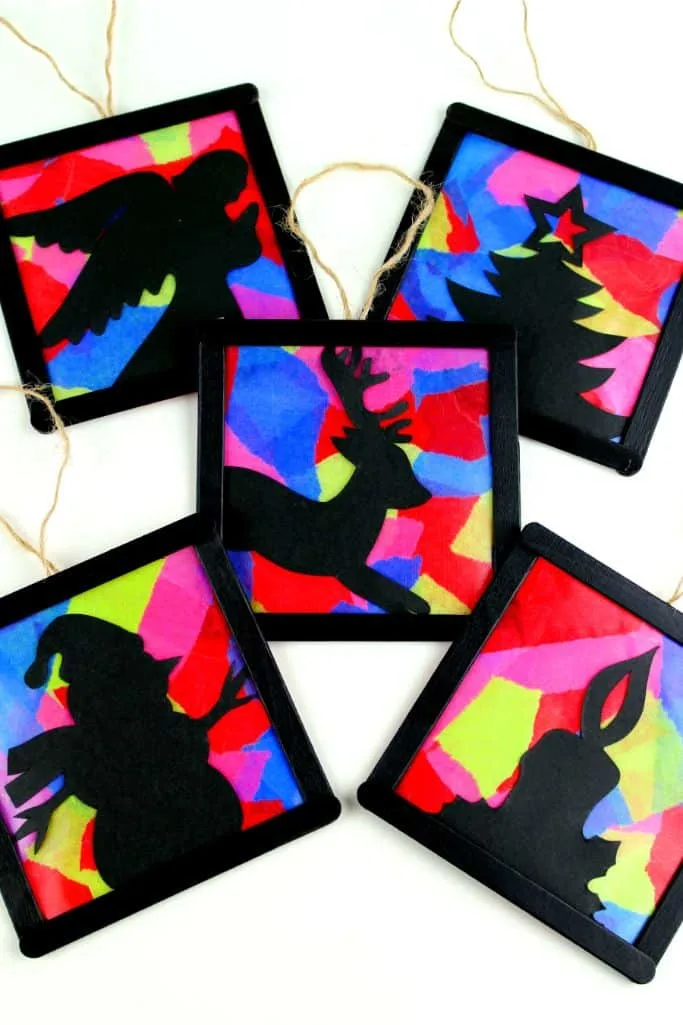 Which of these stained glass ornaments are your favorite? Ours is the angel! And if you like the angel best, too, you'll probably love our post on Nativity Crafts for Kids.
More Christmas Ornament Crafts for Kids
If you're looking for more Christmas ornaments to make with your kids, take a look at these posts:
FAQ for Making Stained Glass Ornaments with Tissue Paper
How many colors of tissue paper do you need for this craft?
Four colors is our preference, but you'll need at least three different colors of tissue paper to give a good variety of color in the ornaments. You can find tissue paper for cheap at any dollar store in your area. We always have some on hand to craft with!
What type of glue is best for these stained glass ornaments?
We've shown school glue in this craft because that's the best option when you're working with young children. However, school glue can take a couple of hours to dry completely, and it doesn't always hold up that great over time.
You can use hot glue instead if you're providing plenty of supervision and assisting your children with the craft. We use a low-temperature hot glue gun for many of our crafts, and we've never had any problems with burns. If you want your crafts to dry fast and hold up well, this is what we recommend.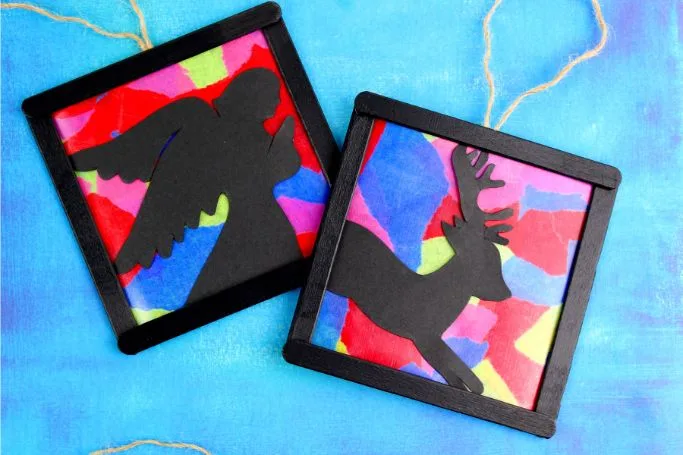 How do you make these with a group of kids?
This is a wonderful craft to do with a group! How you set up the materials depends on the age, really. If you're doing this craft with young children and/or are pressed for time, prep as many of the materials as you can.
You can do this by:
Cutting out all the silhouette shapes beforehand
Tearing the tissue paper beforehand
Painting the popsicle sticks beforehand (or buy colored ones or leave them the natural color)
Cutting squares of contact paper to size beforehand
These three things should cut down on creation time considerably.
How do you store these stained glass ornaments safely to reuse every year?
Of course, if you go to the trouble of making these ornaments, you want to enjoy them in the coming years. It'll remind you of the special memories you have of creating these with the kids.
To store them, wrap them gently in layers of newspaper, tissue paper, or paper towels. You may even want to put the wrapped ornaments in gallon-sized Ziploc bags and inflate them slightly to give a little more padding to them.
This is how we store our keepsake ornaments that our kiddo has made, and we've never had a problem with any of them breaking during storage.