Dooby dooby doo bah! It's Agent P! My son is obsessed with the Phineas and Ferb TV show (why did they ever cancel that?), so of course, we had to make an Agent P craft. Honestly, this is his favorite craft so far. It's been about a week since we've made them, and he still plays with these things every single day. Ready to make one? Let's get to the tutorial for this awesome toilet paper tube craft.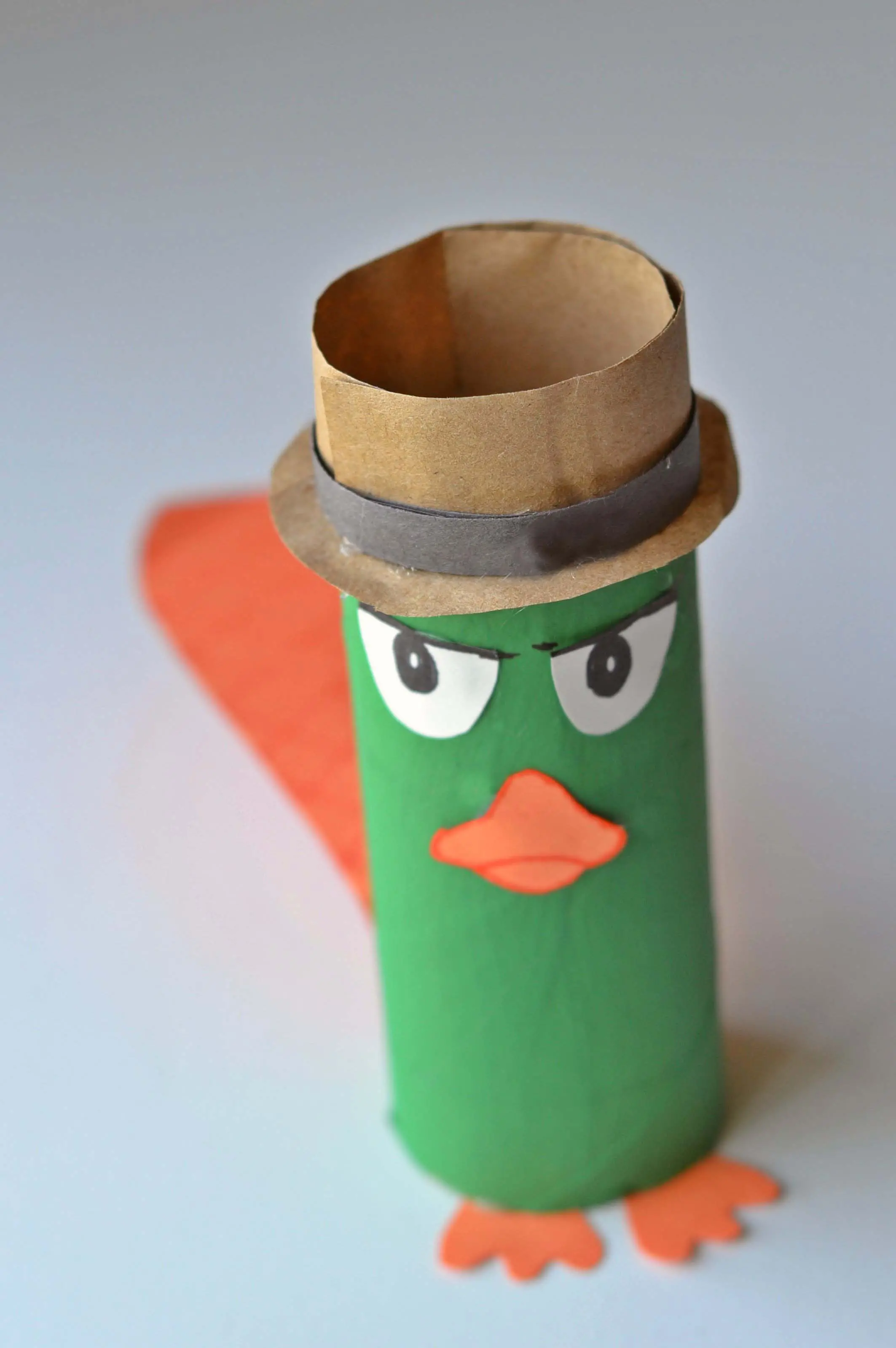 If you don't like using toilet paper tubes, you can cut down a paper towel tube to about the same size. Honestly, this doesn't bother me, but you could also spray them with Lysol disinfectant the day before you use them and let them air dry, too. Whatever makes you feel at ease. 🙂
Before you get started, I highly recommend going to this tutorial to find out how to make the faces. As you can see in our pictures below, one of our Perry crafts turned out looking completely goofy. So much for the 3-D bill. But we added a tail on ours (and feet) because a secret agent platypus just can't fight crime effectively without it. Haha.
Let's get to it!
Materials for the Agent P Toilet Paper Tube Craft:
Disclosure: This post contains affiliate links.
How to make a Perry the Platypus craft:
1. Mix green paint and white paint together to get a shade that's similar to Perry's. We didn't get ours quite right, but it's close enough.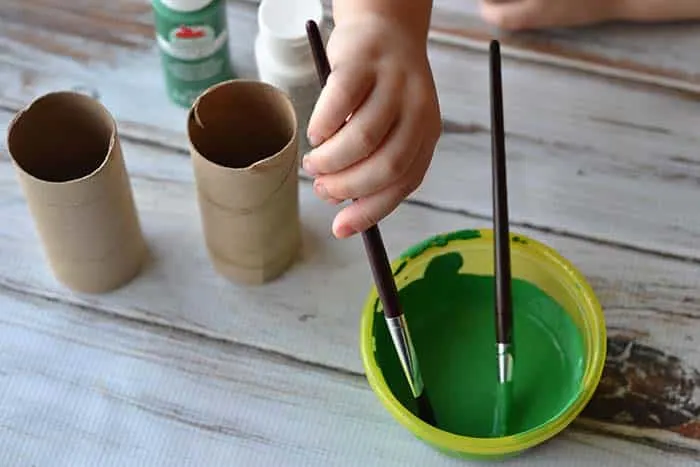 2. Paint the toilet paper tubes green. Let them dry for about an hour before proceeding.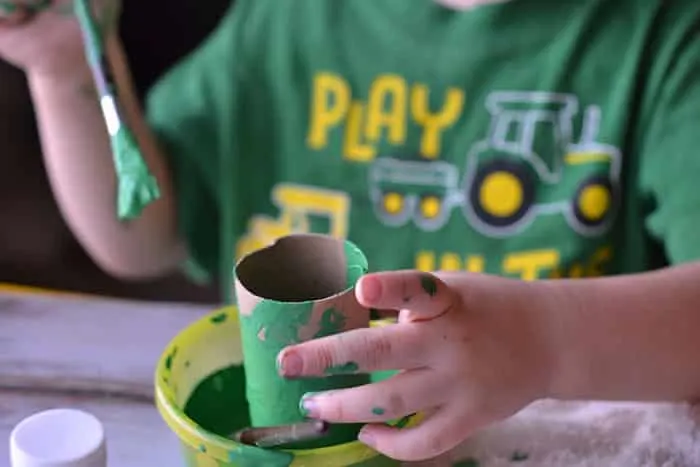 3. Meanwhile, cut out the shapes for the tail, feet and bill. We free-handed the tail and feet, but you can find great images for the bill and eyes here. Use an orange fine-tip marker to outline the bill and to draw the criss-cross pattern on the tail. Use the black marker to draw in the eyes on the white construction paper. For the hat, you'll need a brown strip, a brown circle and a thin black strip for each one. (I didn't have any brown construction paper, so we used brown paper bags.)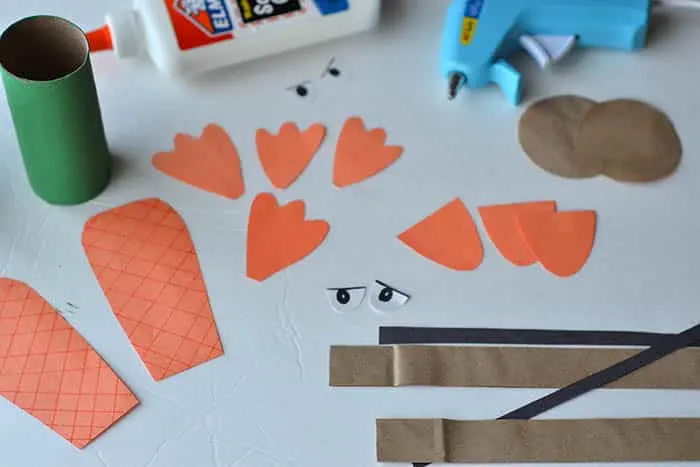 4. Assemble everything! Sorry, I wish I got pictures of the process, but the kiddo was SO KEEN to play with them immediately that I had to rush it. The only thing you may have trouble with is the hat. We used a hot glue gun to glue the circle to the top of the tube, and then we wrapped the brown strip into a ring, glued it to the circle, and then applied the black strip around it. Easy peasy.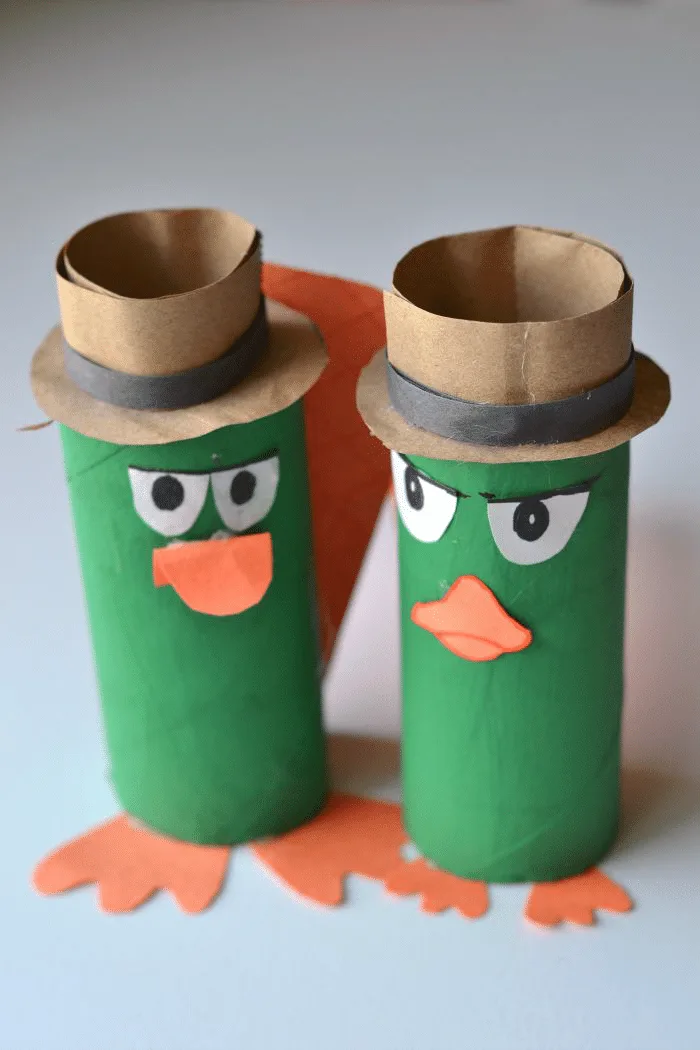 See how silly the one on the left looks? Surprisingly, that's the kiddo's favorite. He plays with it every day, and he's looking even rougher now. Kids!