In anticipation of the new Star Wars movie coming out in a couple of months, we decided to do a craft featuring our favorite Star Wars character: Yoda! This paper bag puppet is easy to make, and it's definitely lots of fun to play with. Make one with your young Jedi today!
Materials for a Yoda paper bag puppet:
(Disclosure: This post contains affiliate links.)
How to make a Yoda Paper Bag Puppet:
1. Cut out all the shapes you need. The eyelids are half ovals, and you'll need to make the size a bit bigger than your googly eyes. You'll need two long strips of white construction paper for the robe, and the face and ears are made out of green construction paper. I used this picture to help me draw the ears. As you can tell, drawing isn't my strong suit. Color in the ears with a gray or green colored pencil.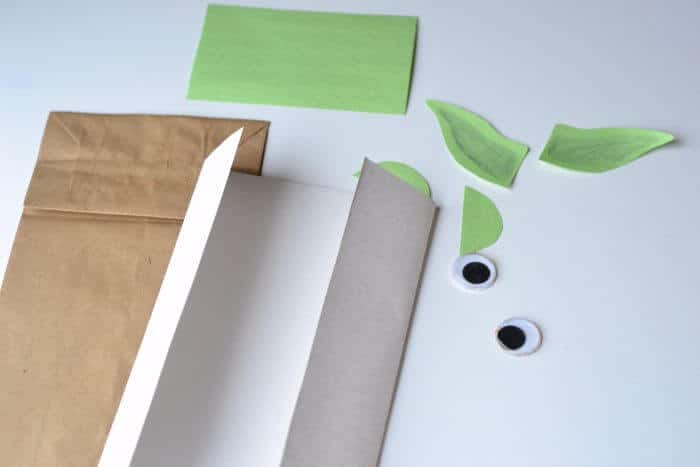 2. Glue the robe and the face onto the paper bag using a hot glue gun (or school glue, if your little one is doing the gluing).
3. Glue the eyes and ears to the head using a hot glue gun (or school glue, but I really recommend hot glue for the eyes). Once the eyes are glued on and dry, apply the eyelids about halfway over the eyes.
4. Using a gray or green colored pencil, draw lines and wrinkles on Yoda's face. Lots of 'em. Trust me; it just doesn't look right unless you add some wrinkles.
And that's your Yoda paper bag puppet! Here he is with the pretzel lightsabers we made for One Crazy House.