Disclosure: This is a sponsored post written by me on behalf of Jif® and Smucker's®. All opinions are mine alone. #BetterTogetherPBandJ #WeAreBetterTogether #CollectiveBias
The first day of school is right around the corner for most of us (if you haven't started already). So that means it's time for school lunches, drop off and pick-up lines, and creating meaningful first day of school memories. Use our printable first day of school questionnaire to remember how your kids were at this age. It's so much fun to look back on their answers from year to year!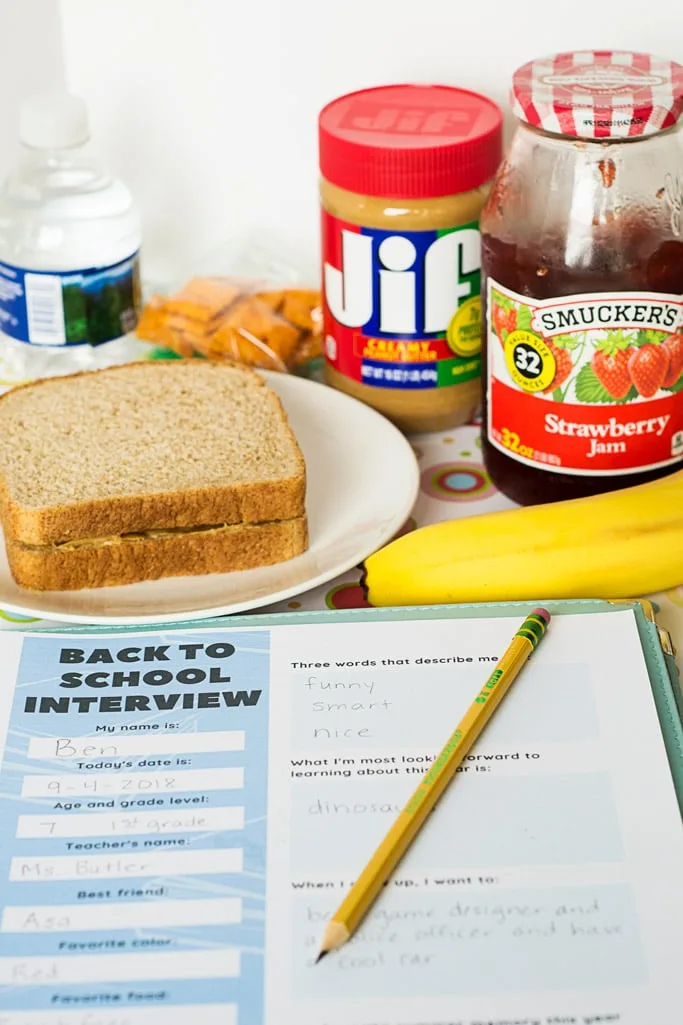 First Day of School Questionnaire for Parents to Ask Their Kids
Call me sentimental — I totally am — but I do everything I can to remember how our son was at any particular age. We have several first day of school traditions that we've done with him since his very first day of preschool. These include:
Taking a first day of school photo in a new outfit with a new backpack and lunchbox
Packing his favorite lunch (PB&J sandwich made with Jif® Creamy Peanut Butter and Smucker's® Strawberry Jam for the win!)
Doing a short interview with him to find out his current favorites and what he's looking forward to this year
Going for ice cream or a special treat after his first day to celebrate the new school year.
Decorating with balloons and streamers as a fun surprise when he comes home.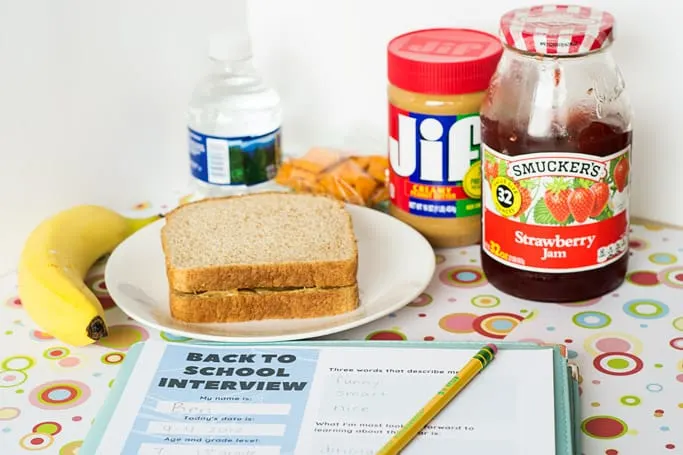 Now you can use our first day of school questionnaire template for yourself! Print it down below. It's so fun to repeat the questions year after year to see how they've grown.
Click HERE or on the picture of the interview below for the PDF printable version of the file.
Tip for printing the back to school interview: You may need to choose "fit to page" in order for everything to fit on one page.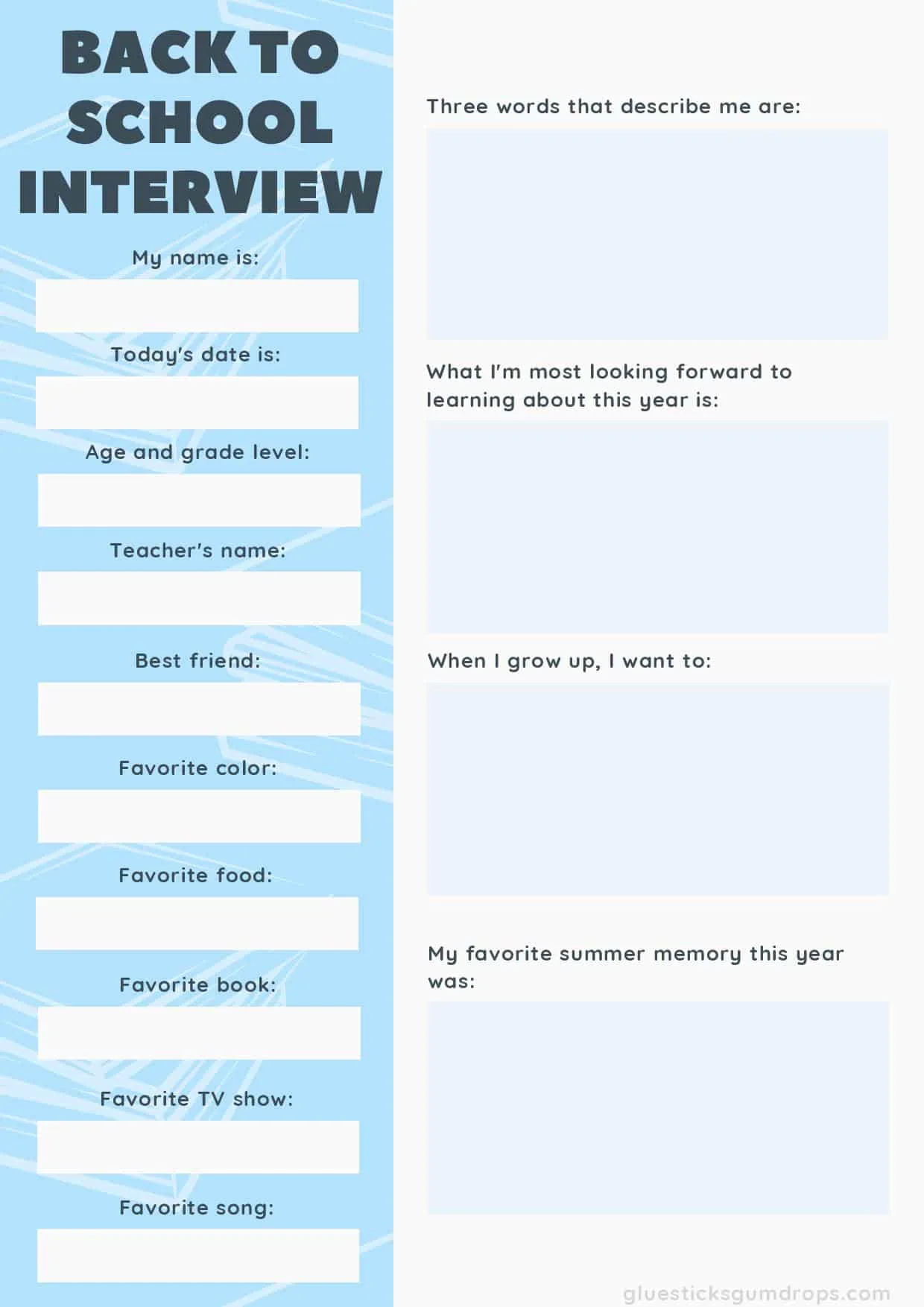 I have to admit, one of the most perplexing things for me when my son started school was what to pack him for lunch. I wanted to do all the super cute Pinterest-y things that cool moms do, but I could never quite get the knack for it. My son usually didn't like the new shapes and food arrangements, and he prefers to stick to his favorite foods when he's in a new environment. So, most of the pretty/trendy stuff came back to me uneaten at the end of the day, and he was super hungry by the time he got home.
I quickly decided that getting him to actually eat his lunch was more important than making it look like something out of a magazine. I started packing his favorites, like the traditional PB&J sandwich made with Jif Creamy Peanut Butter and Smucker's Strawberry Jam. We make ours with wheat bread usually, but honey oat or multigrain bread is very yummy, too.
If your child is super picky (about crusts, for example), you can cut the crusts off, flatten the sandwich out, cut it into strips, and roll the PB&J sandwich like sushi. Kids seem to love eating it this way, as it makes it seem a little more fun than the usual sandwich even though the same ingredients are still there.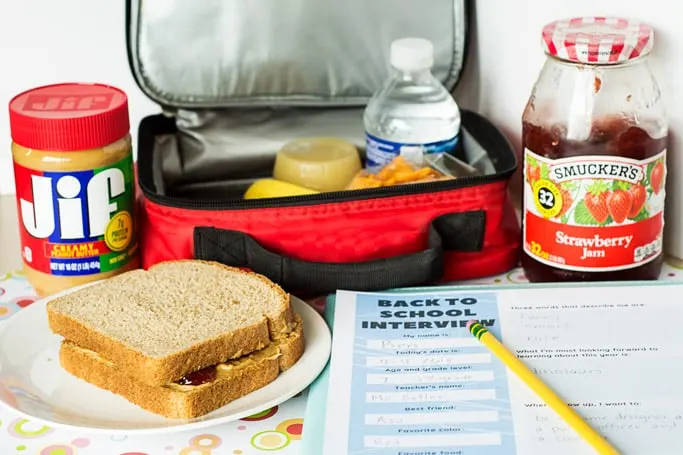 So, while you're shopping for your school supplies at Dollar General, remember to pick up PB&J ingredients for those days when you want to take the guesswork out of school lunches.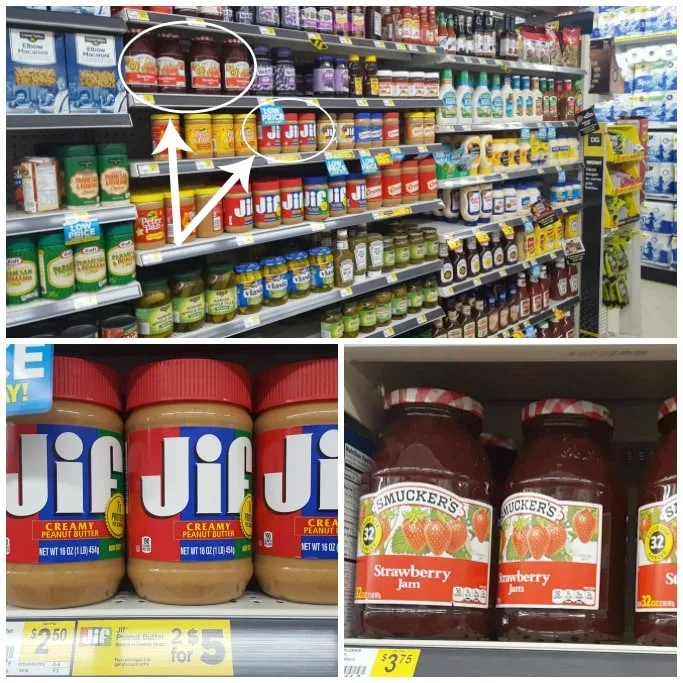 This year we plan to start homeschooling our son, but we will still conduct the back to school interview to get his answers. This will be a new adventure for us, but many of our first day of school traditions (like this one) will remain the same.
If you're looking for more questions to ask your child on the first day of school, try some of these after the day is completed:
Name one new person that you talked to.
What's your favorite thing about your new classroom?
What's your teacher like?
Which of your old friends did you see?
What did you do for your first day of school?
Tell me one new thing that you learned today.
What did you have for lunch (if your kiddo doesn't pack a lunch)?
While our printable back to school interview is geared towards what they're looking forward to, the above questions give you an idea of how the first day of school actually went. You could even wait until after the first week is completed to ask some of the questions for a more comprehensive idea of how it's going.
We'd love to hear about what you do on the 1st day of school with your children. Leave us a comment with your favorite activities, traditions, songs, foods, etc.
Pin the image below to save our printable back to school interview to use year after year. It's the perfect addition to your yearly scrapbook!