When it comes to desserts, I love simple recipes. And, to be honest, you can't get much simpler than a good ol' candy bark recipe. Here's a pretty pink recipe using one of my favorite candies (M&Ms), some white chocolate died pink, a bit of red sugar to make it sparkly. Seriously, how pretty is that? If you want to make it yourself, here's what you'll need.
Melt one package of almond bark in the microwave. I use the white chocolate, because dying it pink is super fun. Although you *could* dye it red, I don't recommend trying it with this particular chocolate. The chocolate almost seized up, so add your food color sparingly.
Spread the chocolate out on a baking sheet lined with foil and sprayed lightly with Pam.
Very quick (and I mean fast!) add your candies to the chocolate. I used M&Ms, but use a candy of your choice. You can also add pretzel pieces, chocolate chips, sprinkles and more. Let your kids pile it on!
Put the candy bark in the refrigerator or freezer until solid. Then, smash it apart using whatever you have on hand to do so. Keep a trusty mallet in your kitchen? That will work.
Store the chocolate in an airtight container in the fridge. It stays nice and crispy that way.
Here's the printable recipe: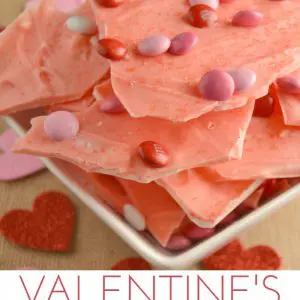 Valentine's Candy Bark
This easy-to-make recipe is a great way to get the kids involved in the kitchen. You can make this Valentine's Day dessert in under 10 minutes!
Ingredients
1

pkg. white Almond Bark

Red food coloring

M&Ms

Red Sugar

Additional toppings

if desired

Non-stick spray
Instructions
Line a baking sheet with foil, and spray it with non-stick cooking spray.

Melt the chocolate according to the package directions.

Add a couple drops of red food coloring. Don't add too much--the chocolate will clump up.

Pour the chocolate into the foil-lined pan. Spread out until smooth and thin.

Add your toppings quickly. Press the candies down into the chocolate.

Refrigerate for one hour or until hard.

Break apart into large chunks, and store in an airtight container.
Check out the other recipes in our 12 Days of Valentine's Recipes. Lots of great choices!
');