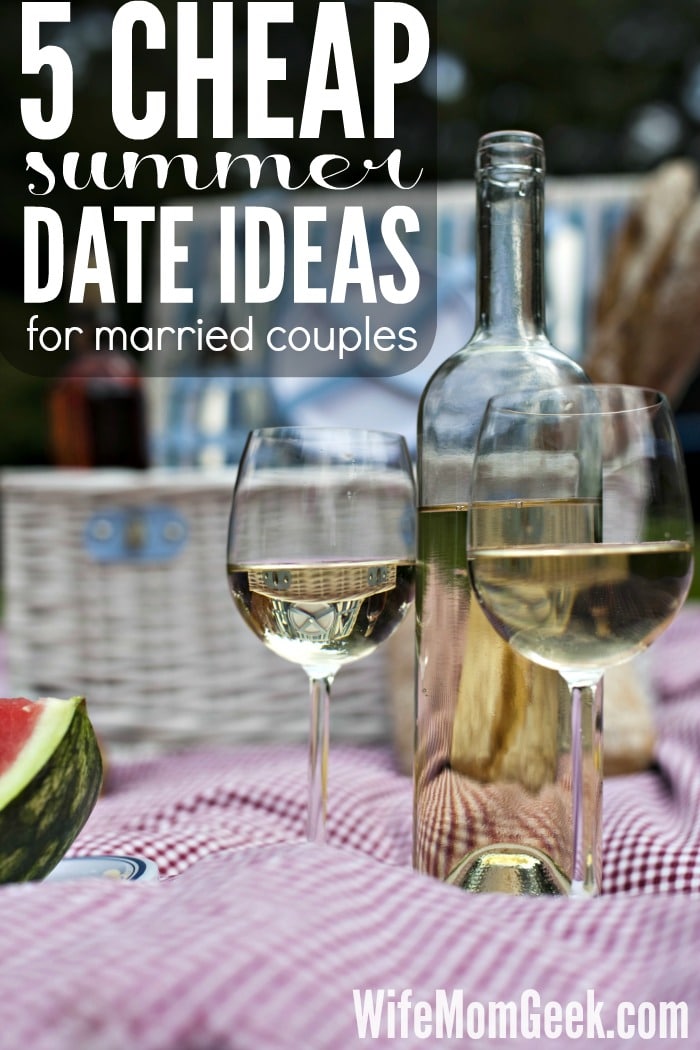 Now that summer is approaching, it's the perfect time to get out more and have a little fun with your husband or wife. Having regular dates with your spouse won't only keep things fun, it'll also deepen your relationship. After all, when we become parents, we often neglect the marital relationship when we should work even harder to make it a priority.
Are you working with a tight budget? Dates don't always have to put a dent in your bank account. Here are some favorite cheap summer date ideas for married couples.

1. Go for a picnic.
You can't get much cheaper than a picnic, but it's such a romantic date idea! Pack some of your favorite foods into a pretty picnic basket, find a blanket, and head out to enjoy some sunshine together.
2. Go out for frozen yogurt or ice cream.
Nothing relieves the heat of summer like the cool sweetness of ice cream or frozen yogurt. And because you're not going out for an expensive dinner, your wallet won't suffer. After you get your ice cream, take a walk together while you enjoy your cool treat.
3. Go to the drive-in theater.
I'm not sure about your area, but here, the seasonal drive-in theater is so much cheaper than going to the indoor theaters. On Sundays, it's only $12 per carload of people, so find another couple and do a double date together. Fun and cheap–and you can bring your own snacks without stuffing them under your clothes. 😉
4. Visit your state or national parks.
Enjoying nature together can be extremely relaxing. Many of the national and state parks have areas for fishing, hiking, swimming and other activities. Best of all, many offer free or very cheap admission. Go take in the scenery and get some exercise together.
5. Do a late night BBQ after the kids go to bed.
You don't even have to leave your house for a fun date. Put the kids to bed early, step out on your deck or patio, and fire up the grill. What's more romantic than a candlelit dinner on a breezy summer night?
What's your favorite cheap summer date idea? Share it in the comments!