It's in the 80s here, and we didn't have any ice cream. Gasp! I decided to take matters into my own hands and make some myself. Technically, this banana ice cream isn't real ice cream. It's mashed bananas, marshmallows and a splash of milk. But if you love bananas, you'll love this frozen treat. Plus, it's a healthy ice cream recipe you can totally feel good about.
It's super simple to make. First, cut three bananas up into large chunks. Cover them with plastic wrap, and put them in the freezer for about 3 hours.
Next, put the chopped bananas, marshmallows and a couple splashes of milk into the blender a little bit at a time. I used 10 regular-sized marshmallows total, but you could use about 1 cup of mini marshmallows, too. Just leave them out of the blender and mix them in after your bananas are pulsed.
If marshmallows aren't your thing, add some nuts… or chocolate chips… or vanilla cookies. Some peanut butter would be tasty, too. You can't go wrong, really.
Once everything is mixed up, put it in the freezer (again, covered with plastic wrap) for an additional 2-3 hours.
Serve with chocolate syrup. YUM!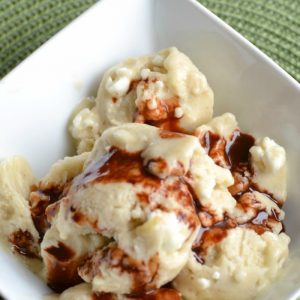 3-Ingredient Banana "Ice Cream"
This faux banana ice cream is healthier than the sugary stuff. It only uses bananas, marshmallows and a splash of milk to make a frosty summer treat.
Ingredients
3

ripe bananas

10

regular-sized marshmallows

2-3

splashes of milk as needed
Instructions
Chop bananas into large chunks.

Place plastic wrap over the banana chunks, and freeze for 3 hours.

Add banana chunks, marshmallows and a splash of milk to a blender a little at a time.

Pulse until mostly smooth (You don't want the marshmallows to disintegrate entirely).

Put back in the freezer for 2-3 hours, or until ice cream is firm.

Top with chocolate sauce, whipped cream, nuts or other toppings.