Acini Di Pepe Soup is such an easy and frugal soup to make. It can be served as a main dish (this is what we usually do) or as a starter or accompaniment to other dishes. I know you and your family will love it.
I think that soup is comfort food, and this one really hits the spot. Families are so busy with homework, after-school events, and more that no one wants to spend hours in the kitchen cooking up a meal.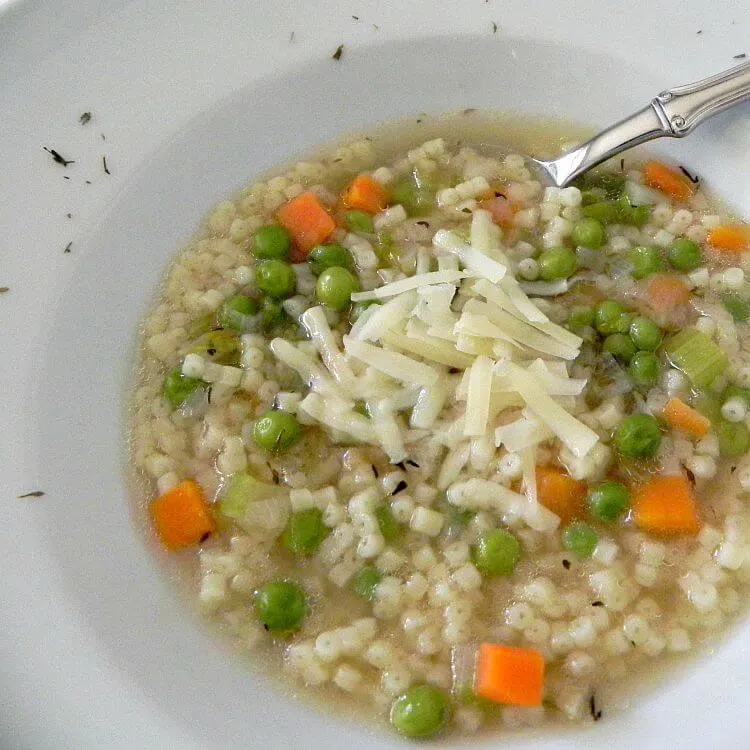 Easy, Quick, Meatless Acini de Pepe Soup
This soup takes less than 30 minutes to make yet tastes like you have been cooking all day. I add french bread and a small side salad to complete this meal. A grilled cheese sandwich would be great too.
Soups like this are great as a weeknight meal or a weekend meal. Here is something else that is great about this soup – it can be made in one pot! You can sauté the scallions in the same pan that you add the rest of the ingredients in. Who doesn't love an easy clean-up?
Isn't Acini di Pepe Soup Usually Made with Meat?
Don't be fooled by the absence of meat from this recipe. You may want to think that it won't be filling without a portion in it, but you would be wrong. This soup has such a wonderful flavor that you don't miss the chicken (or beef).
What is Acini di Pepe?
Acini di Pepe is a small pasta that, like other pasta, expands a bit during cooking. The name means "seeds of a pepper" or "peppercorn." They're a symbol of fertility, which is how they made their way into Italian Wedding Soup.
This pasta is made from semolina flour and is about the size of a grain of couscous. It's a great choice for soups with a broth base, like this Acini de Pepe soup, or in pasta salads.
What is the Difference Between Acini di Pepe and Orzo?
While both are made from semolina, acini di pepe is smaller than orzo. However, orzo is a great substitute for acini di pepe if you can't find it in your local supermarket.
Is Acini di Pepe the Same as Pastina?
Not exactly. Although they're often used interchangeably, some pasta makers differentiate them, saying that pastina is smaller than acini di pepe. However, like orzo, pastina is a fine substitute.
What Can You Substitute for Acini de Pepe?
If you can't find acini di pepe (affiliate), here are some small pasta varieties that you can substitute instead:
pastina – often found as little star-shaped pieces of pasta – great for soups for kids!
orzo – appearance is very similar to a grain of rice
tubettini – shaped like small tubes, but smaller than macaroni and other types of tube pasta
couscous – not technically a pasta, but you can easily sub it in brothy soups like this one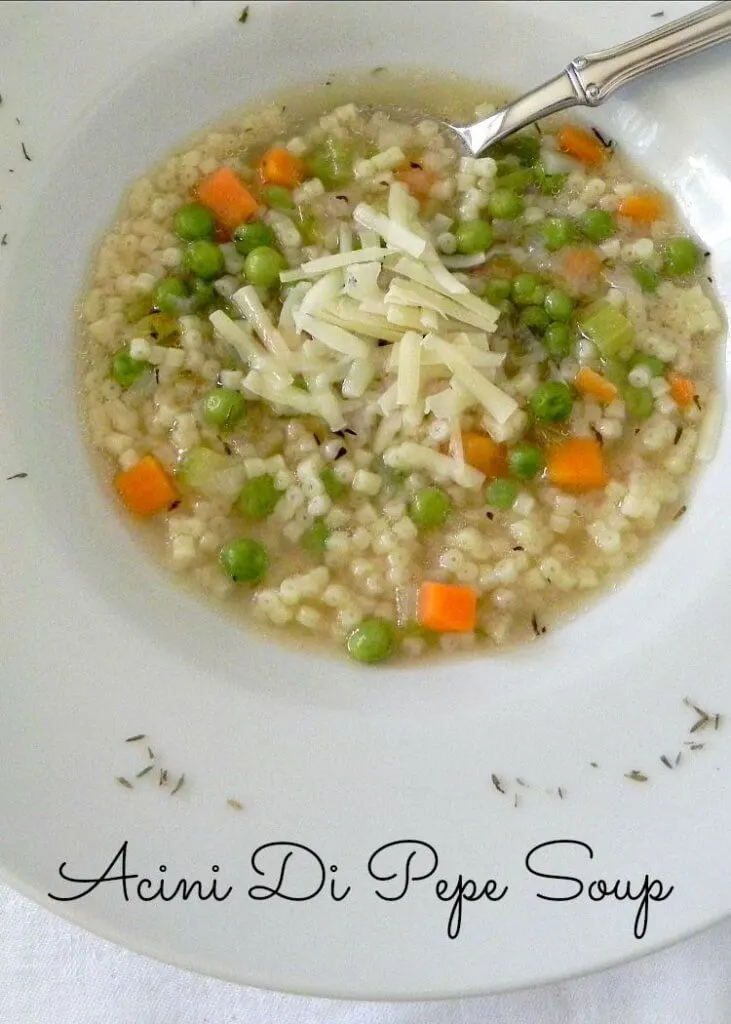 Ingredients for Acini di Pepe Italian Wedding Soup
Want to get started on this recipe now? Here are the ingredients to gather or add to your shopping list.
olive oil – used to sauté the celery and shallots
celery – an aromatic veggie that's wonderful for adding to soups
frozen peas and carrots mix – you can use a different veggie mix if you prefer, but this one tastes best in the soup
shallots – if you can't find them, you can use green onions, but they're not the same. Shallots have a a mild garlicky flavor while green onions are just young, more mildly flavored onions.
dried thyme – a delicious herb to add to soups. Every time I use it, I think of Thanksgiving.
Kosher salt – I like kosher because the large grains are easier to sprinkle. Table salt is fine, though.
Parmesan rind – freshly grated parmesan really complements the flavor of the soup. Use grated parmesan from the store if you prefer.
Low-sodium chicken broth – using lower-sodium broth helps you control the amount of salt in the recipe. You can always add it in, but you can't take it away!
water
Acini Di Pepe pasta (affiliate link) or one of the substitutes mentioned above.
How to Make Acini di Pepe Soup
You'll begin by cooking the celery and shallots until soft. Then, add the Parmesan rind, thyme, salt, chicken broth, and water. Boil for 10 minutes, then add the pasta to cook 8-10 minutes until it plumps up and the broth is thickened. Remove the rind, add the frozen peans and carrots mixture, and cook for another 5 minutes or so. Boom! You're done! Serve with soup with grated parmesan cheese on top.
For a short, concise version of this recipe with ingredient amounts and nutritional data, print the recipe card below.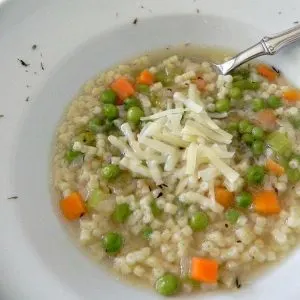 Acini Di Pepe Soup – Easy, quick and delicious
Acini Di Pepe soup is a full flavor soup that is easy and quick to make.
Ingredients
1

TBSP

olive oil

1

stalk celery

finely chopped

1

cup

frozen peas and carrots mix

2

shallots

chopped

1

tsp

dried thyme

Kosher salt to taste

1

Parmesan rind

2-3 inch piece

4

cups

low sodium chicken broth

1

cup

of water

3/4

cups

Acini Di Pepe pasta

1/2

cup

grated parmesan cheese
Instructions
Heat olive oil in a medium saucepan over medium heat. Add celery and shallots and cook until softened. Stir often. Cook for about 5 minutes.

Add thyme, salt, parmesan rind, chicken stock, and water. Bring to a boil and then reduce to a simmer and cook for 10 minutes.

Add the pasta and stir to prevent it from sticking to the pan. Return to a simmer and cook 8-10 minutes or unit the pasta is cooked and the broth is slightly thickened.

Remove the rind from the broth.

Stir in the frozen peas and carrots and cook for about 5 minutes or until they are done.

Ladle the soup into bowls and top with grated parmesan cheese.
Nutrition
Serving:
1
grams
Calories:
211
kcal
Carbohydrates:
22
g
Protein:
12
g
Fat:
9
g
Saturated Fat:
3
g
Polyunsaturated Fat:
5
g
Cholesterol:
12
mg
Sodium:
439
mg
Fiber:
3
g
Sugar:
4
g
If you are someone who is on a tight budget, this acini de pepe soup is for you. It's sure to become a favorite family recipe once you try it. The ingredients are simple and yet full of flavor. The ingredients are probably in your pantry right now anyway.
What are your favorite soups? Try some of our other favorites below!
More Delicious Soup Recipes
This recipe was first posted September 21, 2015 and was updated October 16, 2021.