Are your kitchen cabinets a hot mess? I can't be the only one with plastic containers toppling on her head when she tries to reach the top shelf, right? Well, if you're anything like me, you're going to LOVE these kitchen cabinet organization ideas. And don't forget to check out ways to get rid of kitchen counter clutter while you're here.
This article features 13 clever kitchen cabinet organization ideas to help you get your life together, because who doesn't want that? You'll find these tips helpful for organizing things like pots and pans, food storage containers, water bottles, lids, etc. We've also included a few helpful links to our favorite tools for the job!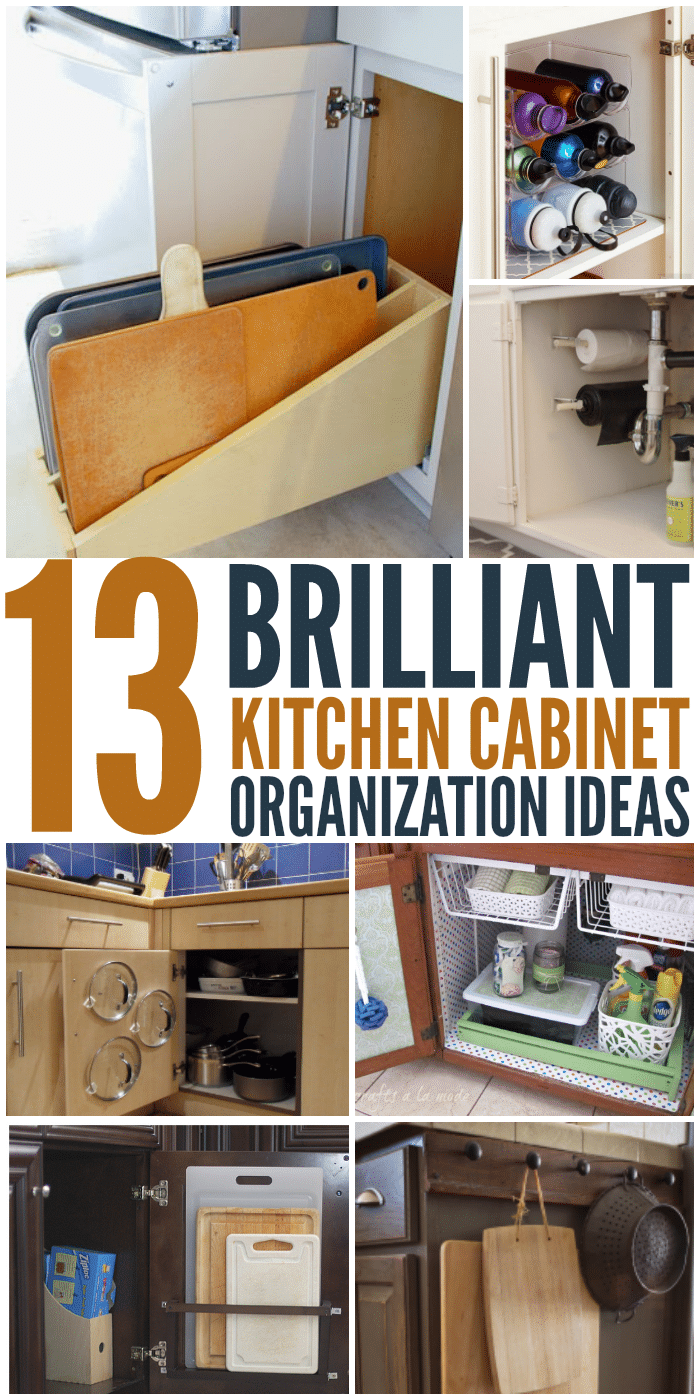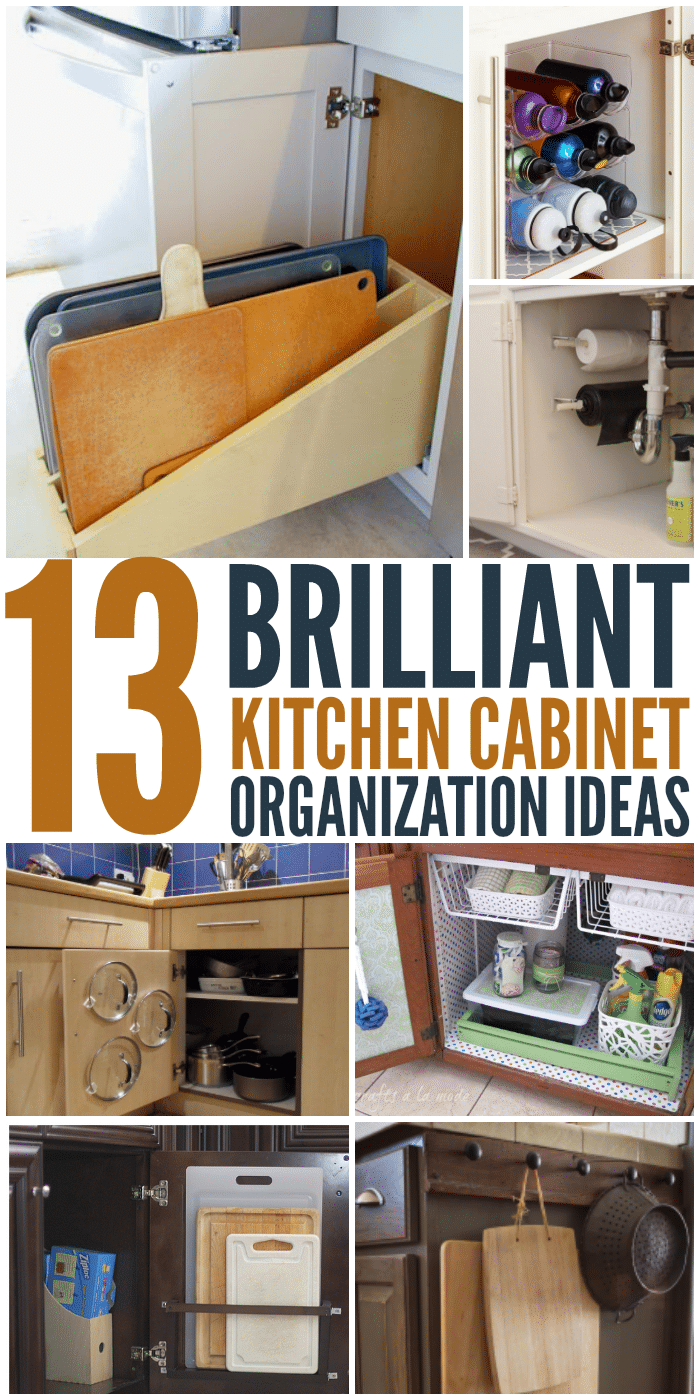 Related: 6 Practical Kitchen Storage Ideas to Clear Up Counter Space
Here are some clever ways to organize your kitchen cabinets. These storage solutions can free up counter space and keep you from having to hunt for what you need in the mess under your sink!
This post contains affiliate links. We earn a small commission from these purchases at no additional cost to you.
Easy to Implement Kitchen Cabinet Organization Ideas
Hooks for Measuring Spoons and Cups
Use command hooks to hang your measuring spoons and cups so they're always handy. This is, in my opinion, way better than storing measuring spoons and cups in drawers where it's hard to find what you need. This is also a great idea for storing things like an apple corer/splitter, your pizza cutter, vegetable peeler, etc.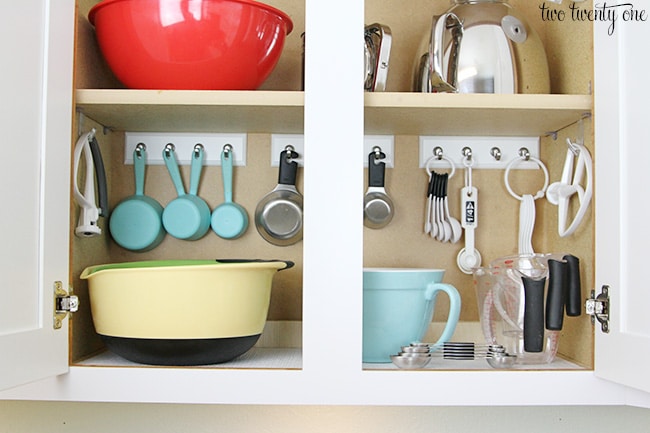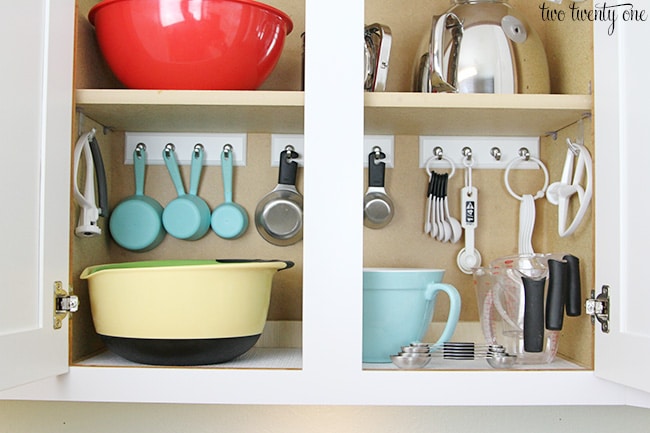 via Two Twenty One
Wall File for Plastic Lids
Mount a wall file or magazine holder to your cabinet door to hold plastic lids. Love the idea of using the back of the door for storage because it's such an unused and underutilized space. What else could you store this way? Try cutting boards, paper plates and napkins, and other odds and ends that don't fit neatly into the cabinets.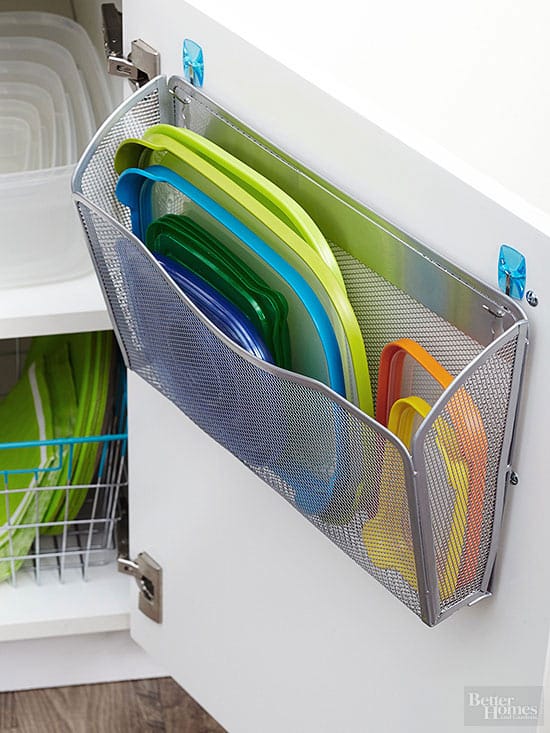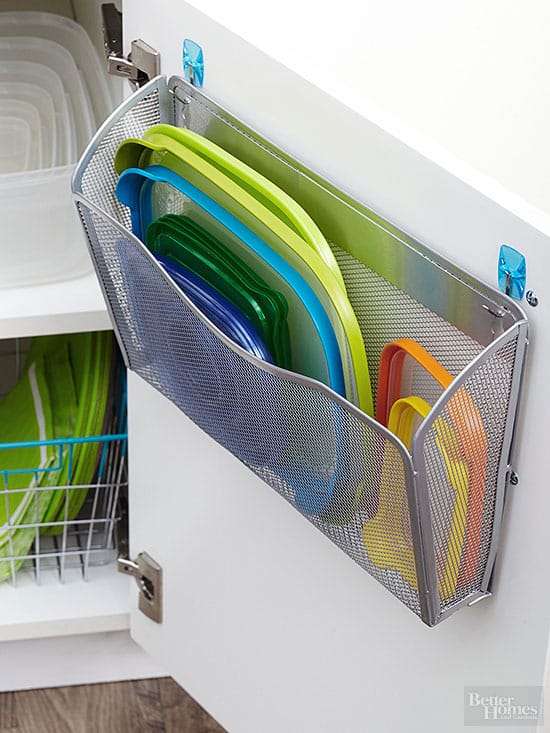 via BHG
Magazine Holder for Plastic Wrap and Aluminum Foil
Speaking of magazine holders, you definitely need one to store your foil, plastic wrap and wax paper! This is brilliant. By the time you count all the products like this (parchment paper, plastic wrap, aluminum foil, press-n-seal, you probably have quite the collection that would be easier to sort through if they're stored vertically like this.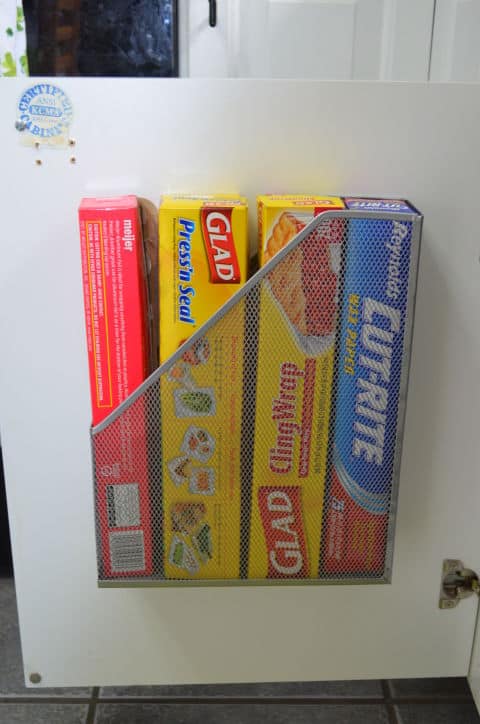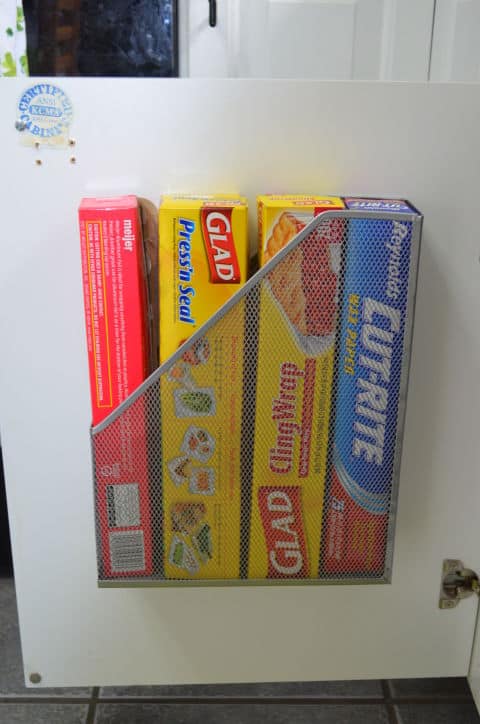 via Good Housekeeping
Breathable Onion and Potato Storage
They're great for your potatoes and onions, too. I never would have thought of that! It works great because these containers are breathable, cutting down on moisture wherever they're stored. However, I've read that you shouldn't store onions and potatoes together because the onions emit ethylene gas, causing the potatoes to sprout and spoil faster.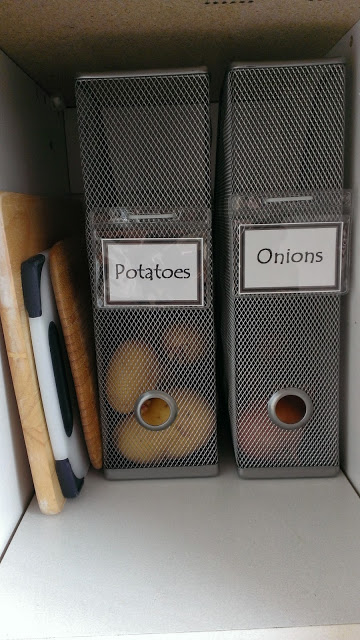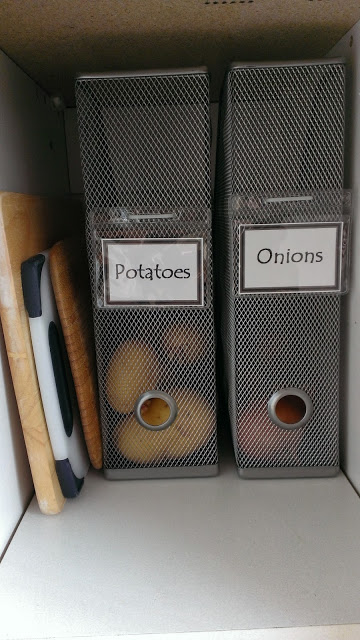 via Mimi's Crafty World
Wine Rack to Store Water Bottles
Use a wine rack to hold your family's reusable water bottles. That's so much more organized than the system we have! You can get similar stackable bottle racks HERE. This makes it easier for the kids to grab their bottles and go before heading out to school or practice. Plus, it's much easier to notice when a particular water bottle is missing, too.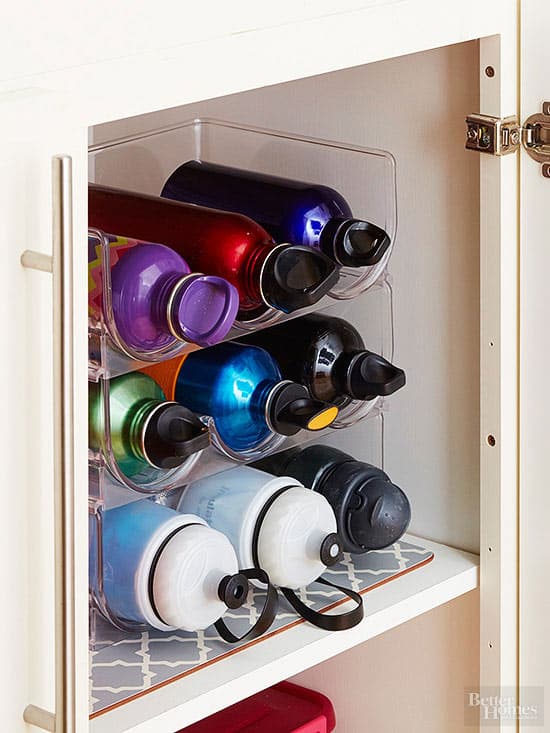 via BHG
Pull Out Tray for Cutting Boards
This pull out tray and cutting board organizer is pure genius. Great for baking sheets, too! If you're on a budget, you can achieve the same thing with a file sorter or two, but that will only work with smaller cutting boards and cookie sheets.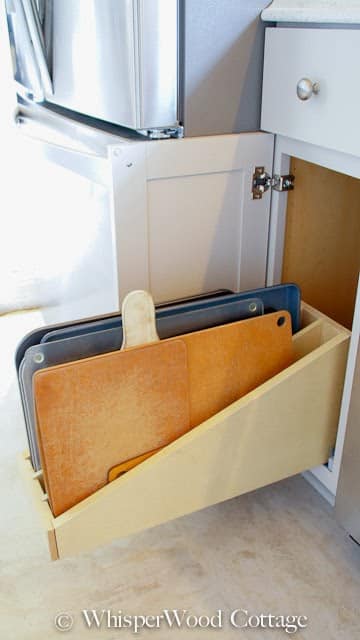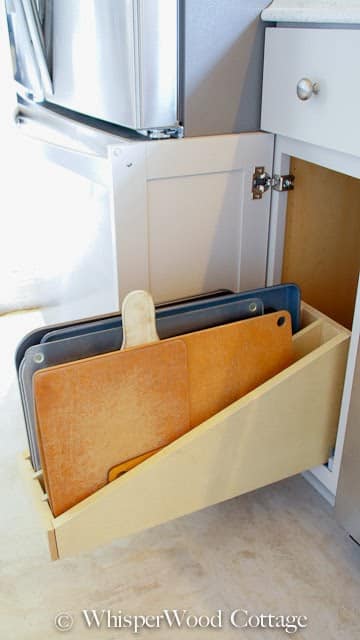 via WhisperWood Cottage
Cheap Baskets and Plastic Bins
Space under the sink cabinet is limited, so make the most of it with inexpensive storage containers and baskets. Grab some from your local Dollar store. I've found lots of great baskets and bins at the Dollar Tree, but they're usually bright colors. If you like to keep your storage neutral, a can of spray paint (the type that binds to plastic) can really make over cheap Dollar Tree items.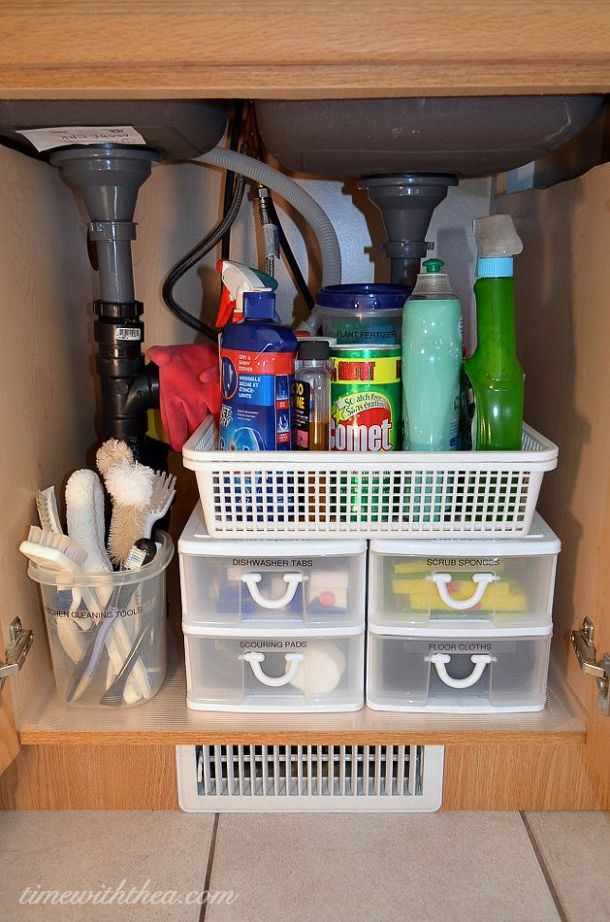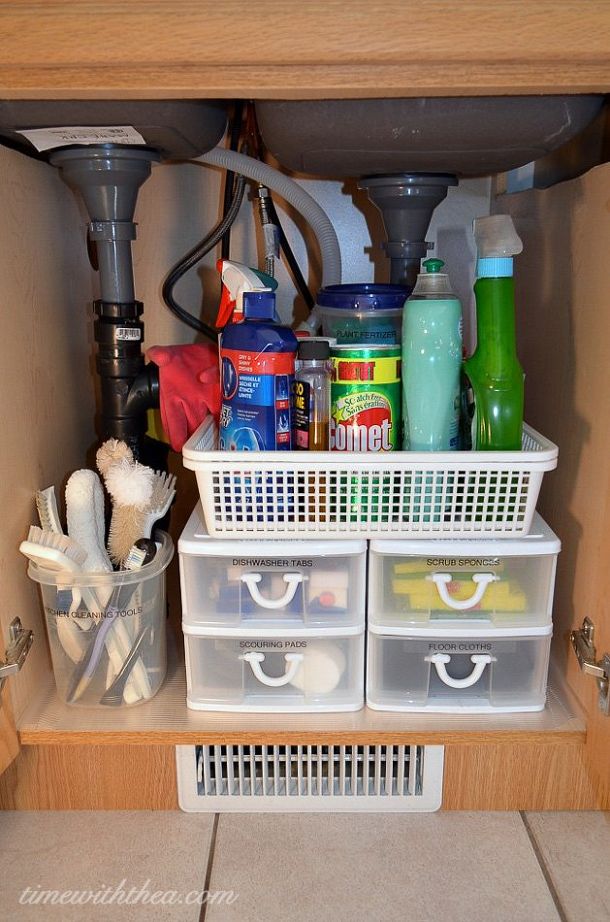 via Time With Thea
Pot Lid Rack
Use a pot lid rack to take advantage of the vertical space in your cabinet and to keep the lids out of the way. Smart! Get a similar one here. This is also another great idea for Tupperware lids as well, because you could sort them by size or shape.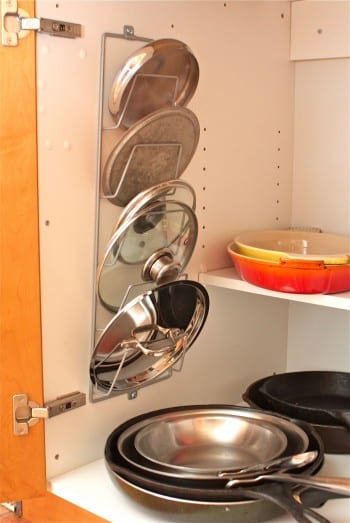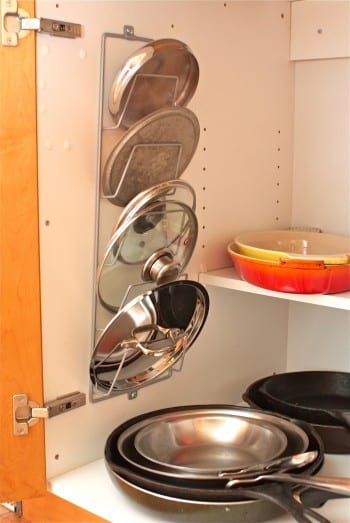 via Simple Bites
Command Hook Lid Holders
Here's an even cheaper option for a lid holder… more command hooks! This works great in a pinch, especially if you only have a few lids that you use regularly.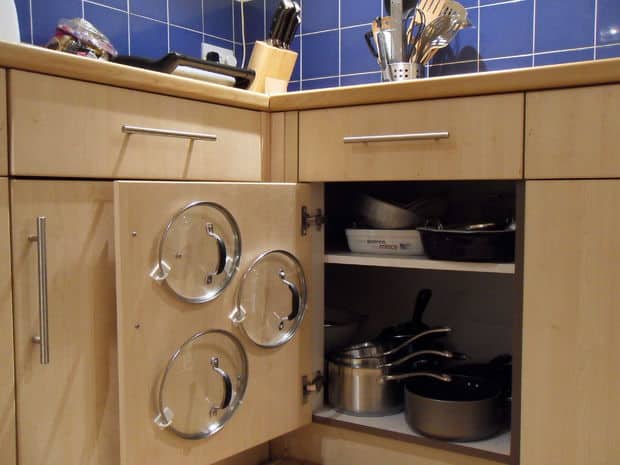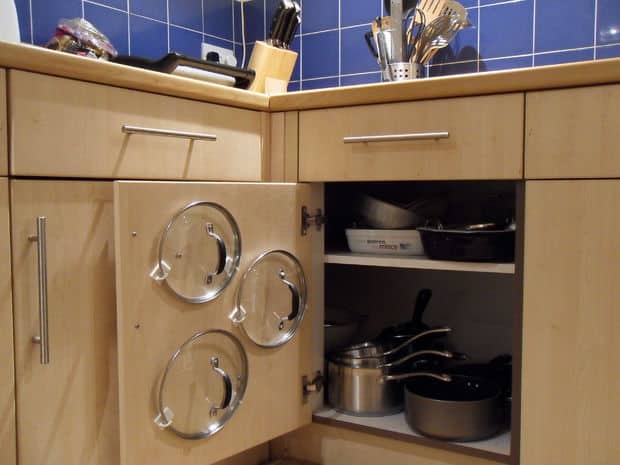 via Instructables
Cabinet Pulls for Hanging Items
Install cabinet pulls on the cabinet exterior for hanging cutting boards, colanders, etc., rather than taking up valuable cabinet space. This works well for colanders and cutting boards alike. If your cutting board doesn't have holes for strings, you can always drill a couple of holes into them yourself.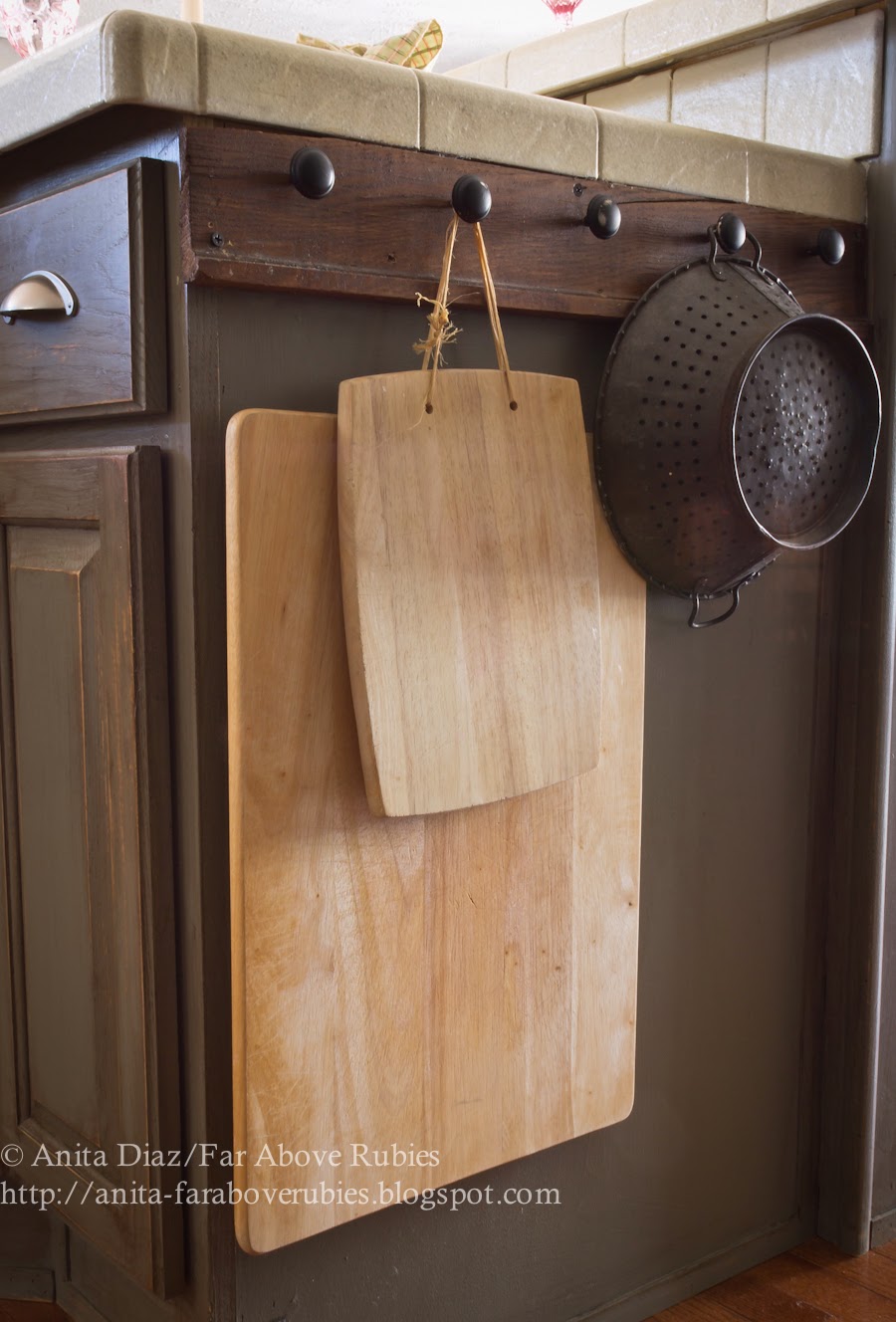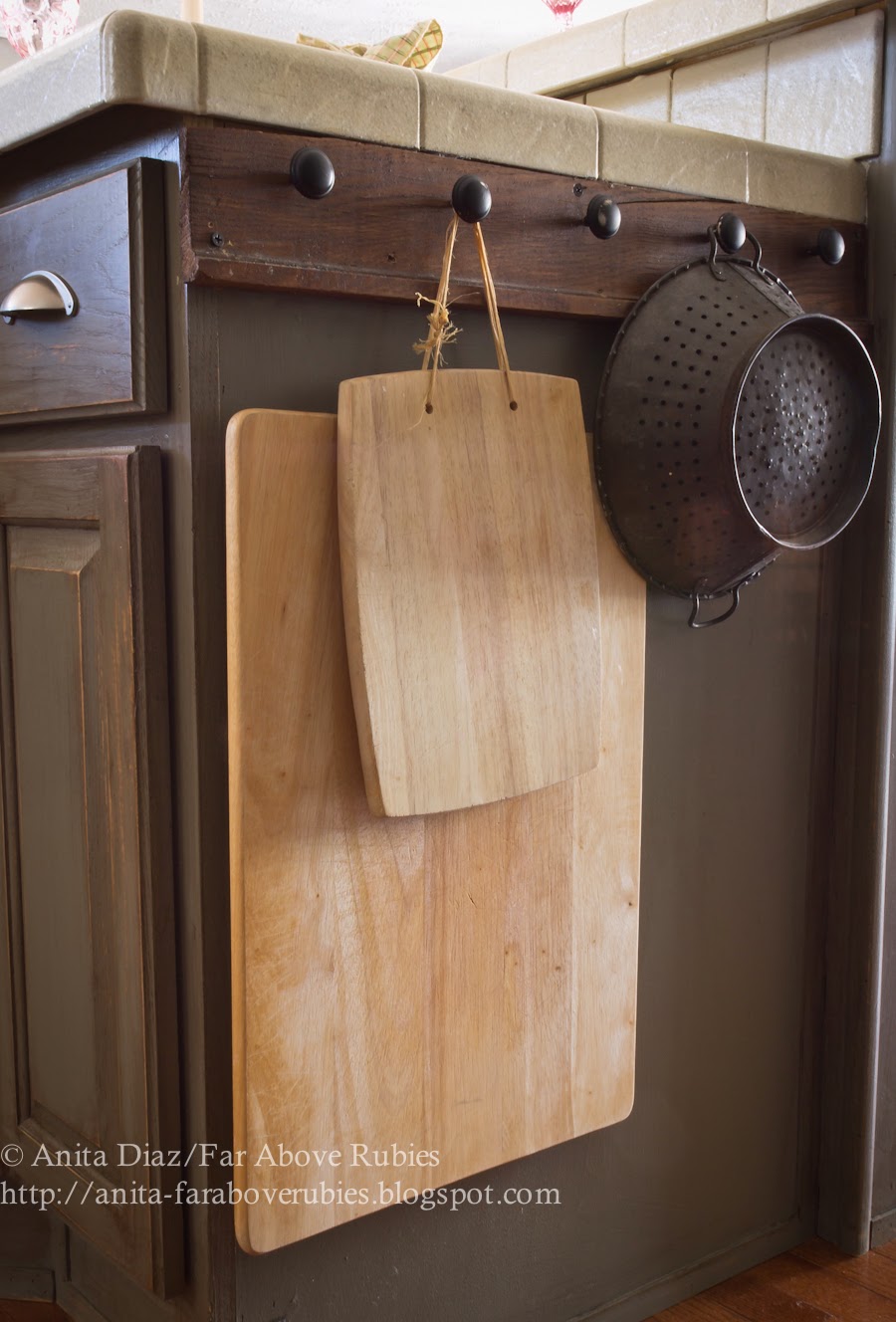 via Far Above Rubies
Wooden Dowels for Bag Storage
Install curtain rod holders and wooden dowels to hang your trash bags on the inside cabinet wall. Clever! It might be kind of a pain to pop a new roll of bags on there, so make sure you buy the largest roll you can find to minimize pulling the dowels out.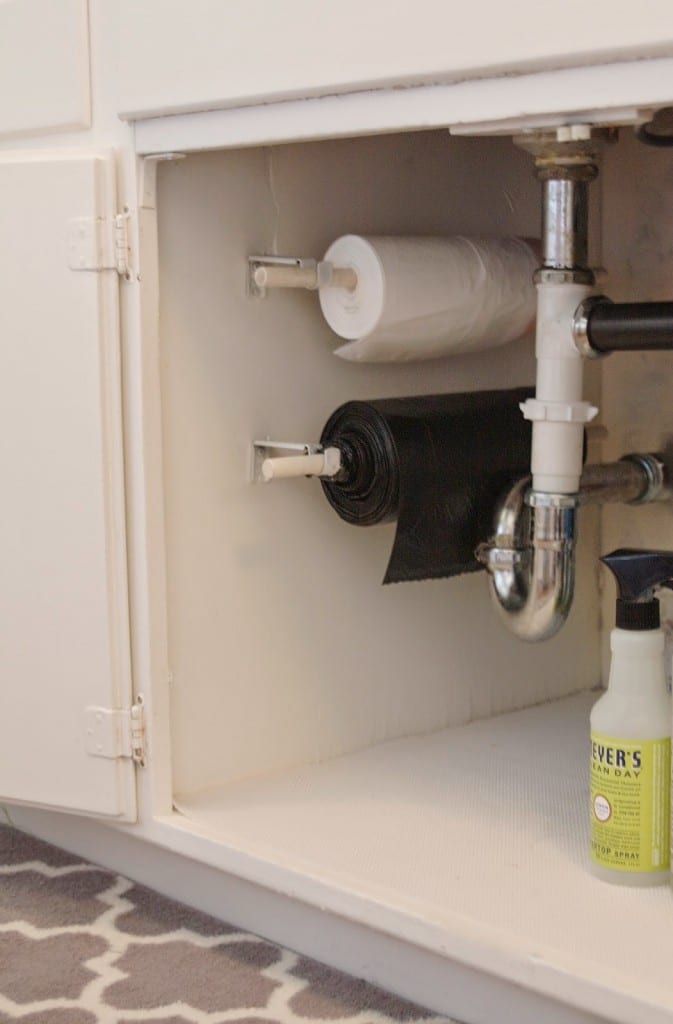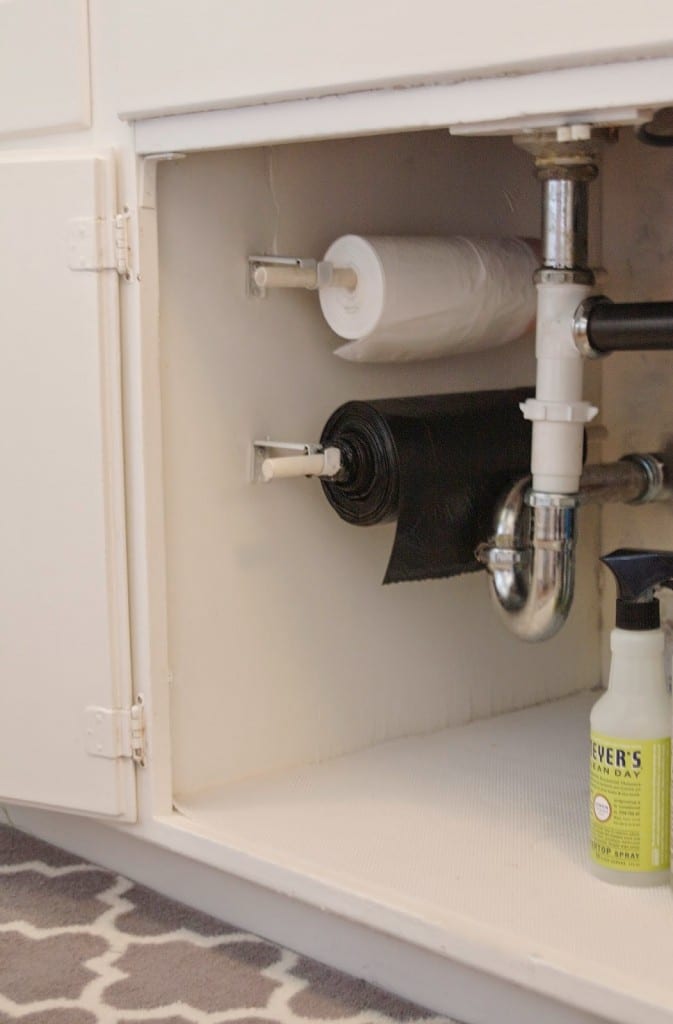 via Simply Organized
Make Your Own Cutting Board Holder
This clever DIYer used wood scraps to create a custom cutting board holder. Simple, but effective. If you have some wood scraps from old projects lying around, try one for yourself!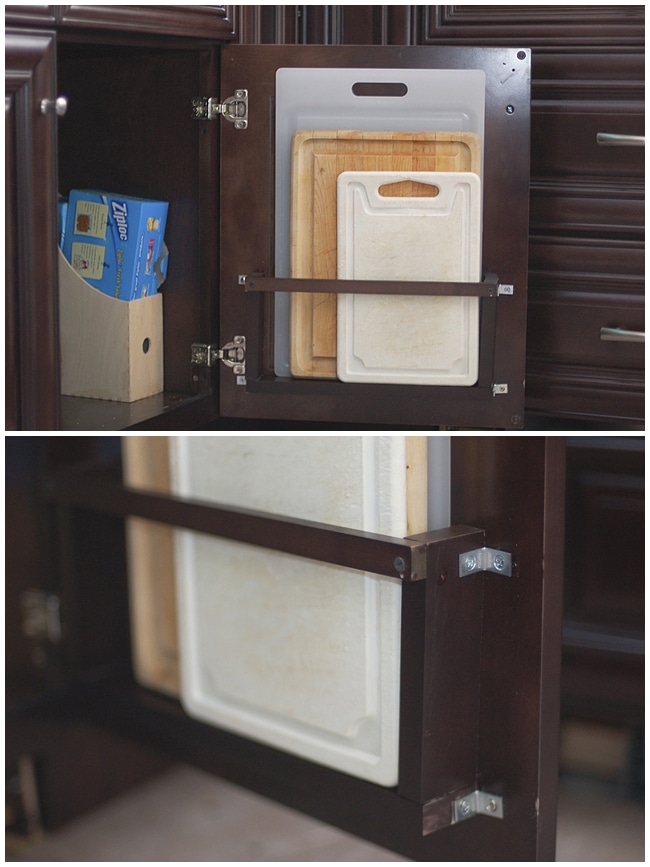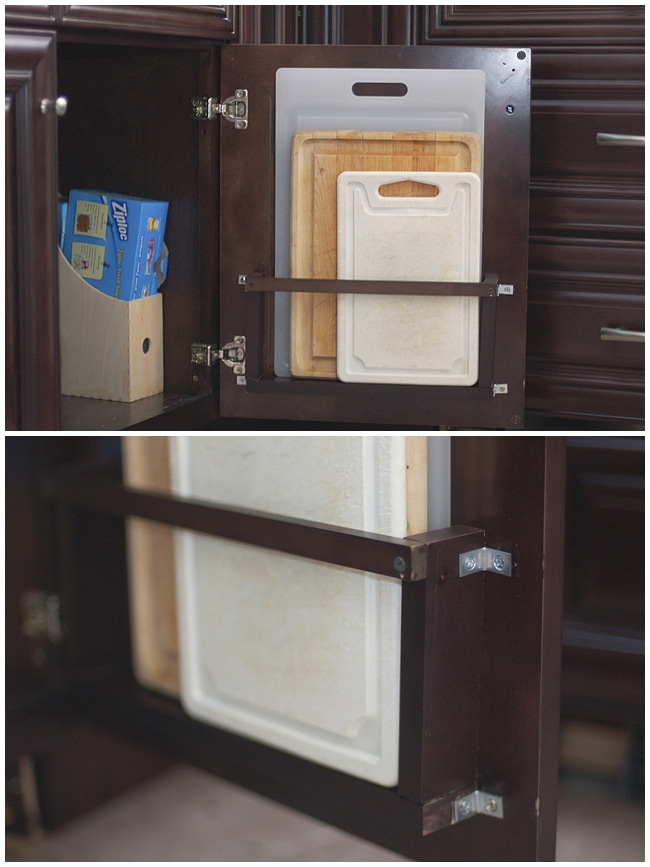 via Tikkido
Under Cabinet Wire Baskets
Under the cabinet wire baskets can help you take advantage of the space at the top of your cabinets to fit more in there without looking cluttered. If you're like most of us, the bottoms of your cabinets are likely full with a big open space at the top. This definitely gives you quite a bit more storage! We also love the hook for the brush as well.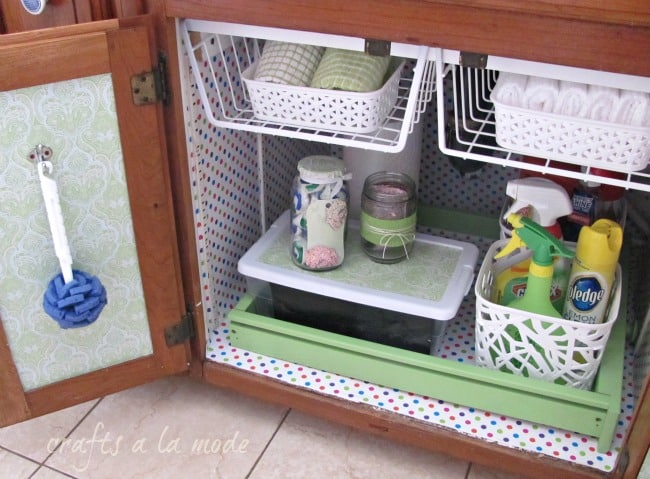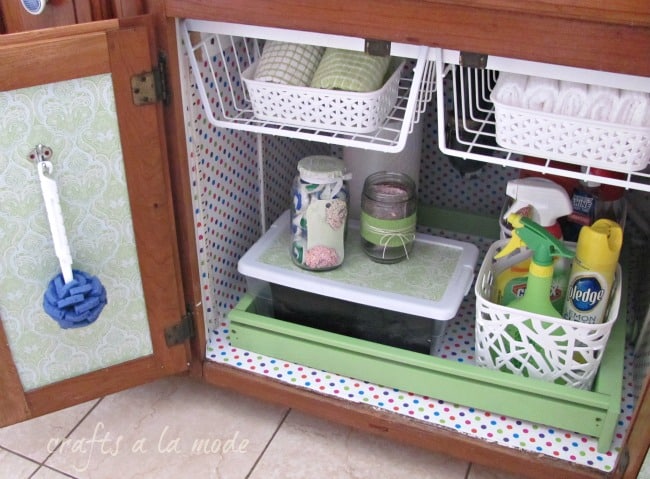 via Crafts a la mode
Reuse Plastic Containers
Have a bag full of plastic bags in your kitchen? Here's a kitchen hack for storing plastic bags that you need to try today! It's made with an empty Lysol container, but any wipes container will do. It's much tidier than the bag of bags most of us have.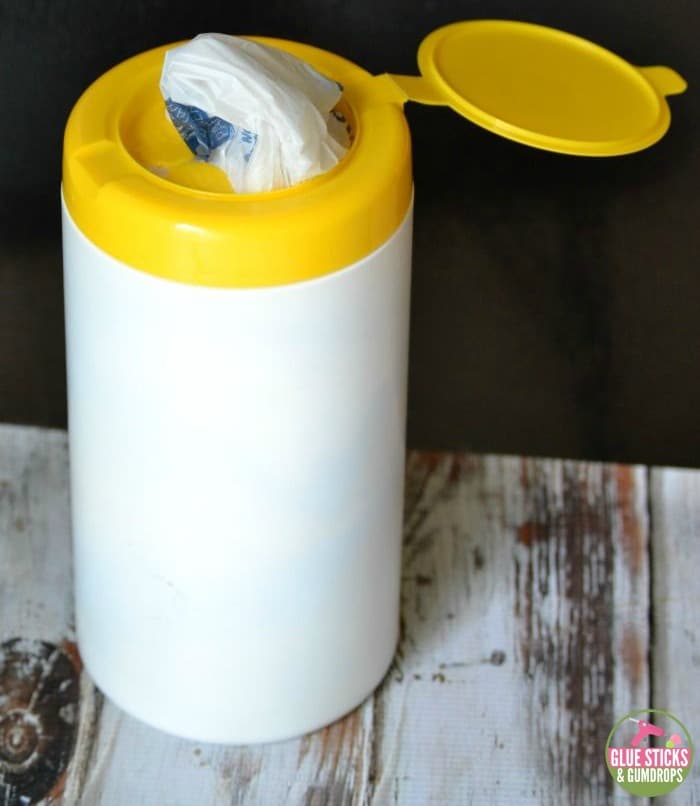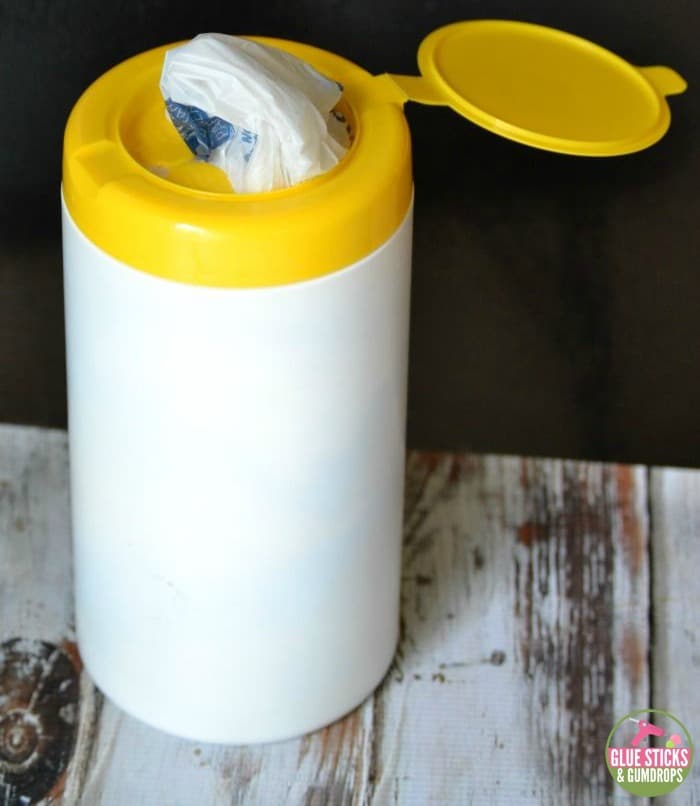 We hope you enjoyed this list of kitchen cabinet organization ideas. Do you have a tip or idea you'd like to share with us? Comment below or email us a picture. We'd love to feature it!
Get more organization ideas here: