Here's the deal. We have a lot of counter space in our kitchen, but in all honesty, the countertops are a disaster. I have piles of papers, stacks of cookbooks, and several small appliances cluttering the surface. So, I've been looking for smart (and easy) ways to get rid of kitchen counter clutter, because a clean space saves time and money. I've hit the jackpot with these 15 tips and tricks. They're beautiful, but most of all, they're easy to implement. Check them out!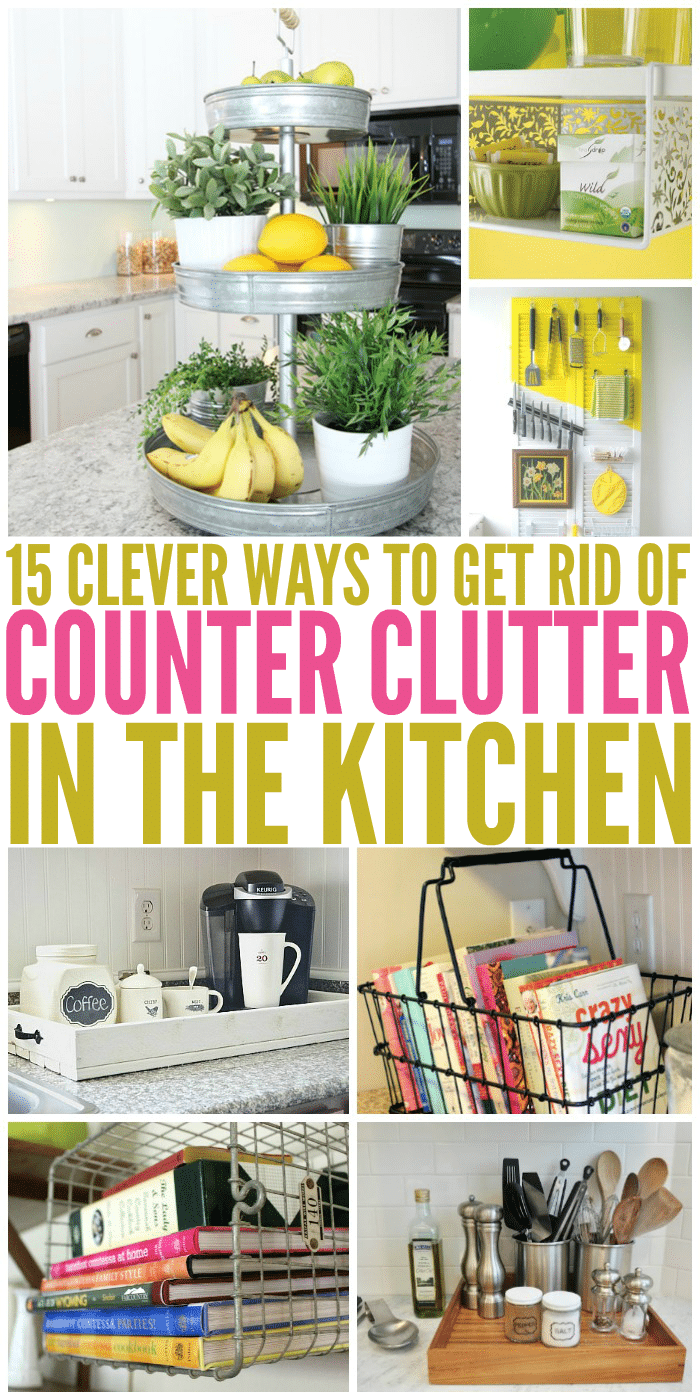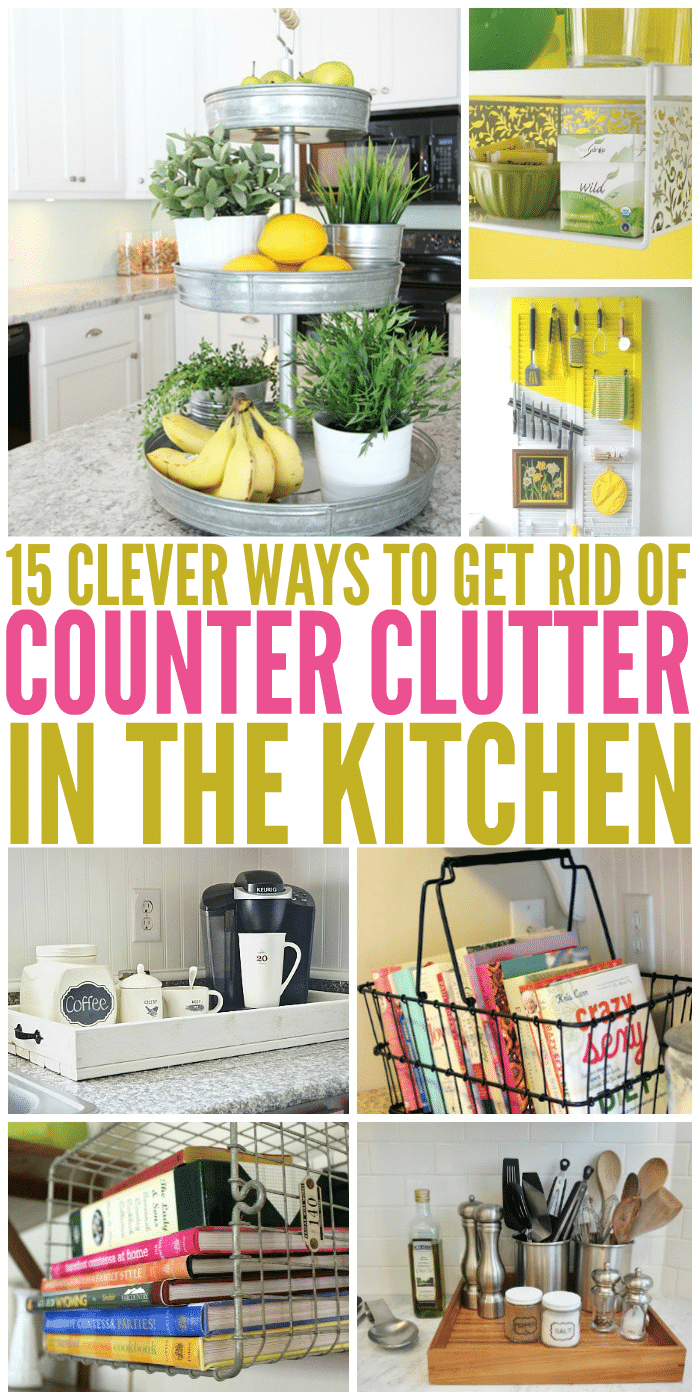 Don't miss our post on 13 Brilliant Kitchen Cabinet Organization Ideas!
Get more practical Kitchen Storage Ideas!
Tricks to Cure Kitchen Counter Clutter
Keep cookbooks off your counters with hanging wire baskets like these.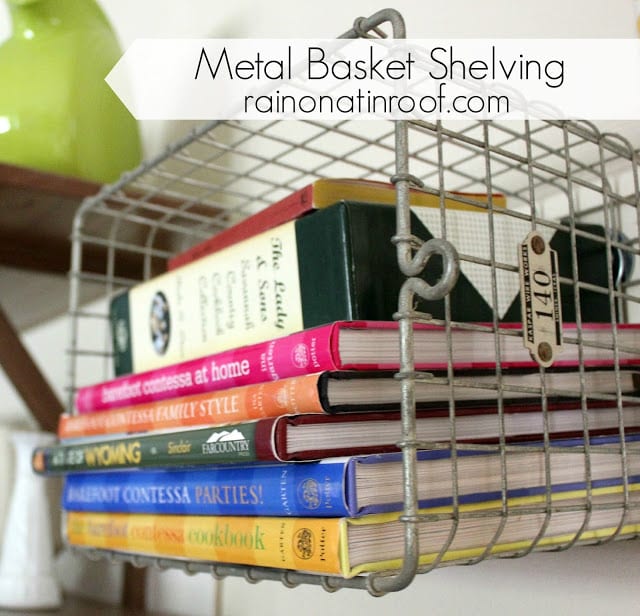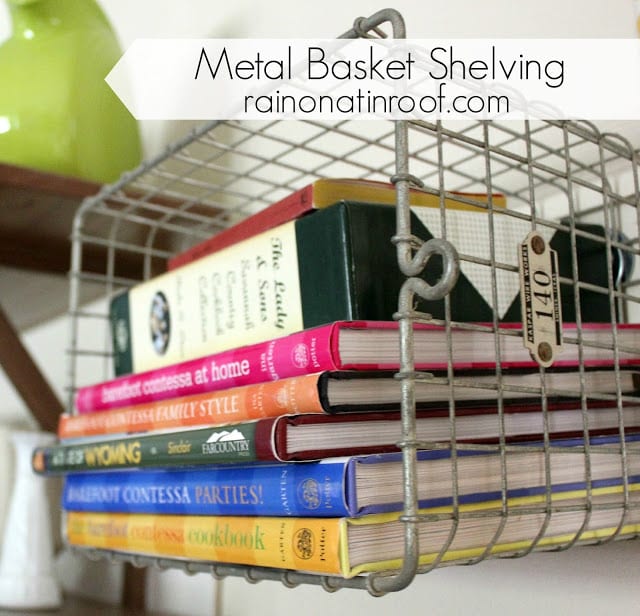 via Rain on a Tin Roof
You can also keep a wire basket of cookbooks on the counter, and move them whenever you need more space.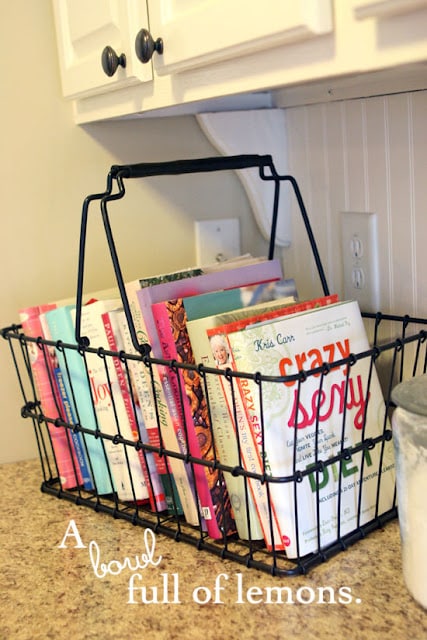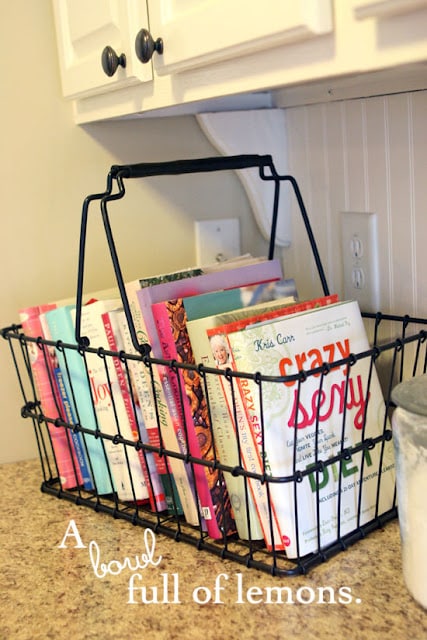 via A Bowl Full of Lemons
A tiered tray is both functional and beautiful. Use it to hold your produce, add some plants or succulents, store your spices, etc. (Here's a similar one.)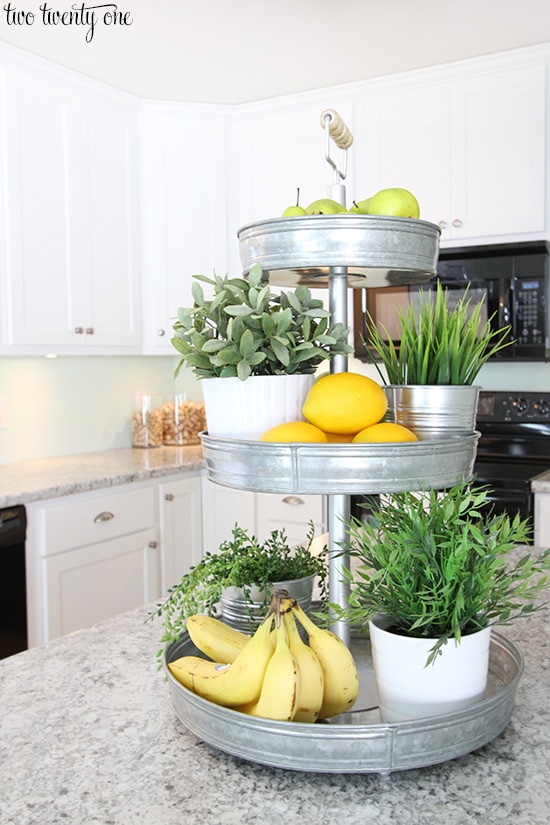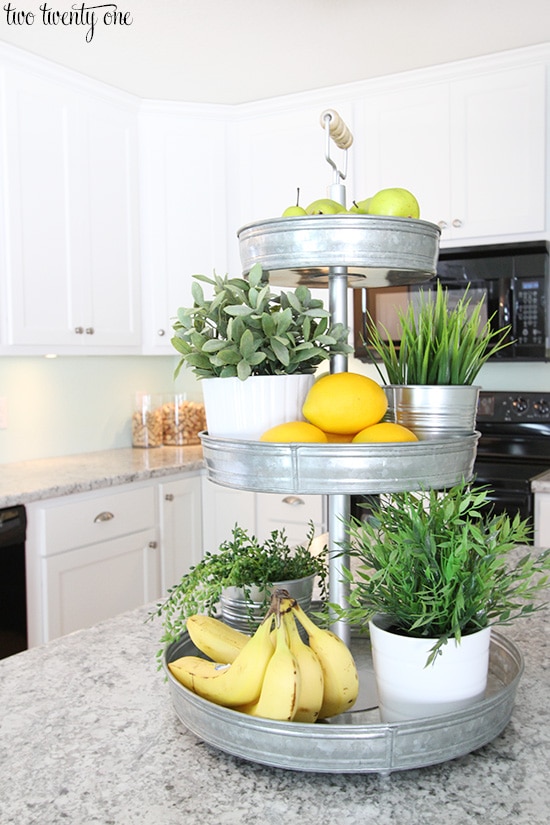 via Two Twenty One
Baskets and caddies on a rod look great, and it's a clever way to use wall space to get frequently used items off your countertops.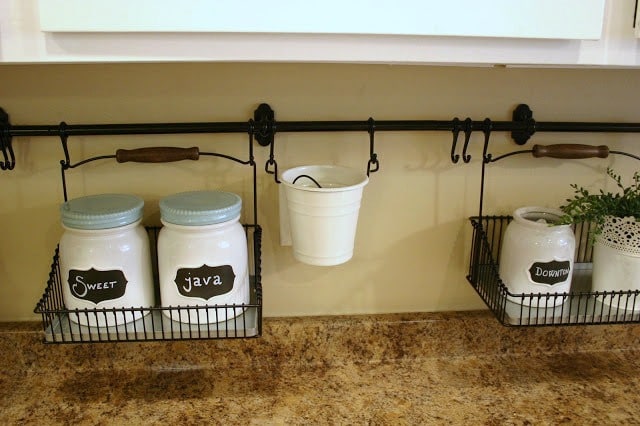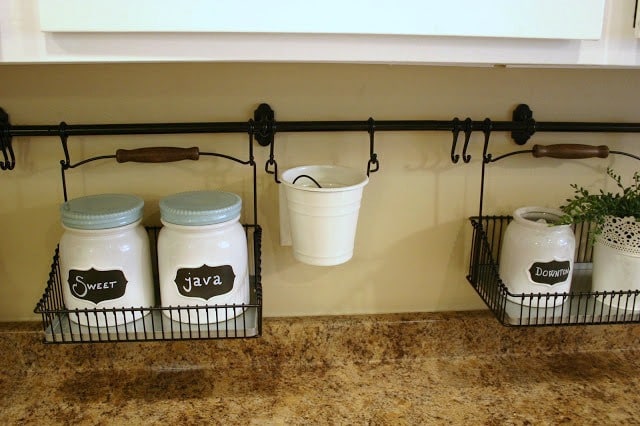 via No. 29 Design
Keep everything you need to make coffee on a rustic wood tray. Whenever you need more counter space for food prep, just move the tray to another location. Smart!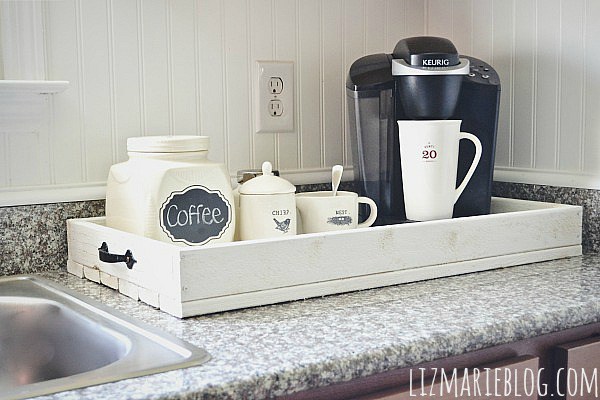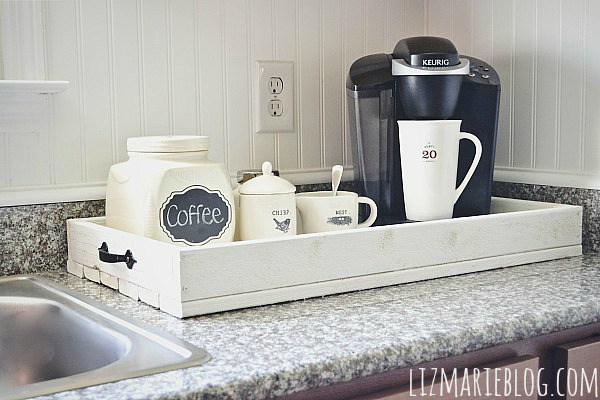 via Liz Marie Blog
Store pasta, beans, cereal and more in mason jars, and hang them under the cabinet. Click here for the full tutorial. Click HERE to get some mason jars.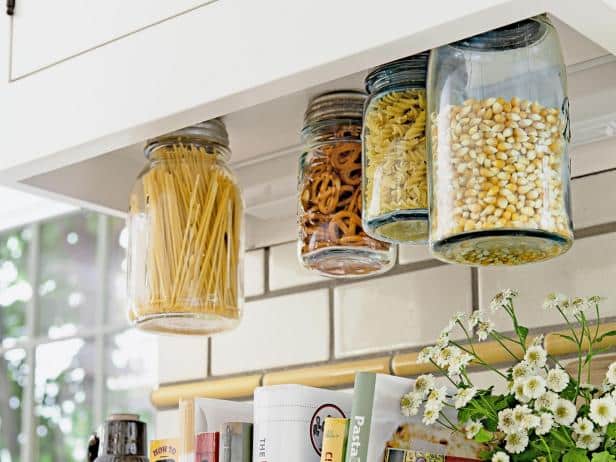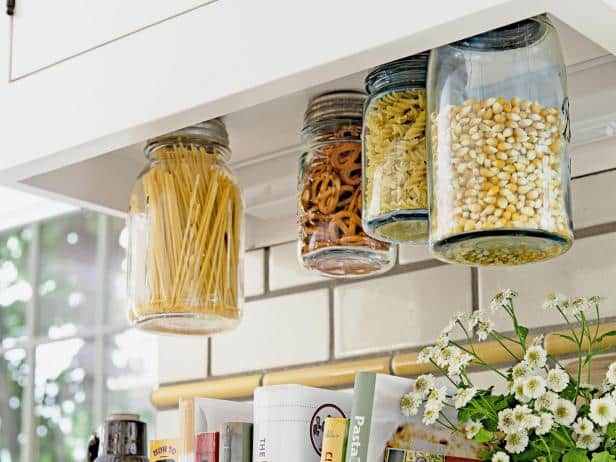 via HGTV
Add shelves beside your cabinets (if you have the wall space), and put pretty baskets on them. It's a great way to hide clutter, like papers that you need to go through. This is one trick we're definitely going to use!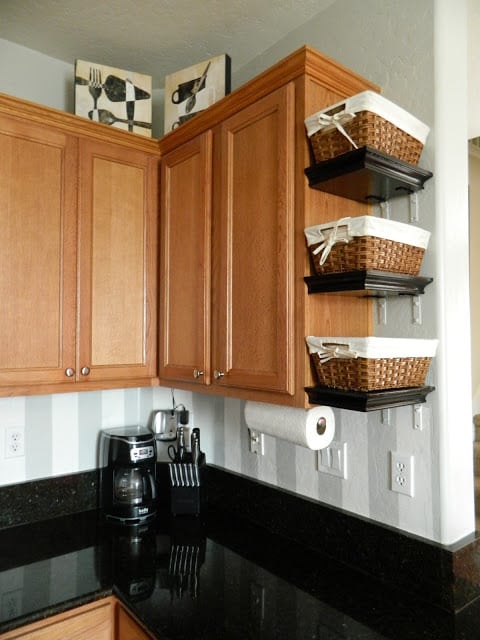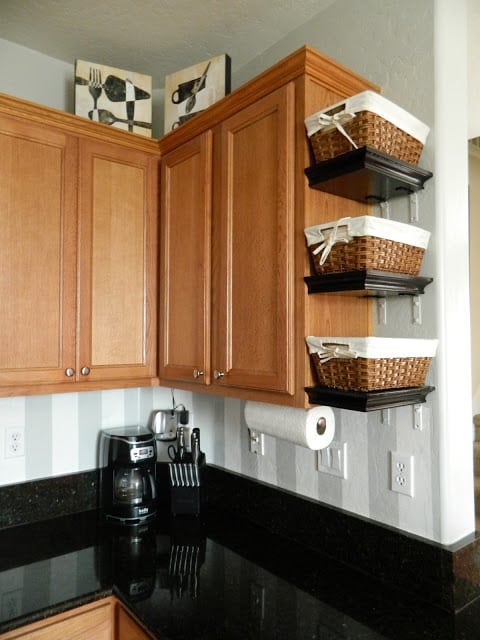 via My Perfect Nest
Install a towel bar above the range to keep pot lids off the counters while you're cooking. Here's a similar towel bar in a chrome finish.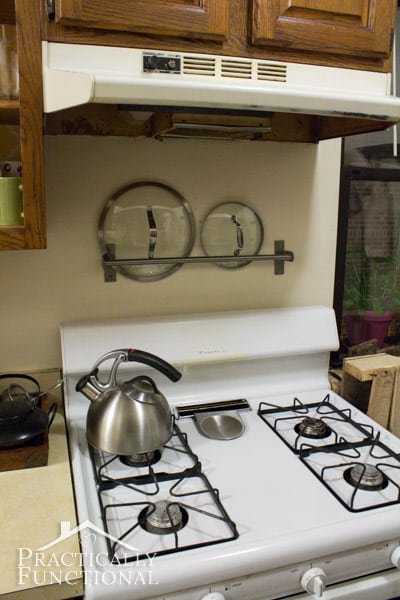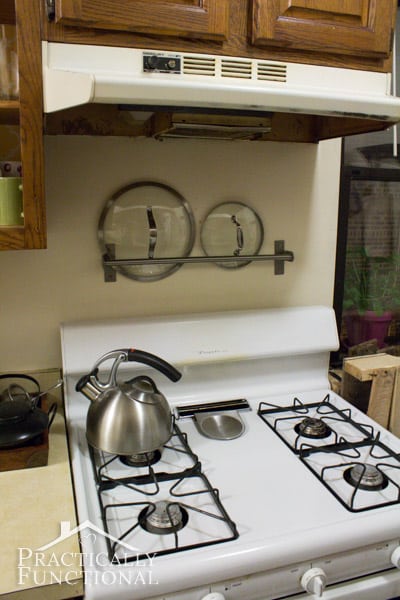 via Practically Functional
Use silver containers to hold your most-used kitchen utensils, and leave your frequently-used spices on the counter, too. Keep it all organized on a tray that you can move in a pinch.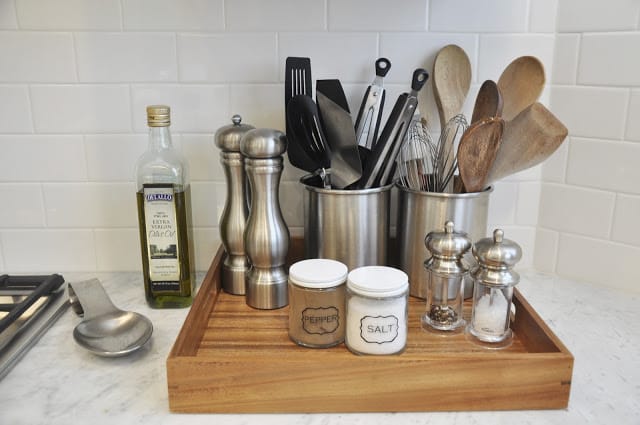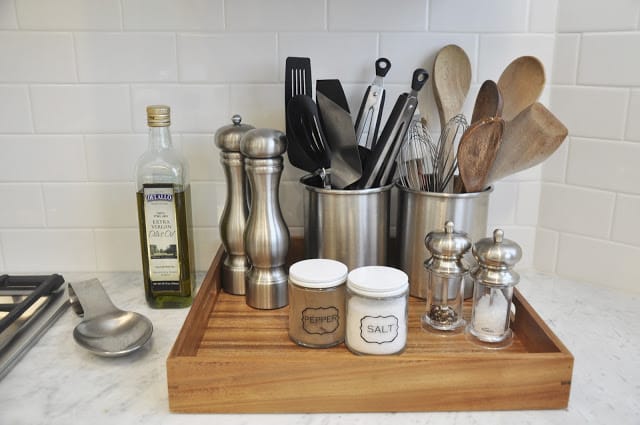 via Honey We're Home
Or attach hooks to hang your utensils on the side of your cabinet.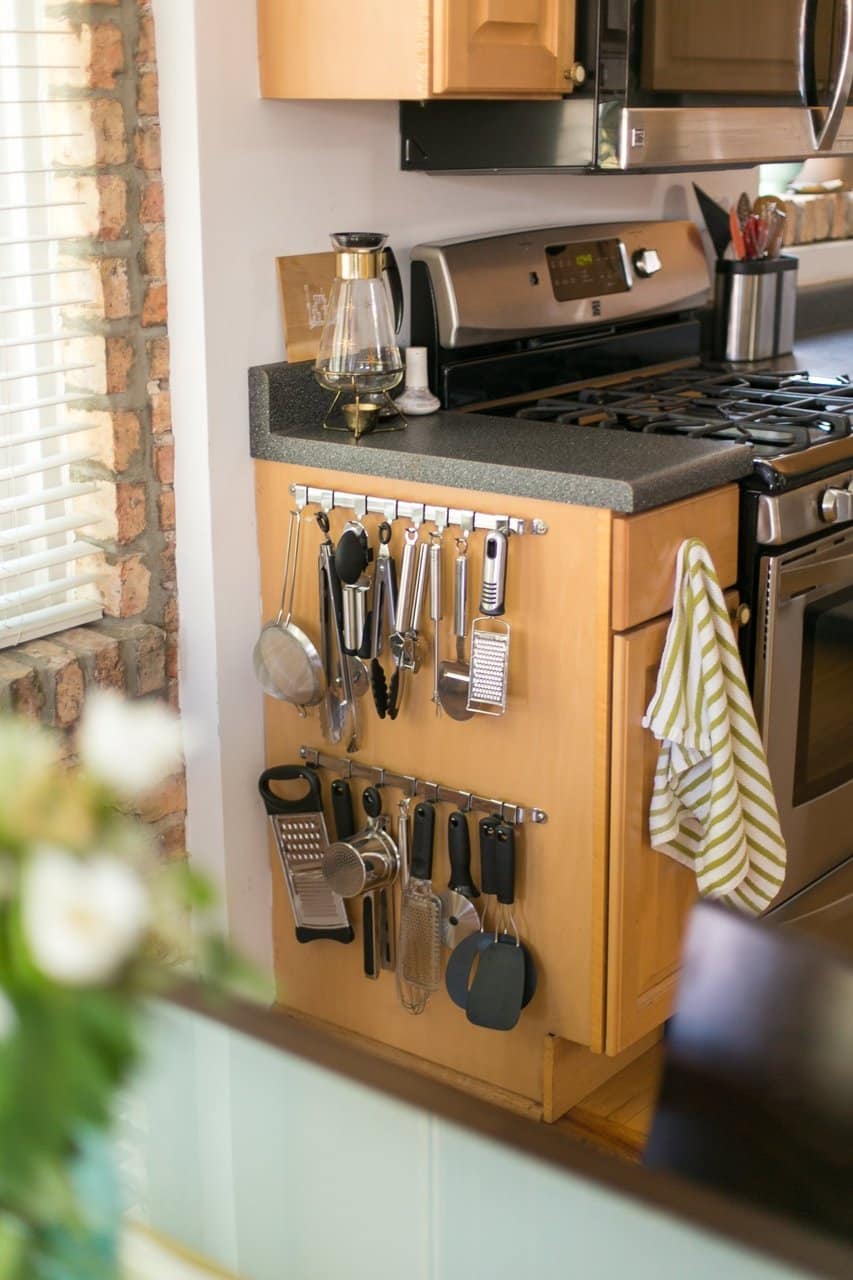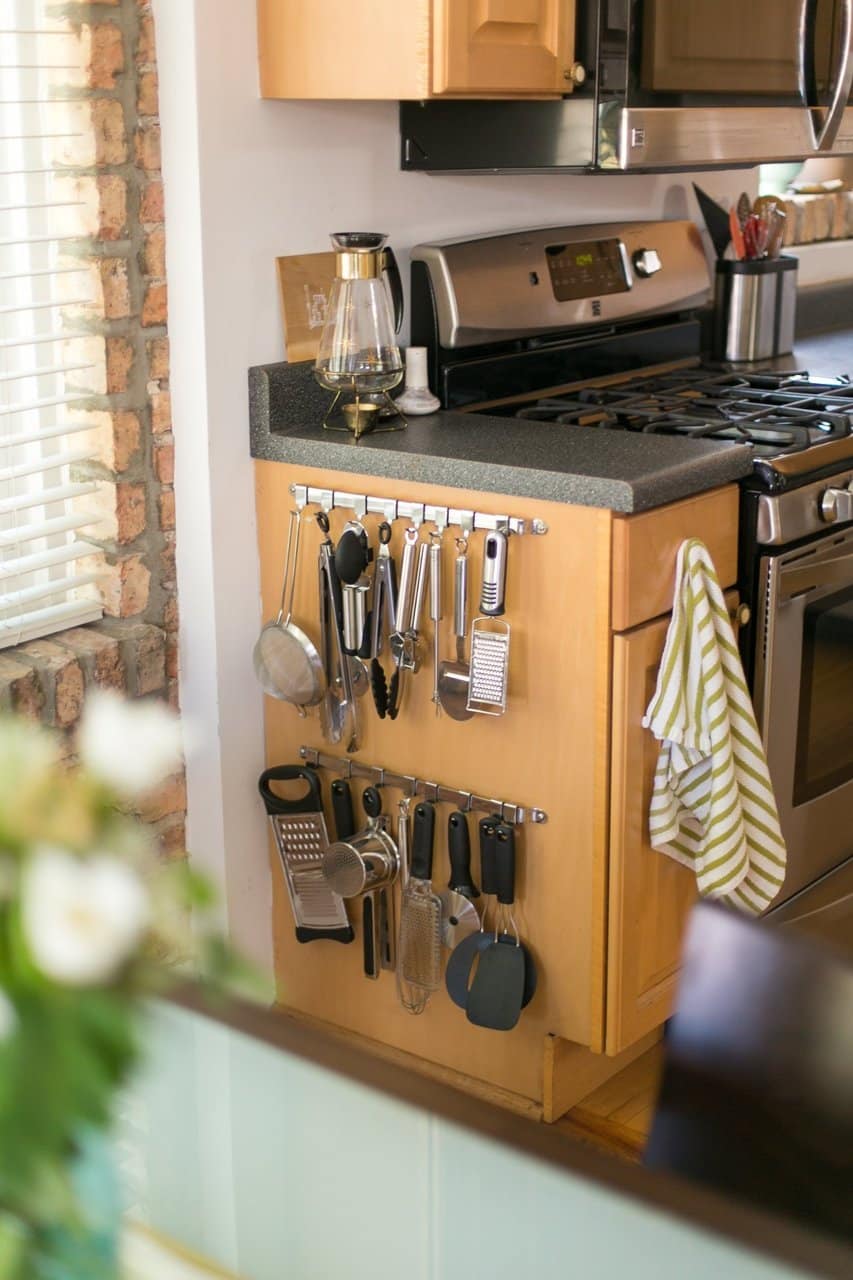 via Apartment Therapy
Hang your dish drainer on a rod. Not only will it keep it off your counter, but your dishes will probably dry faster with the better air circulation, too!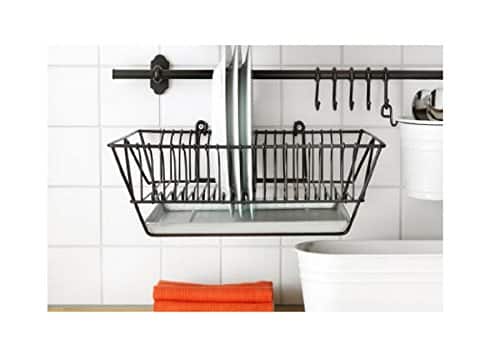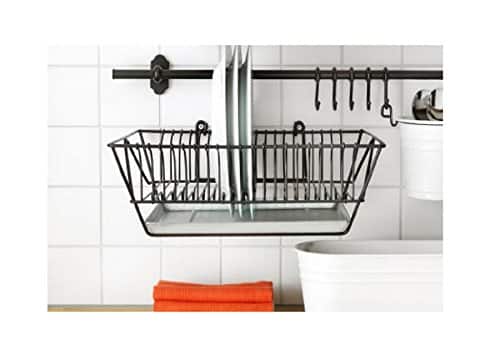 via Amazon
Undershelf baskets are super easy to install. I need at least 3 of these to put underneath my cabinets and shelves!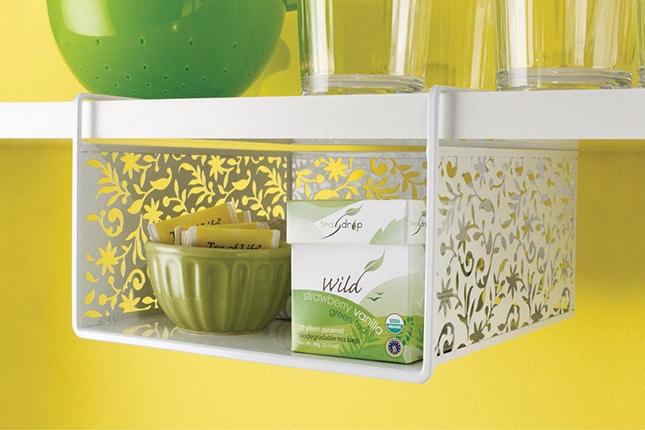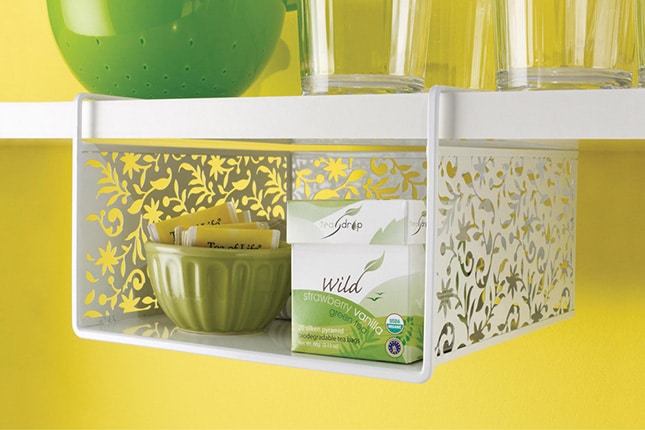 via Brit & Co.
Hang wire baskets on the side of your island to hold lunch bags, paper plates, dish towels and anything else you fancy. Lovely!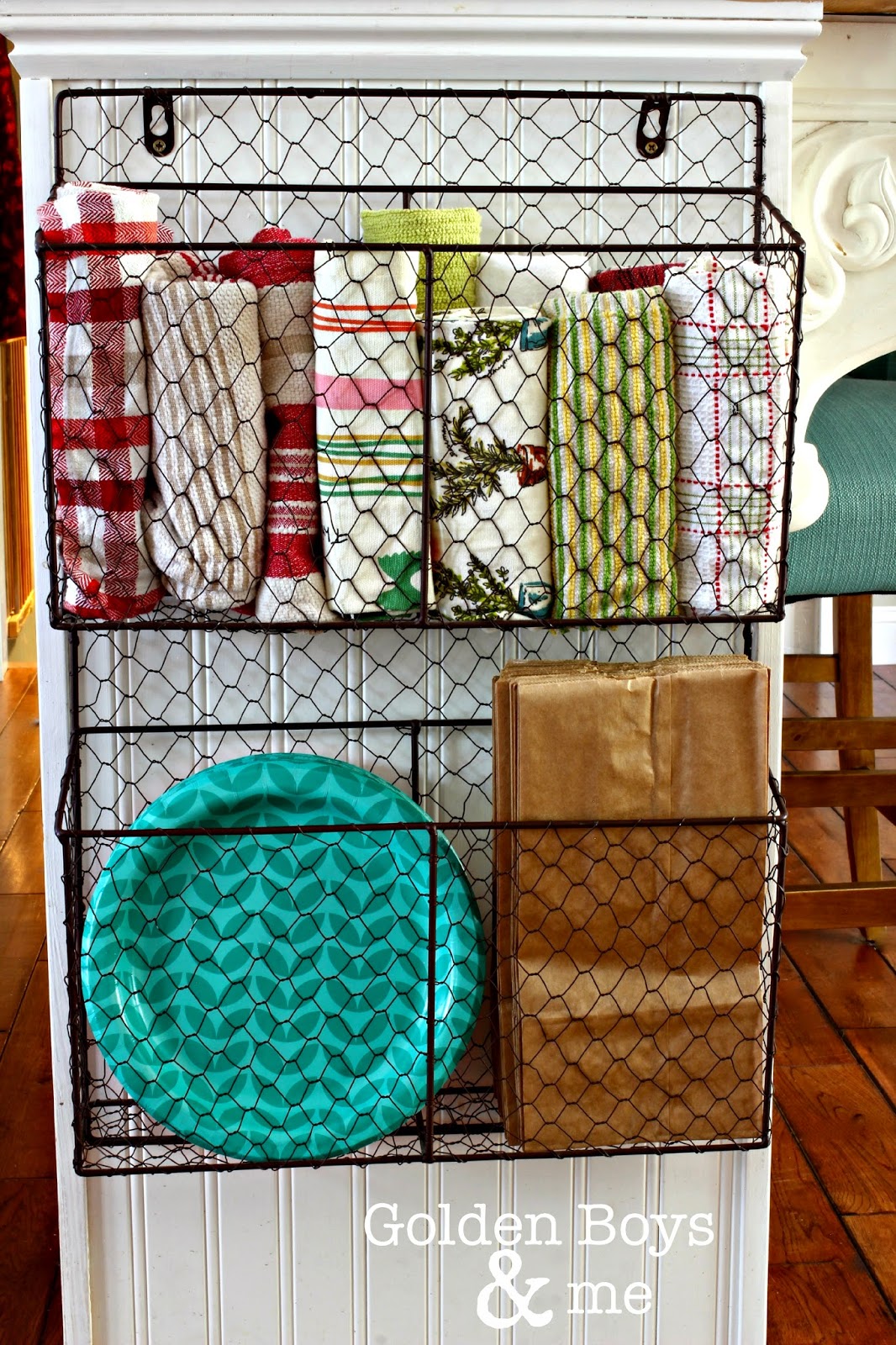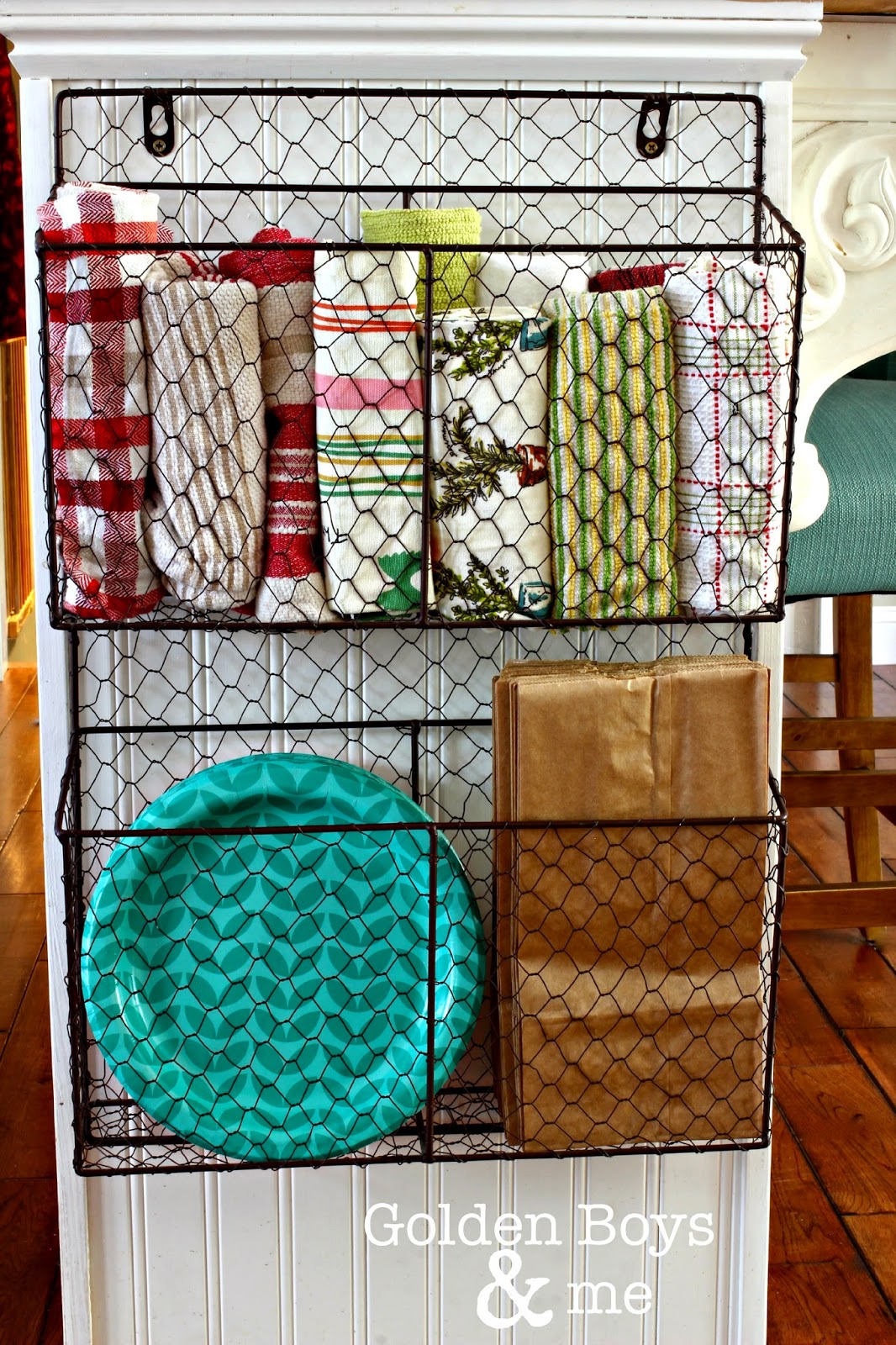 via Golden Boys and Me
Use an old shutter as a kitchen organizer! Attach some baskets, magnetic strips and hooks to hold all those miscellaneous items that clutter your countertops.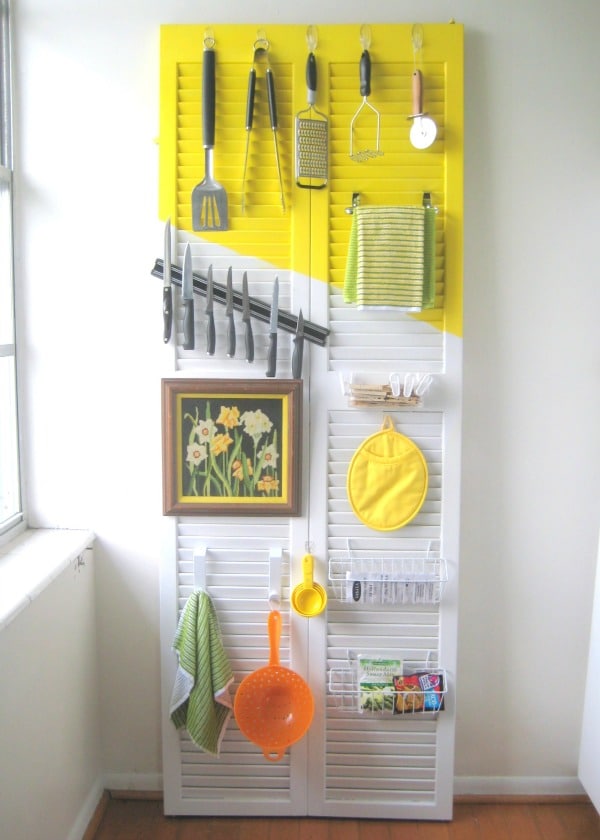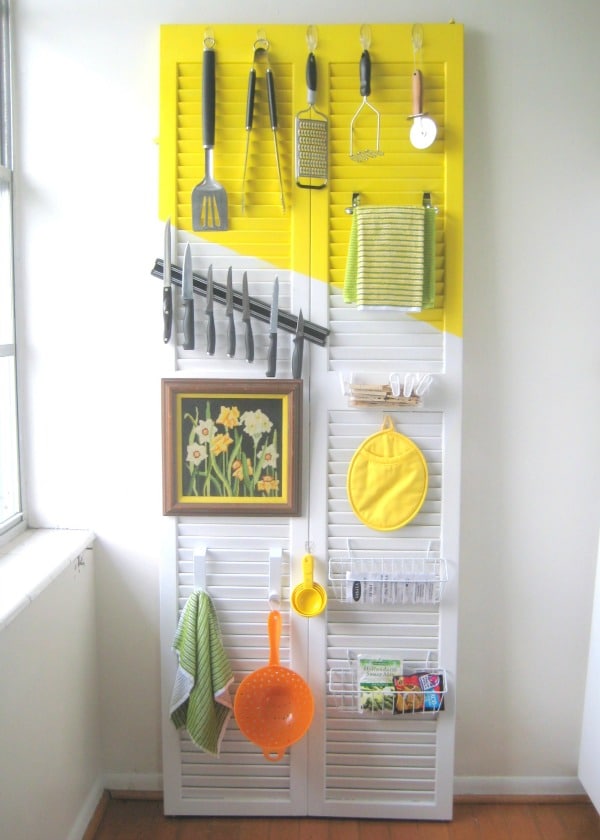 via C.R.A.F.T.
If you enjoyed these 15 Clever Ways to Get Rid of Kitchen Counter Clutter, you'll also like:
Kitchen Hack: Storing Plastic Bags
29 Clever Kitchen Organization Ideas and Gadgets
6 Small Bathroom Organization Tricks
19 Frugal Ways to Organize Your Home