Hosting a baby shower can be expensive. Between purchasing the food, decor, games and prizes, every little thing can add up. Getting creative with the prizes is an easy way to save. But you'll still be able to give your guests something useful! Here's a cheap baby shower prize idea that your friends and family are sure to love.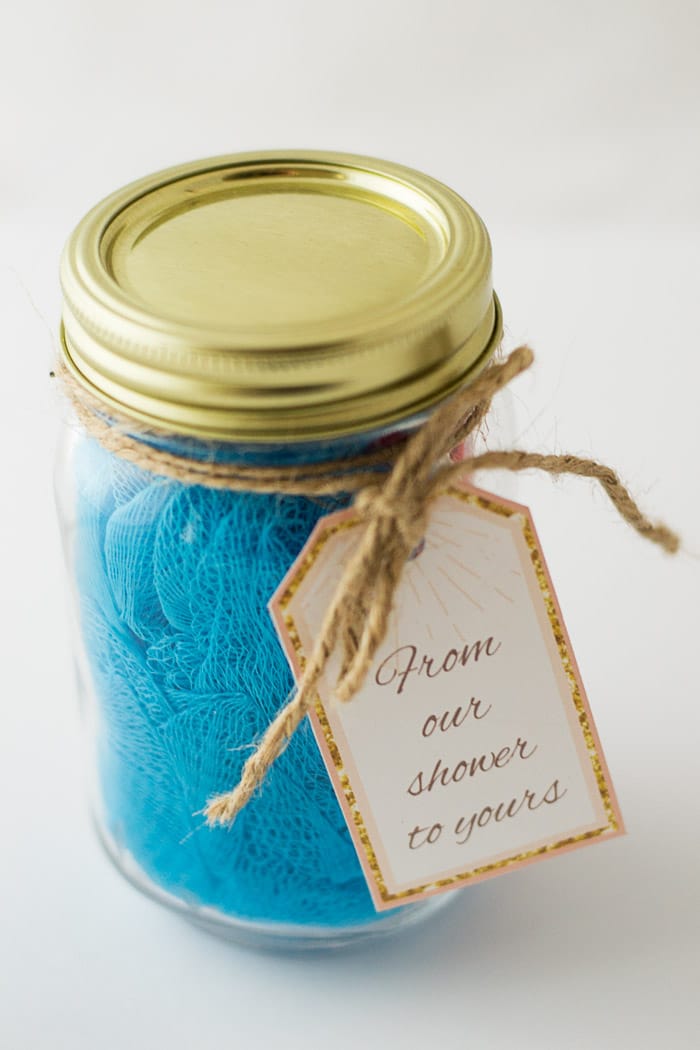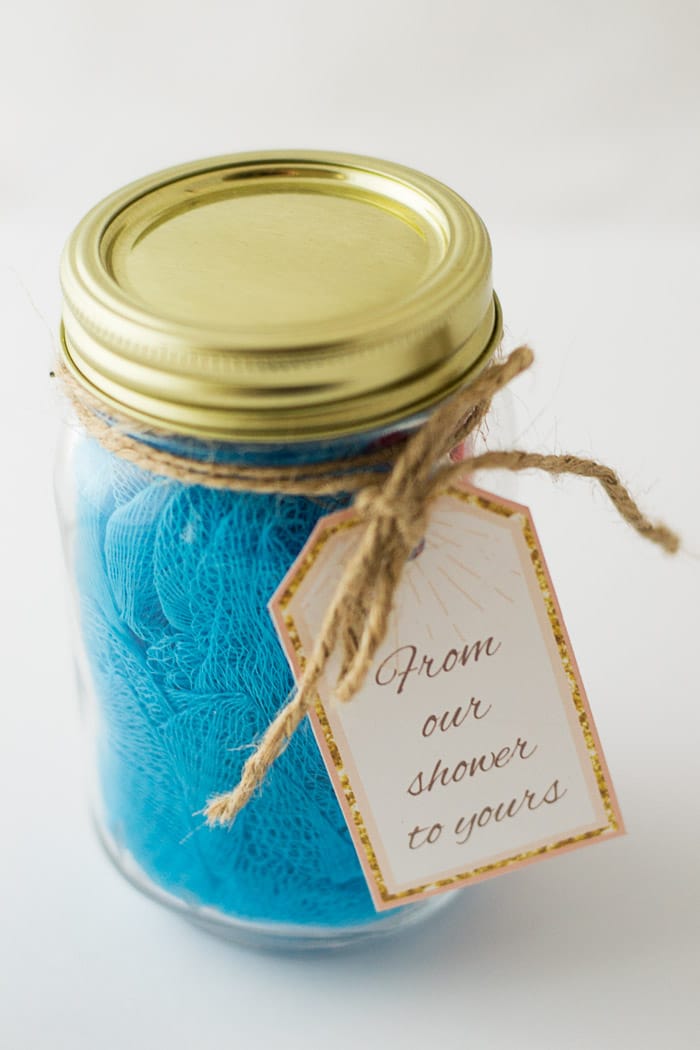 Related: 3 Clothing Mistakes Pregnant Women Make
Easy Baby Shower Prize Idea
I hosted a baby shower for my brother and his wife last summer, and one of the easiest ways to save a few bucks was by doing these jar prizes. The jars ranged in price according to the difficulty of the game (or the door prize, for instance, was a larger one), but the idea was the same. We gave out many of these little "from our shower to yours" jars. In them, we put a travel lotion, a travel body wash and a loofah. The loofahs were 3/$1, and the travel body washes and lotions were 50 cents each. Not bad!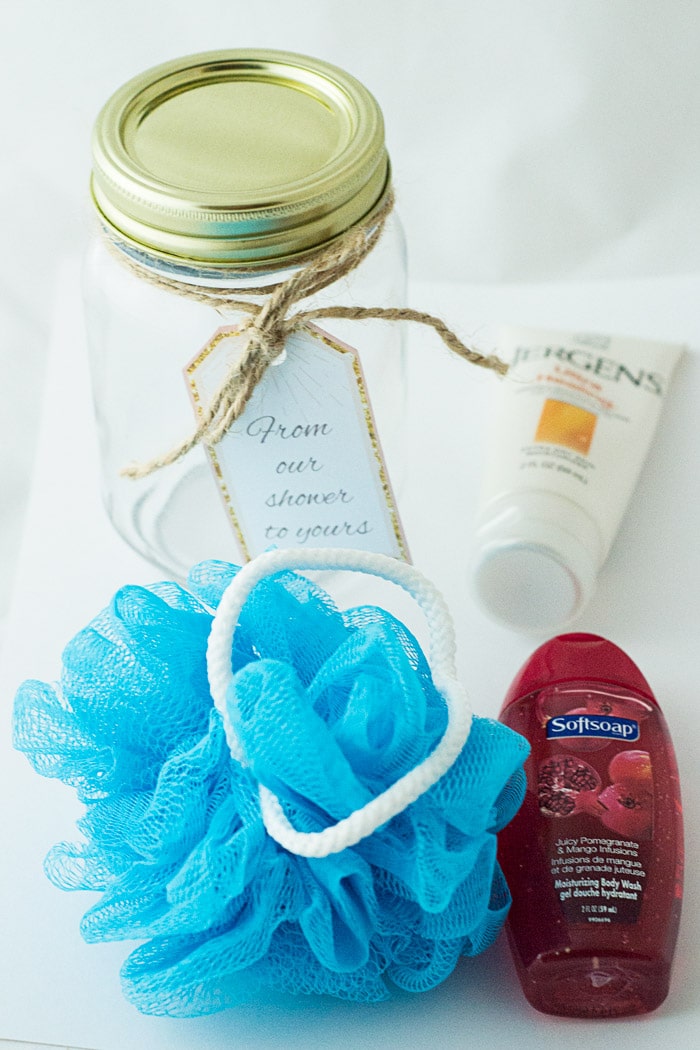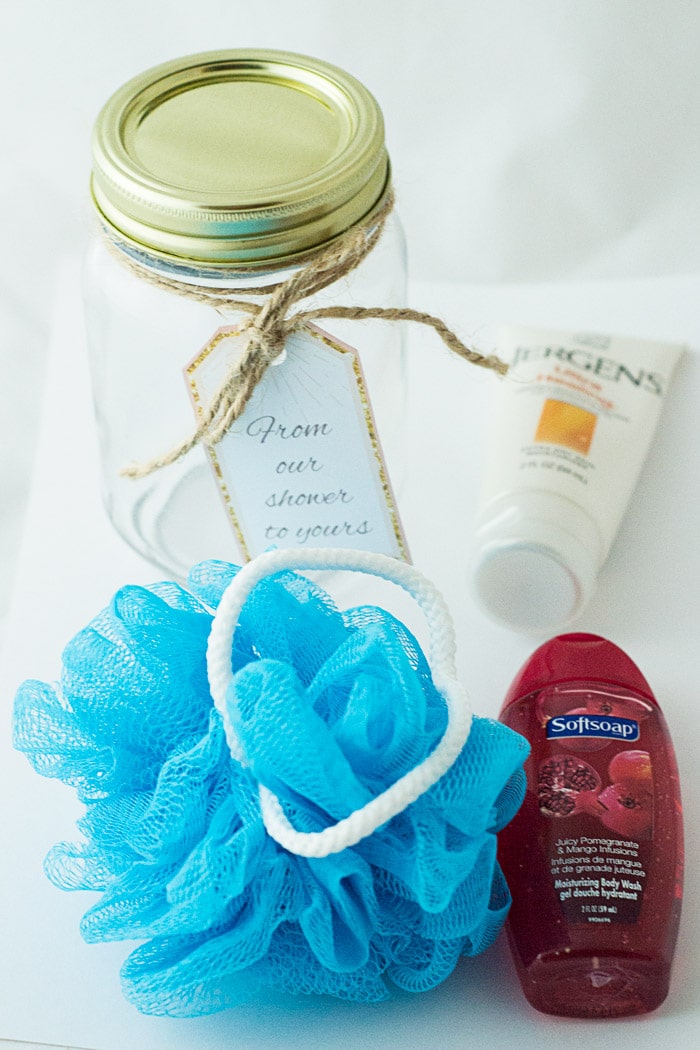 Some other jars we gave were jars full of miniature candy bars, a couple of "mom survival kit" jars and pedicure jars. Unfortunately, I forgot to snap pictures of those because I simply ran out of time!
But we had a fun shower considering I arrived last minute and recruited everyone who came through the door to help me get the decorations up. Here are some of the highlights:
Pink and Gold Baby Shower Theme
Babies are sweet; please take a treat. That's what the favors table said, and I thought it was such a sweet sentiment! The bags were filled with miniature candy bars. I got the favor bags 20/$1 at Dollar Tree. The printable tags and sign were from Etsy. I got the miniature clothespins in the baby shower section at Walmart.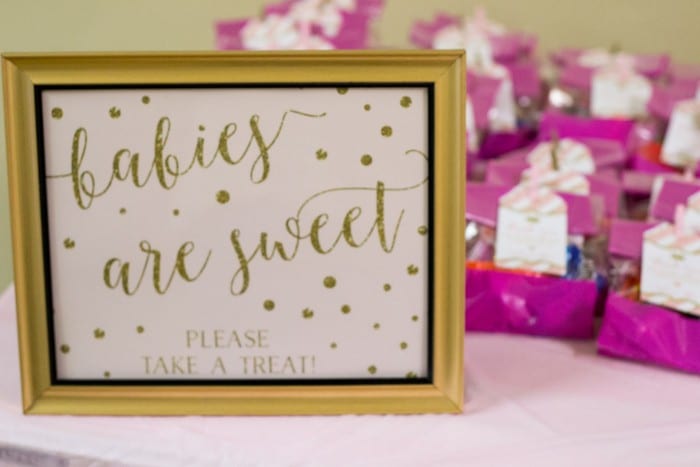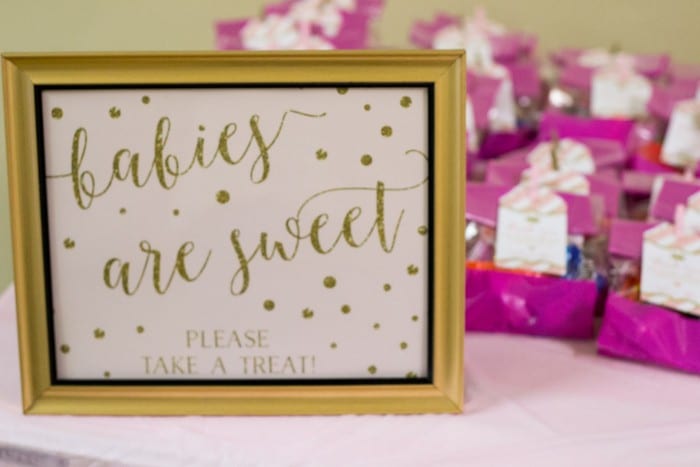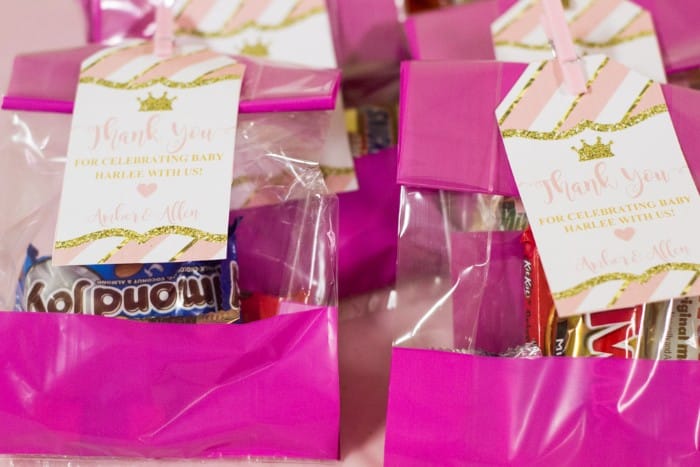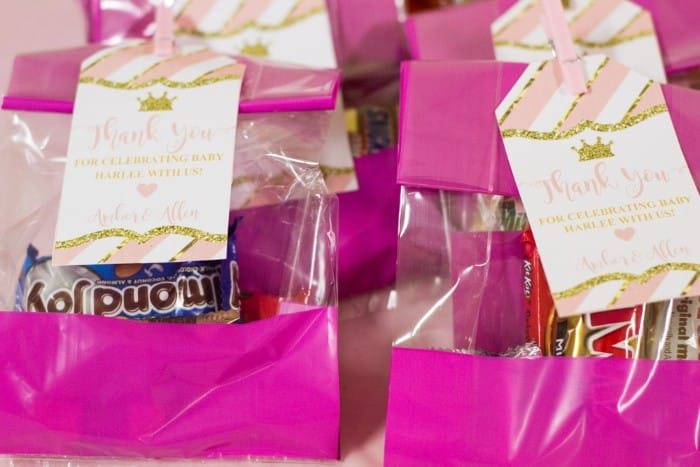 The onesie decoration station was a lot of fun. We were pressed for time and didn't get to photograph any of the completed onesies, but there were some wild designs! Pro tip: Have guests do this at the beginning of the shower. Ours did it near the middle to end, and we didn't take into account the drying time of the fabric paint. So either use markers only, or allow the onesies a few hours to dry before packing them all up if you use paint.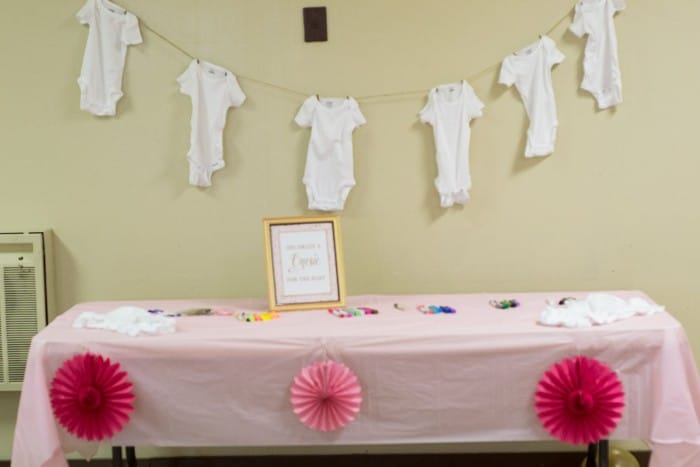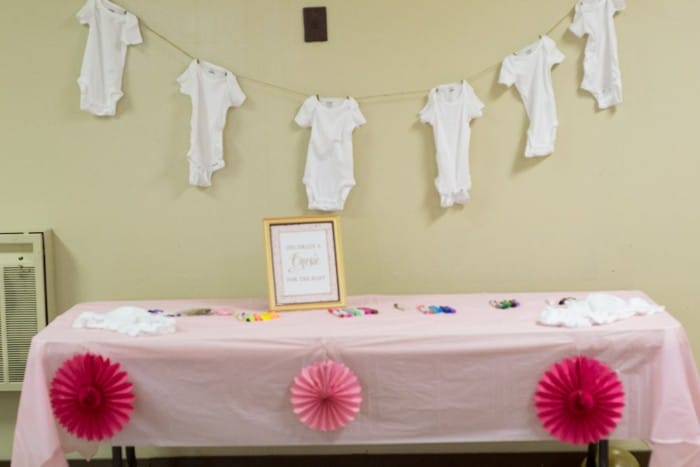 We set up a photobooth of sorts using printable props from Etsy and my iPad. We used a photobooth app, which kept only that app open on the iPad and made it super easy for guests to figure out how to use it. This was a lot of fun!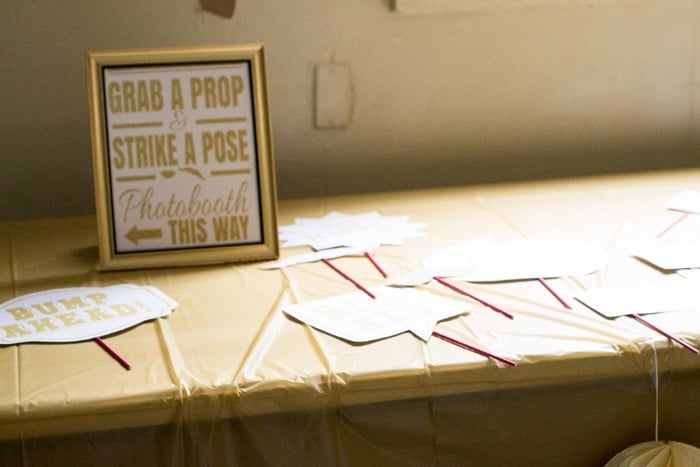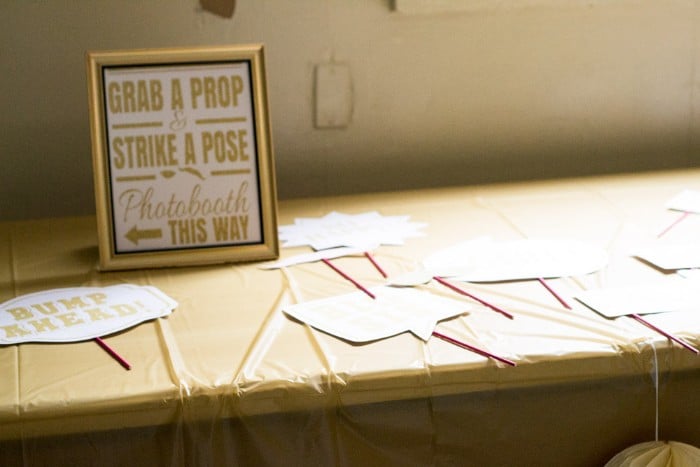 My sister-in-law, Jessica, made the pretty pink and gold diaper cake you see below. We also have a tutorial for a storybook diaper cake, if you're interested.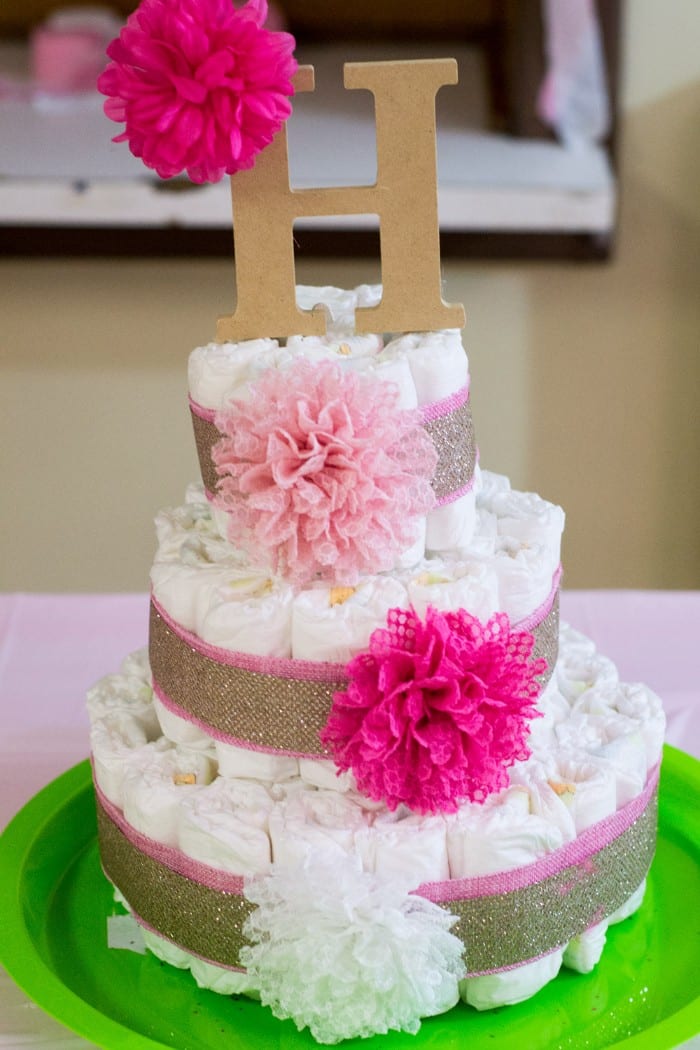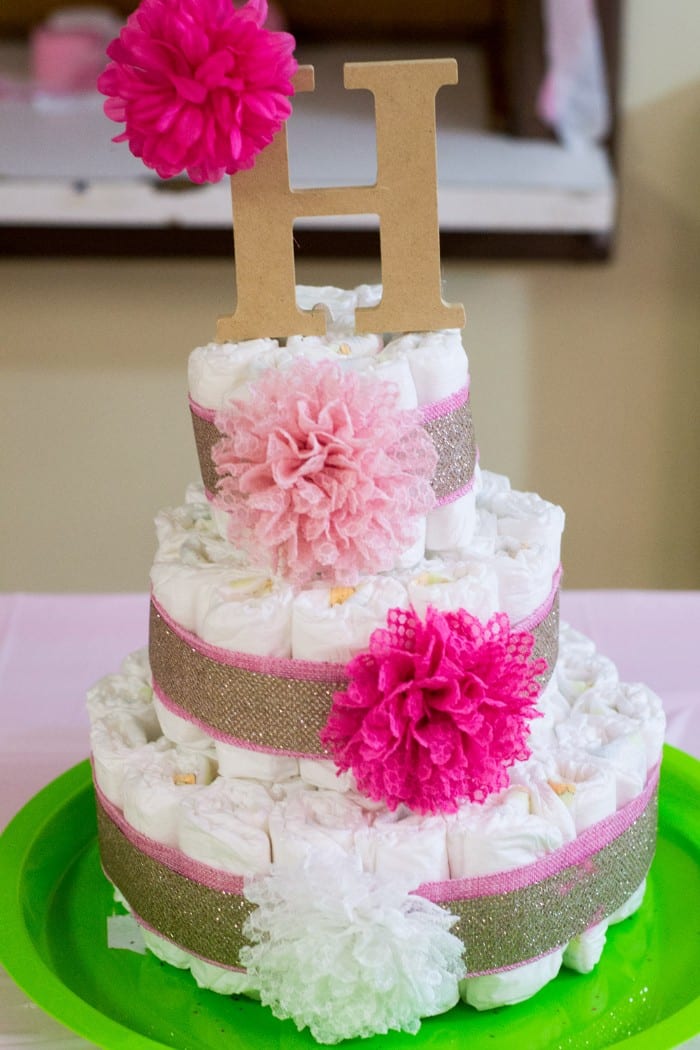 As for the games, we did several printable games such as Baby Shower Bingo, Word Scrambles, etc. But the most fun was had in these minute-to-win-it type baby shower games.
I forgot my blindfold, but the diaper changing race was so much fun! Each person was timed on removing the "dirty" diaper, wiping the baby and getting the clean diaper on. There were some experienced moms and dads in the group, so the times were unbelievable!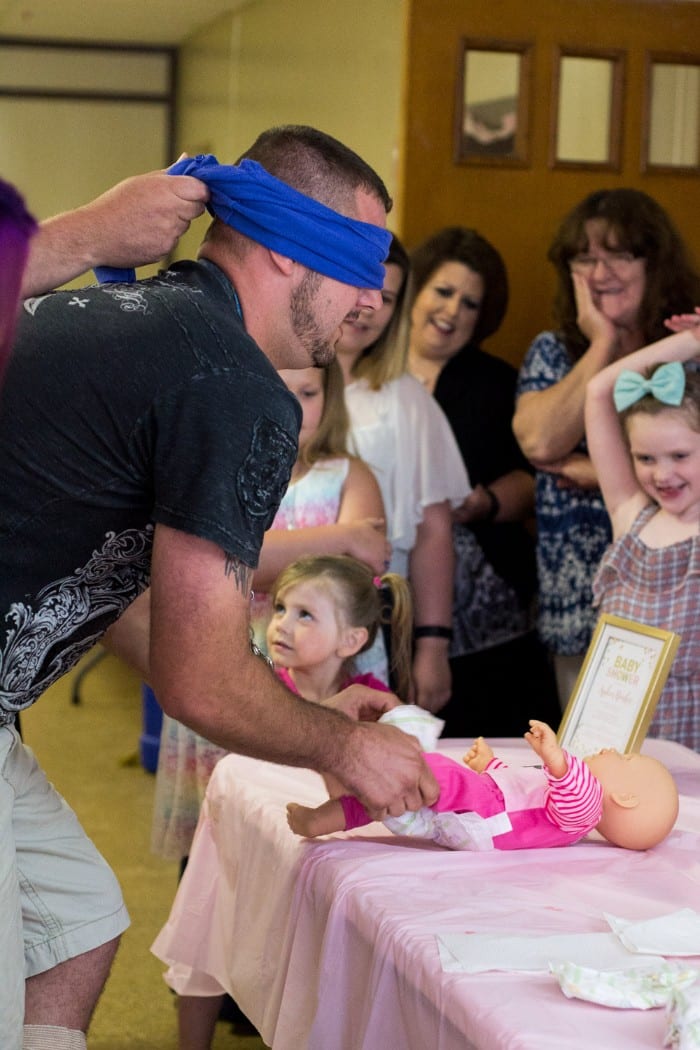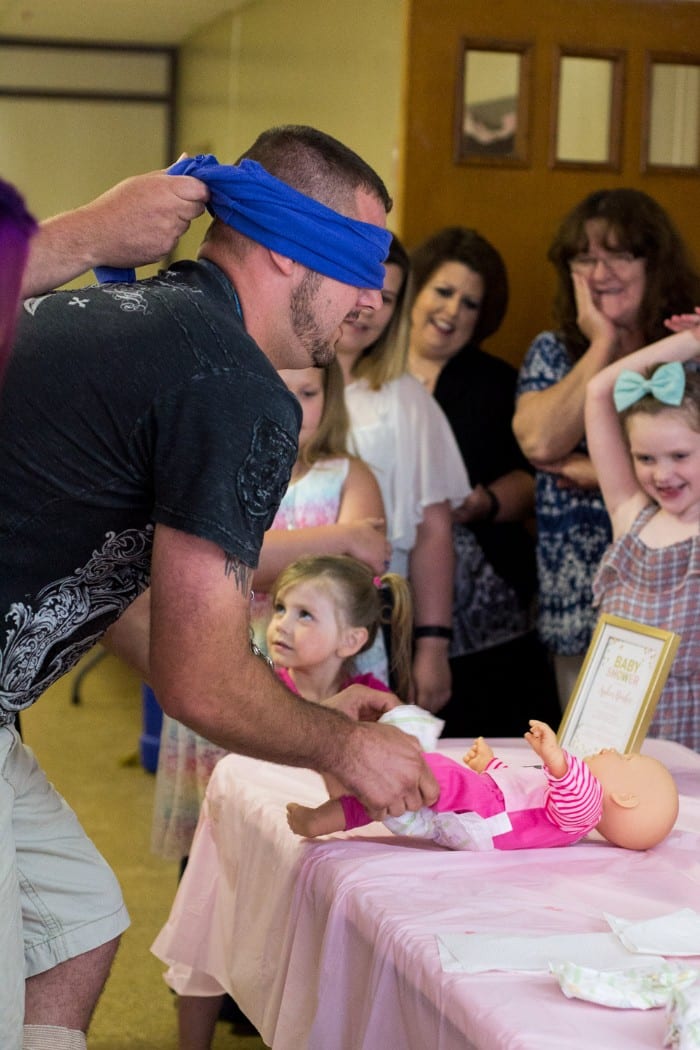 The dirty diaper toss was another fun one that the kids loved as much as the adults. Add a weight in the diapers, tape a line on the floor, and toss the dirty diapers into the pail. The person with the most in the pail wins!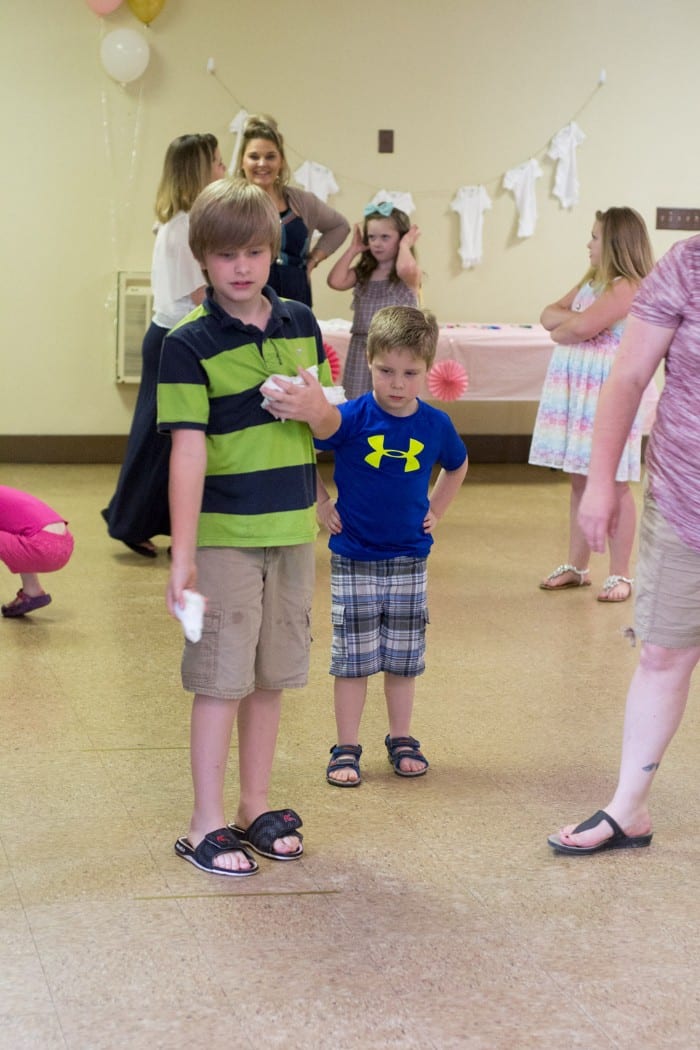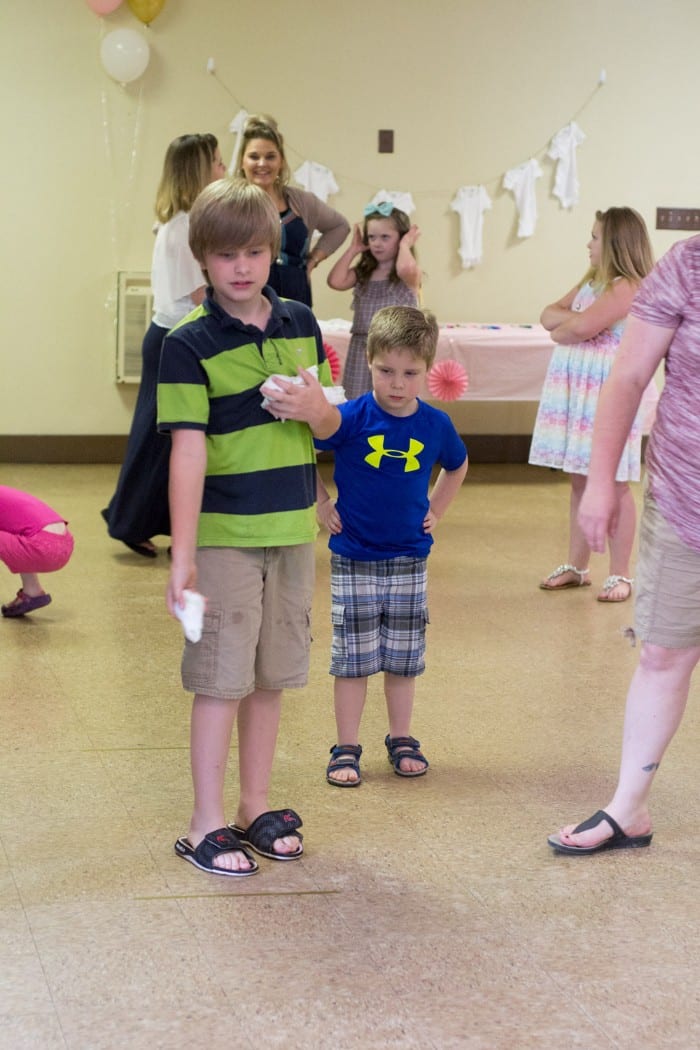 Need some great food ideas? Check out this list of Baby Shower Appetizers from my friend, Kristi.
That about wraps it up.
Have you hosted a baby shower recently? How did you keep costs down, especially when it comes to prizes?