Bite into one of these Blueberry Cream Cheese Bars — buttery graham cracker crust is topped with a cookie layer, a fruity cream cheese layer, and lots of tart blueberries and white chocolate chips.
There's something so comforting about baking up something sweet for your family. If you're as much of a blueberry fan as I am, your heart skips a beat when you see blueberry muffins or blueberry pancakes drizzled with syrup.
But these blueberry bars — oh my. They're on another level. They're rich and decadent thanks to the white chocolate chips, sweetened condensed milk, and cookie layer. It's hard to eat just one!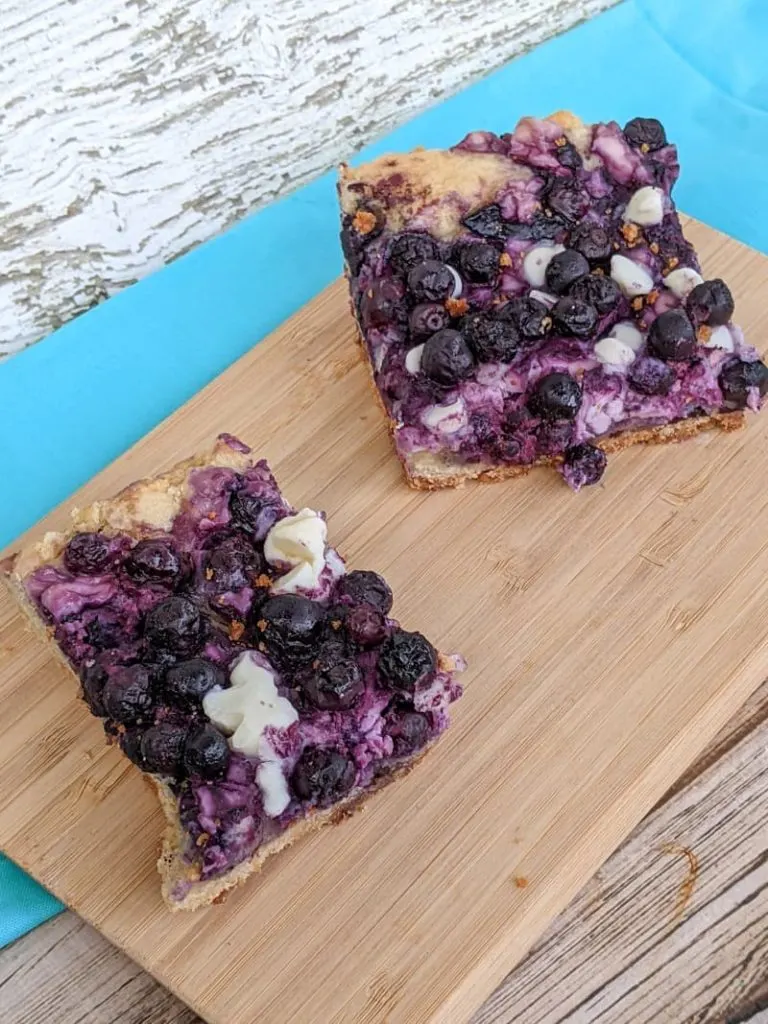 And when blueberry season comes around, I eat them fresh, frozen, and added to lots of fun recipes. I add them to drinks like these 25 Blueberry Drink Recipes for Summer. They're also delicious in homemade strawberry blueberry popsicles.
But right now, you're here for the blueberry and cream cheese bars. So, let's get to the good stuff, shall we?
Why You'll Love These Easy Blueberry Bars
They're fruity and decadent all at the same time.
It's a great make-ahead recipe. The flavors are even better the next day.
They store beautifully in the freezer, so you can make a double batch to stash away for another day.
It's a great recipe for using up your blueberry bounty in the summer!
Perfect dessert for church potlucks and family gatherings.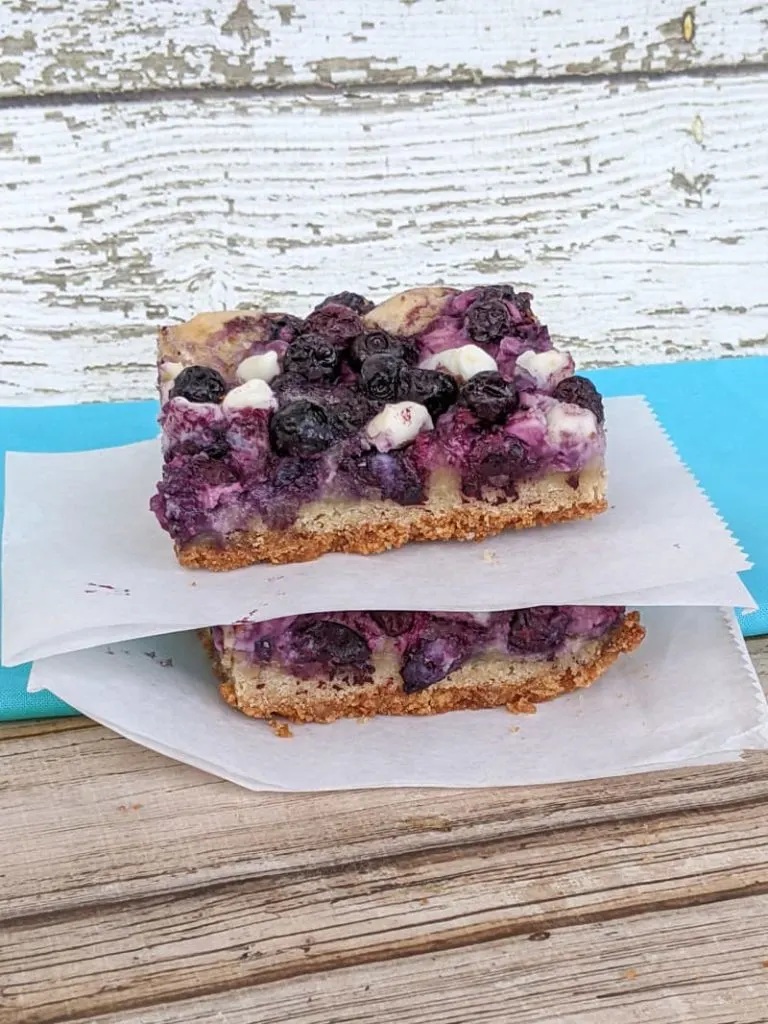 Ingredients for Blueberry Bars with Cream Cheese
This section is meant to provide an overview of the ingredients required for the recipe. For specific amounts and instructions, please refer to the recipe card at the bottom of the post.
Blueberries — Fresh or frozen both work for this recipe. However, fresh blueberries in peak season are my personal favorite!
Cream Cheese — Make sure it's softened to room temperature before you get started. It'll make it easier to mix.
Sweetened Condensed Milk — This adds extra sweetness to the blueberry bars and the "stickiness" also helps hold the ingredients together.
Graham Crackers — You'll create a buttery graham cracker crust for these yummy cookie bars!
Butter — Butter is needed for both the graham cracker crust and the cookie dough layer. Use unsalted butter for baked goods.
Sugar — Granulated sugar is used in the crust and the cookie dough layer.
Flour — All-purpose flour is my go-to for baking.
Salt — Salt reacts with the baking powder to help the flour to rise.
Baking Powder — This is a leavening agent that helps your cookie dough layer get nice and puffy.
Vanilla Extract — Pure vanilla extract enhances the flavor of these fruity, creamy bars.
Egg — An egg helps provide structure and binds everything together.
White Chocolate Chips — For those with a big sweet tooth, throw some white chocolate chips into the mix to make these cream cheese blueberry bars even more decadent!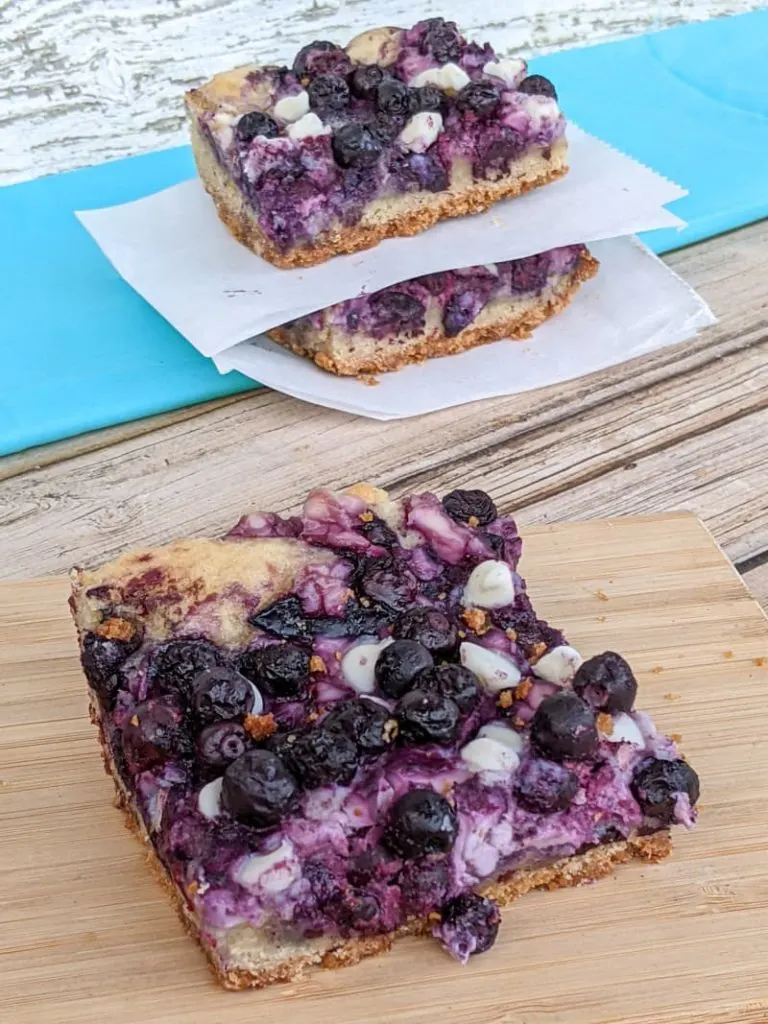 How to Make Blueberry Cream Cheese Bars
This section provides a brief overview of the instructions but the steps are not detailed. For exact step-by-step instructions, refer to the recipe card below.
Prep the pan: Preheat your oven to 350F. Line a 9×13 baking pan with parchment paper. If you don't have any, just coat it lightly with cooking spray.
Make the crust: Crush the sleeve of graham crackers and combine them with 2 tablespoons of melted butter and 2 tablespoons of sugar. Add the crumb mixture to the baking dish, and use a spoon or a glass to firmly press the crumbs together to form a crust in the bottom of the pan.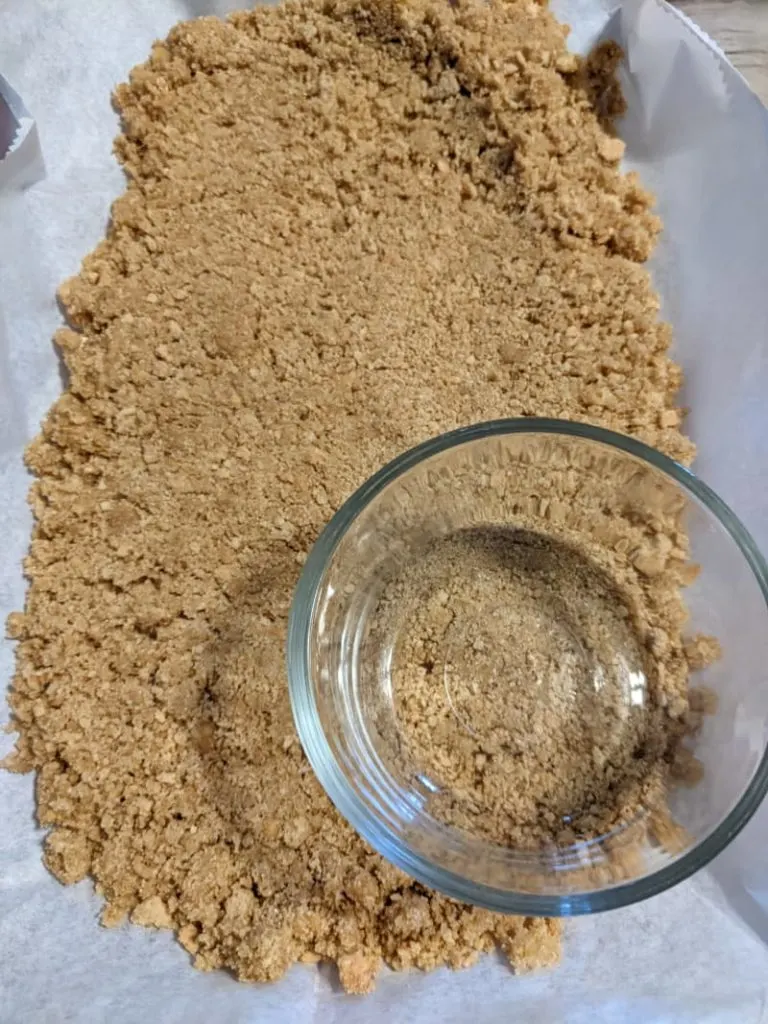 Mix the flour: Combine the flour with the salt and baking soda in a medium mixing bowl. Set this aside.
Make the cookie dough layer: In a large bowl, add 3/4 cups sugar and a stick of soft butter. Beat on medium speed until the mixture is creamy. Add the egg and vanilla extract, mixing for another minute. Incorporate the flour mixture by adding half, mixing, and then adding the remaining mixture. Mix until well combined, but do not overmix.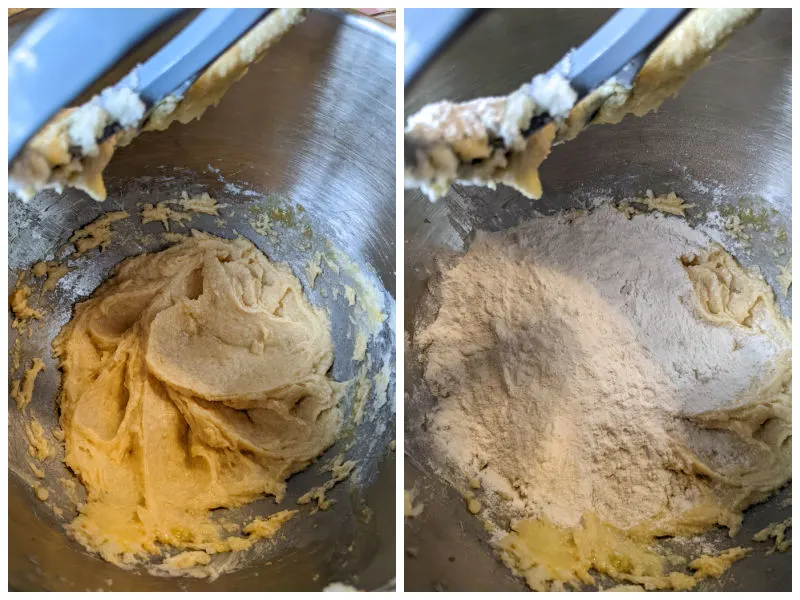 Layer the cookie dough: Spread the cookie dough mixture over the graham cracker layer, flattening with a spoon as you go.
Make the blueberry cream cheese: In a medium bowl, mix the softened cream cheese and half of the berries together until well combined. Spread this cream cheese mixture over the cookie dough layer.
Add your toppings: Sprinkle the top with white chocolate chips and the remaining blueberries. Drizzle the sweetened condensed milk over the top.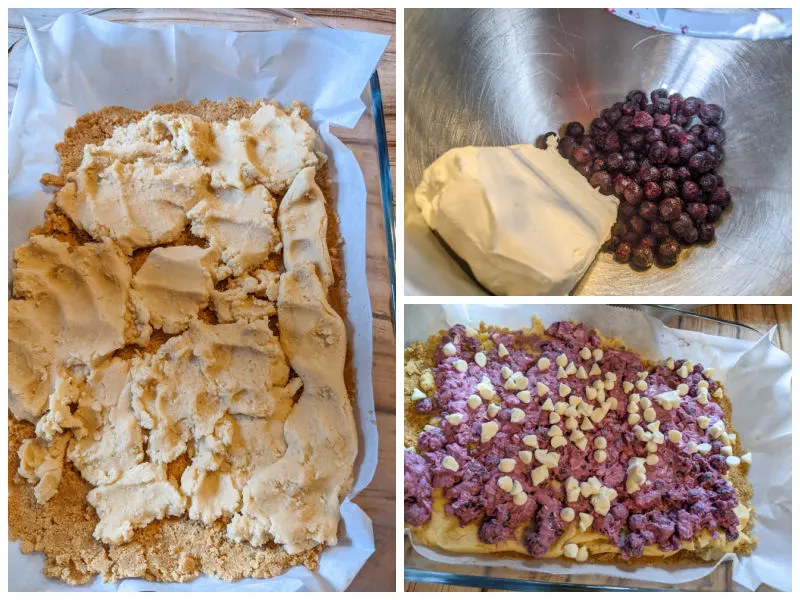 Bake and cool: Bake the cookie bars for 35 minutes. After they're out of the oven, let them cool on the countertop. Then, place the baking dish in the fridge for at least 4 hours (or the freezer for 1 hour) before cutting them into portions.
Serving Suggestions
Serve blueberry cream cheese crumb bars with a cup of coffee, a big glass of milk, or a scoop of ice cream and a drizzle of blueberry syrup to make it extra special.
Storage and Freezing
Store blueberry cream cookie bars in an airtight container in the refrigerator for up to 4 days.
You can freeze these blueberry bars for up to 3 months in a freezer-safe container or freezer bag.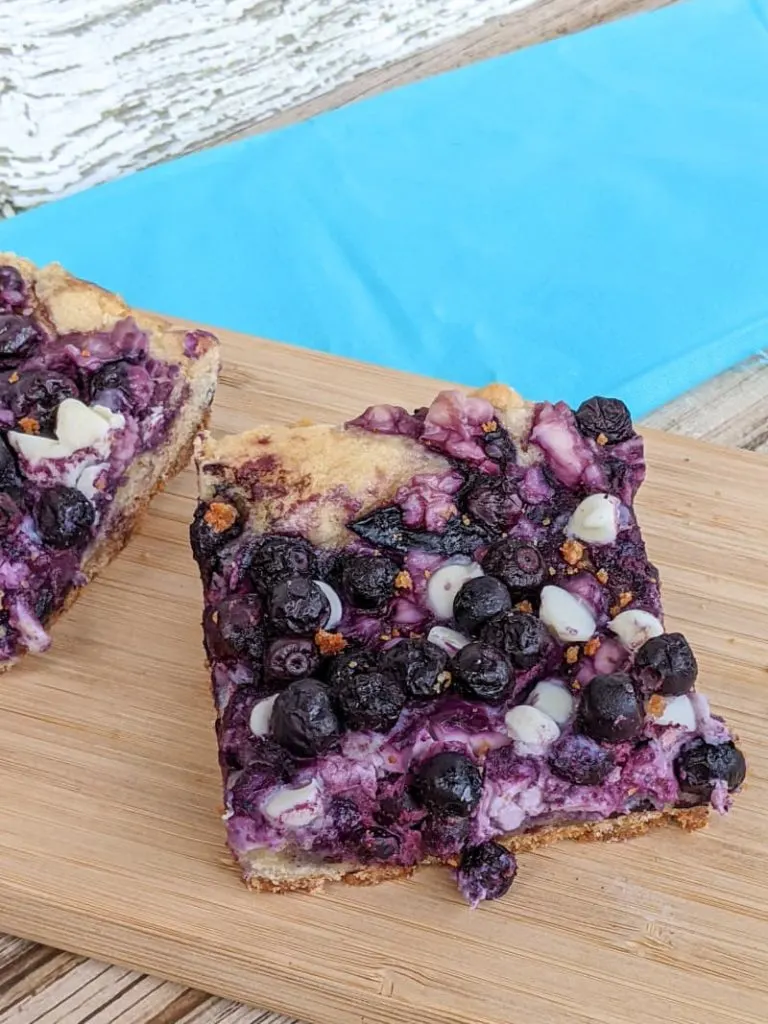 Tips and Tricks for Cream Cheese Blueberry Bars
You can use fresh or frozen blueberries for this recipe, so feel free to make it year round!
Make sure the cream cheese and butter are softened. They'll mix more easily with the other ingredients, so you'll be able to avoid all those lumps.
Chill the bars before cutting into individual servings — this will help you get clean cuts.
Additions and Variations
Try it with blackberries. My country girls know what's up. Pick some fresh blackberries to substitute for the blueberries in this recipe. Divine!
Add some lemon. Blueberries and lemon pair beautifully together. Add a little lemon juice or extract to your cream cheese layer and then sprinkle some grated lemon zest on top.
Sprinkle some oatmeal on top. To make these a little more like breakfast bars, you can swap out the white chocolate chips and top the bars with oatmeal instead.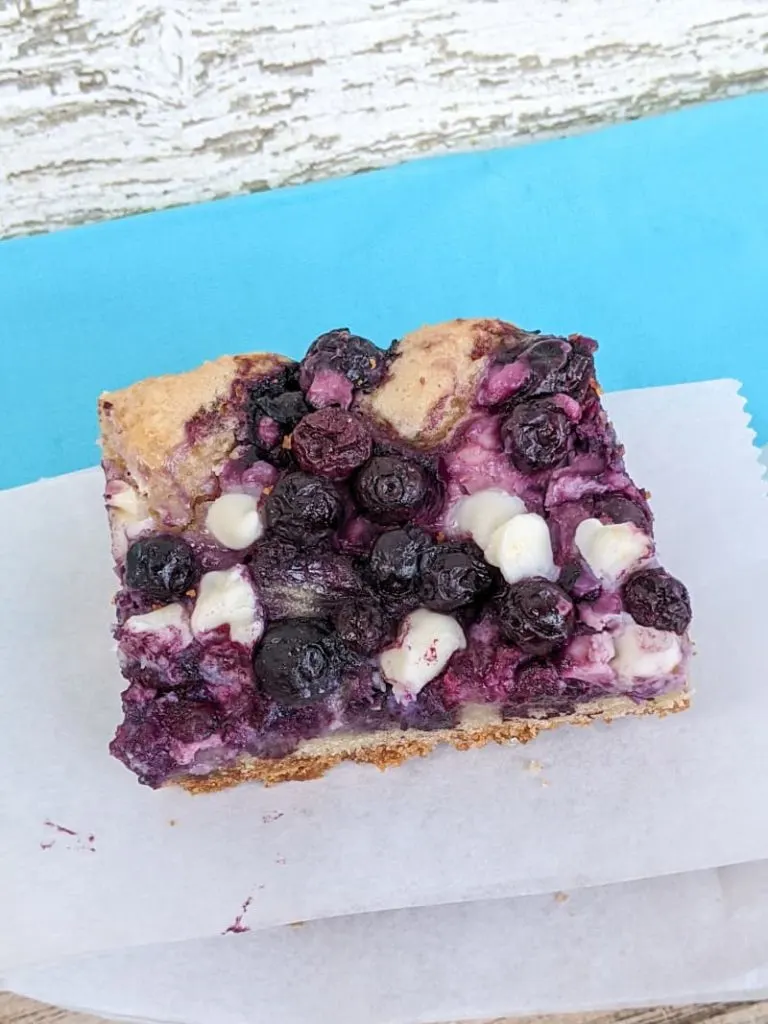 FAQ for Blueberry Cream Cheese Cookie Bars
Can I use different fruit for these cookie bars?
Yes! Any type of berry works beautifully. Raspberries, blackberries, and strawberries are all great choices.
Is it okay to use frozen blueberries for blueberry cream cheese bars?
Absolutely. I don't even bother thawing them for long. Be aware that frozen blueberries do have a tendency to transfer their color to the surrounding ingredients, though.
Can I freeze blueberry bars?
You can! They'll keep in the freezer for a few months, easily, if stored in a freezer bag or airtight container. Thaw them in the refrigerator for several hours before eating. They're delish slightly frozen, though.
More Delicious Dessert Recipes
Want more sweets after trying our delicious blueberry cream cheese bars? Try one of these indulgent recipes!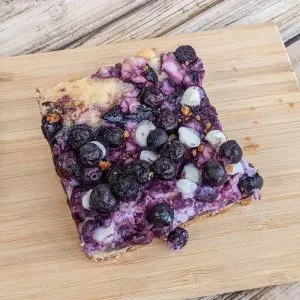 Delicious Blueberry Cream Cheese Bars
These easy blueberry cream cheese cookie bars are the perfect way to use fresh or frozen blueberries for a fruity, decadent treat that really satisfies the sweet tooth. They're perfect for a summer potluck or picnic!
Ingredients
½

cup

sweetened condensed milk

1

sleeve

graham crackers

crushed

6

tbsp

butter

melted

2

tbsp

granulated sugar

1 ¼

cup

all purpose flour

1

pinch

salt

¼

tsp

baking powder

¾

cup

sugar

1/2

cup

butter

softened

1

tsp

vanilla extract

1

egg

1

cup

blueberries

divided (fresh or frozen)

4

oz

cream cheese

room temperature

½

cup

white chocolate chips
Instructions
Preheat the oven to 350 degrees. Line a 9×13 baking dish with parchment paper or lightly coat it with cooking spray.

Crush graham crackers and combine with melted butter and 2 tablespoons of sugar.

Dump the graham cracker mixture into the parchment paper lined baking dish. Press the graham crackers firmly into the dish so the crumbs form a crust.

In a second bowl, combine flour, salt, and baking powder. Set aside.

In a third bowl combine 3/4 cups sugar and 1 stick of softened butter. Beat on medium speed until creamy. Add in egg and vanilla and mix for 1 minute.

Add the flour mixture, dumping in half, blending, and then adding the remaining flour mixture.

Spread this dough over the graham crackers by the spoonful, flattening the dough with the spoon as you go.

In a fourth bowl, combine the softened cream cheese and ½ c blueberries. Blend until well combined. Spread the fruity cream cheese over the cookie dough layer.

Sprinkle white chocolate chips over the fruit and cream cheese layer.

Sprinkle the remaining blueberries over the top.

Drizzle with ½ c of sweetened condensed milk.

Bake for 35 minutes at 350°F.

Allow to cool on the counter for 90 minutes.

Place the baking dish in the fridge for 4 hours, or the freezer for 1 hour before cutting for cleaner blueberry squares. Enjoy!
Notes
Store leftovers in an airtight container in the fridge for up to 4 days.
Nutrition
Calories:
247
kcal
Carbohydrates:
32
g
Protein:
3
g
Fat:
12
g
Saturated Fat:
7
g
Polyunsaturated Fat:
1
g
Monounsaturated Fat:
3
g
Trans Fat:
0.3
g
Cholesterol:
32
mg
Sodium:
200
mg
Potassium:
87
mg
Fiber:
1
g
Sugar:
18
g
Vitamin A:
300
IU
Vitamin C:
1
mg
Calcium:
50
mg
Iron:
1
mg