Want a healthier alternative to potatoes and rice? Cauliflower is where it's at! And I know, I know. You've probably tried riced cauliflower or simple cauliflower mashed potatoes and thought, "meh." I was underwhelmed at first, too. But since my husband is usually on some version of a low carb diet, we've learned to love this tasty veggie. Try some of these delicious cauliflower recipes for yourself, and you'll become a convert, too!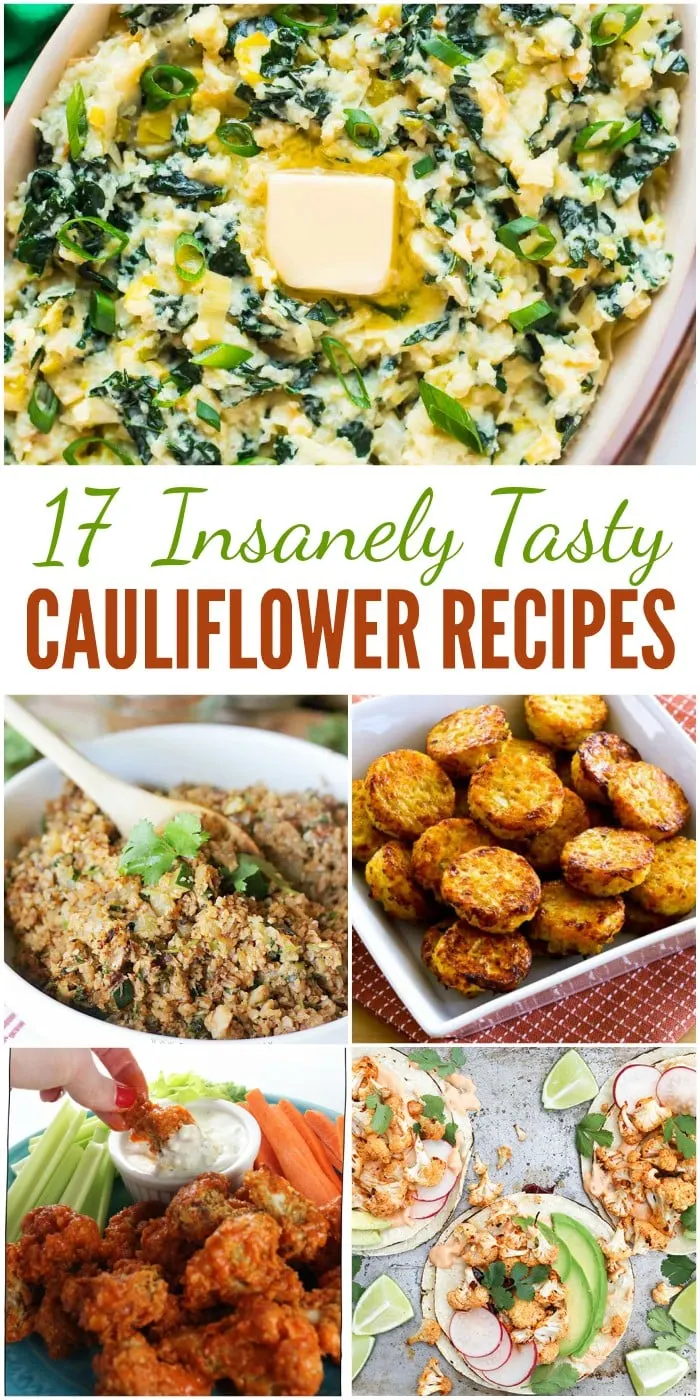 Mouthwatering Cauliflower Recipes
Mexican Cauliflower Rice goes great with all your Mexican-inspired meals, like taco bowls, enchiladas, or even just plain old chicken or beef.
Low Carb Cauliflower and Ground Beef Hash is one of our favorite meals. It's low in carbs and so simple to make. It only takes about 30 minutes!
Crunchy and sweet, this Broccoli and Cauliflower Salad really hits the spot! Sub a sugar alternative for the sugar if you want to make it low carb. Yum!
Or maybe this Bacon Cauliflower Salad is more your style.
When you want pizza without the carbs, make a cauliflower pizza crust. It's seriously tasty, and it's healthy to boot!
For a spicy kick, try Cauliflower Steaks with Cilantro and Hot Pepper Aioli. Even picky little eaters enjoy this recipe.
Our Savory Riced Cauliflower is a staple when the hubs is low carbing. It's the perfect side dish for almost any meal.
In the colder months, Roasted Cauliflower Soup will warm you up without overloading on carb-filled soups like potato soup.
Make Loaded Cauliflower Soup in the Instant Pot. It's low carb and so comforting!
If you can find cauliflower crumbles in your supermarket, try them with parmesan and garlic. Scrumptious!
Parmesan and Garlic Roasted Cauliflower makes a wonderfully healthy side dish for any meal.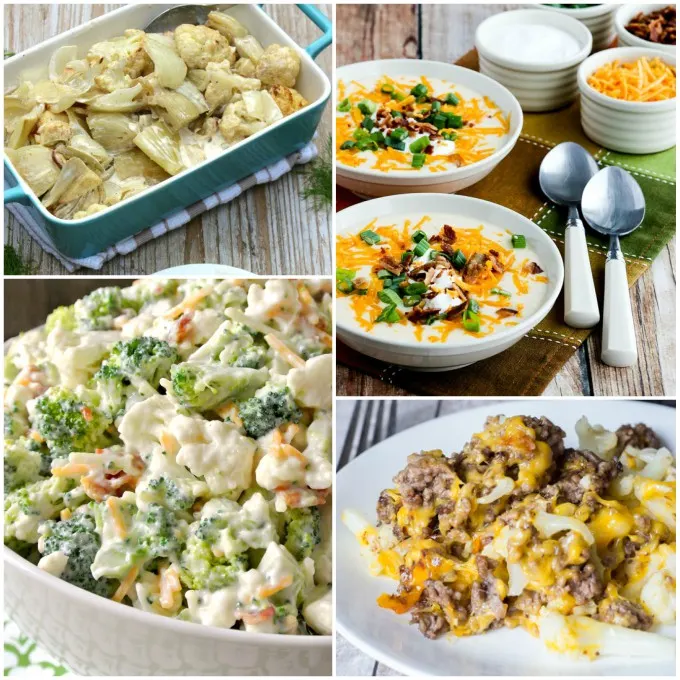 Spicy Cauliflower Coconut Curry is a lovely option when you're craving spicy, aromatic Indian food.
This Cauliflower and Fennel Baked in a Parmesan Cream Sauce is a side dish you probably haven't tried before. It sounds amazing!
For a healthy snack for game day, try Crispy Buffalo Cauliflower! Use almond flour to make them low carb.
Mexican Cauliflower Rice is the perfect accompaniment to fajitas or any of your other favorite Mexican dishes.
Mashed Cauliflower Colcannon is a wonderful spring dish, but I can honestly eat it any time of year. It really sticks to your ribs.
Kids will love these tasty Cheesy Baked Cauliflower Tots. What a great way to get them to try veggies other than potatoes!
Roasted Cauliflower Tacos are a nice vegetarian alternative to meat-filled tacos.