With Thanksgiving just around the corner, you may be looking for some screen-free activities to keep the kids occupied while you make Thanksgiving dinner. No worries! We've got you covered with some lovely (and free!) cornucopia coloring printables.
Cornucopias are the perfect representation for this holiday, as they represent sharing your bounty. Grab these Thanksgiving coloring pages today!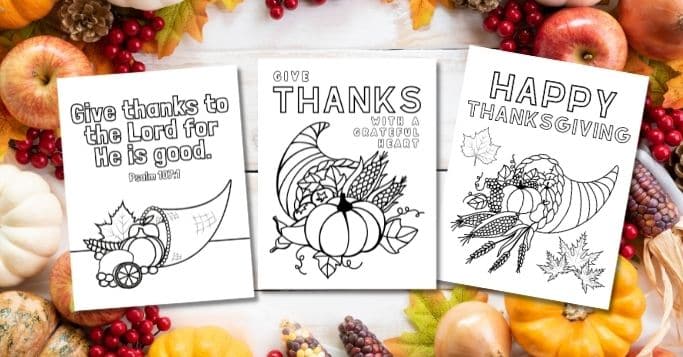 Why You'll Love These Thanksgiving Cornucopia Coloring Pages
They're free! Just enter your email in the box at the bottom of this post to grab them.
They're great for teaching kids about a symbol that represents abundance and plenty.
Learn why they're used as a Thanksgiving symbol now.
Color them to add to your Thanksgiving decor.
Use them as a fun activity to keep the kids busy while you make Thanksgiving dinner or after dinner while the grown-ups mingle.
If you enjoy these cornucopia coloring printables, you'll also enjoy our Thanksgiving Matching Game for toddlers and preschoolers. It's so much fun to play!
What is the Meaning Behind a Cornucopia?
The cornucopia is a symbol that represents the bounty of the earth, or abundance. It's usually depicted as a large horn overflowing with grapes, vegetables, fruits, grain, wine, and other foodstuffs. The term comes from Latin words cornu (horn) and copiae (plenty), which is literally translated as "horn of plenty."
Why is the Cornucopia a Part of Thanksgiving?
As we mentioned, the cornucopia is a symbol of abundance. It's used in art, jewelry, and even in architecture. It is often associated with Thanksgiving because people associate Thanksgiving with being thankful for all the abundance in their lives.
However, the cornucopia has been a symbol of plenty ever since ancient Greek and Roman times, when it was associated with gods and goddesses of fortune. As Christianity spread, this symbol was maintained as a symbol of abundance and was even used in the decorations and feasts of the Church.
You may even have a Thanksgiving tradition of including one on your table!
How to Use These Cornucopia Coloring Sheets
First, you'll need to grab the free Thanksgiving printables. You can get them in the box at the bottom of this post that says Get the Cornucopia Coloring Printables.
Print them on regular copy paper. The coloring pages are sized 8.5×11, or US Letter Size.
Color them yourself and hang them up or frame them as Thanksgiving artwork, or give them to the kids to color before or after Thanksgiving dinner.
They're also great Thanksgiving coloring sheets for the classroom!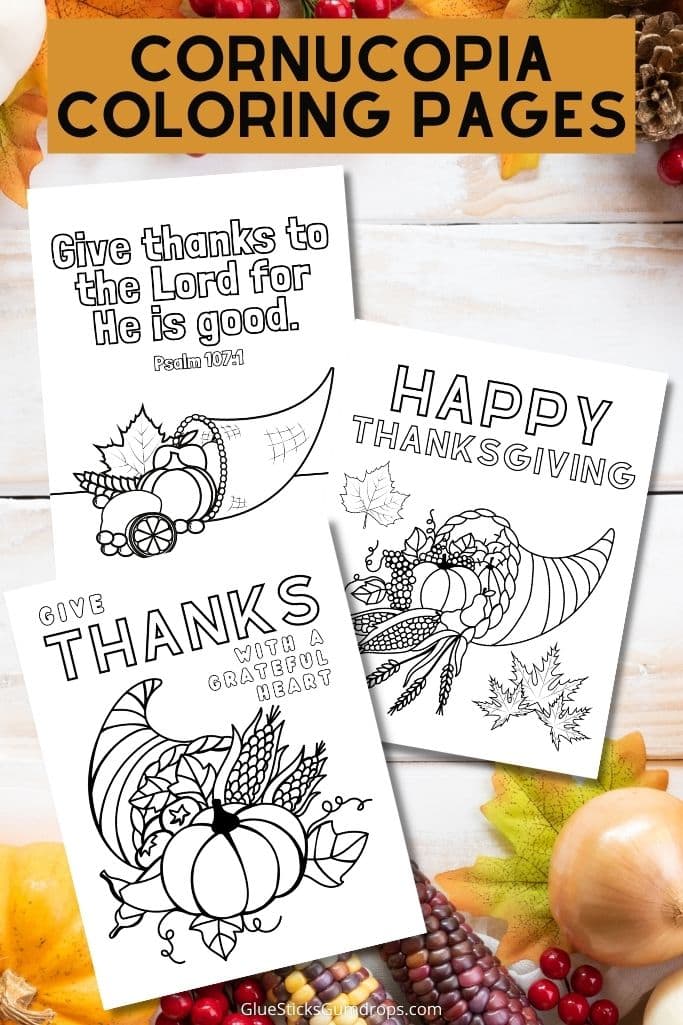 More Thanksgiving Activities for Kids
Your kids will enjoy these crafts and activities for Turkey Day, too!