This festive breakfast (or dessert) is packed with seasonal flavor and topped with granola or muesli for added texture. It's the perfect way to use up leftover homemade cranberry sauce!
Cranberries just don't get the credit they deserve. Many of us pull them out for Thanksgiving and Christmas because, well, you can't have a turkey without cranberry sauce, but what then? Do we forget about them for the rest of the season? Heck, no! Let's make a festive, fruity breakfast or snack. This cranberry apple parfait combines the delicious flavors of cranberry sauce, cinnamon apples, yogurt, and granola for a yummy treat.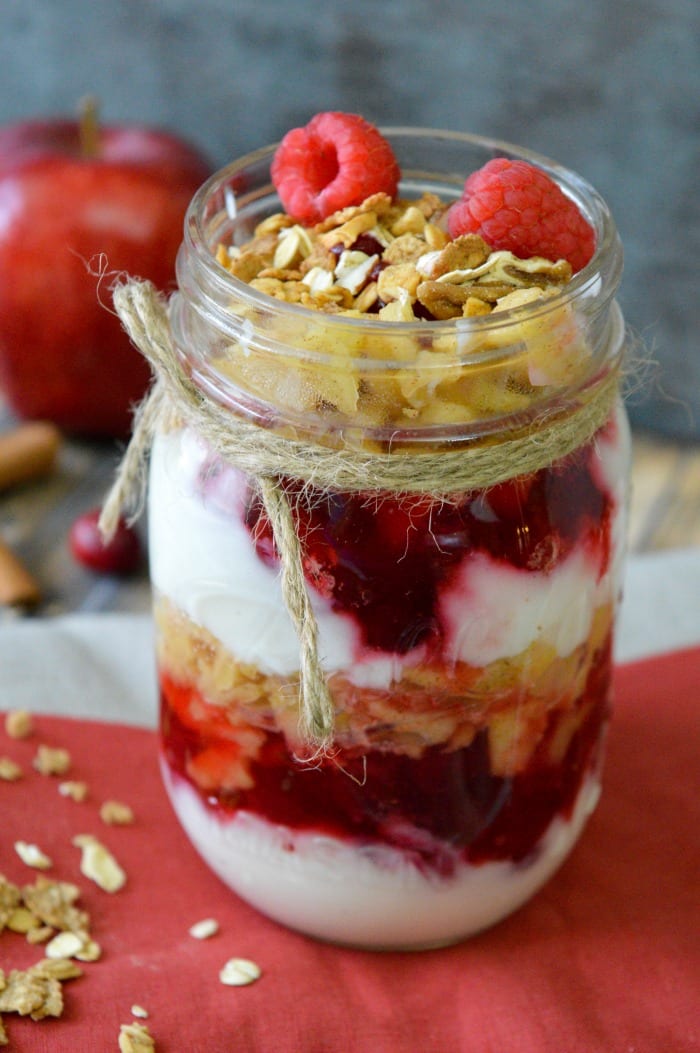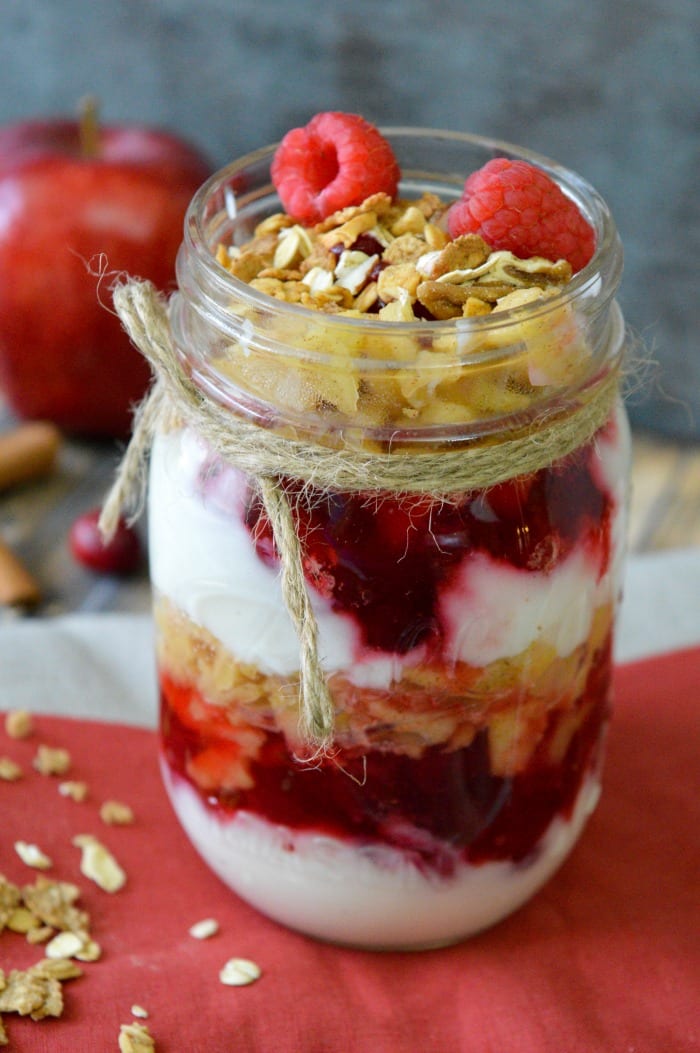 First, I just want to say that you don't have to go with homemade everything to make this parfait. When you're in a rush, just use apple pie filling and cranberry sauce from the store. Easy peasy.
So we'll list what you need for the parfait first. There's also a printable recipe down at the bottom. However, if you'd like to make some homemade cranberry sauce or cinnamon apples, we've included the recipes for those in the post as well. You won't need all of either of those recipes to make parfaits, but they'll make yummy sides for your Thanksgiving or Christmas dinner. Then, you can enjoy the parfaits for dessert!
Cranberry Apple Parfait
(Makes 2 parfaits)
Ingredients:
1 cup of vanilla yogurt
1 cup of cranberry sauce
1 cup of apple cinnamon mixture
1-2 tablespoons of cinnamon apple muesli or granola
Fresh raspberries (or fruit of choice)
Directions:
In a mason jar or cup, add in 1/4 cup of yogurt, 1/4 cup of cranberry sauce, 1/4 cup of cinnamon apples, and repeat. Top with cinnamon apple granola and fruit.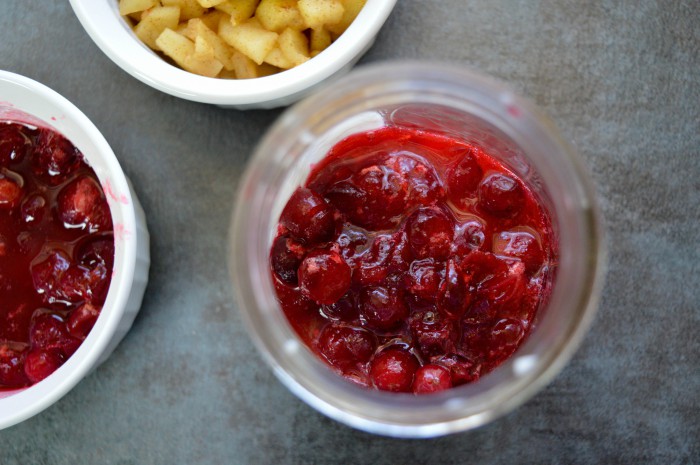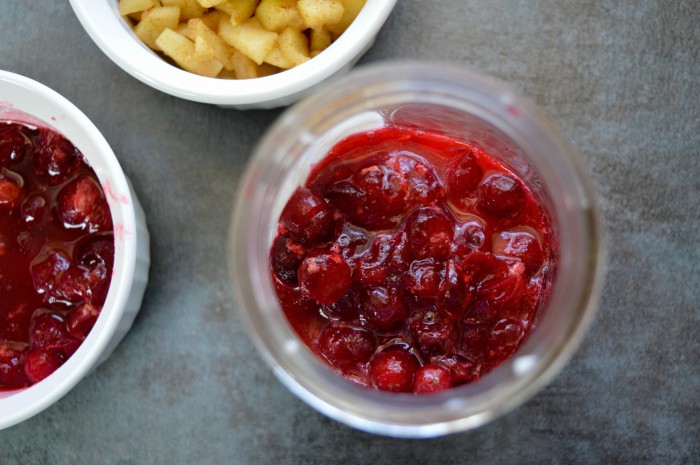 Cranberry Sauce Recipe
Ingredients:
¾ cup of orange juice, pulp-free
¼ cup of water
1 cup of sugar
1/8 teaspoon of cinnamon
12oz package of fresh cranberries, rinsed and stems removed
Directions:
1. In a large pan, bring water, orange juice, and sugar to a boil. Add in cranberries and cinnamon, continue to boil for 5-7 minutes. Stirring occasionally. Once cranberries have all opened, remove from heat and chill covered for three hours. (Sauce will thicken.)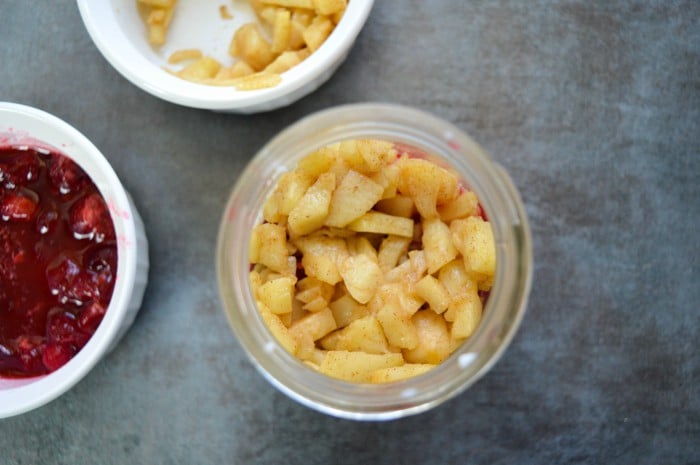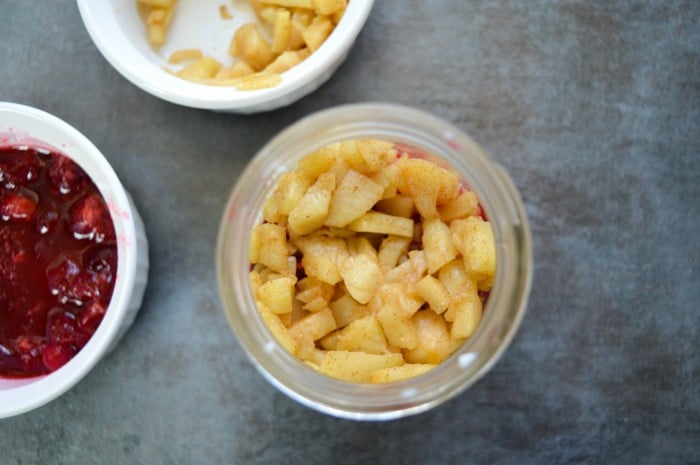 Cinnamon Apple Recipe
Ingredients:
2 tablespoons of butter
2 apples, peeled, cored and chopped
¼ teaspoon of cinnamon
Directions:
In a pan over medium-high heat, add butter. Once the butter begins to melt, add in apples and cinnamon. Cook for 4-5 minutes, stirring occasionally until apples become tender. Remove from heat.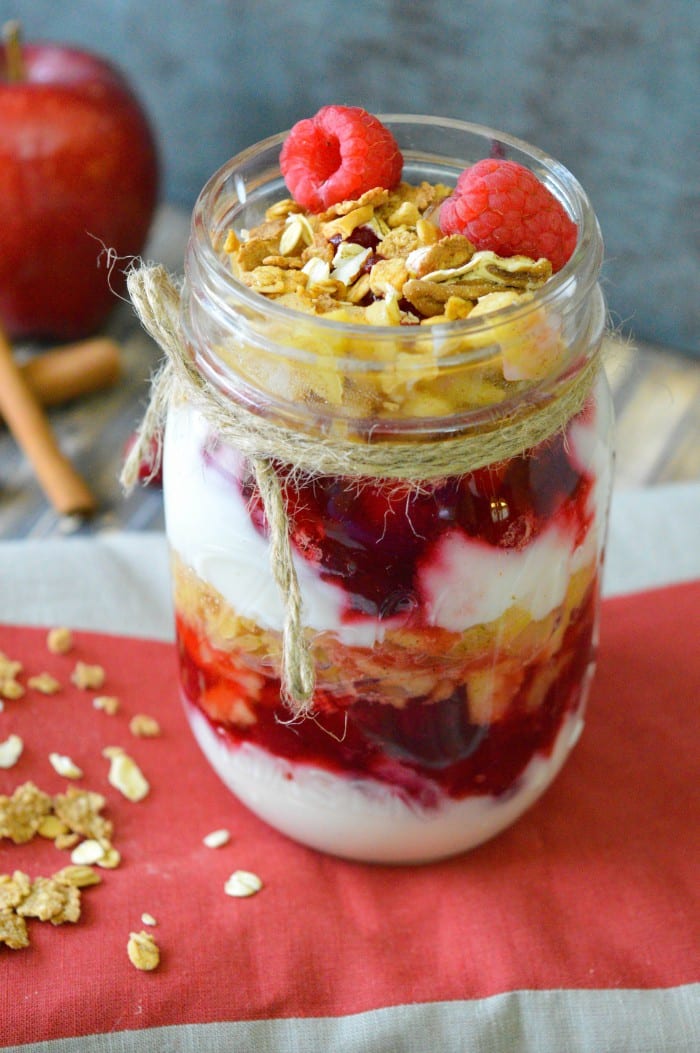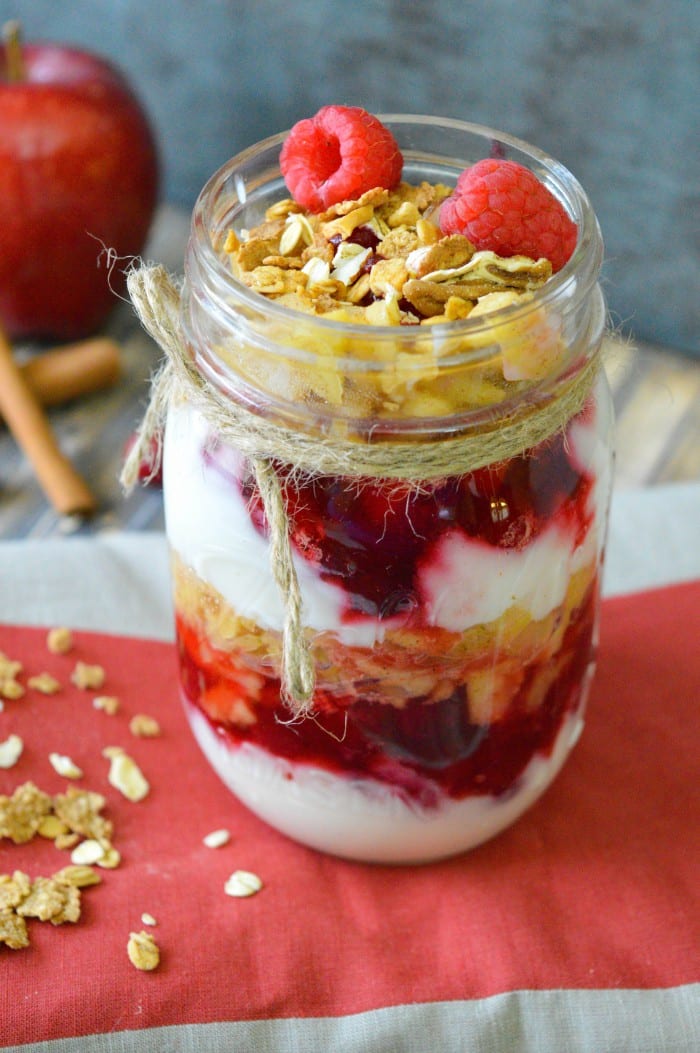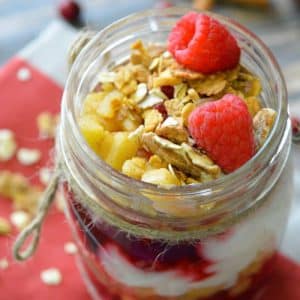 Cranberry Apple Parfaits
This colorful cranberry apple parfait is a delicious and fruity dessert that's perfect for fall or winter. Use homemade cranberry sauce and cinnamon apples or some from the store. It's yummy either way!
Ingredients
1

cup

vanilla yogurt

1

cup

cranberry sauce

1

cup

cinnamon apples

1-2

tablespoons

cinnamon apple granola

handful of fresh raspberries for garnish
Instructions
In a mason jar or cup, add in 1/4 cup of yogurt, 1/4 cup of cranberry sauce, 1/4 cup of cinnamon apples, and repeat.

Top with granola and raspberries.
Nutrition
Serving:
1
g
Calories:
664
kcal
Carbohydrates:
129
g
Protein:
12
g
Fat:
15
g
Saturated Fat:
5
g
Polyunsaturated Fat:
8
g
Cholesterol:
19
mg
Sodium:
133
mg
Fiber:
14
g
Sugar:
93
g
You don't want to miss our
crock pot apple crisp
while you're here! It's another great autumn dessert. Our
red, white, and blue parfaits
are perfect for July 4th.
For more delicious cranberry recipes, check out these posts:
And one beauty recipe from my friend Kristi at The Classy Chapter!