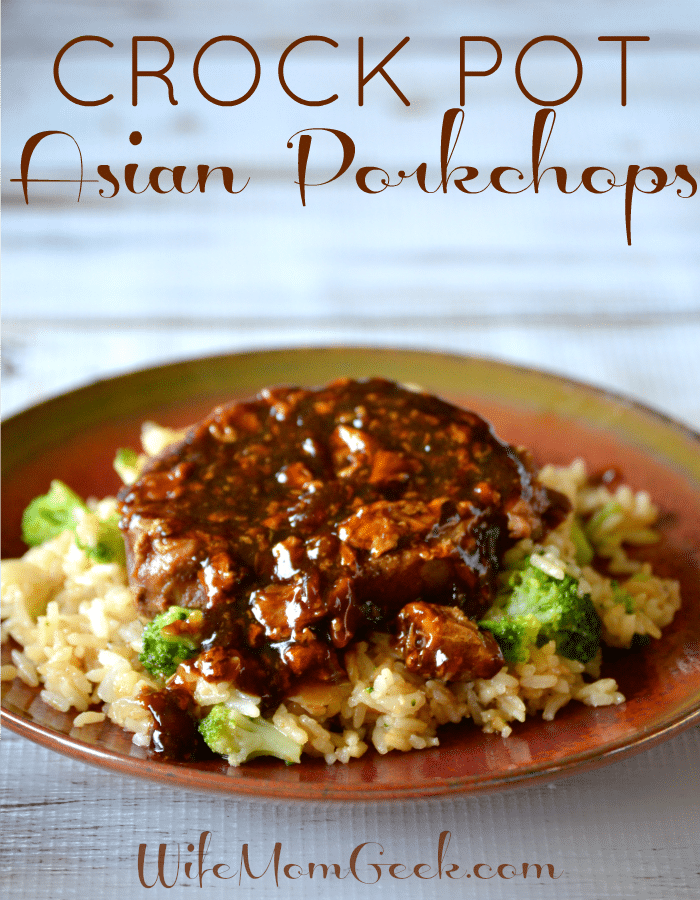 My husband is still rocking the low-carb lifestyle while I'm struggling to keep up, but one thing that he says helps him stay on track is trying new and interesting recipes. I love cooking pork chops in the crock pot (they make for simple low carb meals), and last week, I thought I'd try making our favorite Asian pork chop recipe a little more low-carb friendly. Here's our lighter (carb-wise) version of Crock Pot Asian pork chops. Enjoy!
Now, you can see from the picture above, that some of us had the porkchops with leftover savory rice. Not exactly carb friendly, right? My husband, however, had them with broccoli, and he ate every bite.
So, here's how you make the low-carb version. If you're not worried about going low carb, ditch the Splenda, add half a cup of brown sugar instead, along with a splash of honey. Yum!

Crock Pot Asian Porkchops - Low Carb Recipe
Ingredients
4 thick-cut boneless pork chops
1 small onion, chopped
½ c. low-sodium soy sauce
2 tbsp. Splenda
¼ tsp. ginger
Instructions
Add pork chops and onions to the crock pot.
In a small bowl, mix soy sauce, Splenda and ginger.
Pour over pork chops in the crock pot.
Cook on low for 6 hours or high for 3-4 hours. May need to cook a little longer if your chops are frozen.
Serve with rice or vegetables.
If you want to thicken the sauce (it will be very watery) to pour over your rice or veggies, add 2-3 more tablespoons of Splenda (trust me–too strong without it) and 1 tablespoon corn starch or a low-carb thickener. Allow to cook in the crock pot until thickened.
If you liked this recipe, try these amazing low-carb dinner recipes: (Skip the sauce on the meatballs)
Latest posts by Donella Crigger (see all)