December is undoubtedly my favorite month of the year. Having a December bucket list helps me make the month as magical as possible for my family. Use this printable December bucket list to help your family have a delightful December too! Get this January bucket list to work on once the holidays are over!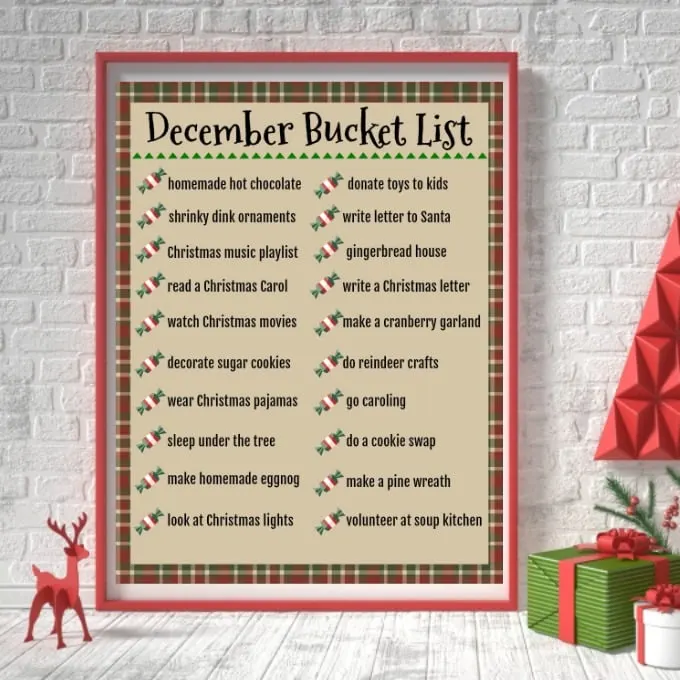 Did you finish your November Bucket List yet?
December Bucket List
Drink homemade hot chocolate
Making homemade hot chocolate is just plain better than store bought! It is so rich and creamy…you will never want to go back! Plus it is easy to make a big jar of it to last all winter long.
Make shrinky dink ornaments
Do the words "shrinky dink" bring back fond memories for you like they do for me?? I loved making shrinky dinks as a child and I love that they are BACK! It is easy to make these into ornaments and will be a fun family activity.
Make a Christmas music playlist
Making a Christmas music playlist will keep your family in the Christmas spirit all season long. Plus you will be able to listen to your favorite songs!!
Read A Christmas Carol
Sit down and read the book, A Christmas Carol, with your family. It may become a new tradition!
Watch your favorite Christmas movies
We have some favorite Christmas movies that we watch every year. We also like to watch some of the new Hallmark Christmas movies that come out! It is good family friendly entertainment.
Decorate sugar cookies
Decorating sugar cookies is always on my children's list of holiday activities. Get crazy with the sprinkles!
Wear Christmas pajamas
Christmas pajamas don't have to be for just kids, right? I love the family pajamas sets you can find now. They make great pictures too.
Sleep under the Christmas tree one night
Sleeping under the Christmas tree at least once during the season is a must do. There is just something about falling asleep to twinkling lights that makes people happy.
Make eggnog
Have you ever made homemade eggnog? Well, this is the year to try it!! Put it on your December bucket list now!! YUM! You may also want to try our eggnog cinnamon rolls—a great breakfast for Christmas morning.
Look at Christmas lights
Driving around looking at Christmas lights is a definite tradition at our house. This is a cheap family night out.
Donate toys to those in need
Don't forget to help others during the holiday season. Donating toys to kids in need is a great way to get the whole family involved.
Write a letter to Santa
Sit down and write letters to Santa. You could even write a letter yourself!
Decorate a gingerbread house
Does your family decorate gingerbread houses at Christmas time? It is really fun, even if you just buy a kit at the store. I love to see what my kids create. We also have a paper gingerbread house craft here if paper crafts are more your style.
Write a Christmas letter for friends and relatives
How about writing a family Christmas letter to send out to friends and relatives? It is always fun to find out what people have been up to during the past year.
Make a cranberry garland
Homemade garlands are so vintage and adorable. Making a cranberry garland will make any tree look amazing.
Reindeer crafts are a fun way to pass a cold afternoon with kids. There are tons of ideas out there so get creative with what you have on hand.
Go caroling at a local nursing home
There are lots of ways you can help your local nursing home at Christmas time. Caroling for the residents is a simple way to help brighten spirits.
Have a cookie swap party
A Christmas cookie swap party is a great way to stock up on treats and have fun with friends at the same time.
Make a wreath out of fresh pine boughs
Volunteer at a soup kitchen
Grab the family and go volunteer at a soup kitchen during the holiday season. Shelters are usually busy during the cold winter months and I am sure it will be a great experience for your family.
Learn something new
Learn something new this season by checking out our list of 30 Christmas science activities for kids.
Download this December Bucket List
Here is a great way to save time…just download this free printable December Bucket List now and get started making memories. Just click the image below to download a copy!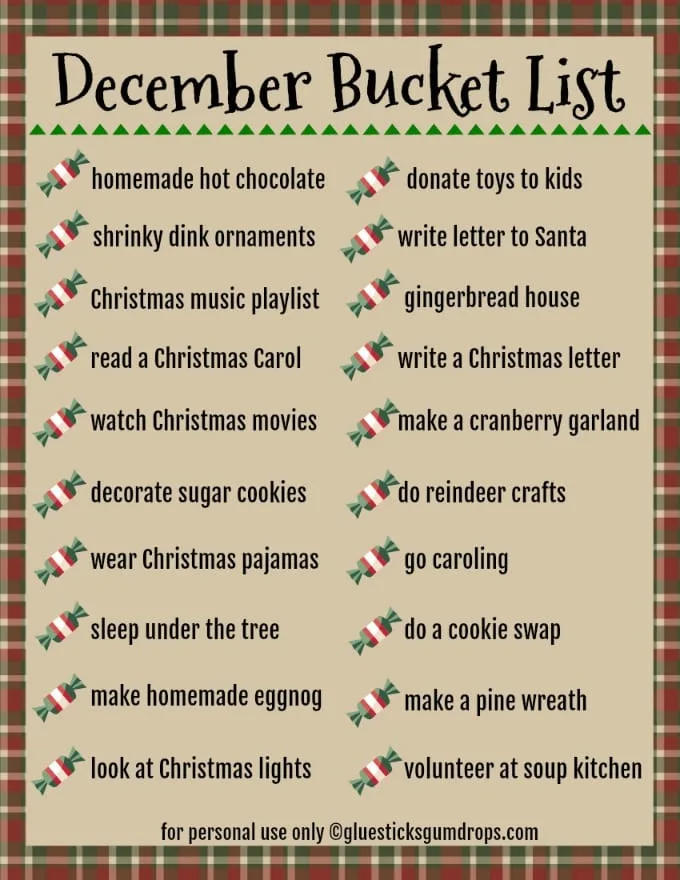 What is on Your December Bucket List This Year?
Do you have anything on your bucket list this month that I don't have listed here? I would love to hear about it…I may add it to my list!