November is here and there are so many fun things we can do this month. This month is a gateway to the holidays and a great time to start spending extra quality time together! This November bucket list will help me (and you) stay focused on creating family experiences this month before things get too busy!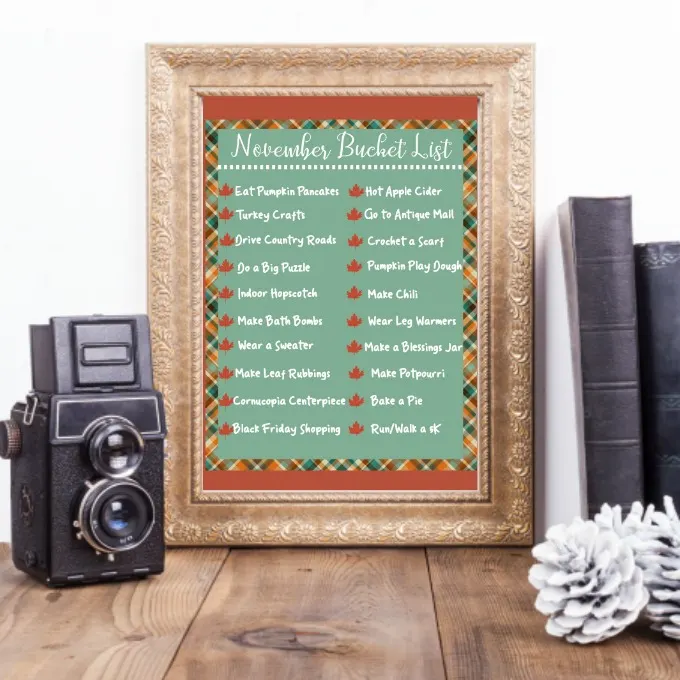 November Bucket List
Here are 20 fun November bucket list ideas. It may not work to do them all, but pick out some favorites and see how many you can accomplish before Thanksgiving rolls around.
Make Pumpkin Pancakes
Pumpkin is the flavor of fall and if you haven't had pumpkin pancakes you are missing out on a treat!
Drink hot apple cider
I love the scent of apple cider on the stove cooking. It is such a delicious drink for a cold fall day.
Make a turkey craft
Turkey crafts are super fun to make all month long. They can decorate the mantle or even the table for Thanksgiving.
Make pumpkin play dough
Pumpkin play dough smells so good and is fun to make too!
Go to an antique mall
Antiquing in the fall just seems right. Find an antique mall you have never been to before and go exploring for treasures.
Drive down a country road
Go driving in the country on dirt roads. It is a great time of year for driving in the country and seeing the pretty leaves.
Crochet a scarf
Get a head start on cold weather by crocheting a scarf for yourself or as a gift.
Do a puzzle
Get a big puzzle and start working on it as a family.
Play hopscotch inside
It may be chilly outside, but it is fun to play hopscotch inside. All you need is some masking tape to make a hopscotch board.
Make chili
Chili season is finally hear and coming home to a big pot of hot chili will truly warm the bones.
Make your own bath bombs
Bath bombs are actually easy to make and great for relaxing in a hot bath. I love making all natural Lavender Bath Bombs!
Wear leg warmers
Leg warmers are not just for jazzercise, LOL! Weather is cold now and leg warmers are cute and FUN! Try something new with your style.
Wear a sweater
If you are wearing your leg warmers then you might as well put on your favorite sweater too! I love the feeling of warmth my favorite sweater brings.
Make a blessings jar
Remembering our blessings is always a priority this month for my family. Grab a jar and have everyone write down blessings and put them into the jar all month long!
Make leaf rubbing crafts
Leaf crafts are fun to make and even adults enjoy making leaf rubbings.
Make your own potpourri
I love the smell of homemade potpourri simmering on the stove. This is a great time of year to make potpourri to welcome your Thanksgiving guests.
Make a cornucopia centerpiece
Wouldn't a lovely cornucopia centerpiece make your Thanksgiving table perfect? Making your own centerpiece is special and a great family project.
Shop on Black Friday
If you have never gone shopping on Black Friday it is something to experience at least once. If you don't want to brave the crowds then grab some deals online.
Bake a pie
Bake a pie from scratch and make an extra to share with someone else while you are at it.
Run a 5K
There are always lots of charity runs during November. Grab the family and participate for a good cause…no worries if you want to walk instead of run! That is what I will do!
Download Your Copy of This November Bucket List
You can download your own copy of this November bucket list and get started having FUN this month! Just click HERE or the image below to download.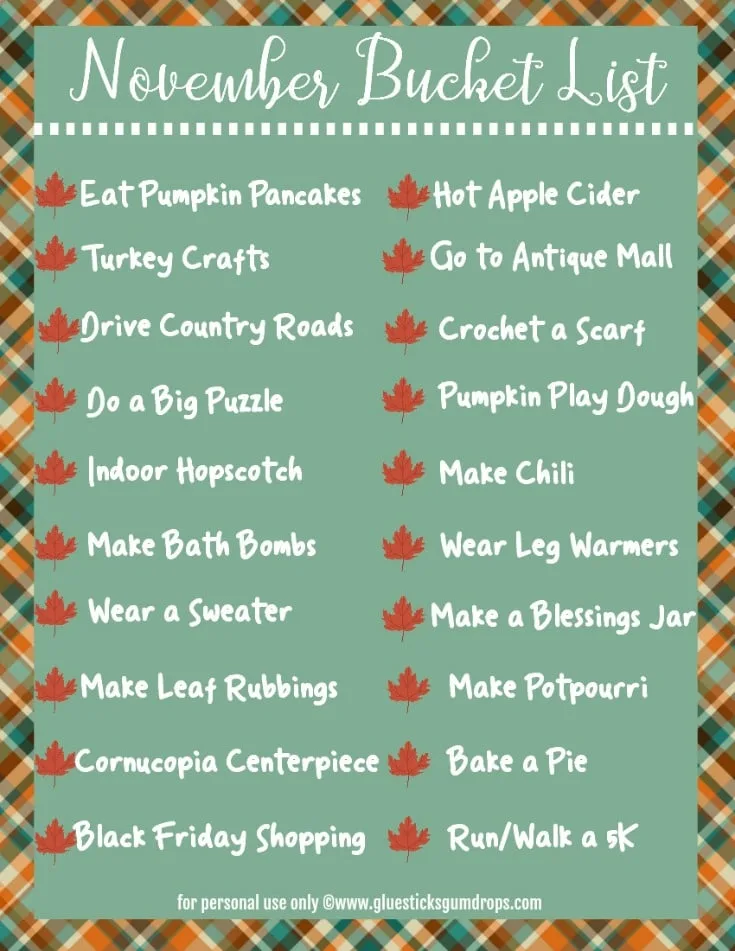 What is On Your November Bucket List?
What do you have planned for November with your family? I would love to hear if you finished your October bucket list?