Pumpkin cheesecake trifles are the perfect Thanksgiving dessert. They're easy to make and can be whipped up in no time at all. Get all the deliciousness of a creamy pumpkin cheesecake in a no-bake dessert that's simple but elegant. You can't go wrong with these delicious desserts on your table this year!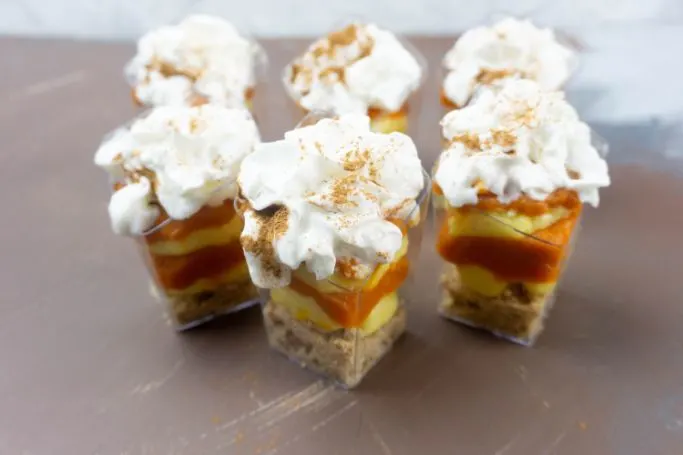 You're going to fall in love with these mini pumpkin cheesecake trifles. They'll become your go-to dessert for Halloween parties or Thanksgiving dinner. A crunchy graham cracker layer is piled high with alternating vanilla pudding-cheesecake layers and pumpkin puree. Top it all off with a big dollop of whipped cream for a sweet and festive Thanksgiving dessert everyone will love.
Why You'll Love These Mini Pumpkin Trifles
I don't think you'll need convincing to make these, but just in case you're on the fence, here are a few reasons why you NEED these easy pumpkin pie trifles in your life:
They're creamy, dreamy, and super yummy
You can make them in under 20 minutes
This is a no-bake dessert that looks elegant
Even kids will love them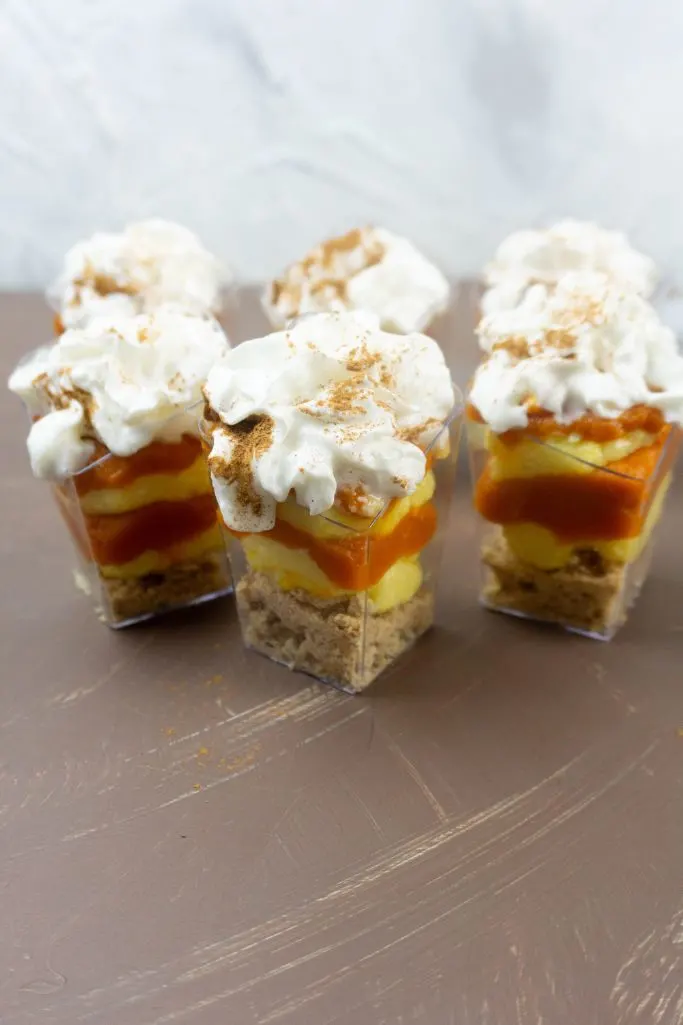 Equipment Needed to Make Pumpkin Pie Trifle
The following are affiliate links. We earn a commission on all purchases made through these links.
Trifle cups (The ones you see here are from Party City, but these are similar)
Pastry piping bags (Makes it easier to keep the layers looking nice)
Hand mixer (Optional, but helps with mixing things like cream cheese)
Note: if you want to make one large trifle instead, you can skip the trifle cups and the pastry piping bags and just layer the ingredients together in a large trifle dish like this one.
Ingredients for Your Pumpkin Cheesecake Trifle
1 can pumpkin puree
1 – 8 oz block cream cheese
1/2 cup sugar
1 – 5.1 oz instant vanilla pudding mix
1 cup milk
6 graham crackers; crushed
1 tablespoon of cinnamon or cinnamon sugar; for topping
whipped topping
How to Make Pumpkin Cheesecake Trifles
Step 1 – Mix the Cheesecake and Pudding Layer for the Pumpkin Trifle Recipe
Mix the cream cheese and sugar together in a medium mixing bowl using a hand mixer or fork until smooth. Add the milk and instant vanilla pudding mix. Mix until well combined and smooth.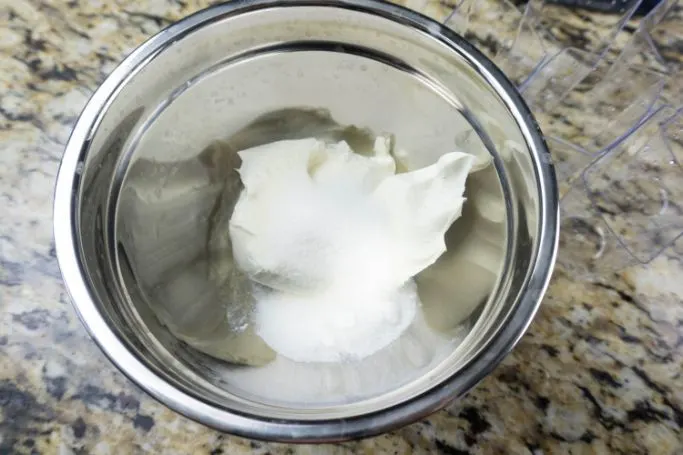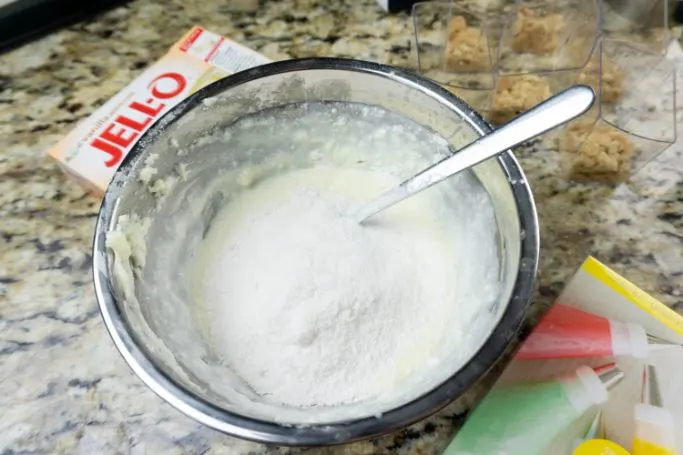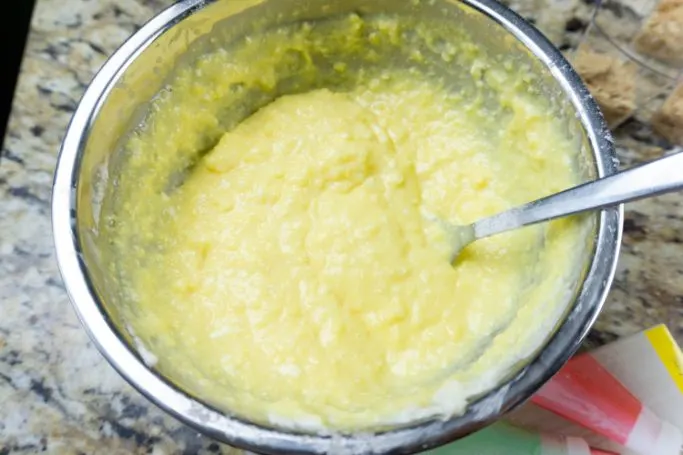 Step 2 – Prep the Graham Cracker Layer for the Trifles
Place the graham crackers in a zip-top bag and crush them. Divide the crumbs between the cups for each mini pumpkin trifle.
Step 3 – Prepare the Pastry Bags
Grab two pastry bags. Fill one with the cream cheese and pudding mixture. Fill the other pastry bag with pumpkin puree.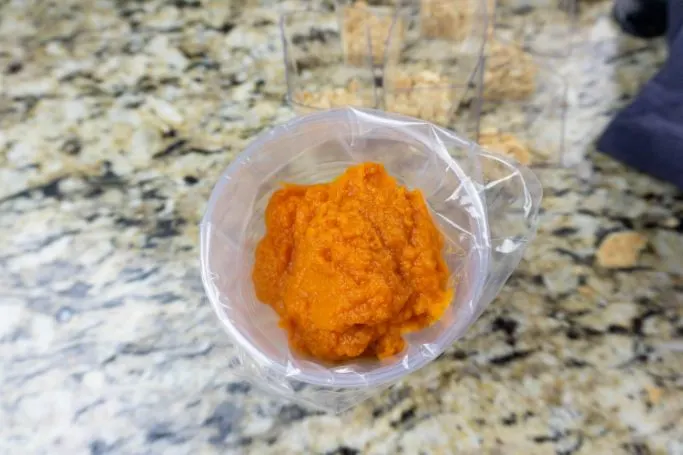 Step 4 – Add Layers to the Pumpkin Trifle Dessert
Use the filled pastry bags to pipe layers of the cream cheese pudding mixture, then the pumpkin puree, alternating until the cups are nearly filled to the top.
Step 5 – Add Toppings to Your Thanksgiving Trifles
Top your pumpkin pie trifles with whipped cream and a sprinkle of cinnamon. Pumpkin pie spice would be great here if you want to use that instead of cinnamon.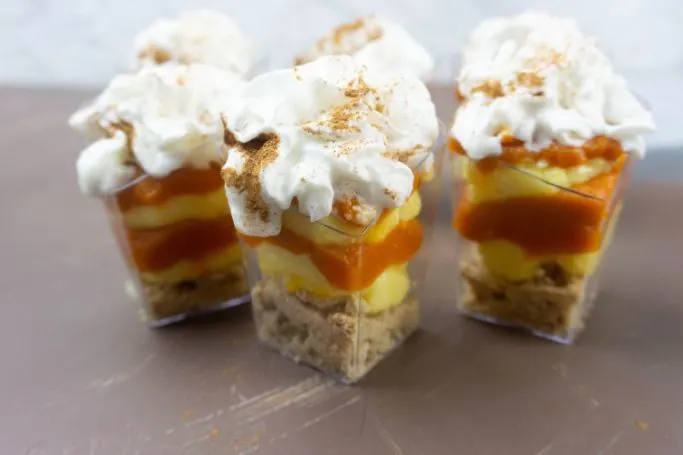 Drinks to Pair with a Thanksgiving Trifle
Looking for a drink to pair with dessert on Thanksgiving? Here are a few options that go really well with this pumpkin cheesecake trifle and other desserts like pumpkin pie.
Spiced rum
Hot buttered rum
Brandy
Whiskey
Bourbon
Sweet wine like a Riesling
Brown ale
Dark roast coffee
Popular Substitutions and Additions
Want to change things up a bit? Here are some ideas to try for this pumpkin trifle dessert:
Use crushed gingerbread cookies instead of graham crackers.
Substitute canned pumpkin pie filling for the pumpkin puree if you like your desserts a little sweeter.
Drizzle caramel sauce over the whipped cream for a decadent finish.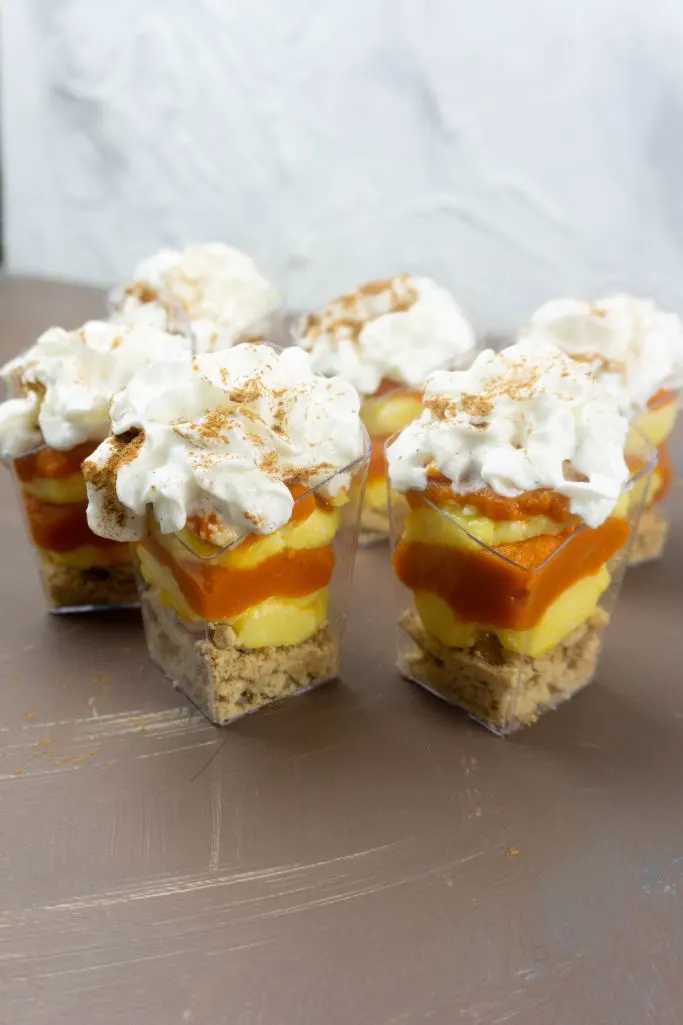 How to Store Pumpkin Cheesecake Trifles
Best Way to Store No-Bake Pumpkin Trifle Leftovers
You can make these pumpkin trifles a day in advance if needed, but they're really best when prepared the same day a few hours before they're served. To store trifles, cover them with plastic wrap and place in the refrigerator.
How Long Will Pumpkin Cheesecake Trifle Last in the Fridge?
If you have leftover trifles, you can keep them in the fridge for up to three days. Toss them after this time, as the ingredients will start to degrade.
Can I Freeze This Pumpkin Trifle Dessert?
I don't recommend freezing this dessert. Although the pumpkin puree would hold up just fine, the graham crackers would get soggy, and the cream cheese and pudding layer wouldn't freeze well.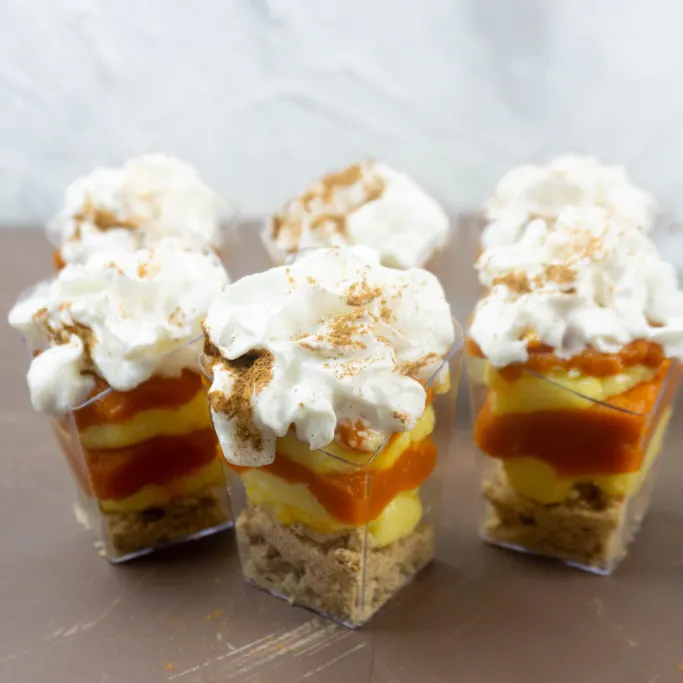 Pumpkin Trifle FAQs
What is a trifle?
A trifle is a layered dessert that traditionally was made with sponge cake, fruit, and layers of custard, jelly, and cream. Today, the term is used for basically any layered dessert. This pumpkin cheesecake variation is my absolute favorite.
How are trifles served?
You can serve it in these small dessert cups, as you see here, or in a large glass trifle bowl. It's up to you! The benefit of the mini trifles is that guests can grab their cups and spoons and mingle with each other rather than waiting in line to be served out of the larger dish.
Can I use pumpkin pie filling instead of pumpkin puree?
Yes, you can. This will result in a sweeter pumpkin trifle dessert.
Other Pumpkin Dessert Recipes You'll Love
Don't forget to come back and let us know how your Mini Pumpkin Cheesecake Trifles turned out!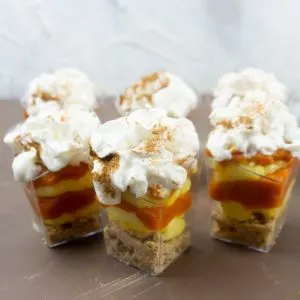 Mini Pumpkin Cheesecake Trifles
This Thanksgiving, don't bore your guests with the same old pumpkin pie. Instead, whip up a batch of these easy Pumpkin Cheesecake Trifles! They're delicious and can be made in less than 20 minutes. Plus, they are so pretty!
Ingredients
1

can pumpkin puree

1 – 8

oz

block cream cheese

1/2

cup

sugar

1 – 5.1

oz

instant vanilla pudding mix

1

cup

milk

6

graham crackers

crushed

1

tablespoon

of cinnamon; for topping

whipped cream
Instructions
In a medium bowl, mix together cream cheese and sugar. Use a hand mixer to get a smoother consistency. Mix in instant vanilla pudding and milk. The mixture should be slightly thick.

Crush graham crackers in a zip-top bag. Place some graham cracker crumbs into each mini trifle cup.

Fill pastry piping bags with the cream cheese and pudding mixture and a separate bag with the pumpkin puree.

Pipe layers of each into the mini trifles, alternating between them.

Top the pumpkin trifles with whipped cream and cinnamon.
Nutrition
Serving:
1
g
Calories:
402
kcal
Carbohydrates:
62
g
Protein:
6
g
Fat:
16
g
Saturated Fat:
9
g
Polyunsaturated Fat:
6
g
Cholesterol:
42
mg
Sodium:
558
mg
Fiber:
3
g
Sugar:
49
g