What's better than pumpkin pie? A pumpkin pie smoothie! It tastes just like the real thing, but without all that work. It's like your favorite fall dessert in drinkable form. Pumpkin smoothies are light, refreshing, and so good for you (unlike that pie). All you need is a blender, pumpkin puree, a banana, milk of your choice, pumpkin pie spice, vanilla extract, and honey. The best part is that they take only 2 minutes to make! Give it a try today by following this pumpkin pie smoothie recipe.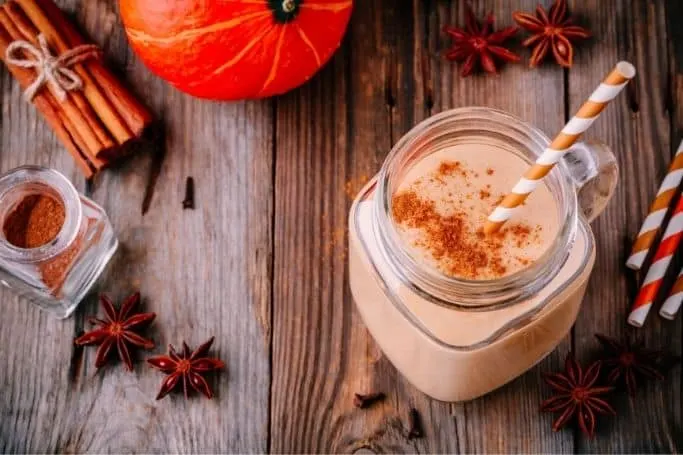 This post was first published on October 23, 2014 and was updated October 16, 2021 with new photos, recipe card, and additional info.
The Best Healthy Pumpkin Pie Smoothie
It's that time of year again! Fall is in the air, pumpkin spice lattes are back at Starbucks, and leaves are changing colors. You know what this means? Time for Pumpkin Pie Smoothies! Get your blender out and get ready to enjoy this seasonal favorite. This smoothie is full of creamy goodness with all the flavors you love. It's perfect for anyone who loves fall or just wants a yummy treat on a cool autumn day. So go ahead and give it a try—you won't regret it!
Healthy Pumpkin Smoothie Ingredients
If you want to make this right away, or you're planning a trip to the store, here are the ingredients you'll need to make this yummy fall smoothie.
1 frozen banana: This sweetens the smoothie. You'll want it frozen, if possible, to create a cold, thick, creamy smoothie.
1 c. milk: Dairy, almond milk, oat milk—whatever your preference is. You could also sub Greek yogurt here to make the smoothie thicker.
1/2 tsp. pumpkin pie spice: Use this to get that classic pumpkin pie flavor! If you don't have this spice blend, you can make your own using cinnamon, nutmeg, cloves, allspice, and ginger. Here's a handy recipe for homemade pumpkin pie spice.
1-2 TBSP honey or pure maple syrup: We prefer pure maple syrup. It gives it a little extra fall flavor. But make sure you don't use pancake syrup… that thick, artificial stuff is not what we're talking about. Pure maple syrup is a lot thinner and not quite as sweet.
2/3 c. pumpkin puree: You're looking for plain pumpkin puree here (canned pumpkin). Don't grab the pumpkin pie filling by mistake.
1/2 tsp. vanilla extract: A little flavor boost and extra sweetness.
Sprinkle of cinnamon for garnish (optional)
How to Make a Pumpkin Pie Smoothie
Add all of the ingredients to your blender. Pulse for a minute or two until the smoothie is thick, smooth, and creamy. If the smoothie is too thin, add about 1/2 cup of ice or another 1/2 of a frozen banana.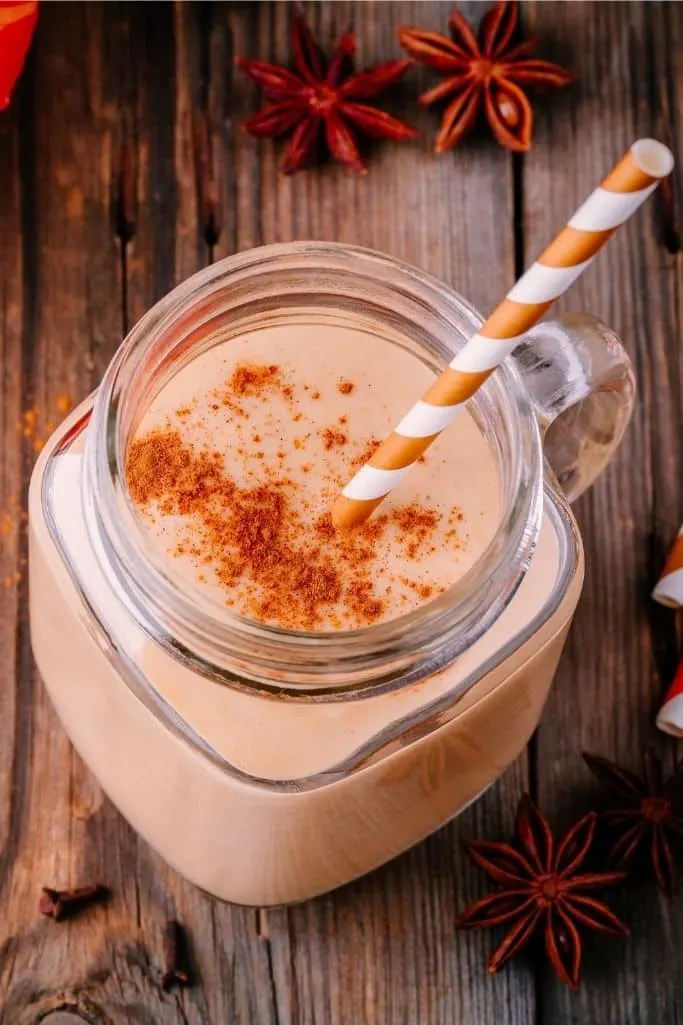 Tips for Making a Healthy Pumpkin Smoothie
To make a healthy pumpkin smoothie, it is important to start with frozen bananas. Frozen bananas help keep the smoothies thick and cold without adding ice, which waters down the flavor.
Freeze the pumpkin puree for about three hours before making your smoothie if you want to make it without a banana. The banana adds sweetness, which is important, but I know some people just don't dig them.
Start mixing on low speed for about 30 seconds before gradually increasing to high speed until you get a nice creamy, thick consistency.
Alternatively, use the pulse feature to blend it in spurts to make sure you stop while it's still thick. Over-blending will thin out the mixture.
Nutritional Boosts for This Fall Smoothie Recipe
You have several options for adding a little nutritional boost for this recipe. For starters, you can add a scoop of vanilla protein powder (and leave out the vanilla extract) if you're trying to get more protein in your diet.
To add healthy fats, fiber, and minerals, consider adding flaxseed, chia seeds, or hemp seeds.
Turn it into an extra filling smoothie by adding about 1/4 cup of uncooked oatmeal to the blender along with the rest of the ingredients.
What is the Best Blender for Smoothies?
I know lots of people recommend the Vitamix or Blendtec blenders, and if you use your blender a lot (or plan to open your own smoothie shop or something), those are absolutely the way to go.
However, if you just like to enjoy the occasional smoothie or mixed drink, I've had good luck with the Ninja (affiliate links), Nutribullet, and Hamilton Beach blenders.
That said, if you want to blend greens into your smoothie without having chunks or flecks of spinach or kale, something like a Vitamix will do a better job.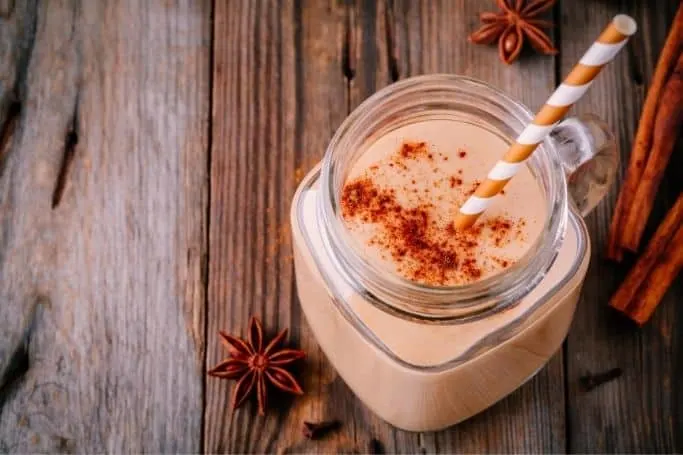 More Delicious Smoothie Recipes
If you're a smoothie fanatic like we are, take a peek at some of our other smoothies while you're here! A few of our favorites are our kiwi lime banana smoothie, banana pineapple coconut smoothie (tastes like summer in a glass!), and this banana peach smoothie bowl.
Even More Pumpkin Recipes
Can't get enough pumpkin flavor every fall? Neither can we. Here are a few more of our favorite pumpkin recipes.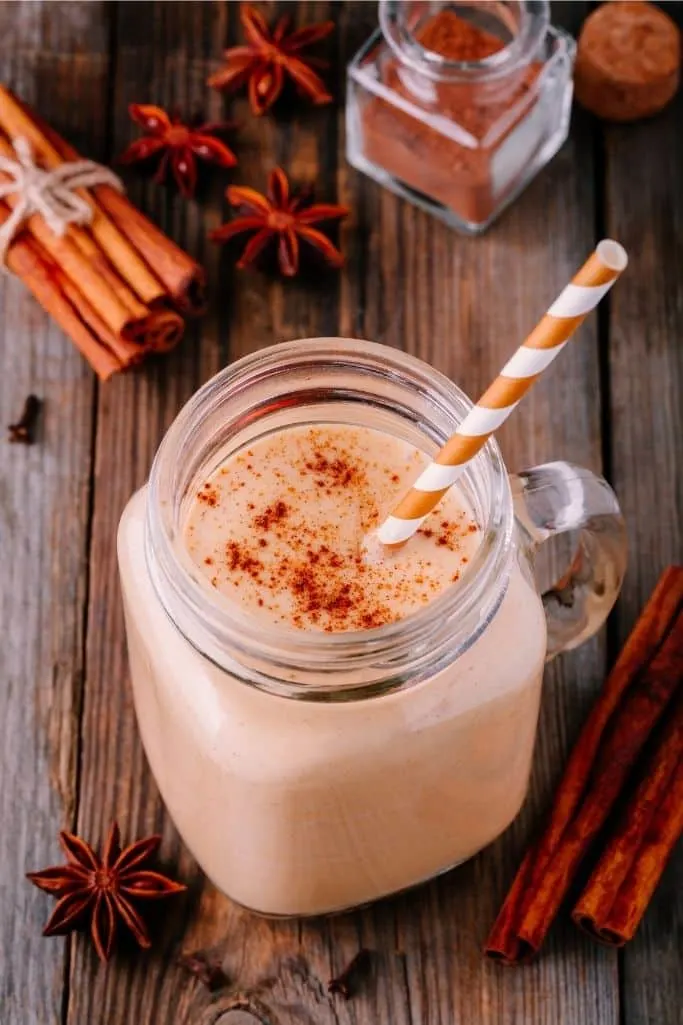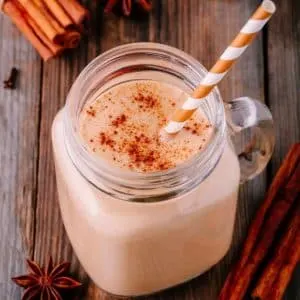 6-Ingredient Pumpkin Pie Smoothie
Pumpkin pie in a glass? Yes, please! This smoothie is creamy, sweet, and full of pumpkin flavor. It's the perfect fall drink to sip on while you're watching Netflix. Get your blender ready and whip up this delicious shake with just six ingredients!
Ingredients
1

frozen banana

2/3

c.

pumpkin puree

1

c.

almond milk

1/2

tsp.

pumpkin pie spice

1-2

TBSP

honey or pure maple syrup

2/3

c.

pumpkin puree

1/2

tsp.

vanilla extract

Sprinkle of cinnamon for garnish

optional
Instructions
Add ingredients to blender.

Pulse for 1-2 minutes until smooth, thick, and creamy.

Garnish with a sprinkle of cinnamon or a cinnamon stick, and enjoy! You could also add whipped cream.
Nutrition
Serving:
1
g
Calories:
234
kcal
Carbohydrates:
56
g
Protein:
3
g
Fat:
2
g
Polyunsaturated Fat:
1
g
Sodium:
16
mg
Fiber:
7
g
Sugar:
40
g
Old pictures for reference: