We're back with another smoothie recipe! This time we've made a deliciously tart and refreshing Kiwi Lime Banana Smoothie. You can adjust the tartness to your taste; use only a little lime juice or a lot! It makes a wonderful healthy snack or a yummy breakfast on the go.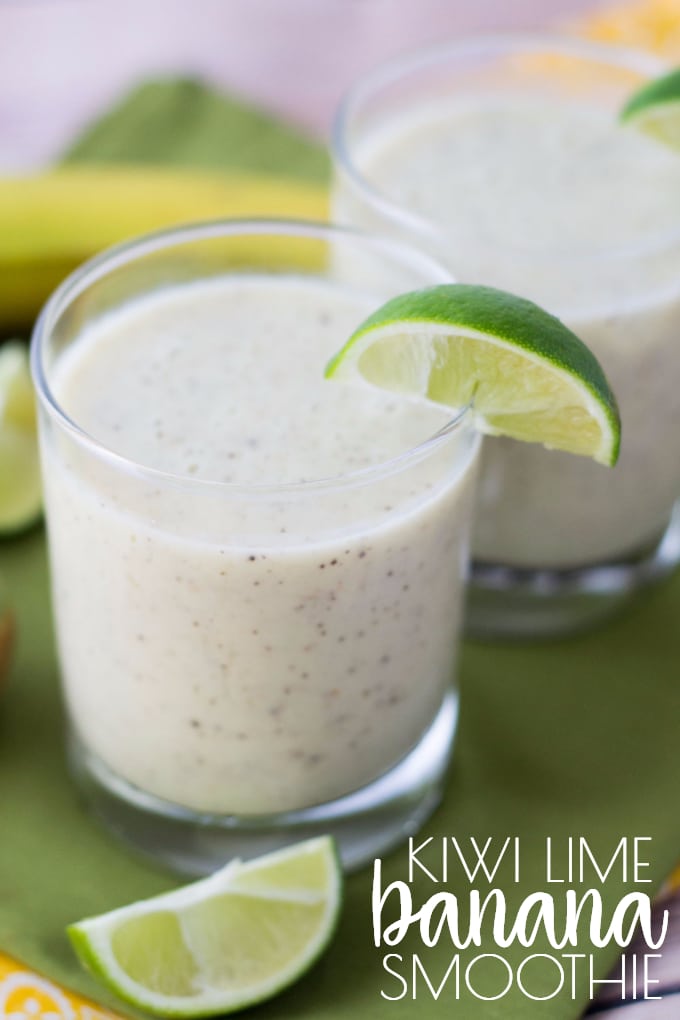 Surprise, surprise… I've made a smoothie that doesn't involve strawberries! I know… I'm just as shocked as you are. Truth is, my favorite smoothie recipes are made with them, but I'm a gal who likes tart and sour things, so I thought I'd work a little more with citrus for some summery smoothies. This one turned out amazingly well.
And it wasn't even my idea! I got it from this recipe from Fork Knife & Love. The only changes I made were to adjust for only 2 servings (so I halved the recipe), but I doubled the lime juice (because I like things tart once in a while) and the yogurt. It's sooooo good, y'all.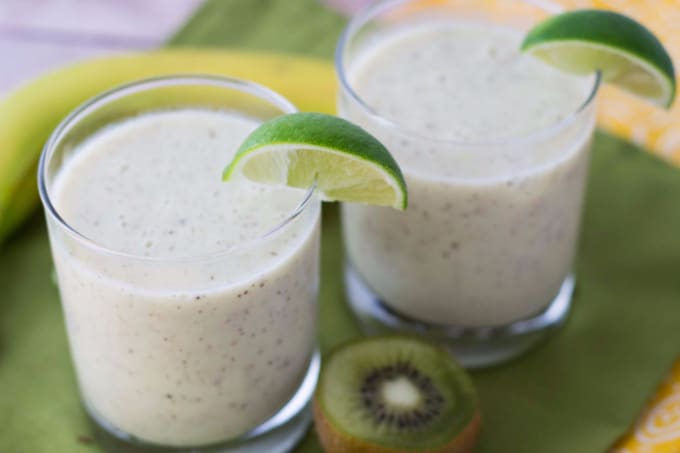 My only regret was not throwing in some spinach to make it a little greener. I don't know why I was expecting green… kiwi isn't that colorful, and only the juice of the lime was used. So, if you prefer yours greener, add spinach.
A word of warning… I know that the seeds from kiwifruit make some people feel like their mouths are itching or burning. You can see from the pictures that there are a lot of seeds, and the fact that they get chopped in the blender seems to exacerbate the itching/burning for people who are sensitive to kiwi (like my husband). If I were making this for him, I'd only cut the outer flesh of the kiwi and leave out the part of the flesh with the seeds.
But let's get to the recipe…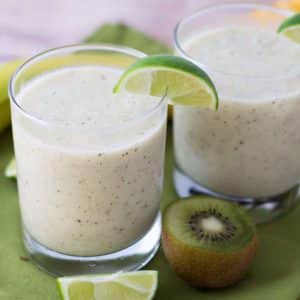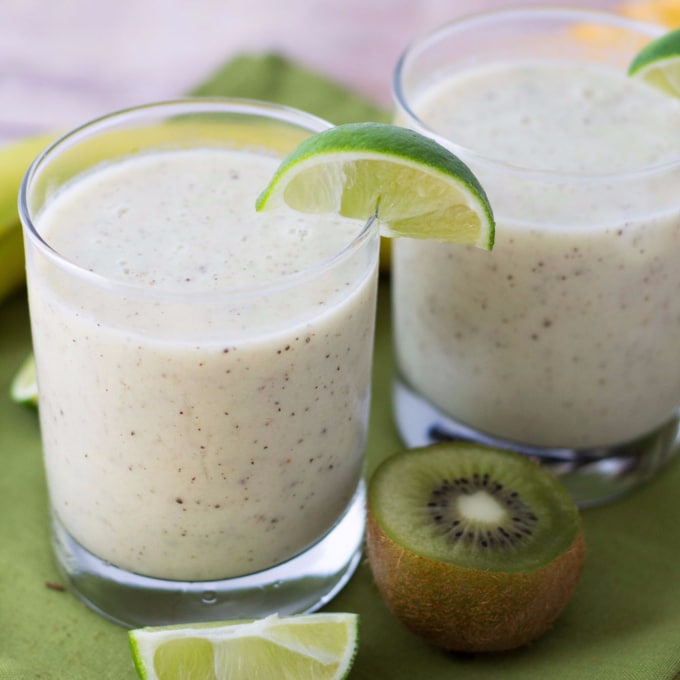 Print
Kiwi Lime Banana Smoothie
Yield 2 smoothies
This kiwi lime banana smoothie is a little sweet, a little tart, but very refreshing. Kids will love this drink, too! Enjoy it as a healthy snack or a breakfast on the go.
Ingredients
2 kiwifruits
1 banana
1/2 c. milk (almond, cashew, dairy, etc.)
juice of 1 lime
1 (5.3 oz) cup vanilla Greek yogurt
1 c. ice
Instructions
Peel and cut kiwis and banana. Add them to the blender along with the lime juice, milk, yogurt, and ice.
Pulse and blend for a minute or two, until ingredients are mixed and smooth.
Pour into a glass and enjoy!
Notes
If you use a frozen banana, you can cut down on some of the ice. In this case, I'd add a little more milk or use the juice from only half a lime to cut down on the tartness.
If you freeze the kiwi and bananas (after they're peeled, of course) for a couple of hours, you can cut down on the ice needed and make this more of a slushie.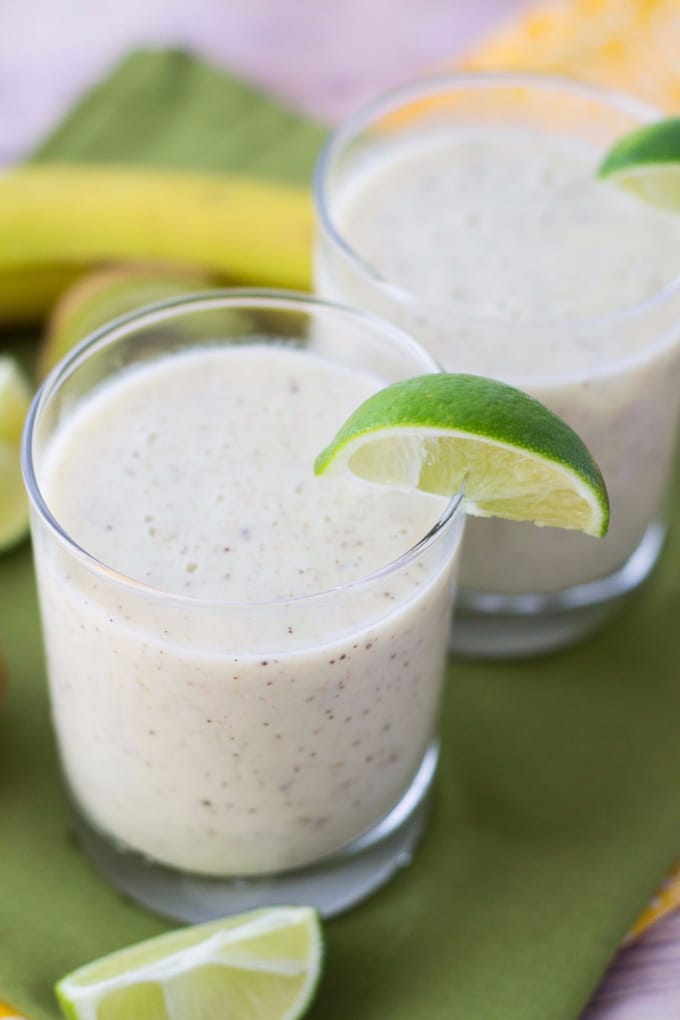 If you enjoyed this Kiwi Lime Banana Smoothie, you'll also like: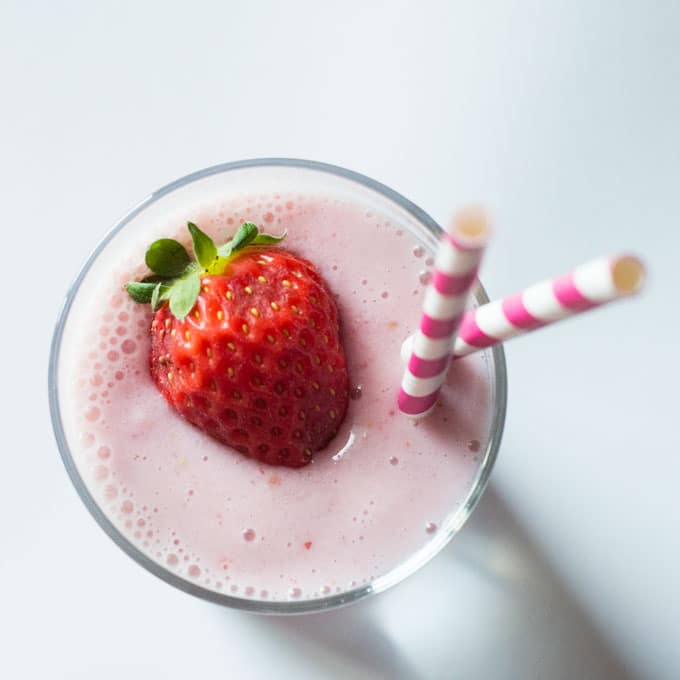 Healthy Strawberry Pineapple Smoothie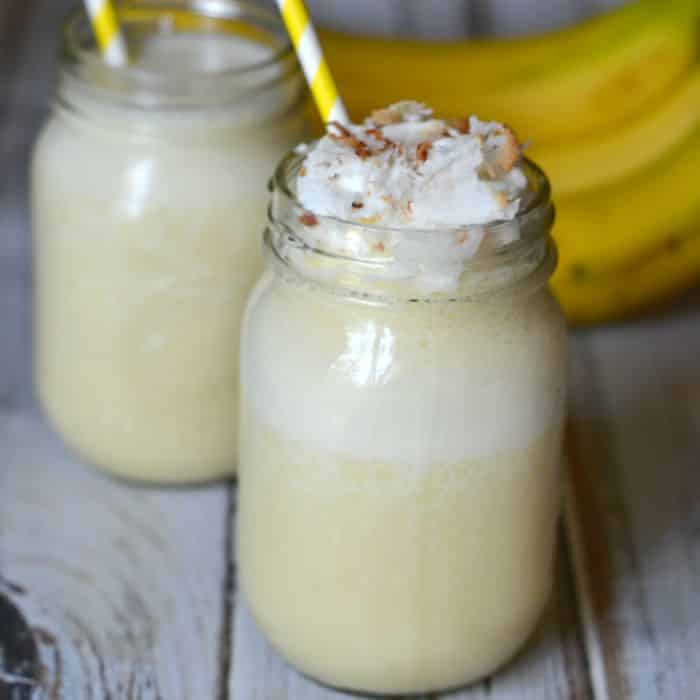 Banana Pineapple Coconut Smoothie
Hi! I'm Donella. Welcome to Glue Sticks and Gumdrops, where I blog about crafts for kids, kid-friendly recipes, and meals for families with a bit of parenting and party ideas sprinkled in. I am a mom to one amazing (and active) little boy, and I'm married to a deputy. As you can imagine, our lives are hectic, but sitting down to a family meal or making a craft together is our way of connecting with each other.
Latest posts by Donella Crigger (see all)