Put together a DIY pilgrim costume with items you have around the house. It's so easy! If you're looking for a last-minute costume for your kiddo for a Thanksgiving party or play, this is super simple and adorable.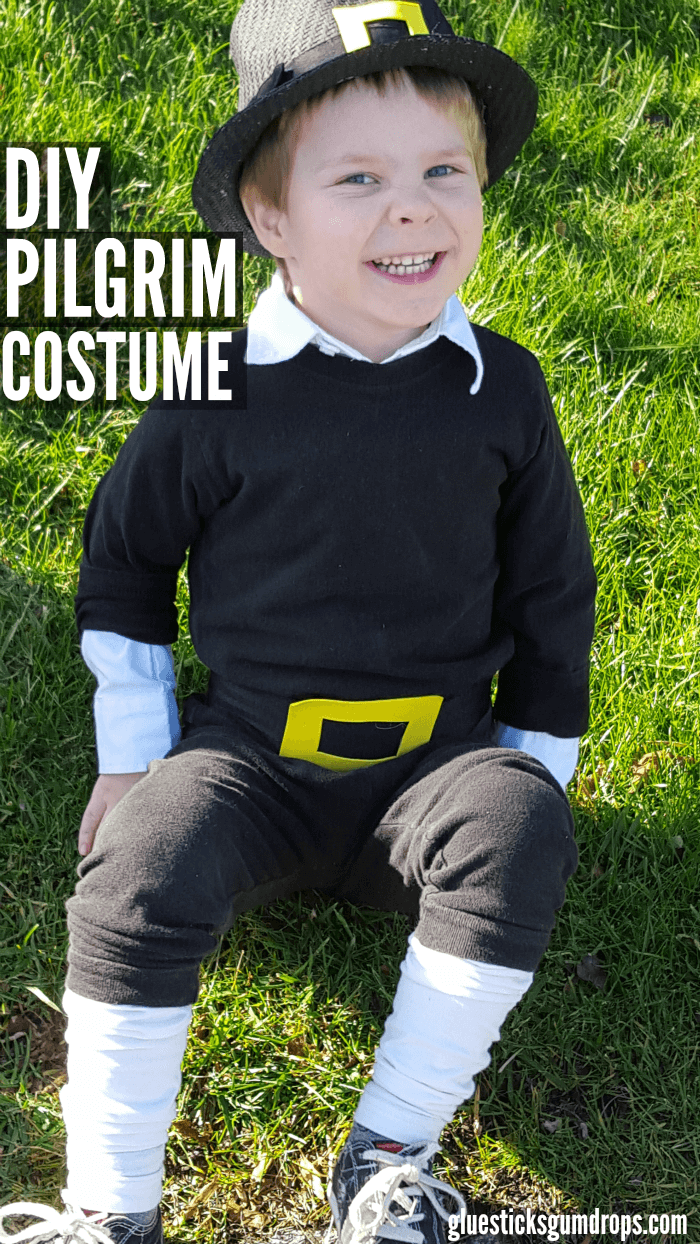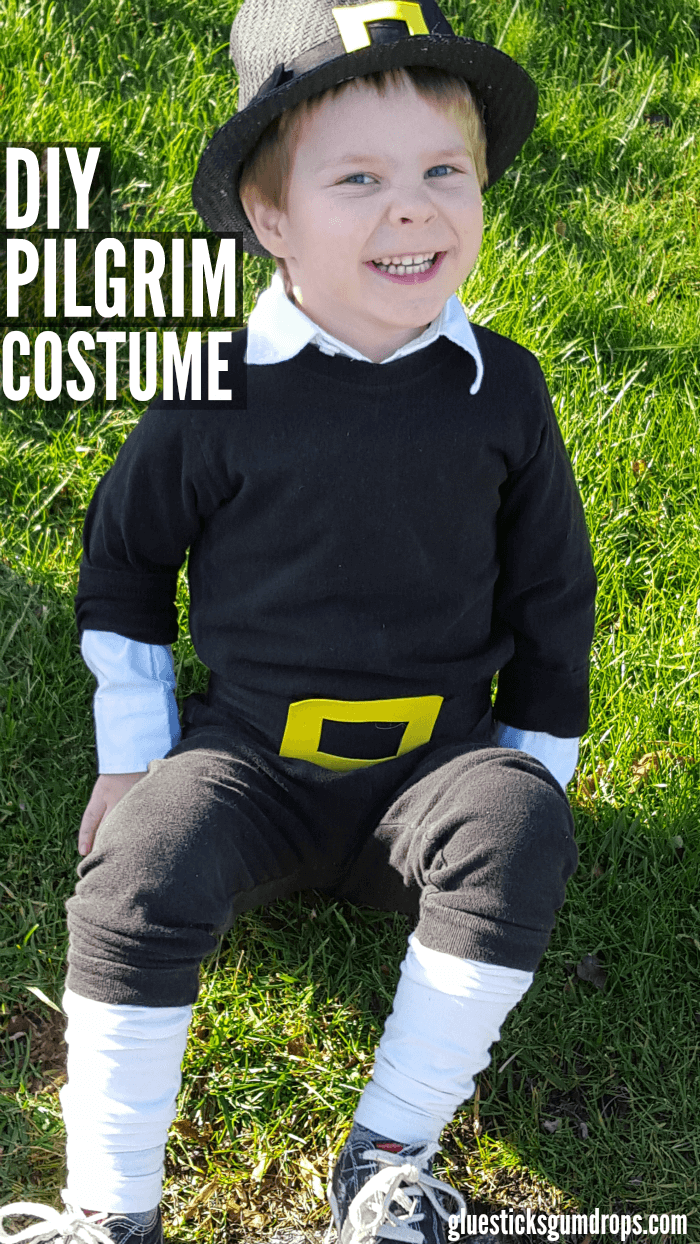 So, I actually had no plans to post this little costume I put together out of pure necessity. It came about because on the day that my kiddo received his info on the Thanksgiving party, hubby picked him up. He simply told me, "We need to bring a veggie tray to the Thanksgiving party." Cool. Easy peasy! I didn't even look at the paper. Cut to the night before the party when I saw that the kids were encouraged to dress up for their little dinner. Ooops. With a bit of scrambling and putting odd things together, we came up with super cute Thanksgiving costumes without spending a dime. Here's how we did it!
Before we get started, I apologize for the photo quality. The pilgrim costume was snapped with my cell phone.
How to Make a Homemade Pilgrim Costume
This post contains affiliate links. We earn a commission on qualifying purchases.
Step 1 – Make a Pilgrim Hat
First, we painted and repurposed a hat that he wore to a recent wedding. It was a white hat with a navy ribbon. We used black tempera paint because we didn't have acrylic on hand, but acrylic would have been much better.
I made the yellow buckle for both the belt and the hat for this outfit out of yellow craft foam sheets (affiliate). Here's the hat as it looked originally (and a silly face to go with it) …
I turned the brim down, just painted over the ribbon and hot glued the "buckle" to the front. Easy. It did take two coats of paint and probably could have used a third, but we ran out of time.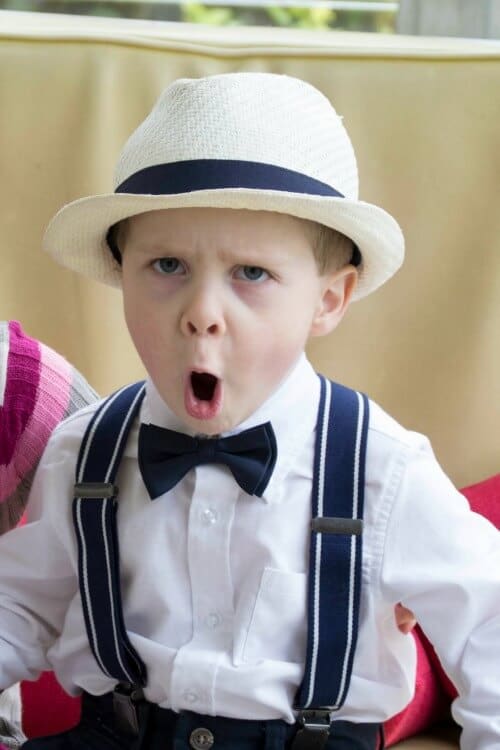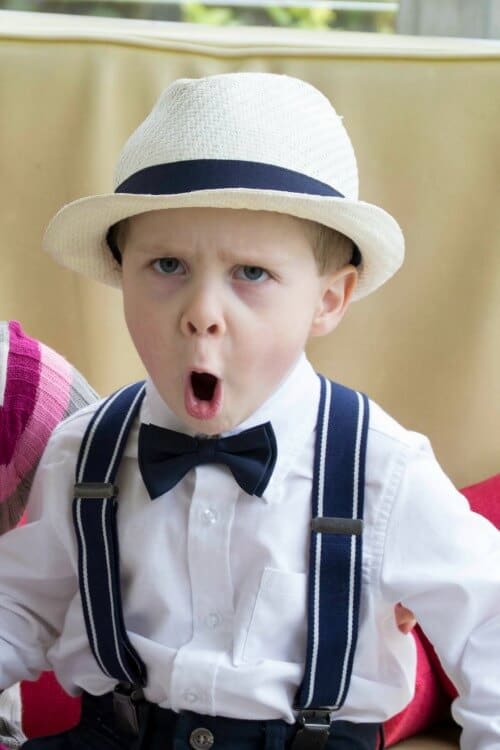 Step 2 – Create the Layered Shirts Look
He also wore that dress shirt (from the wedding shot) under his black clothes for the white collar and sleeves. If you look at most Pilgrim costumes on Amazon (affiliate link) for example, you'll see that their collars and the cuffs of their sleeves are typically white. This was an easy way to achieve that look.
Step 3 – Find Some Black Clothes
The black clothes were just a pair of Batman pajama pants pulled up to just under his knees and a plain black long-sleeved shirt. The "tights" came from a long-sleeved white shirt. I cut the sleeves off and just pulled them up on his legs like socks. A long pair of white socks would have been way better, but he didn't like long socks at that time, so we didn't have any.
Step 4 – Make the Pilgrim Belt
I made the belt by cutting the end off of a strap to my husband's old tree stand. He said it was okay! I used a safety pin to pin it in the back and glued the yellow "buckle" to the front. Any long strip of black fabric will do, though.
He didn't have a pair of black shoes to fit, so he just wore his navy Converse shoes. Not very pilgrim-like, but no one noticed.
Watch our web story about this pilgrim costume HERE.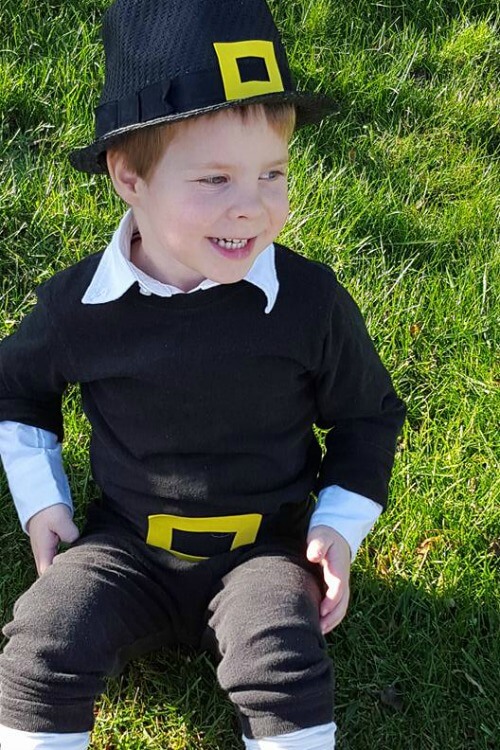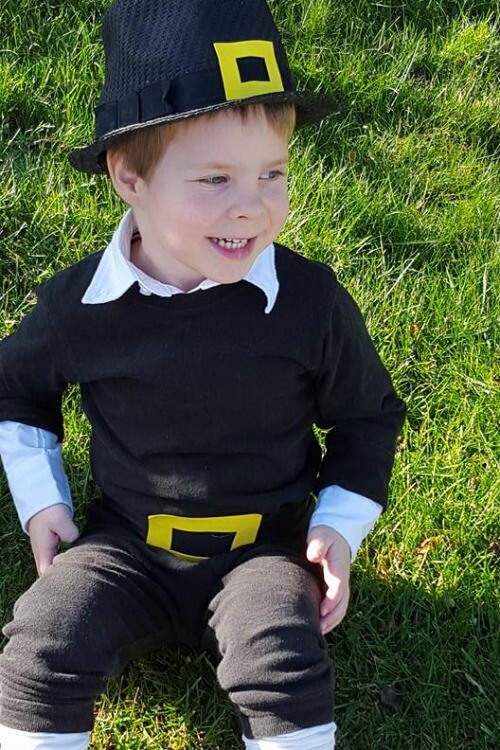 If you wanted to make Thanksgiving outfits for girls without having to buy a dress, you could totally use this idea. You may just want to add aprons or bonnets or other accessories to go along with the costume. However, I think the hat, pants, and shirt, look charming and adorable for boys and girls alike.
More Thanksgiving Crafts and Activities
If you're looking for more fun things to do with the kids on or around Thanksgiving, check out these crafts and printables!
We hope you have a Happy Turkey Day with your family!
Did you make this Pilgrim Boy's Costume or something like it? Share a picture with us or tag us on social media. We'd love to see it!