I'm back today with another of our family favorites that I made yet again this weekend: Homemade Hamburger Helper. Actually, we like it even better than the store version because we can change it up and add different veggies or spices according to whatever we feel like (or have in the pantry) on that particular day. So if you love hamburger helper, you definitely want to give this a try!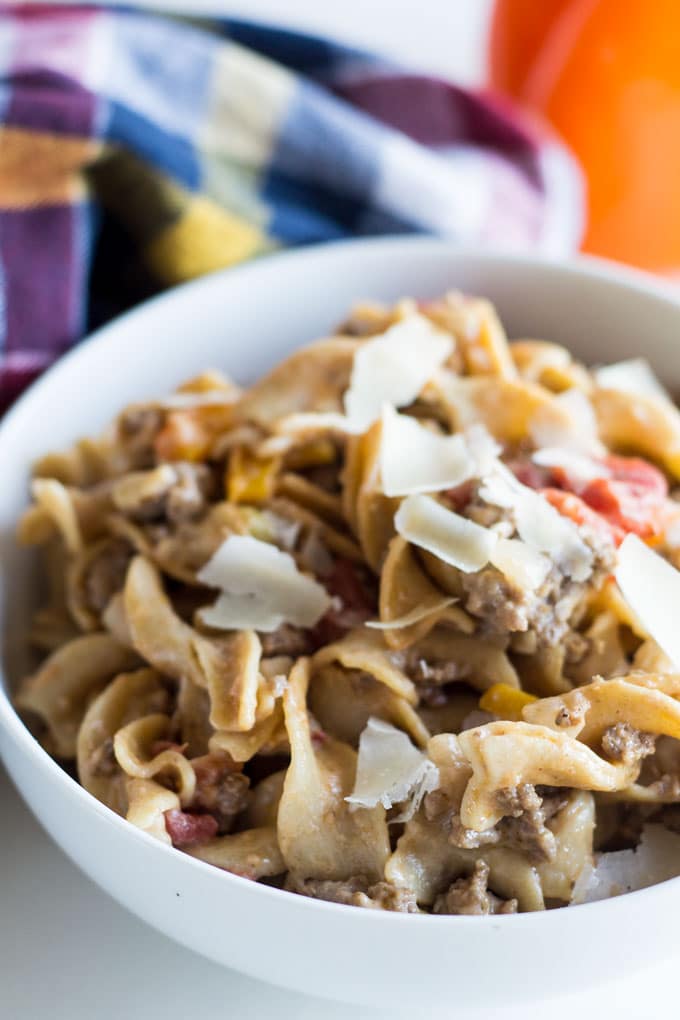 Homemade Hamburger Helper in Under 30 Minutes
We just wrapped up a super lazy weekend together as a family. Aren't those the best kind of weekends? We had nothing in particular to do, nowhere in particular to be, so we just cooked, played games, relaxed and enjoyed each other's company. It was bliss… to us, at least. The kiddo sometimes likes a little more excitement, but it's good to just unwind now and then instead of trying to visit, shop, run errands and be on the road constantly.
This homemade hamburger helper is the perfect quick meal when you don't want to be in the kitchen a long time. You can definitely prepare it in under 30 minutes, so we make it often during the week, too.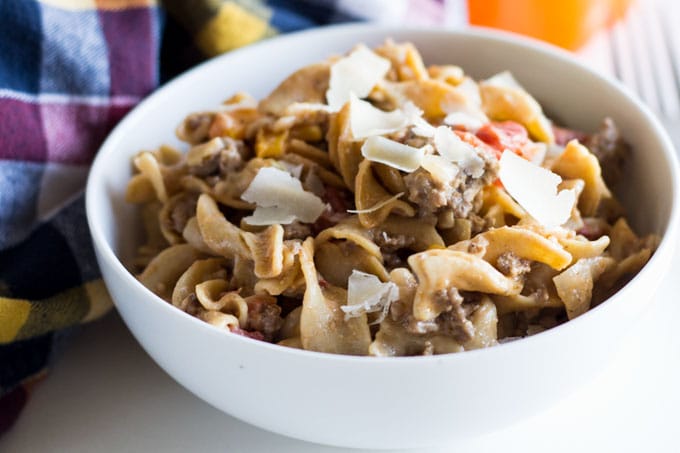 This doesn't taste quite like hamburger helper from a box, I'll admit. But if you're a fan of the boxed stuff, I'd say it's somewhere between the beef stroganoff and the cheesy mac flavors, but a little milder. My husband and son don't care for too many spices in foods, but if you wanted to add a couple teaspoons of chili powder to this recipe, I bet that would be fabulous.
So let's get to it, shall we?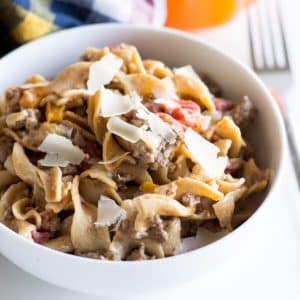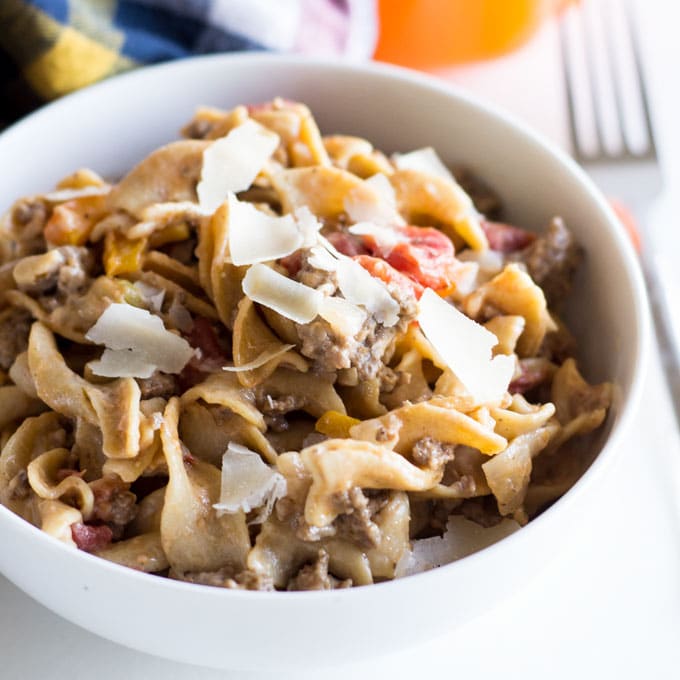 Print
Homemade Hamburger Casserole
Yield 6 servings
This homemade hamburger casserole is such a quick and tasty meal! From start to finish, you can have this on the table for your family in about 30 minutes.
Ingredients
1 lb. ground beef
1 med. onion, chopped
1 (15 oz) can diced fire-roasted tomatoes (we prefer low-sodium)
1/2 tsp. salt
1/4 tsp. black pepper
1 (10.5 oz) can cream of mushroom soup (do NOT add water)
1/2 large bell pepper, diced
8 oz. egg noodles (we like whole grain noodles)
1 c. shredded cheddar cheese
shaved Parmesan for garnish (optional)
Instructions
Brown ground beef, onion and pepper together in a large skillet. Meanwhile, boil water for noodles and cook according to package directions for al dente.
Drain beef mixture and return to pan. Add tomatoes, salt, black pepper and undiluted mushroom soup and let simmer for about 5 minutes.
Drain noodles and add to pan along with the shredded cheese. Stir until cheese is melted. Top with shaved Parmesan, if desired.
I hope you enjoy our homemade hamburger helper! For more easy ground beef dinner ideas, try these recipes:
Hi! I'm Donella. Welcome to Glue Sticks and Gumdrops, where I blog about crafts for kids, kid-friendly recipes, and meals for families with a bit of parenting and party ideas sprinkled in. I am a mom to one amazing (and active) little boy, and I'm married to a deputy. As you can imagine, our lives are hectic, but sitting down to a family meal or making a craft together is our way of connecting with each other.
Latest posts by Donella Crigger (see all)