Craving a comforting, soul-satisfying meal that's frugal, delicious, and takes only 30 minutes to make? If so, this simple goulash recipe is just the ticket. This classic dish is brimming with the rich flavors of ground beef, aromatic onions, and tender macaroni cooked in a tangy tomato sauce. It's a timesaving, crowd-pleasing dish that you'll want to make again and again.
For more quick and easy dinners, try my Chicken, Potatoes and Peppers Skillet Dinner or my Homemade Hamburger Helper.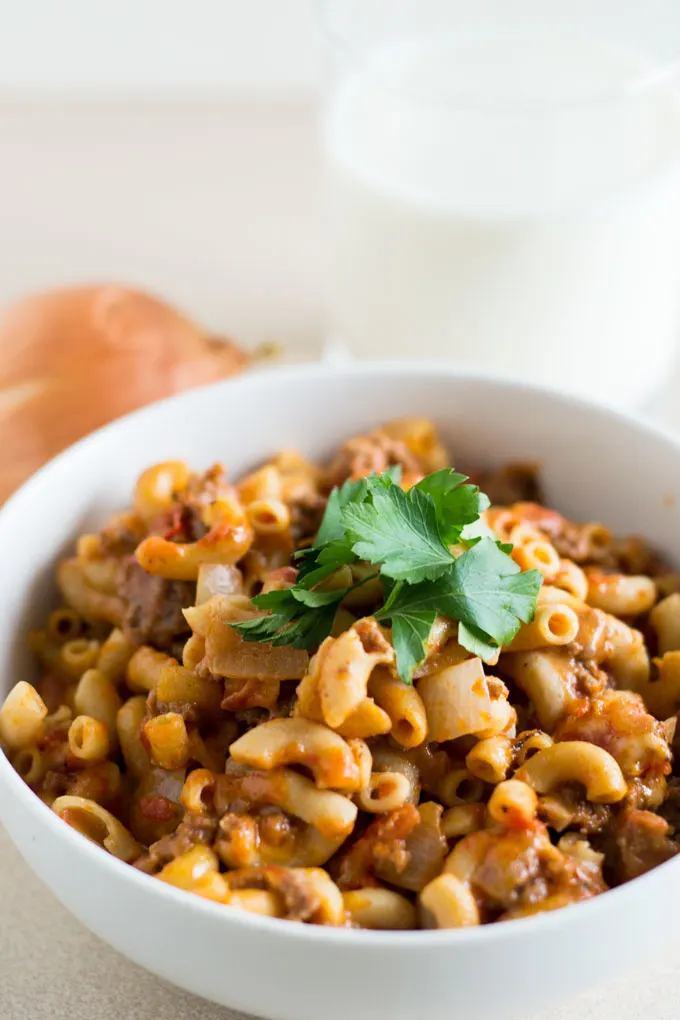 This simple recipe for goulash is one of my family's go-to meals. When I'm stumped for an easy dinner on a busy night, I know I can pull this together in under 30 minutes, and my family will gobble it up. Win-win, right? And while I know everyone has their own tweaked version of this, I thought I'd share my recipe with you.
The beauty of this versatile dish definitely lies in its adaptability. Put your own spin on it to customize the goulash to your family's preferences. Whether you toss in additional veggies, swap out the pasta for another favorite shape, change up the spices, or make a vegetarian version, this simple goulash recipe provides a foolproof foundation. It's a fantastic option for busy weeknights, allowing you to feed your family fast.
Why You'll Love This Simple Goulash with Cheese
Searching for the perfect comfort food to fill your belly and warm your soul? Here's why you'll love this easy goulash recipe:
Easy to make, full of flavor, and guaranteed to become a family favorite.
It's a satisfying and hearty meal that's perfect for busy weeknights or cozy weekend dinners.
This dish is highly customizable, so you can adjust the ingredients to suit your family's tastes.
It's kid-friendly! They'll gobble it up.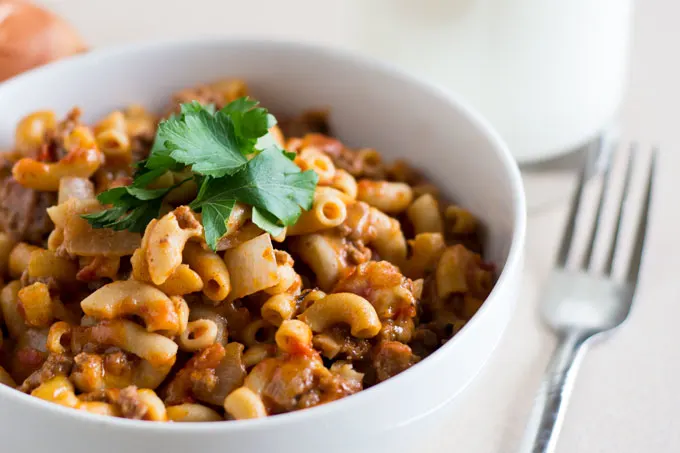 30 Minute Dinner Idea: Simple Goulash Recipe
Doesn't this quick goulash look delicious? While you can certainly use fresh tomatoes for this and shred your own cheese… I'm gonna be honest… I use cans of tomatoes and pre-shredded cheese. It just makes my life easier when we come home after a long day and are simply famished. That's just what I look for in a 30 minute dinner. Quick dinner ideas are a must for busy moms!
We've tried this easy recipe for goulash with cheddar, mozzarella and parmesan cheeses (or a mix of 2-3 of these), and all have turned out fabulous. It does, however, get pretty stringy with mozzarella. That's not a problem for me, but the little guy gets frustrated with too much cheese, so I tend more towards the cheddar or parmesan side for us.
"Cheese in the goulash?" you might ask. Yes! Everything is better with cheese, in my opinion. But if you want something that's more similar to classic goulash, skip the cheese, and focus on pasta, beef, tomatoes and spices.
Ingredients for Simple Hamburger Goulash
This section is meant to provide an overview of the ingredients required for the recipe. For specific amounts and instructions, please refer to the recipe card at the bottom of the post.
Ground Beef: The protein-packed base of this dish, providing a satisfying and filling meal. Use ground turkey if you'd like to cut down on the fat and calories.
Yellow Onion: Adds a depth of flavor and aroma to the dish.
Elbow Macaroni: A classic pasta shape that absorbs the flavors of the sauce and adds a delightful texture.
Tomato Sauce: Provides a saucy base for the dish, bringing all the flavors together.
Fire Roasted Diced Tomatoes: Gives the dish a smoky flavor and a rich tomato taste.
Salt: Enhances the overall flavor of the dish.
Pepper: Adds a subtle kick and depth to the flavors.
Chili Powder: Introduces a mild heat and earthy undertones to the dish.
Paprika: Offers a sweet, slightly smoky, and peppery taste that complements the other ingredients.
Shredded Cheese: Adds a creamy, melty texture and a rich, savory flavor. Cheddar or mozzarella are great choices.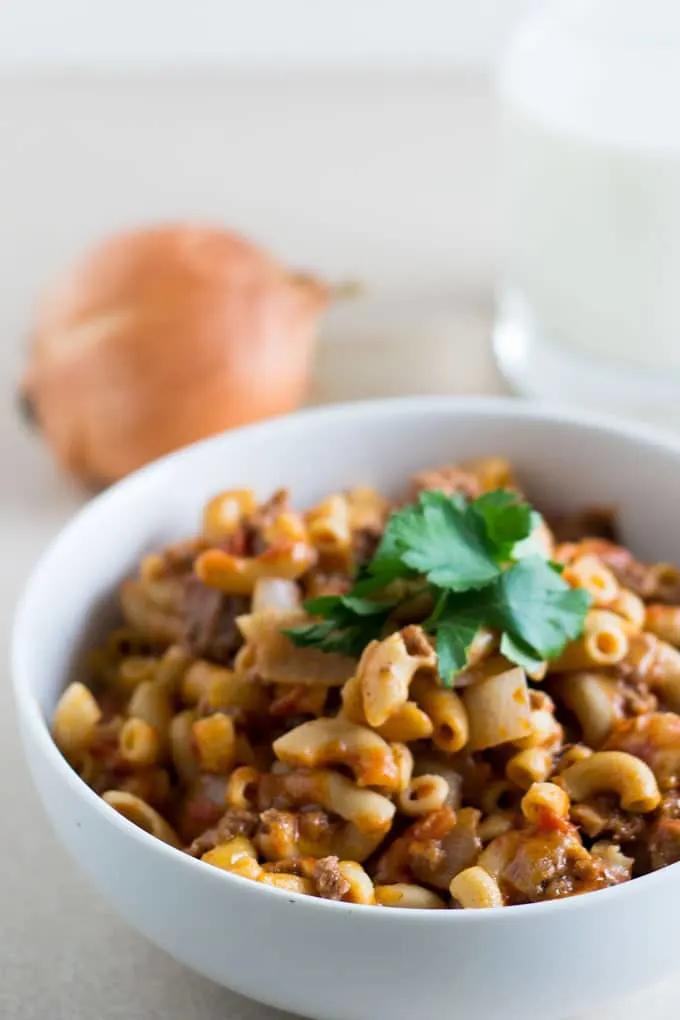 Equipment You'll Need:
Wooden spoon or spatula
Cutting board
Measuring cups and spoons
Colander (for draining the ground beef)
How to Make Simple Goulash
Step One: In a large skillet, cook the ground beef and chopped onion together over medium heat. Meanwhile, prepare the elbow macaroni according to package directions for al dente.
Step Two: Drain the cooked ground beef and onion mixture, as well as the macaroni. Combine both in the same pan.
Step Three: Add the chili powder, paprika, salt, pepper, tomato sauce, and fire roasted diced tomatoes to the pan. Simmer the mixture for 5 minutes, or until it becomes heated through and bubbly.
Step Four: Stir in the shredded cheese of your choice (cheddar or mozzarella). Cover the pan and let it simmer until the cheese is fully melted. Enjoy your delicious, comforting goulash!
FAQ for Easy Beef Goulash
What is traditional goulash made of?
Traditional Hungarian goulash is a hearty stew made from slow-cooked meat (usually beef, but sometimes pork or veal), onions, and paprika, which gives the dish its signature red color and distinct flavor. It may also include vegetables such as carrots, potatoes, or peppers, and is typically seasoned with caraway seeds, bay leaves, and garlic. Hungarian goulash is often served with egg noodles, dumplings, or a slice of crusty bread.
Is this American Goulash or Hungarian Goulash?
The recipe provided is for American Goulash, also known as American Chop Suey. It is a pasta-based dish that includes ground beef, elbow macaroni, and tomato sauce, along with other seasonings like chili powder and paprika or Italian seasoning in some recipes. While it shares some similarities with Hungarian Goulash, such as the use of paprika, it is a distinct dish with a focus on pasta rather than being a meat stew.
Can I use a different type of pasta?
Absolutely! Feel free to substitute your favorite pasta shape, such as rotini, penne, or shells.
Can I make this dish vegetarian?
Yes! Replace the ground beef with a plant-based meat substitute or add more veggies, like mushrooms or bell peppers, for a meat-free option.
Can I freeze this goulash?
Yes, this simple goulash recipe freezes well. Store in an airtight container and freeze for up to 3 months. Thaw overnight in the refrigerator and reheat on the stovetop or in the microwave.
Can I add more vegetables?
Definitely! Adding more vegetables like corn, peas, carrots, potatoes, peppers, or zucchini can make this dish even more nutritious and flavorful.
More Quick and Easy Dinner Ideas:
I hope you enjoy this simple goulash recipe! If you're looking for more 30 minute dinners, try these:
Make This Yummy Goulash
Ready to make this meal yourself? Print out the recipe card below for exact measurements and directions for our simple goulash recipe. We hope you enjoy this easy 30 minute dinner!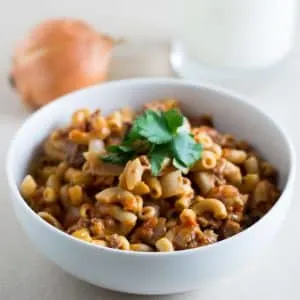 Simple Goulash
This simple goulash recipe is a little twist on the classic using convenient ingredients you already have in your cabinets as well as lots of cheese!
Ingredients
1

lb.

ground beef

1

med. yellow onion

chopped

8

oz.

elbow macaroni

1

c.

tomato sauce

1

15 oz. can fire roasted diced tomatoes

1/2

tsp.

salt

1/4

tsp.

pepper

1

tsp.

chili powder

1

tsp.

paprika

8

oz.

shredded cheese

cheddar or mozzarella
Instructions
Brown ground beef and onion together. While the ground beef is cooking, prepare macaroni according to package directions for al dente.

Drain ground beef and macaroni. Return both to a single pan.

Add spices, tomato sauce and tomatoes, and simmer for 5-10 minutes, or until heated through and bubbly.

Stir in cheese, cover pan and let simmer until cheese is melted.
Nutrition
Calories:
484
kcal
Carbohydrates:
37
g
Protein:
28
g
Fat:
25
g
Saturated Fat:
11
g
Polyunsaturated Fat:
1
g
Monounsaturated Fat:
9
g
Trans Fat:
1
g
Cholesterol:
84
mg
Sodium:
760
mg
Potassium:
499
mg
Fiber:
3
g
Sugar:
5
g
Vitamin A:
1359
IU
Vitamin C:
5
mg
Calcium:
249
mg
Iron:
3
mg