Do your kids love science… do you find them excited to take out their science textbooks at the end of the day to study it more? No? Well, you're not alone. To get your kids into science, you have to make it hands on… you have to make it FUN! These science kits for kids are the perfect balance of educational and entertaining!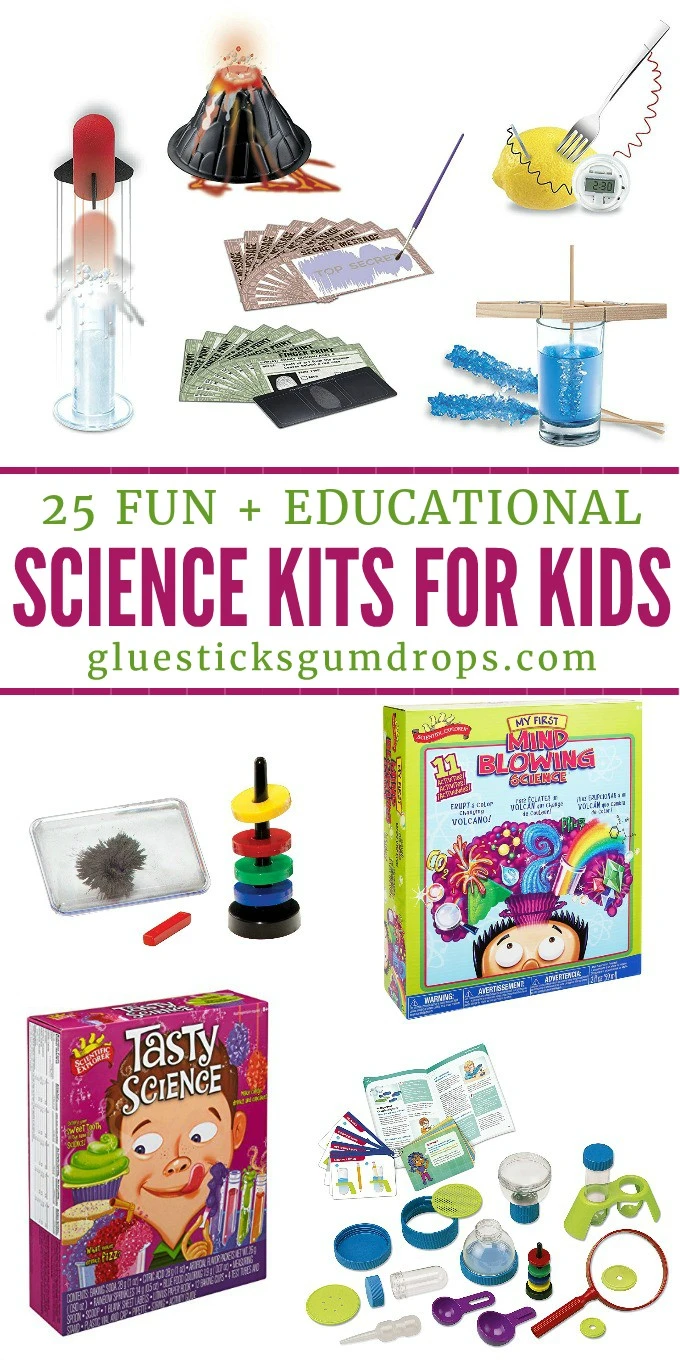 Science Kits for Kids – Educational and Fun!
I'll admit now that I'm a huge science nerd. It was my favorite subject in middle and high school and, yes, even my major in college (biology… minored in chemistry). And although I could read science textbooks and journals for hours, I know that not everyone feels the same way. Okay, most people don't feel the same way, including my little kiddo.
While he loves a good experiment, he's not always down for learning the scientific principles behind it. That's where these science kits for kids can come in handy… They're not only fun, but they're helpful in breaking down the why behind the experiment in simple terms, even for younger kids.
So if you want to show your kids just how interesting science (and in particular chemistry) can be, try a few of these. You may learn something new yourself — I know I have! 🙂
This post contains affiliate links, and we earn a commission on qualifying purchases.
Please remember that all science experiments require adult supervision. Do not let your kids play with these tools and chemicals without careful observation.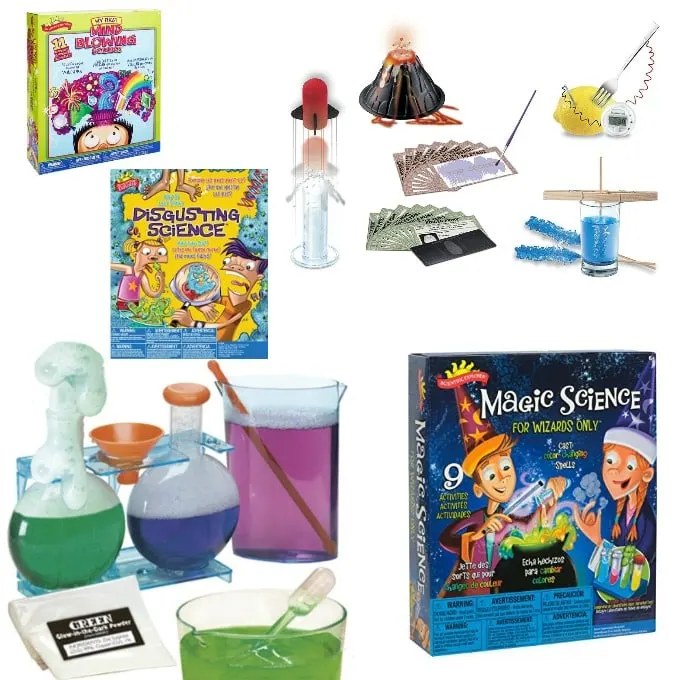 This kit includes 11 experiments and activities like making a colorful erupting volcano, writing secret messages to friends, and making crystals from cabbage. You'll also make magic fizzing potions, which is always tons of fun!
Conduct six different experiments using common kitchen ingredients. This kit teaches kids how to conduct electricity with a lemon, launch a rocket with vinegar and baking soda, and a fingerprint development kit for exploring the science behind fingerprints.
Kids who love books like Harry Potter and other magical stories will adore this science kit! They'll be able to make their own shimmering wands and create glowing, bubbling potions using the chemicals in the kit.
Grow friendly germs and fuzzy molds with this fun science kit. Kids will also learn how to make fake coagulating blood, slimy snot, and stinky intestines. If your kids are into gross science, this is definitely the kid for them!
This cool science kit contains 20 different experiments that ooze, glow, or stink. Use the tools in the kit and common household ingredients to work through the mad lab journal.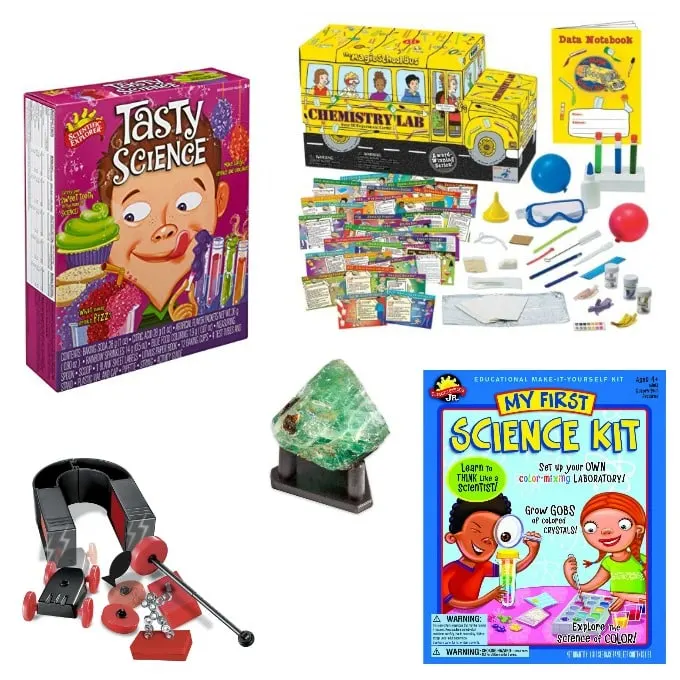 Learn the science behind some of your favorite kitchen concoctions! Bake yummy cupcakes, find out what makes soda pop fizz, and make crystal candy. This kit is perfect for your future chef or culinary artist.
This is a nice kit for beginners. It includes experiments for making crystals, creating a rainbow in a plate, and exploring colors.
Join Ms. Frizzle and the gang for some hands-on science! This kit is for chemistry and includes experiments for surface tension, bubbles, decomposition, chromatography, and more. There are other Magic School bus science kits available, too. The Weather Lab and Space Lab look like lots of fun, too.
Learn about the effects of magnetism through experiments and fun games. Make a magnetic wand and a super power horseshoe magnet. The included fishing game is good for hours of fun.
Any kid who's a fan of crystal experiments will love this jumbo crystal growing kit from National Geographic. They'll grow a giant, glow-in-the-dark crystal in just a few days.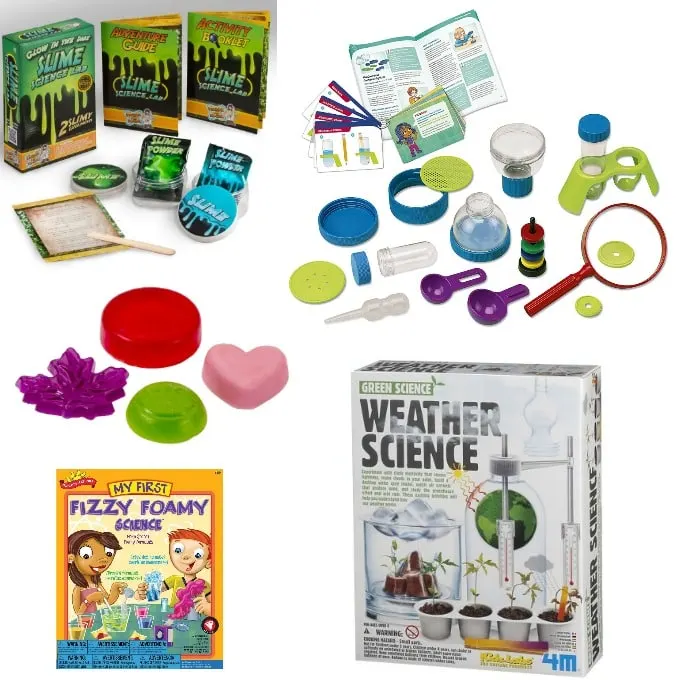 Kids who love erupting and fizzy experiments will enjoy this kit with 7 activities creating solutions that foam and fizz. It's good for ages 6 and up.
Slime worms, sticky fish, shampoo slime, and goofy slime are all par for the course in this cool glow-in-the-dark slime lab. Materials are included for 19 different experiments. This kit makes a great educational gift for kids for birthdays or holidays.
Learn how weather works! The static electricity experiment is a great way to teach kids about lightning. Make clouds in your palm, and make a desktop version of the water cycle. With six interesting weather experiments, kids can learn a lot about nature.
Kids can learn about soap-making while making some cool handmade DIY gifts for their friends and family. Kit includes materials to make 25 hand-crafted soaps.
This kit is designed for ages 3 and up, so it's a great starter science kit for kids. It includes 10 experiments with easy-to-follow cards and easy-to-use tools.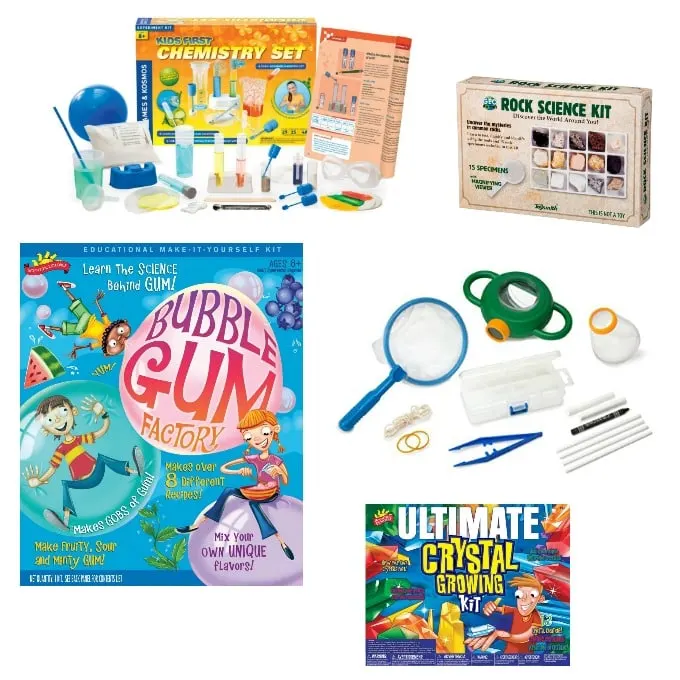 What kid doesn't have a nice rock collection? This science kit could be the start of a wonderful hobby. Learning about rocks is fascinating, and they'll get 15 different specimens as well as a magnifier in this kit. Kids who are interested in geology will get a kick out of this one!
With 27 experiments, this science box is perfect for the beginning chemist (kids ages 8 and up). Conduct experiments to identify different chemicals using common household ingredients and the provided science tools.
Make your own bubble gum with 8 different recipes or come up with your own flavor combinations. Kids will have as much chewing this gum as they do making it. They'll also learn about the science behind gum.
Catch and identify bugs, learn how to use binoculars and magnifying glasses, and navigate with a real working compass. Kids can do all that and more with this backyard explorer kit. It comes with a handy little backpack for your explorers to keep all their tools in.
This kit includes 13 different crystal growing activities and is made for kids 12 and older. Kids will grow clear crystals, thirsty crystals, glow-in-the-dark crystals, and more.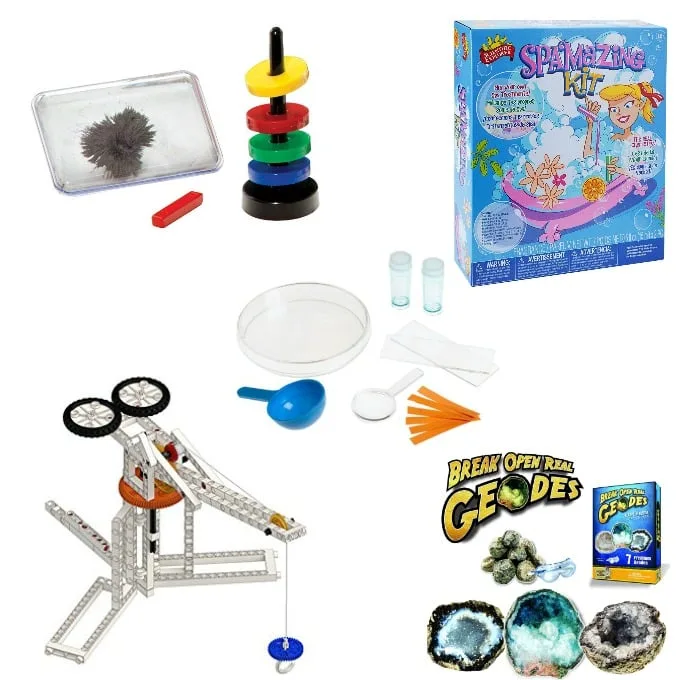 This science box is great for learning and pampering! Use chemistry to mix your own spa treatments like beauty masks, aromatherapy oils, bath fizzes, and soaps. It makes an excellent birthday gift!
There's no better pairing than Lego and Klutz to make a kit focused on engineering and robotics! Kids can build 8 different kinetic creatures all while learning about axles, cams, and cranks. A 64-page book is included to take children through the building process step-by-step.
Geology and minerogy enthusiasts will really dig (get it?) this geode collection. Break open the geodes with a hammer to investigate the crystal formations inside. Every geode is a surprise!
Builders and engineers can build 22 different experiments to learn about the basic laws of mechanical physics. Build a pulley system, a crane, a moving elevator, and a rocket car!
This deal is too good to pass up. It's for a magnetic science kit and a motors and generators kit. They're perfect for kids who are interested in physics and engineering.
For more fizzy, bubbly, and slimy science fun, check out the lists of science experiments below.
This post was first published February 14, 2017. It was updated October 29, 2021.