Are you looking for the perfect gift for someone on your list? You're in luck! I've teamed up with 10 other bloggers to bring you the ULTIMATE holiday gift guide with loads of unique ideas for everyone on your list.
Finding the perfect gifts is difficult this time of year. You want to give something unique, something useful, or something that will be cherished for years to come.
Whether you're shopping for kids or adults, we think you'll find some great ideas in our easy-to-navigate gift guide. We've put a lot of thought into our selections and hope you find something that you'll like.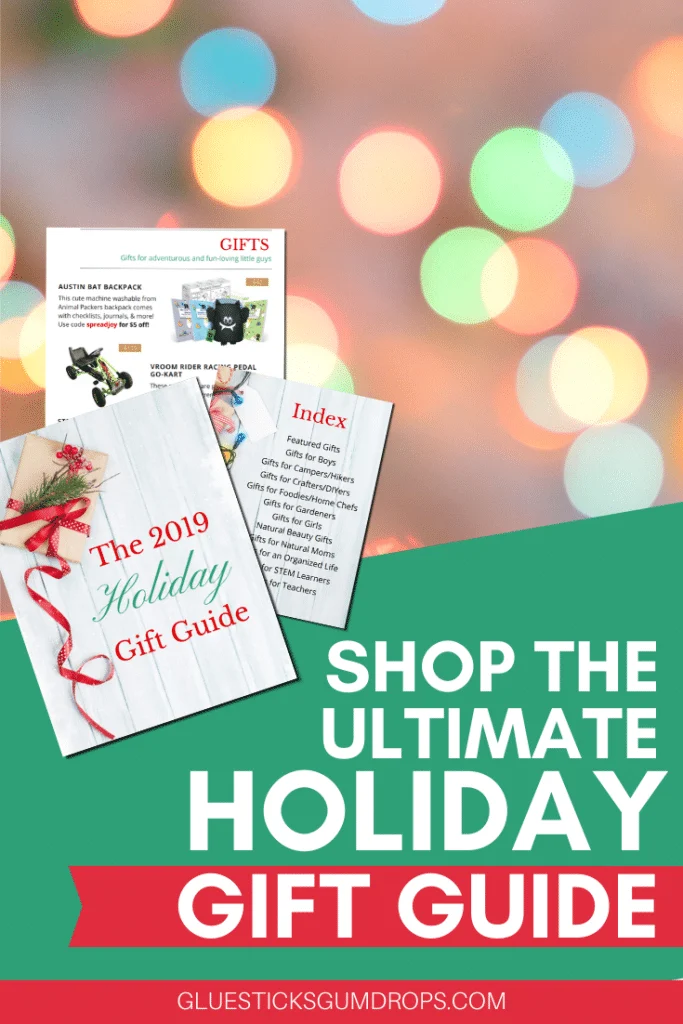 You'll find the following sections in our guide:
2019 Holiday Gift Guide
If you want to jump straight into the gift guide, you can view the handy flippable version below. If you'd like to download a PDF version of the guide, please click HERE.
Here's a breakdown of what's in each section:
Featured Gifts
Unique ideas for the person who already has everything. If the person on your list is hard to shop for, you'll want to check out this section!
Gifts for Boys
Know an active, curious little boy who loves adventure? Check out this section! It includes lots of gifts that encourage curiosity, movement, and style.
Gifts for Campers/Hikers
If you're shopping for an outdoor adventurer, this section is for you. You won't find traditional ideas here… there are lots of unique gifts that help people remember their outdoor excursions long after they're over.
Gifts for Crafters/DIYers
Find the perfect gift for the creative in your life. You'll see everything from creative stations and maker bundles to carts and storage options to keep all those craft supplies organized.
Gifts for Foodies/Home Chefs
From kitchen gadgets to spices, wines, and subscription boxes, if the person you're shopping for has a sharp palate, you should take a peek at these gifts!
Gifts for Gardeners
Does the gardener in your life spend the winter dreaming of spring? If so, check out these gifts. You'll find fun and quirky ideas about their favorite hobby (like fun shirts and totes) as well as practical gifts like seed kits and gardening gloves.
Gifts for Girls
Encourage confidence and creativity in the little girl in your life with these thoughtful gifts.
Natural Beauty Gifts
For the beauty or fashionista who's also conscious of the ingredients she puts on her skin, you'll want to browse this section for suitable gift ideas. These are perfect gifts for pampering!
Gifts for Natural Moms
Safe and non-toxic gift ideas for moms who are focused on living a more natural lives for themselves and their families.
Gifts for an Organized Life
Susan from Organized 31 put this section together, and since she's a professional organizer, you know that she knows her stuff!
Gifts for STEM Learners
Don't give toys that will waste away in the toy box. Opt instead for toys that inspire learning, imagination, and hands-on fun for the children who receive them.
Gifts for Teachers
Teachers deserve our eternal gratitude, and what better way to show your appreciation for your child's teachers than a thoughtful gift? Browse this section for both practical and sentimental gifts that teachers will cherish.
That closes out this year's gift guide, but if you're looking for even more gift ideas, check out these specialized gift guides below:
More Holiday Gift Guides
This list of gifts was curated by my officer husband, so they're sure to be winners with any law enforcement officers you're shopping for.
For the little men in your life that need lots of fun and adventure.
If you're looking for affordable DIY gifts, check out this list. Anyone who receives them will absolutely LOVE them! What a great way to pamper someone you love.
This list is also curated by my husband and includes gifts that he'd love himself. You know they're winners!
Get ready for those office holiday parties with this list of fun and super ugly Christmas sweaters.
If you want to make something for the man in your life, check out the ideas on this list.