When the hot summer sun has you melting, nothing beats the taste of this refreshing, fruity homemade cherry slushie. Made with 4 simple ingredients (sugar, Kool-Aid, Sprite, and maraschino cherries), it'll take you back to your childhood when you spent your days drinking Slush Puppies and playing all day outdoors.
Making your own homemade Icee is easier than you think. With a blender and some ice, you can whip up a frosty cold drink in no time! And while this cherry slushy has way more sugar than anything I drink on a regular basis as an adult, it's still nice to indulge once in a while, especially to cool down when it's scorching outside. It's perfect for pool parties!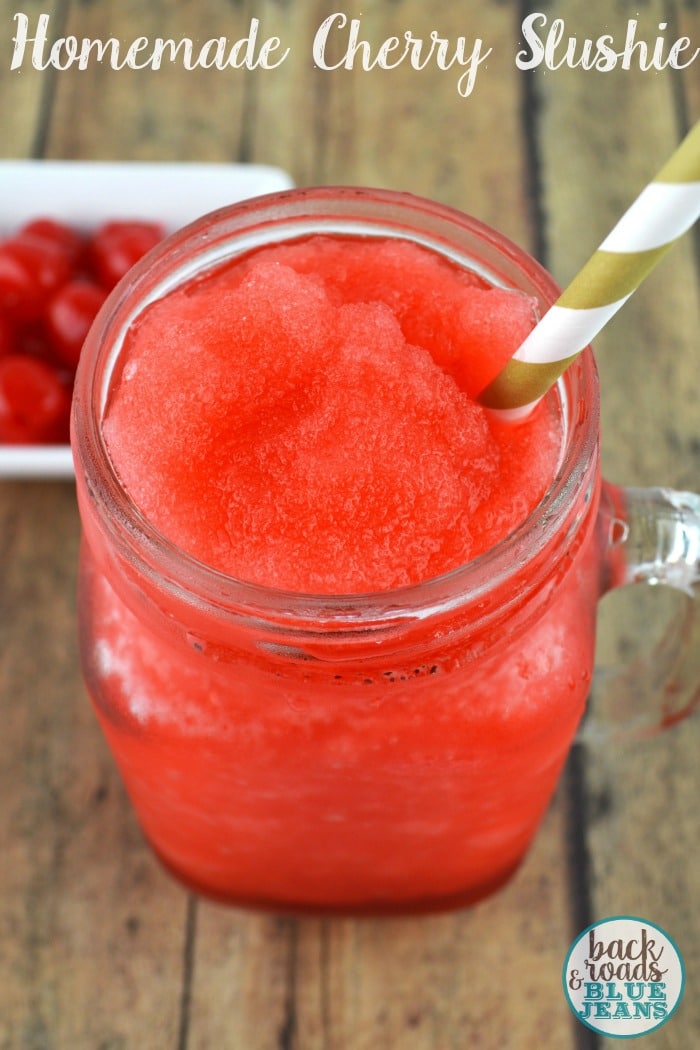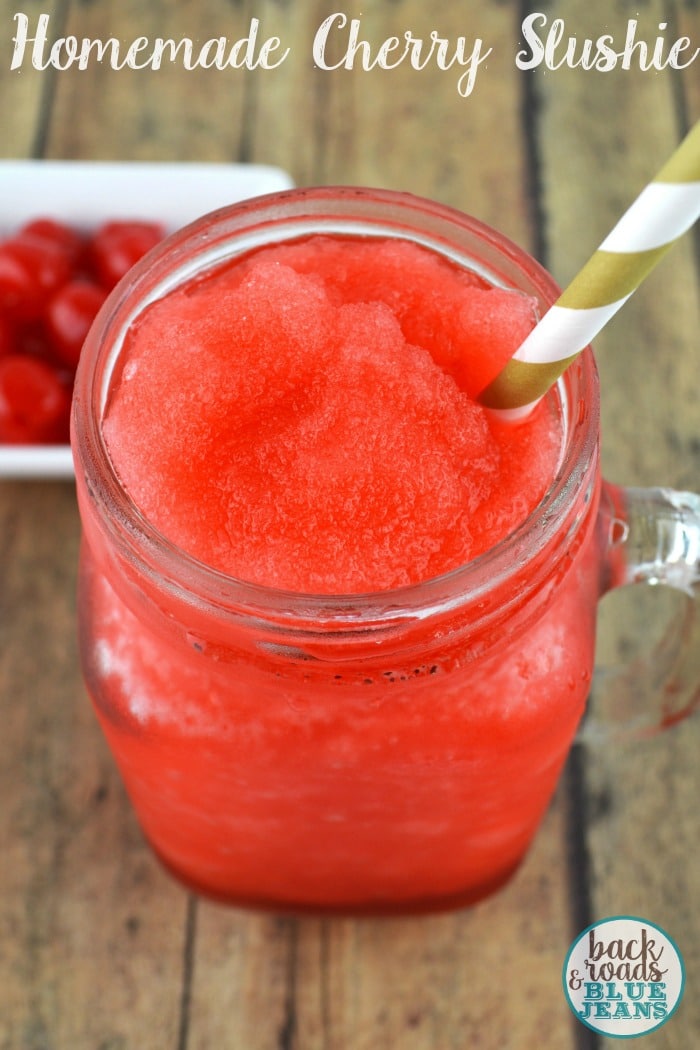 While you're here, you don't want to miss our Strawberry Orange Slushie (a healthier recipe), the classic Creamsicle Slush, or our list of 11 Easy Slushie Recipes. You'll also love these Blueberry Drinks for Summer!
Remember to take it slow when enjoying an at-home slushie. Brain freeze is a real thing, folks!
But let's get to the yummy recipe.
Why You'll Love This Cherry Slushie Recipe
You can make it in under 5 minutes.
It's fruity and frosty — the perfect combination for a hot day in summer.
Kids and adults alike love it!
Ingredients for Cherry Slushies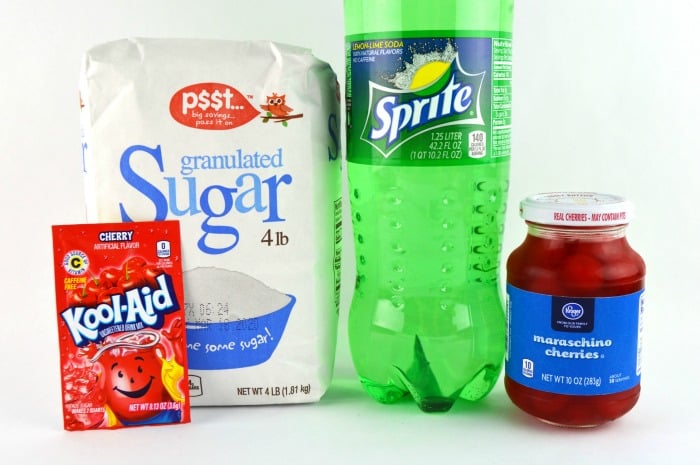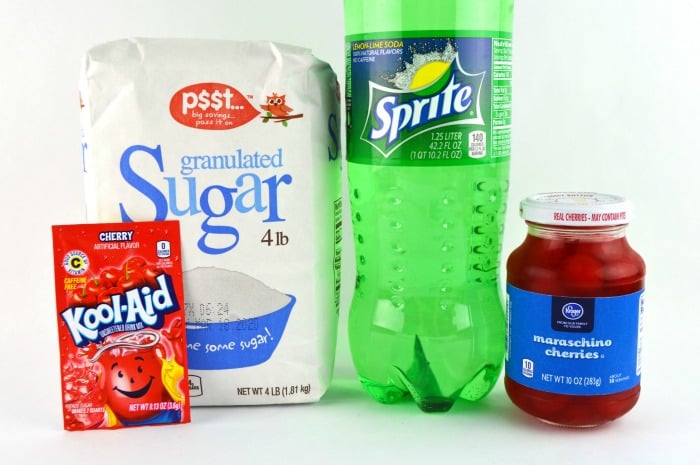 Sprite — This adds lemon lime flavor to the cherry slush, making it taste a little like a cherry limeade.
Kool-Aid — Use cherry flavored Kool-Aid to give it an extra kick of cherry flavor.
Sugar — Yes, we're adding more sugar to this drink. It's delicious, though.
Maraschino Cherry Juice — The liquid from the jar of maraschino cherries is concentrated, sweet, and delicious in all sorts of drinks.
Ice cubes — An essential ingredient in any slushie!
How to Make a Cherry Slushie
Step 1: Add all your ingredients, including the ice cubes, to the pitcher of a blender. Pulse them for about 2 minutes or until you've achieved a smooth slushie-like consistency.
Step 2: Pour the Cherry Icees into glasses. Garnish with a maraschino cherry and fresh mint on top, if you'd like. Enjoy!
Serving Suggestions
Serve your cherry slurpee in a frosted glass to keep it frozen longer.
Tips and Tricks for Cherry Slushies at Home
If your blender is not very powerful and doesn't do well with cubes of ice, use crushed ice to make blending easier.
Save the liquid from maraschino cherries to add to other drink recipes. It's delish in lemonade.
Feel free to blend some fresh cherries into your cherry slurpee recipe. It'll add some texture to the drink, but that's not a bad thing.
Additions and Variations
Make pineapple slushies. Instead of cherry juice, use pineapple juice, and swap out the Kool-Aid flavor! You can do this with any number of fruit flavors.
Lighten up on the calories and sugar. Want a healthy-ish version? Use club soda with fresh lemon and lime juice instead of the Sprite. Reduce the sugar or use a sugar substitute like Stevia or Monkfruit.
Use water flavor instead of cherry Kool-Aid. Liquid water enhancers are very flavorful and can be a good substitute for the Kool-Aid packets.
Cherry Slush FAQ
Can I add alcohol to this homemade cherry slushie?
Yes, you can easily turn these slushies into cocktails by adding vodka or rum.
What can I sweeten the slush with instead of sugar?
You could try honey if you enjoy the flavor of it. Otherwise, you may find it's sweet enough without the added sugar. Alternatively, try a 1-1 sugar substitute to cut back on calories.
What is a cherry slushie made of?
This version is made using Sprite, a cherry Kool-Aid packet, sugar, and liquid from maraschino cherries. Just 4 ingredients plus ice!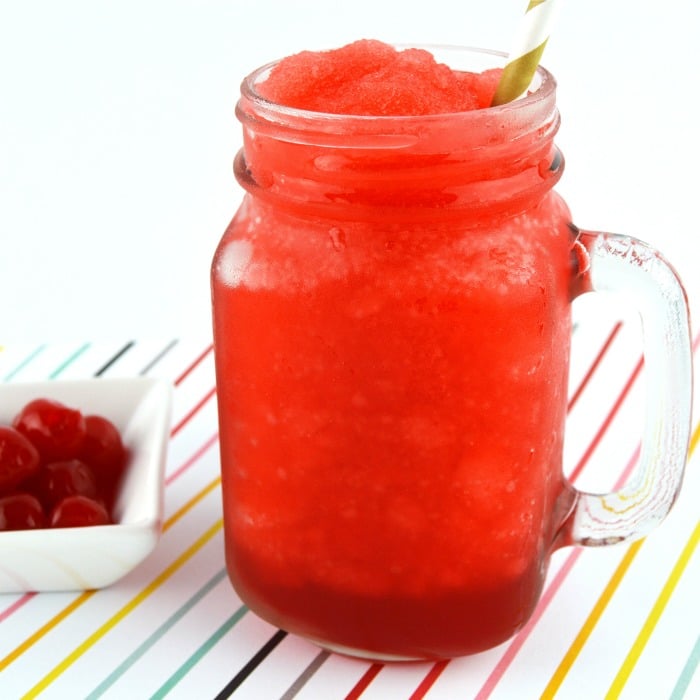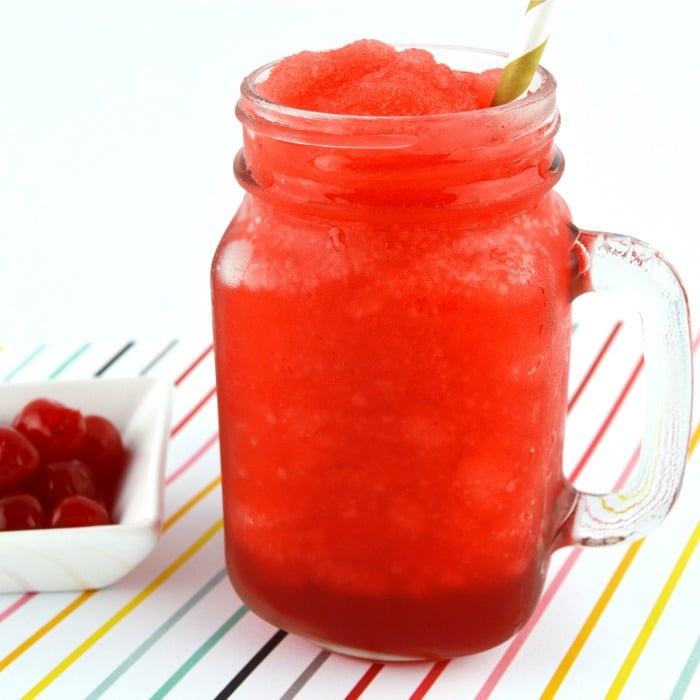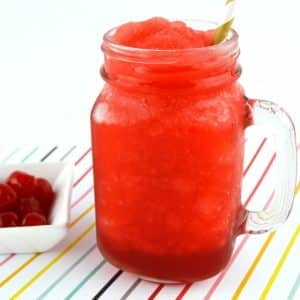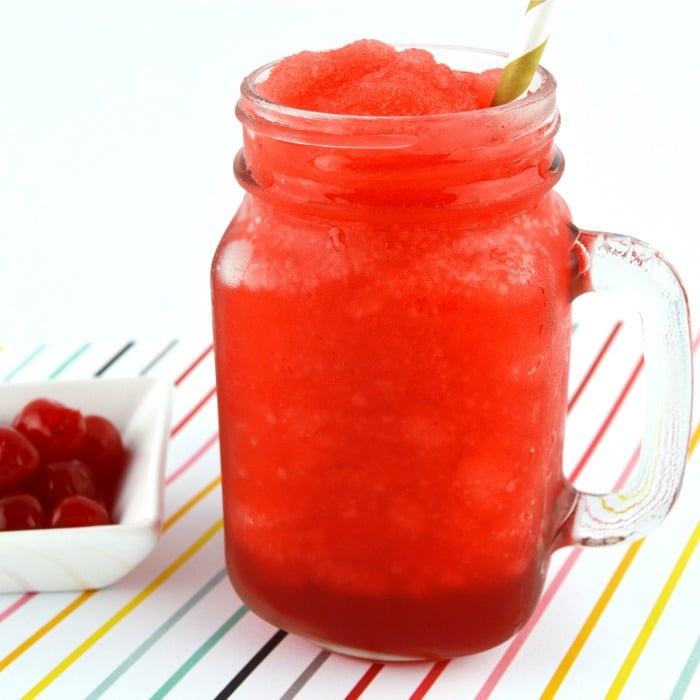 Homemade Cherry Slushie
Cool down on a hot day with a fruity, frosty cherry slushie. It's super sweet and so delicious! Made with 4 simple ingredients, you can whip up a couple of drinks in under 5 minutes.
Ingredients
2

cups

Sprite

1/2

cup

sugar

2

TBSP

cherry Kool-Aid mix

2

TBSP

maraschino cherry liquid
Instructions
Add all of the ingredients into a blender and pulse for about 2 minutes until smooth.

Pour into your desired glass.

Garnish with a maraschino cherry and fresh mint (optional). Serve and enjoy!
Nutrition
Calories:
334
kcal
Carbohydrates:
86
g
Protein:
0.2
g
Fat:
0.2
g
Sodium:
24
mg
Potassium:
3
mg
Sugar:
85
g
Calcium:
5
mg
Iron:
0.1
mg