You may have guessed by now that I'm a big fan of stuffed peppers. They're filling, flavorful and taste even better as leftovers. But most stuffed pepper recipes include rice, and that's a deal breaker on a low-carb diet. The good news is that they're just as delicious without the rice. If you're looking for an easy, delicious recipe for low carb stuffed peppers, here it is.
Honestly, I don't even miss the rice now that I'm used to eating peppers without it. However, if you're hankering for the feel of rice without the carbs, just make some riced cauliflower to add to the mixture. And speaking of the stuffed pepper mixture, here it is. Ground turkey (or you can use ground beef or sausage), peppers (yep, I add diced peppers to stuffed peppers), tomatoes, onions and lots of spices.
The mixture is topped with lots and lots of cheese after you add it to the peppers. As you can see in the recipe below, I recommend baking them for about 30-40 minutes, but I like my peppers firm with a little crunch. If you like really soft peppers, add a little more tomato sauce to your mixture and bake them longer with foil on top to keep some of the moisture in.
So, what are you waiting for? Print off the recipe, and let's make some low carb stuffed peppers!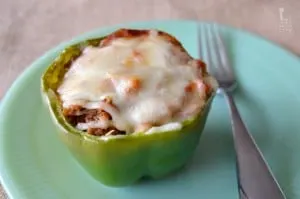 Low Carb Stuffed Peppers
Ingredients
1

lb.

ground turkey

1

green pepper

seeded and chopped

⅓

c.

onion

chopped

2

cloves

garlic

minced

1

14.5 oz can diced tomatoes

1/2

can tomato sauce

1

tbsp.

parsley

½

tsp.

thyme

½

tsp.

oregano

½

tsp.

basil

½

tsp.

rosemary

1

tsp.

seasoned salt

¼

c.

tomato sauce

4

green peppers

seeds removed

mozzarella cheese
Instructions
Preheat oven to 350 degrees.

Brown ground turkey over medium heat.

Add onion, garlic, green pepper, tomatoes, tomato sauce and spices to skillet. Cook for 5-10 minutes, until vegetables are tender.

Sit peppers in a baking dish, and fill the peppers with the meat mixture.

Bake at 350 degrees 45-60 minutes, until peppers are tender enough for your liking.

Remove peppers from oven, top with shredded mozzarella cheese.

Bake for an additional 5 minutes or so, until cheese is melted.
And here's the nutritional info from CalorieCount.com for the recipe. Note: I use about 1/4 c. mozzarella on top of each pepper. If you use more, your carb counts will be higher.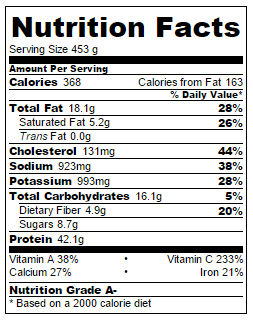 Don't forget to check out the stuffed pepper soup and the stuffed pepper omelet below. They're so tasty!