So, clearly, I'm really into creating printable valentines this year. They're much more personal than the valentines that you buy in a box from the store. With three different designs, these monster valentines are sure to be a hit with your kids. And there's plenty of white space near the top to attach a treat or a pair of googly eyes for a fun, festive valentine.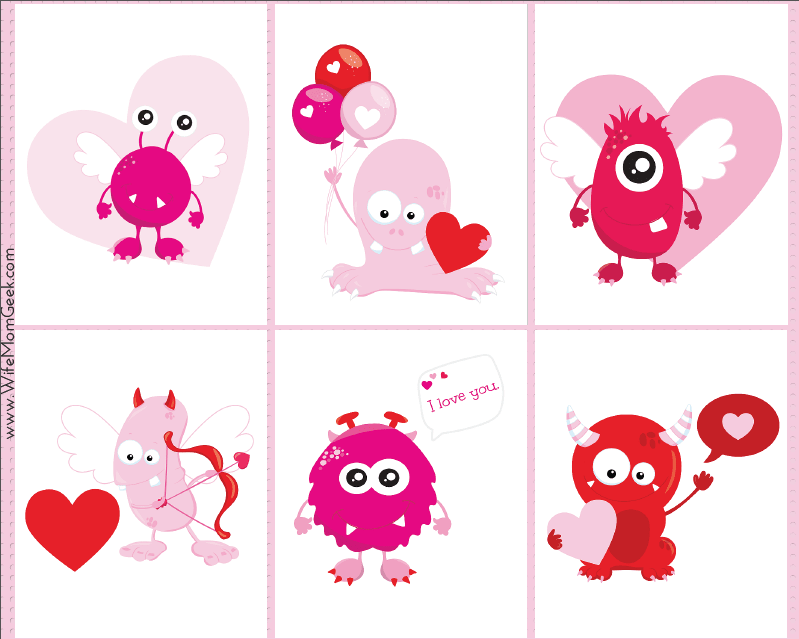 Here are the three designs. The printable includes two of each on each sheet, but feel free to use these pictures to print your own if you prefer one design over the other. You'll probably want to use the 3×5 setting on your printer, uncheck the box that says "fit to frame" and put the number of prints per page on 4.
Or, you can just use this handy PDF printable to get all three designs.
In addition to the valentines, I thought these would make a really cute memory match game. My son is three, and he's just starting to enjoy Memory games. There are six designs here, and you'll need to print the sheet twice to get a set of 12 cards. This printable is best for younger children–older children probably need more cards.
DOWNLOAD THE MEMORY MATCH GAME
What I'd do is select a pretty printer paper with a design on one side to print the memory cards. Print the monsters on the plain side.
If you're looking for more printable valentines, check out the Daniel Tiger valentines, "great catch" bag toppers and the sports toppers.