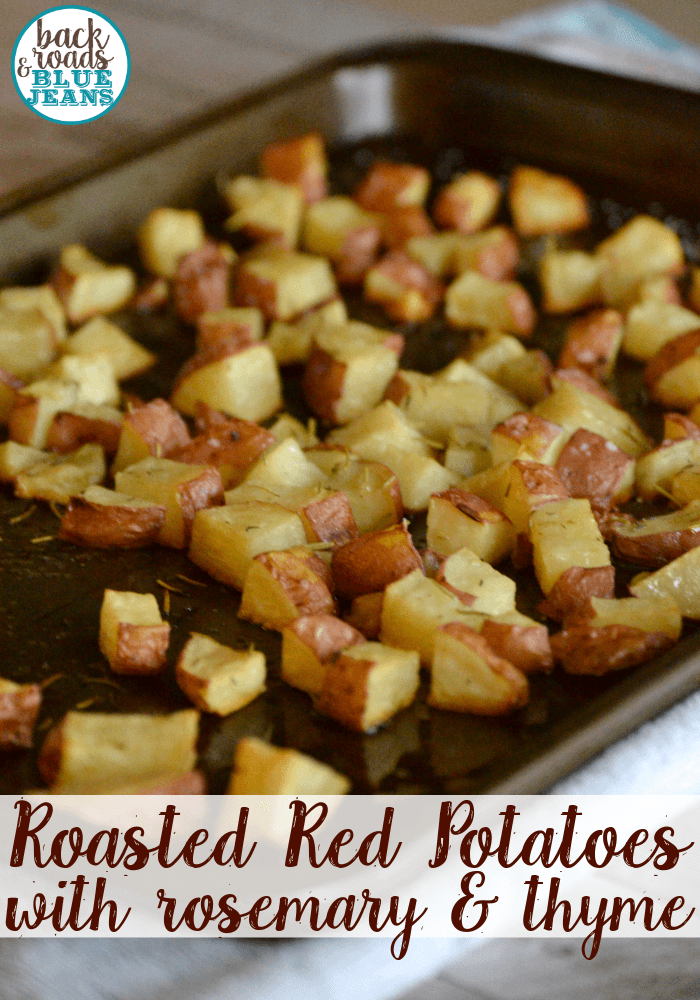 I've always loved a side of potatoes with dinner. Mashed potatoes… baked potatoes… They're all delicious. But my favorite lately has been roasted potatoes. Although I like to experiment with lots of different spices, rosemary and thyme are a classic pairing that our whole family enjoys. Here's our super simple recipe for tasty oven-roasted rosemary potatoes.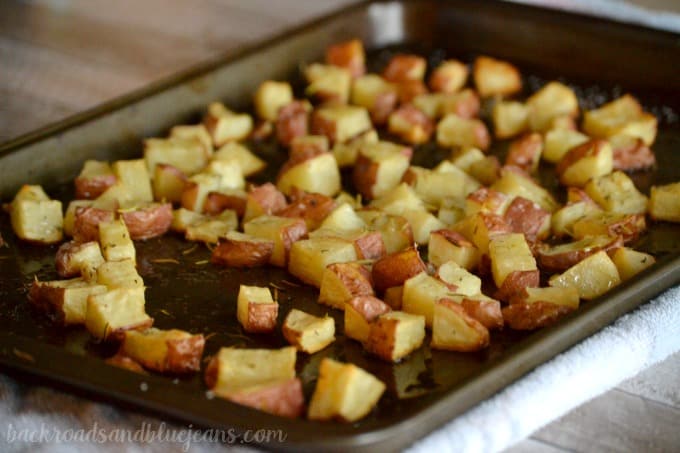 We had them with sirloin steak for dinner today, but they're also tasty with chicken or pork. And if you need to use up some potatoes that are a little old, I highly recommend this method. You may b able to tell that these were starting to lose a little of their firmness, but you'd never know it after roasting them in the oven.
You can change up the spices to make them for breakfast; the leftovers (if there are any) are wonderful with sausage and eggs! I also love making these with soul seasoning or garlic and parmesan cheese.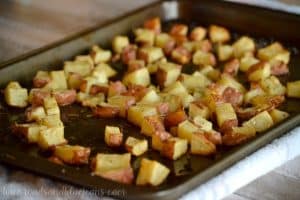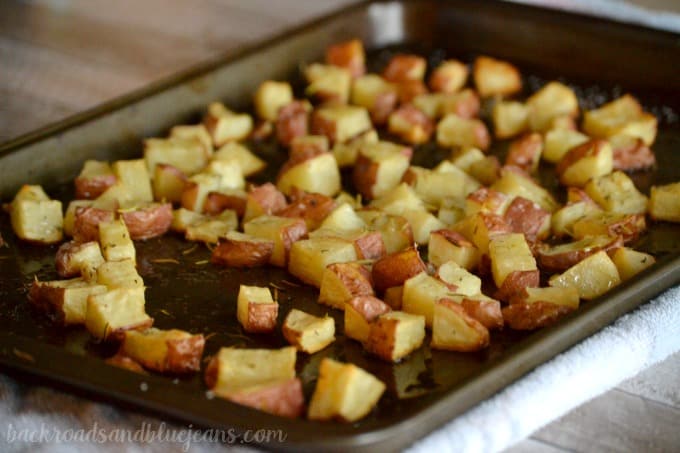 Print
Roasted Red Potatoes With Rosemary and Thyme
Yield 6 servings
These roasted red potatoes with rosemary and thyme are the perfect savory compliment to any dinner.
Ingredients
2 lbs. red potatoes
1/4 c. olive oil
2 tsp. dried rosemary
1 tsp. dried thyme
kosher salt and black pepper to taste
Instructions
Preheat oven to 400 degrees.
Wash and cube (or quarter) the potatoes, and place them in a large bowl.
Add olive oil, rosemary and thyme, and toss potatoes until coated.
Season with salt and pepper to taste.
Bake at 400 degrees for 30 minutes or until potatoes are tender.
Courses Side Dish
What's your favorite way to eat potatoes?
Hi! I'm Donella. Welcome to Glue Sticks and Gumdrops, where I blog about crafts for kids, kid-friendly recipes, and meals for families with a bit of parenting and party ideas sprinkled in. I am a mom to one amazing (and active) little boy, and I'm married to a deputy. As you can imagine, our lives are hectic, but sitting down to a family meal or making a craft together is our way of connecting with each other.
Latest posts by Donella Crigger (see all)