Summer is GONE and we are inching into fall! I am not sure why summer goes so fast, but it does every single year. My family is trying not to get down about the disappearance of summer. We were able to get a lot of fun checked off our summer break bucket list and now we are ready to plan more adventures. This free printable September bucket list will keep us busy enjoying life and each other.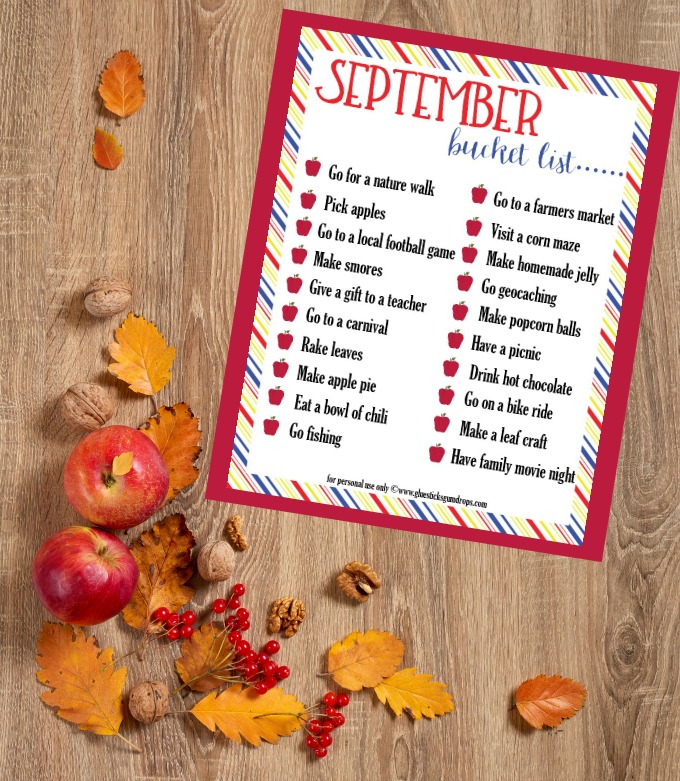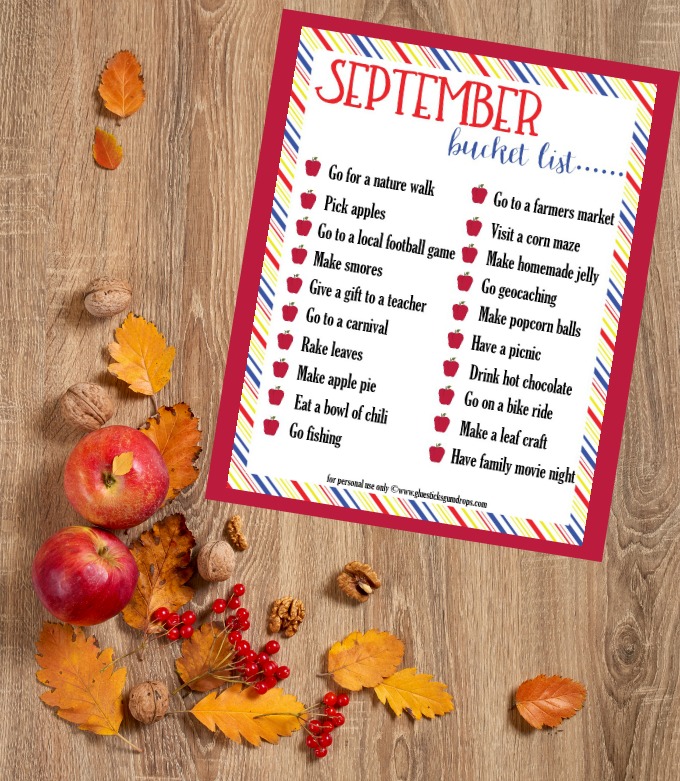 September Bucket List
September is one of those months where the weather is still warm or even hot, but we are thinking about FALL! I always want to do fall themed activities during September and it is nice to be able to spend a lot of time outdoors too. Here are some of the things we want to accomplish this month!
Go on a Nature Walk: We love going on walks and September is a great time of the year to find goodies on a nature walk.
Pick Apples: Apple picking was a tradition when I was a kid. I have the best memories of going to a local apple orchard with my parents. This is something we want to start doing with our kids every fall! We love to use the fresh apples in Cranberry Apple Parfaits!
Go to a Local Football Game: Football fever is starting up during September and supporting our local team is a blast. We may even make some Bacon Wrapped Sausage Jalapeno Poppers and do some tailgating before the game!
Make Smores: Smores are good anytime of year, but for some reason they taste better to me during the fall months. We love to make smores outside over our fire pit! Another great option is to make our S'mores cupcakes before you go camping.
Give a Gift to a Teacher: I like to start the year off by giving my kids teachers a little gift. Even if you don't have kids in school…drop a small gift off to a teacher you know! It is such a nice way to encourage them at the beginning of the year. It is a great first day of school tradition to get started!
Go to a Carnival: There are carnivals and fairs going on all over the place during the fall. Grab the family and go have some fun! Be sure to ride the ferris wheel when it is all lit up at night!
Rake Leaves: The leaves will be starting to fall this month and it helps to do a little raking before they pile up too high. Rake for a neighbor who can't do it themselves!
Make Apple Pie: Get those apples you picked and bake an apple pie. Make one for your family and one for someone else!
Eat a Bowl of Chili: Does anyone else start making chili in September? We love chili and are so excited to get it back on the menu rotation. Try making Pumpkin Chili for fun fall flavors!
Go Fishing: The weather is still great for fishing in September. Get the poles and bait and hit a local river or lake and see what you catch!
Go to a Farmers Market: Fall farmer's markets are super fun. Buying fall produce gets me excited to try new recipes.
Visit a Corn Maze: We like to go through corn mazes towards the end of September before the crazy Halloween crowds get started. It is such a fun family outing!
Make Homemade Jelly: Teaching kids to make jelly is a great kitchen lesson. It is a fun way to spend time together in the kitchen and who doesn't love fresh, homemade jelly?
Go Geocaching: If you have never geocached you are missing out on some big time fun. Fall is a great time of year to get started geocaching!
Make Popcorn Balls: Popcorn balls are a delightful snack that everyone loves. We like to munch on these while we have family movie night.
Have a Picnic: Picnics can be a family event or even as a romantic date idea. Pack your picnic basket with your favorite foods and head out to a shady spot to relax.
Drink Hot Chocolate: Drinking hot chocolate is kind of a kick off to fall for me! I love to take a mug along to a football game too.
Go on a Bike Ride: Bike rides during September are the best! Riding during the early evening hours are our favorite and we may even spot a deer.
Make a Leaf Craft: Crafts with leaves are a great way to keep kids busy on a September day. We will grab lots of different leaves when we go on our nature walk and then go home and get crafty.
Have Family Movie Night: Family movie nights are great anytime of year. We especially like to do our family movie night at the drive-in theater during fall because the weather is so good.
Grab a Free Printable September Bucket List
Get your family going during September with this free printable September Bucket List. Hang it in the kitchen so you won't forget and see how many items you can mark off this month! Just click the image below to download your copy today.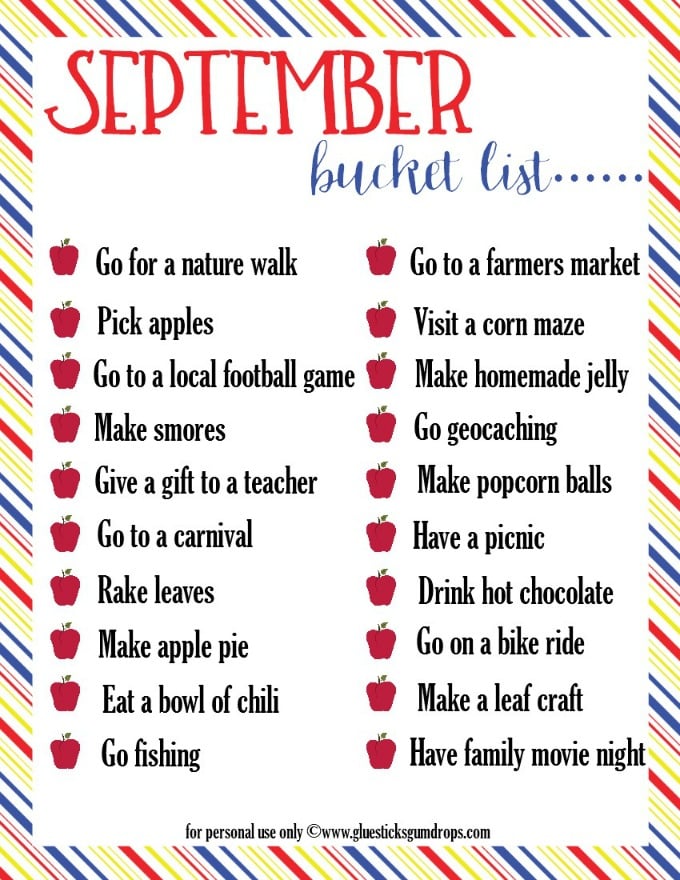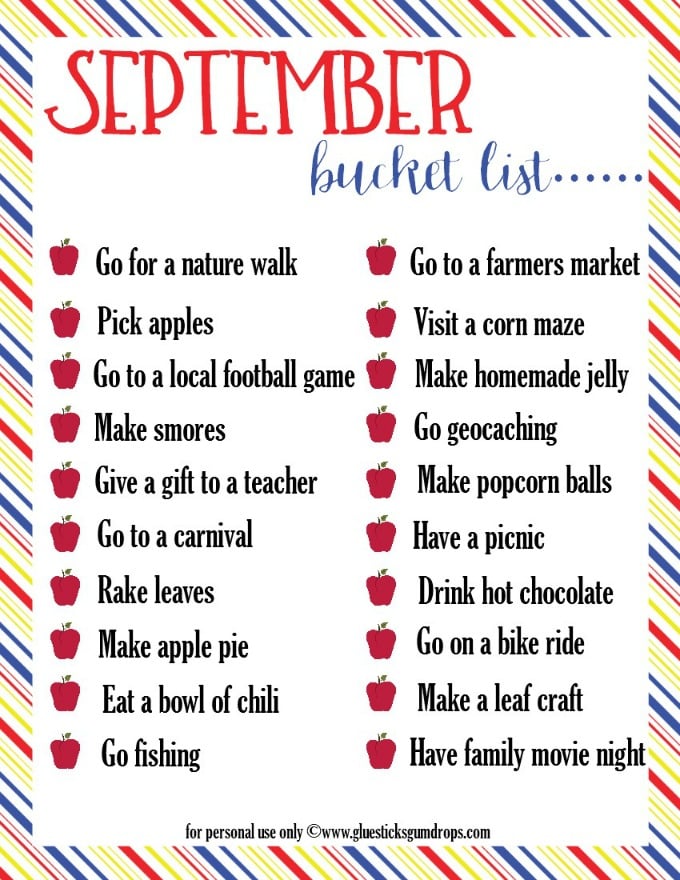 What is On Your September Bucket List?
What fun activities do you have planned this month? Do you have a September Bucket List? I would love to get new ideas so be sure and let me know what your favorites are.