These oven roasted baby carrots are the perfect side for just about any meal and only require a few ingredients. The natural sweetness of the carrots is balanced with the savory flavors of garlic, butter, and parsley for a side dish that's not sweet and heavy.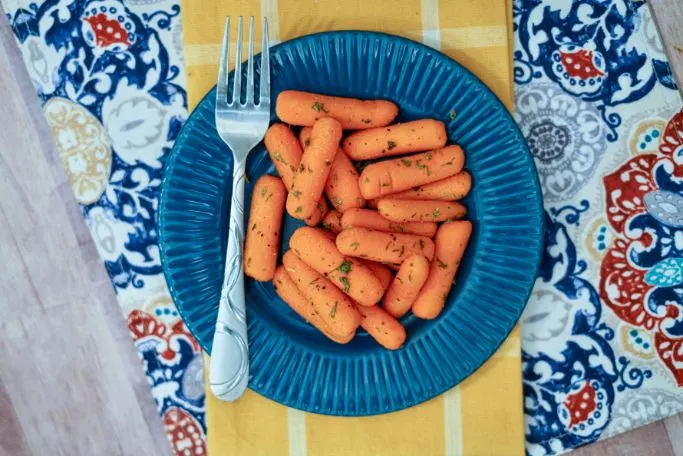 Are you looking for a new way to prepare baby carrots? Try savory oven-roasted baby carrots! This simple side dish will be a great addition to your next dinner. Not only are these roasted carrots delicious, but they're also super easy to make! With just a few ingredients and minimal effort, you'll have an amazing side dish in no time at all! Ready to get started? Let's begin…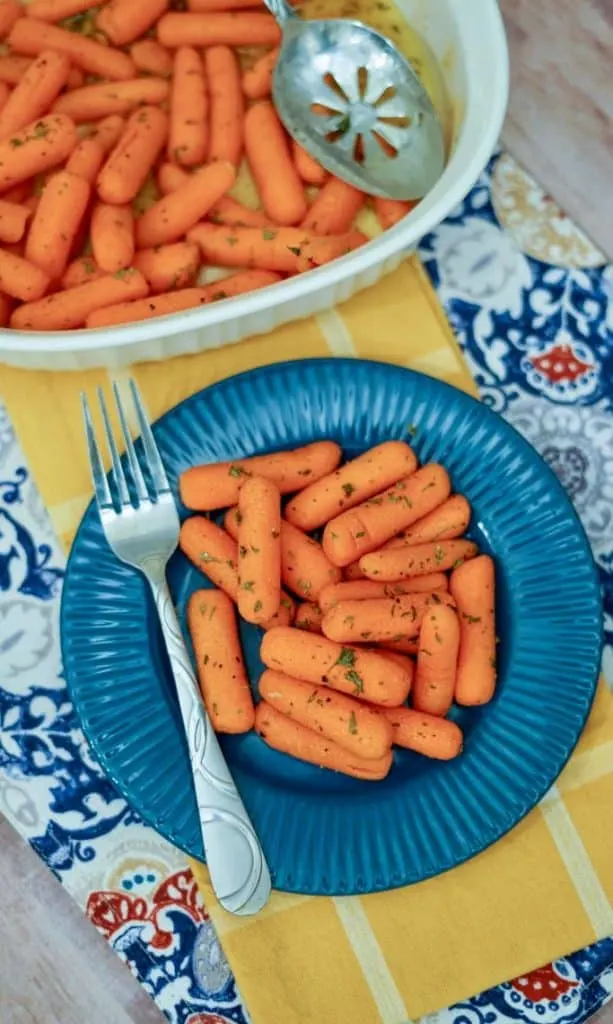 Why You'll Love these Savory Roasted Carrots
It's a different take on the roasted carrot side dish. Most of them are sweet.
You can make them in advance.
The recipe uses simple ingredients you already have in your kitchen.
This is a very kid-friendly side dish.
They go with almost any meal.
Equipment Needed to Make Baby Carrots in the Oven
All you need for this recipe is a handy dandy baking dish! We really love these Rachel Ray ones (affiliate link), but any old baking dish will do.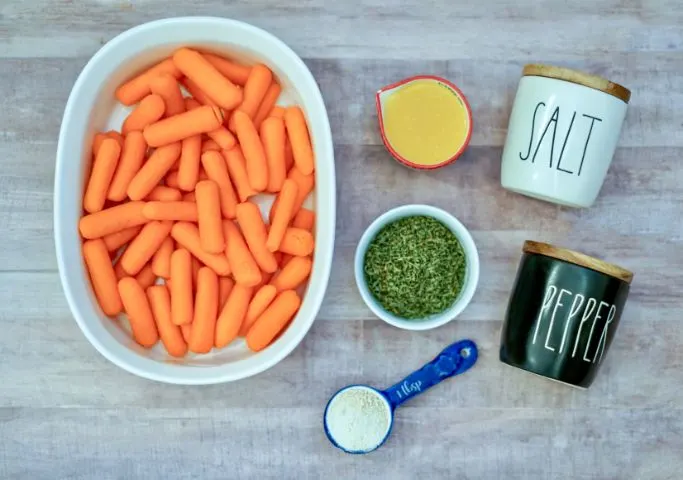 Ingredients for Roasted Baby Carrots
16 oz bag of baby carrots
1/4 cup melted butter
1 Tablespoon garlic powder
1/2 teaspoon salt
1/2 teaspoon black pepper
parsley for garnish (fresh or dried works fine)
How to Make Baby Roasted Carrots
Step 1 – Preheat your oven and get the carrots in the pan.
Preheat your oven to 425 degrees Fahrenheit. Place the baby carrots in your baking dish.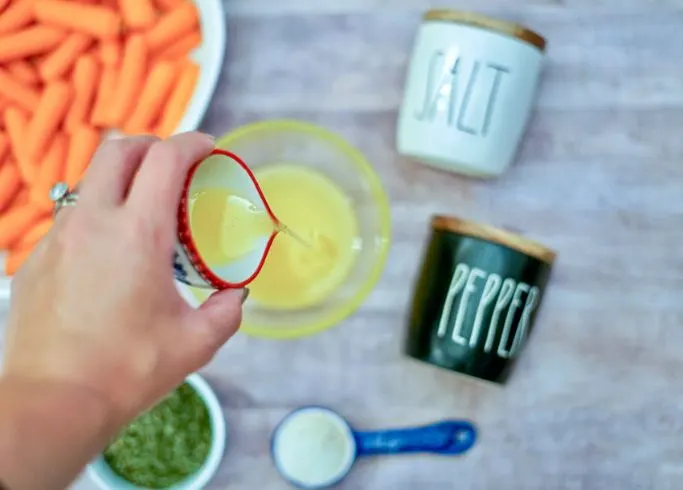 Step 2 – Prepare the garlic butter.
In a small bowl, whisk together the melted butter, garlic powder, salt, and pepper.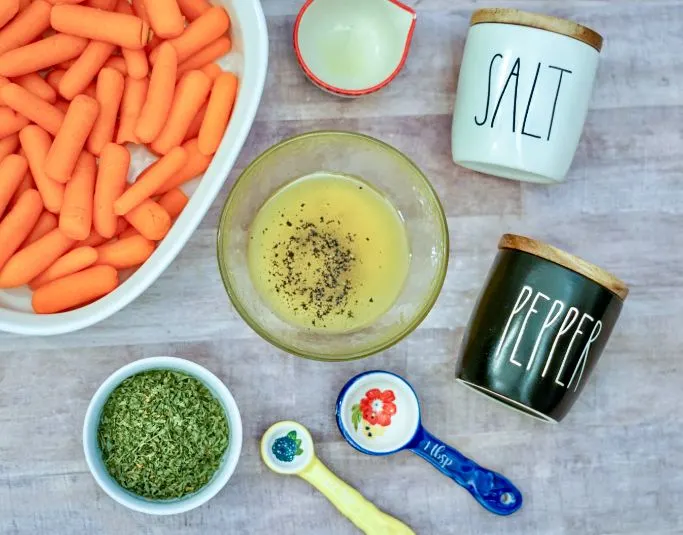 Step 3 – Coat the carrots.
Pour the butter mixture over the carrots. Stir to coat the carrots evenly.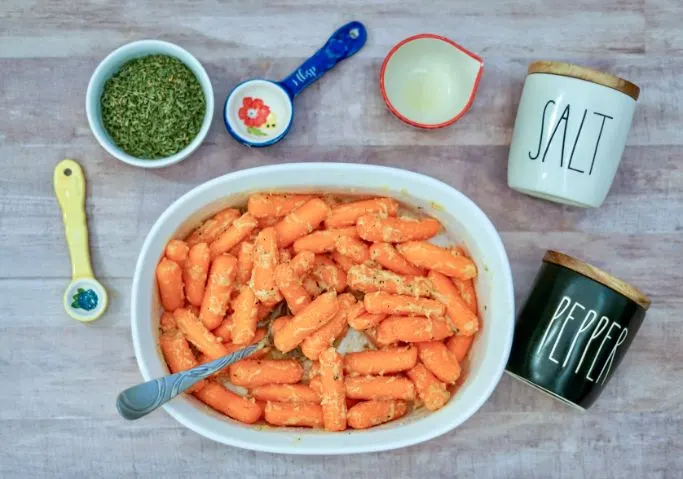 Step 4 – Roast the baby carrots.
Once the oven is fully preheated, place the pan in the oven for 15 minutes. Remove the pan, stir the carrots, and place back in the oven for another 15 minutes.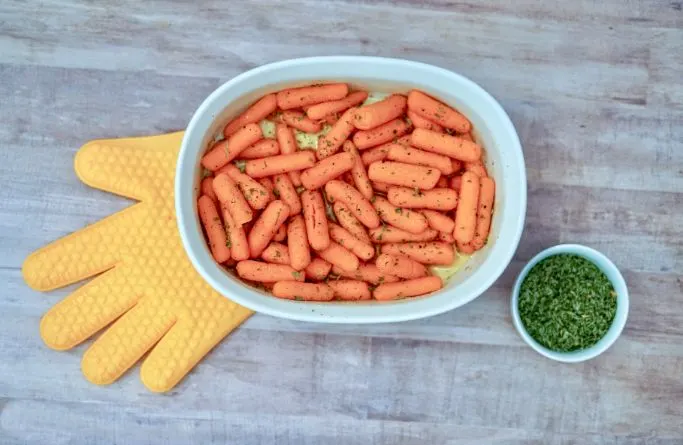 Step 5 – Garnish your side dish.
Remove the carrots from the oven and sprinkle with parsley. Serve hot alongside your favorite meal.
What to Serve with Your Oven Roasted Baby Carrots
Wondering what to serve alongside these roast baby carrots? Here are some ideas we have for you!
Main Dishes
Side Dishes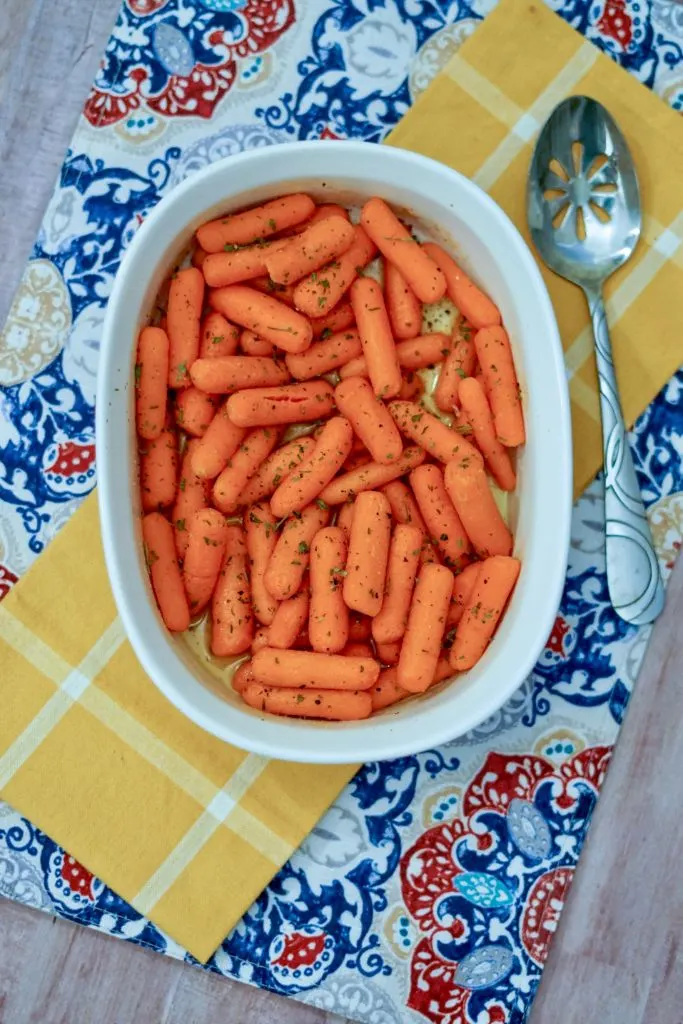 Popular Substitutions and Additions
Lots of people like a sweet version of roasted baby carrots made with a honey or maple syrup glaze, usually with a bit of cinnamon and nutmeg thrown in. While we do enjoy that, if you're already having lots of sweet foods (for a holiday meal, for instance), then we prefer this savory, buttery version of roasted carrots.
How to Reheat and Store Roasted Baby Carrots
Best Way to Store Roasted Carrots Leftovers
Store leftovers in an airtight container in the refrigerator.
How Long Will Roasted Baby Carrots Last in the Fridge?
In an airtight container, roasted carrots will keep for about 3-4 days in the fridge, though they will get a little softer and mushier over time.
Can I Freeze Oven-Baked Carrots?
Yes, you can freeze roasted carrots. Wrap them in foil and put them in a freezer bag. They'll keep for up to 9 months.
How to Reheat Oven Roasted Carrots?
If you're reheating roasted carrots from frozen, don't thaw them first. They'll get mushy and gross. Instead, pop them, foil and all, into the oven at 425 degrees for 5-10 minutes until they are heated through. You can drizzle a little extra butter on before roasting if you'd like.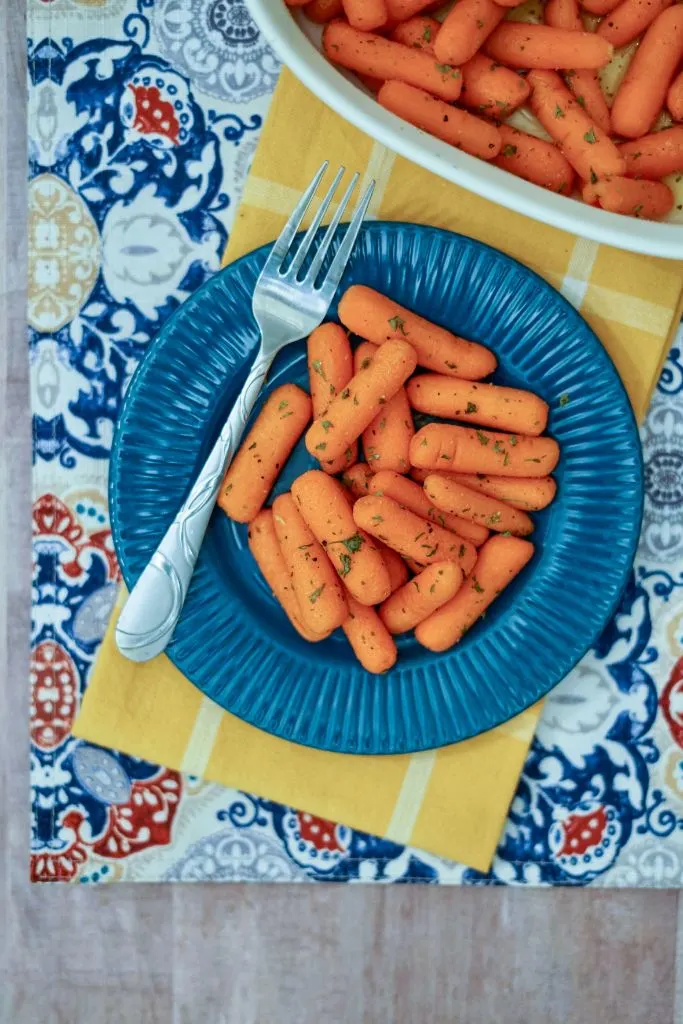 Roasting Baby Carrots FAQs
Do you need to peel baby carrots before roasting them?
No, you don't have to peel baby carrots before roasting them in the oven. You should always wash and scrub them well, though.
How long do you roast baby carrots?
For this recipe, you'll roast them for 30 minutes at 425 degrees Farenheit.
What is a serving of roasted carrots?
We divided a 16 oz bag of roasted baby carrots evenly 4 ways with about a cup or so per person.
Other Side Dish Recipes You'll Love
Don't forget to come back and let me know how your oven roasted baby carrots turned out!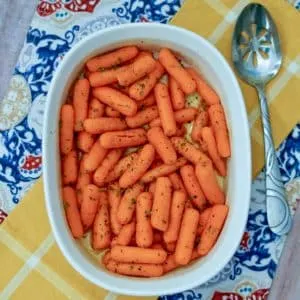 Savory Roasted Baby Carrots
These savory roasted baby carrots are a yummy addition to any meal. They're easy to make using ingredients you already have in your kitchen, so you can whip them up anytime.
Ingredients
16

oz

bag baby carrots

1

TBSP

garlic powder

1/4

C

melted butter

1/2

tsp

salt

1/2

tsp

black pepper

Parsley for garnish
Instructions
Preheat oven to 425 degrees Fahrenheit.

Place baby carrots in the baking dish.

In a small bowl add melted butter & garlic.

Add salt & pepper.

Mix well.

Pour butter mixture over carrots.

Mix to coat evenly.

Roast at 425 degrees for 15 minutes.

Stir and then roast for another 15 minutes.

Remove from oven. Garnish with parsley & enjoy!
Nutrition
Serving:
1
g
Calories:
151
kcal
Carbohydrates:
11
g
Protein:
1
g
Fat:
12
g
Saturated Fat:
7
g
Polyunsaturated Fat:
4
g
Cholesterol:
31
mg
Sodium:
472
mg
Fiber:
4
g
Sugar:
5
g